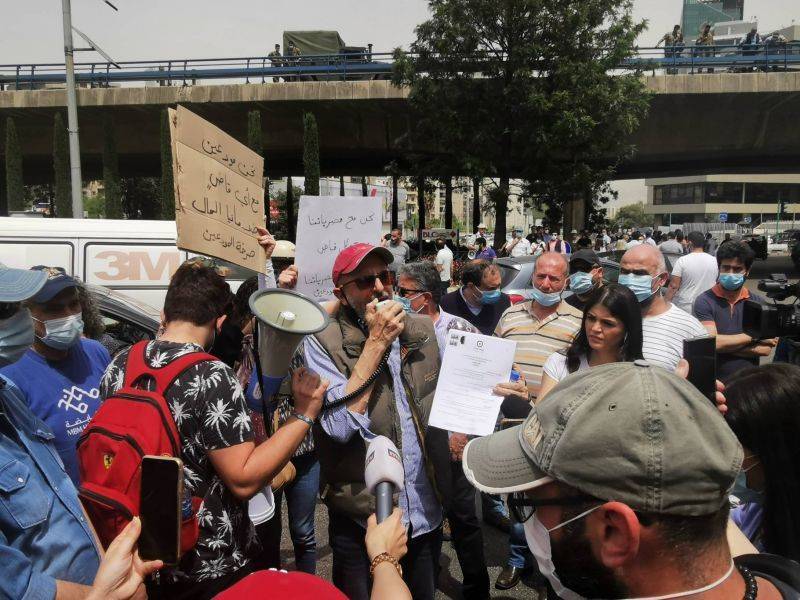 Want to get the Morning Brief by email? Click here to sign up.
Depositors are on the verge of committing arson against bank owners, lawyers' collective Mouttahidoun founder Rami Olleik told L'Orient Today yesterday following more actions against banks. A depositors' group protested at Banque du Liban, two banks were held up and another was shot at on Wednesday. After Bassam al-Sheikh Hussein's Aug. 11 Hamra Federal Bank holdup roused public support and Sali Hafez's incursion into Blom Bank's Sodeco branch rallied a slew of sympathizers, vigilante withdrawals have come into vogue. Yesterday, Lebanese Army veteran Hussein Shukr held up a branch of Credit Libanais in Haret Hreik, in Beirut's southern suburbs, while Forces of Change MP Cynthia Zarazir forcibly retrieved a portion of her deposit from an Antelias branch of Byblos Bank — totaling six holdups this week. This latest holdup spree came one week after banks partially reopened after a weeklong strike to protest what the Association of Banks in Lebanon dubbed "repeated attacks." Many banks heightened security restrictions, including servicing only a single customer at a time and only welcoming depositors on appointment. When a man was reportedly denied entry to a Byblos Bank branch in Jbeil yesterday for failing to schedule an appointment, he lashed out against the bank by firing on the premises with a machine gun. No injuries were reported. ABL on Tuesday attempted to shift the blame for depositors' limited access to their accounts towards the state in a statement accusing "the financial and monetary policies decided by the state and the BDL." Depositors' Union co-founder Fouad Debs responded to ABL's statement claiming depositors' money was squandered by the "greed" of commercial banks rather than regulatory restrictions. Nonetheless, BDL got its share of depositor outrage yesterday as protesters participating in a sit-in organized by The Cry of the Depositors — an advocacy group defending depositors' rights — pelted the central bank with rocks and set tires aflame. Olleik's incendiary comments, claiming depositors are "currently getting ready" to burn bank owners' houses, recalls trendsetter pyromaniac Abdallah al-Sai's avant-garde January withdrawal from a Bekaa branch of Bank of Beirut and Arab Countries, when he threatened to burn down the bank if not given access to his funds.

"Cash aid will be given directly to the Lebanese people," the European Commissioner for Neighborhood and Enlargement, Oliver Varhelyi, reportedly said yesterday as quoted by the Lebanese Presidency's Twitter account, announcing an additional grant from the EU to Lebanon to "help establish good governance and strengthen the institutions of the state." While the Presidency reported an increase of €75 million, a statement from the EU referred only to the sum of €25 million in addition to a total aid package of €229 million. Varhelyi refuted any "conditional" aspect of European aid for Lebanon while clarifying that "it is impossible to grant aid in the absence of a government to receive it and a state to distribute it." The Hungarian diplomat claimed readiness on behalf of the EU to offer Lebanon further financial support "in the presence of a president and a cabinet." Varhelyi explained that a portion of the grant is destined "to alleviate the crisis resulting from the rise in food prices" while announcing another sum devoted to "The Syrian Crisis and Food Resilience Facility.''
A fire burned nearly half the tents in the informal Syrian refugee camp, "al-Omani al-Wefaq," in the Arsal area, near the Lebanese-Syrian border, injuring several residents and damaging the camp's sewer pipes before it was extinguished. The Lebanese Army, Civil Defense, local authorities and volunteers doused the fire, which left around 100 families without shelter. The cause of the fire is still unknown. In recent years, several fires have occurred in refugee camps in Lebanon, where living and security conditions are below international standards. Fire risks pose only one dimension of the difficulties faced by Syrian refugees in Lebanon, piling on "restrictive local regulations, army raids on camps and, in some cases, deportation." In previous months, Lebanese officials discussed plans to mass repatriate Syrians, which were met with criticism from international agencies prioritizing a "safe and voluntary" return for the refugees. Faced with the "inability to survive in Lebanon due to the deteriorating economic situation … Syrians comprise the vast majority of people undertaking irregular boat journeys," a United Nations High Commissioner on Refugees official told L'Orient Today. These boat journeys have more than doubled for a second year in 2022, and on Sept. 22, a shipwreck off the coast of Tartus claimed more than 100 lives.
"The Lebanese Forces will continue to support the candidacy of MP Michel Moawad," party head Samir Geagea said, joining Progressive Socialist Party leader Walid Joumblatt in endorsing the Zgharta MP's run for the Lebanese presidency amid local and international calls for a swift election. Moawad received 36 votes during last Thursday's Parliament session to elect a new president, lagging behind 76 protest votes – of which included 64 blank, 10 for "Lebanon," one for Mahsa Amini, whose death in Iranian morality police custody sparked nationwide protests, and one for the "line of Rachid Karami," the former Prime Minister who was assassinated in 1987 – but beating the 11 ballots cast for Murex co-founder and L'Orient-Le Jour shareholder Salim Eddé. Parliament Speaker Nabih Berri announced legislators would convene for the next election session by mid-October, just two weeks before the end of current President Michel Aoun's term. Maronite bishops, following their monthly meeting chaired by Patriarch Bechara al-Rai yesterday, called on legislators "to accelerate the election of a Head of State within the constitutional timeframe." The International Support Group for Lebanon expressed a similar sentiment in a statement published yesterday, calling for a president who can "unite the Lebanese people," while criticizing Lebanon's delay in implementing reforms stipulated by the International Monetary Fund in an April agreement promising a conditional multi-billion dollar aid package.
The Ministry of Economy and Trade announced the suspension of value-added tax (VAT) on private generator bills pending a decision from the Ministry of Finance "on the legality of subjecting generator owners to VAT." The tax suspension follows private generator subscribers' complaints about the addition of VAT to last month's bill. Costly private generator subscriptions have helped mend the supply deficits from state electricity provider Electricité du Liban, which at best provides a few hours of coverage per day. Difficulties covering the cost of generator subscriptions have caused an outcry among the country's citizens and, sometimes, paralyzed state institutions. In July, 12 generator owners were arrested for overcharging subscribers, leading to protests by residents of the area who lost power in the process. The next month in Saida, altercations between generator owners and a local committee supervising generator owners' compliance with official prices injured three people, one of whom was hospitalized. Caretaker Energy Minister Walid Fayad proposed a tariff hike for EDL coverage, which currently operates at a steep deficit, in order to "save the Lebanese on the cost of their private generator bills."
In case you missed it, here's our must-read story from yesterday: "Amid Lebanon's social and economic woes, musicians turn to the blues as 'therapy.'"
Compiled by Abbas Mahfouz

Want to get the Morning Brief by email? Click here to sign up.Depositors are on the verge of committing arson against bank owners, lawyers' collective Mouttahidoun founder Rami Olleik told L'Orient Today yesterday following more actions against banks. A depositors' group protested at Banque du Liban, two banks were held up and another was shot at on Wednesday. After Bassam al-Sheikh...