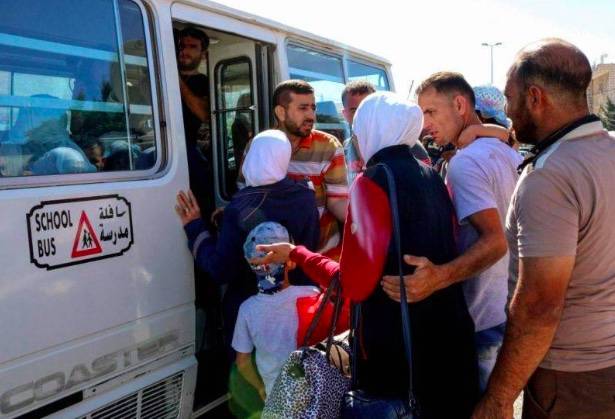 BEIRUT — In the month and a half since caretaker Minister of the Displaced Issam Charafeddine announced plans for a mass return of refugees to Syria — at a rate of 15,000 refugees per month — in coordination with Syrian authorities, the plan has floundered.

But while no organized mass return seems imminent, human rights groups and refugees said pressure on the refugees in the form of restrictive local regulations, army raids on camps and, in some cases, deportation has intensified.
While no official numbers were available on the number of refugees deported in 2022, one rights group tracking the issue told L'Orient Today that its researchers have recorded an increase in the number of cases of refugees deported to Syria since the beginning of the year.
The Access Center for Human Rights, a human rights group tracking the conditions of Syrian refugees in Lebanon, has confirmed 25 cases of deportation of Syrian refugees from Lebanon in 2022 through the end of July, the NGO's program manager, Marielle Hayek, told L'Orient Today. She noted that there had been an uptick in cases beginning in May and particularly in July, with four cases recorded in May, four in June and 15 in July, while in the earlier months of 2022 the group recorded one case or none per month.
The group "has also observed tightening of restrictions on refugees, with arrests at checkpoints of those with no legal papers, raids on camps, adoption of stricter movement rules, and tensions between host and refugee communities," she said.
Rami*, a Syrian refugee from Aleppo living in the Bekaa, told L'Orient Today that his brother, Mohamed*, who was registered with the UN refugee agency, was deported two months ago after being stopped at a checkpoint as he was in a shared taxi on his way to the hospital for scheduled medical tests (Mohamed has been living with only one working kidney since 2014, his brother said). When he was unable to produce valid residency documentation, he was arrested, his brother said.
Initially his family was not overly concerned.
"We didn't expect he would be deported," Rami said. "We thought they would tell him to straighten out his papers … and the next day or the day after that they would let him out," as usually happens in such situations.
But in this case, after three weeks in General Security detention, Mohamed was sent back to Syria. His brother said that the family had contacted UNHCR to ask for help but, to his knowledge, the organization had not intervened in the case.
Upon being handed over to Syrian authorities, Rami said, his brother was arrested and interrogated and then sent to compulsory army service despite his medical issues.
As for the rest of the family remaining in Lebanon, he added, "We're feeling more pressure every day and every hour."
The return plan
While President Michel Aoun chaired a meeting last week to discuss the refugee return plan, a planned trip by Charafeddine to Syria last month to discuss the proposal has not yet taken place, and the minister complained in an interview with L'Orient Today last week that he felt caretaker Prime Minister Najib Mikati was uninterested in implementing the plan. He attributed this to pushback by donor countries and international organizations that have said Syria is not safe for large-scale returns. A spokesperson for Mikati did not respond to a request for comment.
Charafeddine said in an interview with L'Orient Today last week that he is still hoping to implement the proposed return plan, under which the Syrian authorities would set up regional shelters to accommodate refugees from each area of the country and there would be "convoys" set up on the Lebanese side to take them back.
"There will be the voluntary returns, and then by way of convoys we will reach 15,000 [per month]," he said. "...If there is someone who objects and says, 'I'm working here, I don't want to leave,' he can fix his legal situation and get residency. If someone says, 'I don't want to go back, I have political issues' … we will open a file for him, and either he pays for a lawyer or UNHCR will help him."
A draft "study on the return of the displaced Syrians from Lebanon," prepared for the government by the law office Justicia Beirut Consult last month focused mainly on the legal grounds for deporting refugees.
A summary of the document noted that Lebanon is not a signatory to the international 1951 Refugee Convention and has no domestic laws pertaining to refugee status, so the Lebanese government "is free of any commitments obliging it to treat [Syrians] as refugees except that it remains committed to protect their human rights."
It also noted that the law regulating entry to and exits from Lebanon and residency within it, issued on July 10, 1962, gives the Directorate General of General Security the power to issue decisions to deport foreigners "in exceptional circumstances wherein the foreigner poses a threat to the public peace and security," adding that "anyone who enters Lebanon illegally seeking asylum from persecution or overstays the period permitted on their entry visa is also considered as an illegal immigrant and is subject to arrest, imprisonment, fines and expulsion."
Aya Majzoub, Lebanon researcher with Human Rights Watch, said, however, that deportation of refugees violates other agreements to which Lebanon is a party.
"As a party to the Convention Against Torture, Lebanon is obligated not to return or extradite anyone if there are substantial grounds for believing the person would be in danger of being subjected to torture," she said. "Lebanon is also bound by the customary international law principle of non-refoulement not to return refugees to places where they would be persecuted or to expose anyone to a real risk of cruel, inhuman, or degrading treatment or threat to their life."
While politicians across Lebanon's political spectrum have called for the return of Syrian refugees and asserted that much of Syria is safe, Majzoub said, "Research conducted by HRW and other rights groups have repeatedly found that Syria is not safe for returns and that many of those who return face serious abuses at the hands of the Syrian government and affiliated militias, including arrest, torture, and enforced disappearance."
Charafeddine, for his part, asserted that of the 87,000 Syrians who he said have voluntarily returned from Lebanon to their country to date (UNHCR has recorded a lower number, 70,185), "There were 34 people who were arrested, but because of civil suits against them, not anything political."
From 2018 until the Lebanese/Syrian border closed amid the COVID-19 pandemic in 2020, Lebanese General Security was organizing "voluntary return" trips in which refugees interested in going back would register their names. General Security would then communicate with Syrian authorities to ensure that they were not wanted for arrest, thus giving some level of assurance to those who otherwise might be hesitant about returning, and would provide bus transportation for the returnees
Alongside the "voluntary returns," the Lebanese state has sometimes forcibly returned refugees, although until now deportation has not been implemented on a mass scale.
In 2019, the Lebanese government put in place a policy allowing for deportation of any Syrian who entered the country without legal authorization after April 24 of that year. General Security reported to Human Rights Watch last year that between April 25, 2019 and Sept. 19, 2021, some 6,345 Syrians had been "returned," in implementation of the decision.
General Security did not respond to multiple requests from L'Orient Today for updated information on the number of Syrians deported. Dalal Harb, a spokesperson for the UN refugee agency (UNHCR), which also tracks deportation cases, declined to share the numbers reported to them, citing "data privacy reasons and protection concerns," but added, "We intervene with the authorities on all cases we are aware of and follow up with their families."
She also noted that Lebanese law provides for a legal review of cases prior to deportation.
"We have therefore discussed with the Lebanese authorities the importance of an independent judicial [or administrative] review of any claims that individuals falling within the scope of the decision may have, before a decision on deportation is taken, to ensure that no refugee in need of international protection is deported," she said.
'His situation is very dangerous'
Walid*, a refugee living in Lebanon since 2013, said his adult son, Ahmad*, had been deported about two months ago after being arrested in a raid on the camp where he lived after returning to Lebanon following a period of detention in Syria.
Walid said his son, who was trained in a professional field in Syria but had struggled to find work in Lebanon, had crossed from Lebanon to Syria in August 2021 intending to make his way to Turkey by way of northern Syria. An increasing number of refugees have taken this route during Lebanon's economic crisis, in hopes of eventually reaching Europe.
But Ahmad did not make it to Turkey; he was stopped at a Syrian army checkpoint en route and arrested, his father said.
Walid said he believes his son was targeted because of his family's support for the Syrian opposition but insisted that neither his son nor he had taken up arms in the conflict. "My son never made any problems, in Syria or in Lebanon," he said.
After spending months in detention in Syria, Walid said, Ahmad was released in April and made his way back to Lebanon.
"He was really sick, all of his body had worms, he had wounds from the torture," his father said. His condition started to improve with treatment, but about two weeks after his return he was arrested, jailed for a month and then deported, leaving behind his wife and small children.
Walid said he had contacted UNHCR after his son was arrested and "they told me they would get him a lawyer but no lawyer ever contacted me." Ahmad was once again detained in Syria, until his family borrowed money to pay bribes to get him out, he said.
"He can't enter Lebanon [again], because they told him if he was caught he would go to prison for three years," the deportee's father said. "His situation is very dangerous."
The right to defense
While defending the government's right to deport asylum seekers, the legal argument summary prepared for the government last month noted that "the Lebanese authorities are legally bound to allow any Syrian citizen under order of deportation enough time to prepare his defense and objections to the decision to deport him and to clarify his reasons for being unwilling to return to Syria, and for judicial review and to search for another country to move to."
Charafeddine told L'Orient Today that he believes the true "political refugees" among the Syrians in Lebanon number only in the tens of thousands, out of 831,000 registered officially with UNHCR.
"The political refugee has two choices," he said. "Either he can return to the Syrian state and benefit from the amnesty [referring to a decree issued by Syrian President Bashar al-Assad in April offering amnesty to members of the political opposition for "terrorist crimes" that did not involve killing someone] and no longer carry weapons, or if he wants to practice his political work … as opposition, the UN, the UNHCR will help him to get a visa to travel to a third country."
He acknowledged, however, that the countries that might previously have provided asylum to Syrian refugees are now largely focused on the Ukrainian refugee crisis.
Even before the war in Ukraine, the number of Syrian refugees in Lebanon who received resettlement in a third country had dropped precipitously over the past few years. In 2016, some 18,279 Syrian refugees in Lebanon were resettled in other countries by way of UNHCR. In 2020, that number reached a low of 4,284, which only increased slightly in 2021, to 6,064, while for this year so far, the number was 3,158 as of the end of June.
A representative of local NGO ALEF — Act for Human Rights told L'Orient Today in a statement that the return of refugees is a "complex matter," and that any plan to address the refugee situation in Lebanon should include resettlement in third countries, not only returns, and should "not be framed in opposition to the humanitarian response" in Lebanon, where some officials have called for UNHCR to cut off aid to the refugees.
The statement added, "The hostility towards more nuanced suggestions [for addressing the refugee crisis] does not create a policy making environment."
* Not his real name. Sources spoke on condition of anonymity out of fear of retribution.

BEIRUT — In the month and a half since caretaker Minister of the Displaced Issam Charafeddine announced plans for a mass return of refugees to Syria — at a rate of 15,000 refugees per month — in coordination with Syrian authorities, the plan has floundered.But while no organized mass return seems imminent, human rights groups and refugees said pressure on the refugees in the form of...