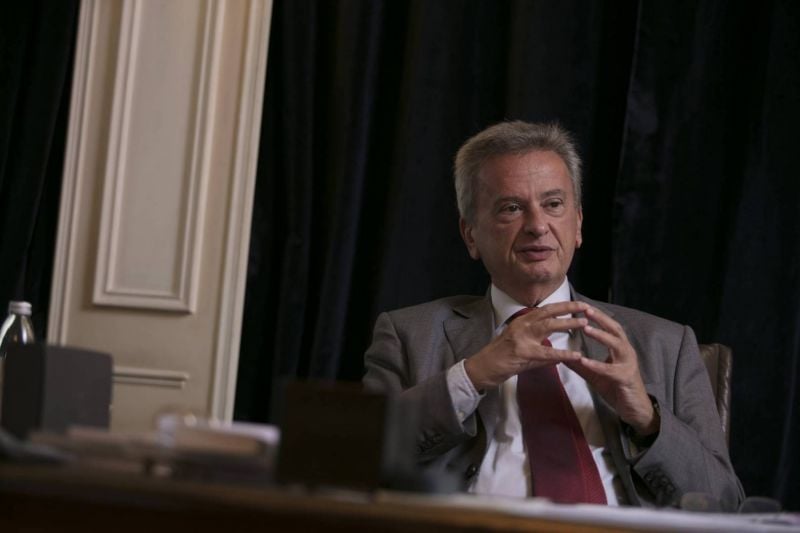 The Collective Association of Victims of Fraudulent and Criminal Practices in Lebanon and Sherpa on April 30 filed a legal complaint to the Paris financial prosecutor against unnamed individuals allegedly involved in a case of money laundering, "concealment," fraud, deceptive commercial practices, criminal association, and lack of justification of resources, "with aggravating circumstances," the acts being "committed as part of an organized group," according to the complaint, seen by Le Commerce du Levant.
To file a complaint against all potentially implicated individuals allows the French judiciary — if it takes up the case — to use the information and evidence revealed by the lawsuit as a starting point for a wider investigation.

Registered in France, the Collective Association of Victims of Fraudulent and Criminal Practices in Lebanon brings together French-Lebanese individuals as well as French people whose savings are trapped in banks in Lebanon, who joined forces with Sherpa, a French nongovernmental organization that defends victims of economic crimes.

Founded in 2001 by William Bourdon, a lawyer, Sherpa is known for its resounding actions in cases of international corruption and recovery of ill-gotten gains. The organization was behind the conviction in France of Rifaat al-Assad, the uncle of Syrian President Bashar al-Assad, for money laundering and embezzlement.

Jurisdiction of French courts

In France, the penal code allows any anti-corruption association that has been authorized and established for at least five years to exercise the rights granted to plaintiffs and civil parties in relation to offenses of corruption and influence peddling, as well as concealment or money laundering.

For Bourdon and his colleague Amélie Lefebvre, a lawyer who co-signed the complaint, the jurisdiction of the French court is essential in the Lebanese case because many of the victims and some implicated individuals are French nationals. This is not to mention that some of the alleged offenses were committed in France.

"A part of the fortunes made [in Lebanon] by embezzlement of public funds, corruption, breach of trust and bankruptcy have been invested, used and generated profits — in other words, deposited, converted, held or transmitted — in France," reads the complaint, which details the causes of the collapse of the Lebanese financial system, describing it as "a Ponzi scheme," as well as the responsibility of those who put that scheme in place, notably central bank Gov. Riad Salameh.

The Salameh clan

"The complaint is not directed against him, but the governor appears to be a pivotal figure in our investigation, as do members of his family and relatives," according to Bourdon and Lefebvre, who noted that "additional investigation will follow, concerning other Lebanese personalities."

The two associations accused the central bank governor of failing to fulfill his role as "guardian of the financial and banking order," and of attracting false-income deposits in Lebanon.

They also accused him, in his personal capacity, of lacking transparency in the management of his assets, and of suspicious accumulation of wealth to his benefit and that of the members of his entourage.

The two lawyers argued that for financial judges around the world, the recourse to offshore and shell companies is all the more questionable when someone runs an institution that regulates and controls financial systems.

"In any case, his fortune amounts to several hundred million euros and greatly exceeds the wages and salaries related to his political and professional activities," they added.
Salameh has always defended himself against accusations of illicit enrichment, assuring his accusers that his wealth, which he estimated in several interviews at $23 million, was acquired before taking up his post at Banque du Liban in 1993.

The Collective Association and Sherpa's investigation shows the existence of a ramified system in several European countries, involving the governor's younger brother Raja Salameh; his son, Nady Salameh; nephew (and lawyer) Marwan Issa al-Khoury; and his young assistant Marianne Howayek, who is the senior adviser at BDL.

Alongside the central bank governor, Howayek and Raja Salameh were also mentioned in a Swiss probe into money laundering to the detriment of BDL.

Raja Salameh, Nady Salameh, Khoury and Howayek declined to give any statement to Le Commerce du Levant.

According to the two French associations, Luxembourg, where the governor allegedly owns assets worth $94 million, served as a nerve center for setting up shell companies and trusts, while Switzerland served as a banking base.

These funds were ostensibly later used to purchase real estate for personal or commercial use in France, England, Germany, Switzerland and Belgium, notably through several property investment companies.

Personal property in France

Salameh claims to own only two properties in France, including a villa in Antibes, both acquired in 1988. Both Riad Salameh and his son, Nady, are French nationals.

But according to the complaint, the governor's brother Raja Salameh, the CEO of Solidere International Limited since 2007, owns several properties in Paris.

While two properties appear in the registers under his name, Raja Salameh was a shareholder in a property investment company under Luxembourg law until 2015. The company manages several units in a building in Avenue Georges-Mandel, Paris 16th, including an apartment that was acquired in 2007 for 2.4 million euros and another one for 3 million euros in 2009. Other apartments in this building were purchased from 2007 to 2010 for nearly 200,000 euros.

Within the legal structure of this property investment company, Raja Salameh was later replaced by Anna Kosakova, a young Ukrainian woman, whose name can be found listed among shareholders in other investment companies associated with Riad Salameh.

"It is possible that Raja Salameh served as a figurehead for his brother in this operation, and was later replaced by Anna Kosakova," the two lawyers contended.

As for Howayek, she allegedly bought an apartment for 1.8 million euros in Paris 8th, paid for in cash. Her declared monthly salary at the BDL is LL12 million.
A 2020 investigation by the Organized Crime and Corruption Reporting Project, in partnership with Daraj Media, reported on the wealth accumulated by the "Salameh clan."

At the time, the individuals mentioned in the investigation denied any illicit enrichment allegations, stressing that their assets are part of their wealth.

Contacted by Le Commerce du Levant, Riad Salameh's office responded with the same letter that Salameh's lawyer in France, Pierre Olivier Sur, the former president of the Paris Bar Association, had sent to Le Monde, before the complaint was filed. In the letter, the lawyer stressed that the complaint, which Le Monde had mentioned in an article, was not at that point the subject of a preliminary investigation, and therefore the premises on which the article was based "were not confirmed by any judicial authority in France or abroad."

Sur added that back in February, Riad Salameh lodged a complaint in Lyon, France, claiming some media reports had engaged in libel and attempted to obtain a ruling under false pretenses. However, this case is not connected to the complaint filed on April 30 in France.

"Everyone will understand that the extraordinarily painful situation in Lebanon might explain the search for a scapegoat, but not at the cost of violating the presumption of innocence and exploiting justice," Sur said.

Conversely, Bourdon and Lefebvre said, "We provide a compelling set of evidence. It is up to the financial prosecution to decide whether or not these premises are sufficient to launch a preliminary investigation and a judicial investigation subsequently." They also believe that the French courts might take up the case by next month.

The "current conditions are favorable," according to the two lawyers, now that the government of French President Emmanuel Macron has begun taking punitive measures against Lebanese politicians.

In mid-April, Antoine Maisonneuve, a French lawyer, also filed a legal complaint in France on behalf of the Swiss association Accountability Now in relation to alleged acts of money laundering and fraud involving Lebanese individuals — a case that the courts have yet to follow up on.

Moreover, financial inquiries are also underway in the United Kingdom, where Nady Salameh allegedly owns an apartment in central London worth $4.1 million. For Bourdon, "in such a case, international cooperation is necessary between France, Switzerland, Britain and Luxembourg, and even the United States."

On the Lebanese side, the public prosecution also announced the launch of a preliminary investigation into "bank transfers made by BDL on behalf of Forry Associates Ltd. in Switzerland," which is owned by Raja Salemeh, "as well as on into the ensuing series of activities," Judge Jean Tannous told Le Commerce du Levant.
This article was originally published in French. Translation by Sahar Ghoussoub.
The Collective Association of Victims of Fraudulent and Criminal Practices in Lebanon and Sherpa on April 30 filed a legal complaint to the Paris financial prosecutor against unnamed individuals allegedly involved in a case of money laundering, "concealment," fraud, deceptive commercial practices, criminal association, and lack of justification of resources, "with aggravating...