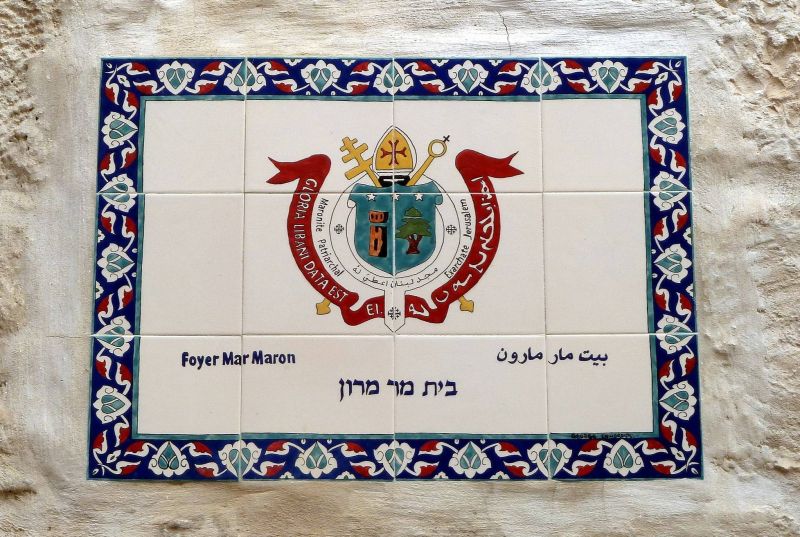 BEIRUT— On July 18, the Maronite Archbishop of Haifa and Jerusalem, Moussa al-Hage, a Lebanese citizen, was temporarily detained by General Security in Ras al-Naqoura at Lebanon's southern border while coming back from a visit to the headquarters of the bishopric of Jerusalem.
The matter set off a debate between those who considered the arrest a political move against Maronite Patriarch Bechara al-Rai, and those who argued that the law forbidding any form of contact with Israel should be equally applied to all Lebanese citizens.
The case also shed light on a little-discussed loophole in the ban on Lebanese citizens entering Israeli-controlled territory. The two countries remain officially at war and Lebanese law forbids its citizens to do business with "the enemy's nationals or with anyone living in the enemy country" or to "enter directly or indirectly, without the prior consent of the Lebanese government, the country of the enemy." However, exemptions have been regularly allowed for religious figures over the years.
Those granted exceptions have included Muslim and Druze clerics as well as Christians, but the trips by Maronite religious leaders have been the highest-profile and the most controversial. A General Security spokesperson could not be reached for comment.
In 2014, Rai visited several sites in Israeli-controlled territory during the visit of Pope Francis, which also stirred controversy in the Lebanese media. Rai at the time insisted on the importance of visiting Maronite Christians and attending as a representative of the Maronite Church during the pope's visit.
The Maronite presence in Palestine stretches back to the 1800s. Today they number approximately 10,500 total, with 500 in Jerusalem, the Catholic Near East Welfare Association estimates. Of those, an estimated 2,000 are Lebanese citizens who sought asylum in Israeli-controlled territory after the end of the Israeli occupation of southern Lebanon in 2000.
Palestine is home to many Maronite churches, the most famous among them being the Maronite convent in the Armenian quarter of Jerusalem.
The site was previously a German hospital in the 19th century that was bought by the Maronite Church in 1895. Inside the convent is a chapel adorned with engravings of Lebanon's cedar tree and the church's patron Saint Maroun. The bell in the convent's courtyard was reportedly made in Lebanon.
The Maronite Church has a number of dioceses in Lebanon and around the world. Regionally, they include Egypt, Jordan, Cyprus, Syria and Palestine. Most archbishops who are appointed are Lebanese, with some being foreign born.
In an interview last month with L'Orient-Le Jour, L'Orient Today's sister publication, Hage asserted that Lebanon's 1949 armistice agreement with Israel "includes a clause that allows the bishops of the Holy Land to cross the border."
A reading of the text of the agreement does not show any such clause, and legal experts who spoke to L'Orient Today said the armistice agreement does not address the question of religious figures crossing between Lebanese and Israeli-controlled territory. However, Article 285 of the Criminal Code does allow for discretionary exemptions to the ban on travel to occupied Palestine, to be granted by the Lebanese government.
In the years after the Nakba of 1948, when the state of Israel was created, Lebanese citizens were forbidden to travel via Naqoura, and would initially travel from Lebanon to Jerusalem via the West Bank, which was then under Jordanian control. However, exceptions were given to Lebanese clergy.
One of the earliest recorded exceptions was that of Archbishop Michael Doumit of Sour and Archbishop Elie Farah of Cyprus, who both went on a 10-day official visit to Haifa in 1957. Back then Haifa was part of the diocese of Sour, and the West Bank had not yet been occupied by Israel. Permission for such visits was not always granted. Just a year earlier, Greek Catholic priest Mahfouz Khouri Mualim's request to visit Israeli-controlled territory was rejected by Lebanon's Interior Ministry, according to newspaper reports from the time.
In 1962 and 1964, Doumit's successor, Archbishop Yousuf Khoury, the Bishop of Haifa, was given permission to cross through Naqoura into occupied Palestine to look after his congregation.
After the 1967 Arab-Israeli War, the West Bank fell to Israeli occupation, and Lebanese Christians and Muslims alike were not allowed to visit Jerusalem and Bethlehem for religious pilgrimage as civilians.
However, exemptions continued to be granted on occasion for religious reasons. Khoury was given permission to cross in 1970 for pastoral purposes as well as to visit 11 Lebanese soldiers who were being held as prisoners.
Hage's predecessor, Archbishop Boulos (Paul) Sayyah, was also Lebanese, from Ain al-Kharroub in southern Lebanon, and he too would regularly use the Naqoura crossing with permission from Lebanese General Security.
L'Orient Today spoke with former Interior Minister Marwan Charbel to get a clearer picture of the process. He said it is not unusual for religious figures to cross the border back and forth from Lebanon, noting that this privilege is not restricted to Maronite clergy alone. He cited several instances in which Druze and Sunni religious figures have requested and received permission to cross the border as well.
Charbel noted a similar but less publicized incident earlier this year, in which a Druze Sheikha Haniya Badawi, who had crossed the border for family purposes, was detained after crossing back to Lebanon. She was reportedly released after pressure from Druze leaders and religious figures. The head of the Lebanese Democratic Party, led by Talal Arslan, released a statement condemning the matter, saying that the "sheikha was married to someone from the occupied area and she moved to Lebanon to live with her family after the death of her husband." Judge Fadi Akiki, the military court judge who gave the order last month to arrest Hage, had also given the order for Badawi's arrest.
Hage told L'Orient-Le Jour that in his case, "I have been crossing this border regularly for 10 years, once a month, except during the pandemic."
On the occasion when he was stopped, however, the issue was apparently not simply that he had entered Israeli-controlled territory but that he had brought back money and medicine — a sum of $460,000 and medicines gathered by Lebanese who claimed asylum in Israeli-controlled territory after 2000 to send to their relatives living in Lebanon. Hage described the money and medication as humanitarian aid, which was confiscated when he was detained.
"They stopped him because he came with medicine, humanitarian aid and money that had 'Made in Israel' [written on it] and this is what made the General Security investigate him, because you know, we have a law that says you cannot trade or work with Israeli products," Charbel told L'Orient Today. However, he added that the investigative judge who ordered Hage's detention should have made the Maronite Patriarch aware beforehand that there was intent to interrogate him, "because we know, this is like when any [ministry's] general director needs to be investigated, you need approval from the minister or from his direct superior."
In an interview with L'Orient-Le Jour, Hage explained that he had been delivering aid from families in the occupied territories who wanted to send money to their families in Lebanon.
"Those who arrested me claim that this money is from the families of the Israeli agents and are trying to punish me," he told L'Orient-Le Jour. "They are not [Israeli] agents, but the Lebanese who fled to Israel [after the withdrawal of Israel in 2000]. There are also many Palestinians among them. This is certainly not the first time I have done this shuttle, bringing the assistance with me."
According to a recent study published in the Journal of the German Oriental Society, there are several hundred Lebanese families who remain in Israeli-controlled territory after fleeing there when Israeli occupying forces withdrew from southern Lebanon. Many of them are former members of the disbanded Israeli proxy militia South Lebanon Army as well as their family members. These Lebanese families have since then obtained Israeli citizenship, and many of them have had children who have never been to Lebanon.
In addition to the head of the diocese, Lebanese priests and nuns are appointed from Lebanon to lead local Maronite communities in various aspects of religious life. Part of this, the study found, was to teach the younger children Arabic so they could take part in church life, although it noted that in general the children of the former SLA members attend Hebrew-speaking schools and did not have a strong command of Arabic. The study also found that Lebanese music and TV shows are popular in these communities, as the signal can cross the border. For two years, the church under Sayyah's leadership did set up schools for their children with a Lebanese-style curriculum, but soon discontinued them.
Lawyer Ayman Raad, who has dealt with cases involving alleged contact between Lebanese citizens and Israelis, told L'Orient Today that bringing money from the Lebanese in Israeli-controlled territory falls within the category of "communicating with the enemy, which is a criminal offense."
Any economic relationship with Israeli citizens is prohibited by Article 285 of the Criminal Code, which states that any Lebanese citizen who attempts a commercial transaction with an Israeli citizen is liable to a prison sentence of at least one year.
"I think covering up for this act with religious excuses is unacceptable," he said. "We shouldn't draw red lines against the law for anyone." He noted that the aid money could have been sent via a third country without requiring a Lebanese citizen to carry it directly from Israel to Lebanon.
Raad acknowledges that religious leaders may be granted an exemption to travel from Lebanon to Israel, but said " the problem is with him bringing money and medicine that are made in Israel."
He added: "Why [doesn't the Maronite Church] appoint a religious leader for the Palestinians who is from the same nationality instead of sending someone to the enemy's territory? Or if there are not enough Maronites in Palestine, there is no need for us to appoint a religious leader there."
When asked why the church appoints Lebanese citizens to oversee the jurisdiction of Haifa and Jerusalem, a spokesperson for Bkirki, the seat of the Maronite Church, said: "All of the Maronite archbishops in Antioch and the rest of the east are Lebanese, so that the regimes [of other countries] don't control them like what happens with other Christian sects." He did not specify which regimes he was referring to.
Another lawyer, Al-Sherif Soleiman, who specializes in human rights cases, told L'Orient Today that he saw an inconsistency in the application of the law in Hage's case, given that the archbishop has religious responsibilities and has traveled across the border regularly, but was only questioned during this recent visit.
"Why didn't they apply the law before? Could it be for political purposes that they are applying it now?" he said.
Hage, likewise, asserted that "the objective [of my arrest] is clearly to send a strong message to the patriarch."
The arrest came against the backdrop of increased tensions between Bkirki and Hezbollah. Over the past couple of years, Rai has been increasingly vocal in his opposition to Hezbollah, criticizing the party's weapons and calling for Lebanese "neutrality" in regional conflicts, seen as a swipe at Hezbollah, which has intervened in Syria and Yemen. Rai has even proposed an international conference to discuss Lebanon's political situation.
Since Hage's detention last month, the Maronite Patriarchate has called for the dismissal of Akiki, the judge who issued the warrant to arrest the archbishop.
For his part, in a speech following the incident, Hezbollah leader Hassan Nasrallah said: "It is not fair, what some people say, that security forces in Lebanon work for the interest of Hezbollah… We have a good relationship with General Security based on friendship and respect, but they were just doing their job as they got orders from the judiciary."
Nasrallah asserted that Hezbollah had not intervened in the case and that the "matter is being used to trigger sectarian divisions."
Progressive Socialist Party leader Walid Joumblatt, normally an opponent of Hezbollah, in this case broke with his political allies — notably the Lebanese Forces, whose head, Samir Geagea, called Akiki a "traitor" — and opposed the calls for the judge's dismissal. "There may have been an error in the timing of the arrest of Archbishop Moussa al-Hage, but the latter was carrying money provided by families who are in occupied Palestine and who, at one time, collaborated with the Israelis," Joumblatt said. He added: "Calling for the magistrate [Akiki] to be removed will give Hezbollah the right to do the same regarding Judge Tarek Bitar in charge of the investigation into the explosion at the port of Beirut."
Others suggested that the Hage affair should prompt legislators to make the law clearer regarding the exemption for religious figures entering Israeli-controlled territory.
"I believe that there's a gap in the law that has to be fixed, based on the fact that Israel is an enemy. There will be people after this incident who will say that if the archbishop can go to Israel, why can't we?" lawyer Soleiman said.

BEIRUT— On July 18, the Maronite Archbishop of Haifa and Jerusalem, Moussa al-Hage, a Lebanese citizen, was temporarily detained by General Security in Ras al-Naqoura at Lebanon's southern border while coming back from a visit to the headquarters of the bishopric of Jerusalem.The matter set off a debate between those who considered the arrest a political move against Maronite Patriarch...