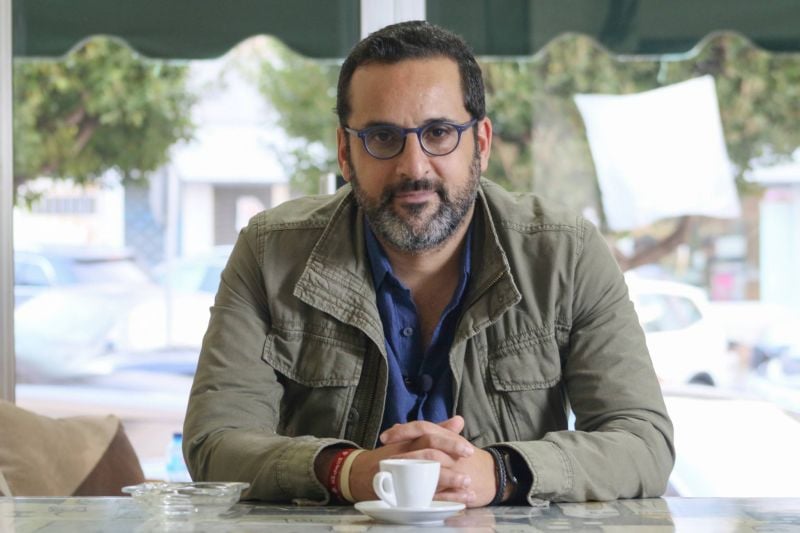 BEIRUT — "I knew I was going to win. Almost a month before, I was going around town telling friends, family that I would win. I had so much faith and I believed that Zgharta's political trajectory was bound to change," the newcomer MP Michel Douaihy told L'Orient Today, as he sipped his coffee on a warm afternoon.
To many observers, Douaihy's prospects of success seemed less clear. In Zgharta, the subdistrict of the North III district where he was running, political positions had traditionally been divided among two powerful families, the Frangieh and Moawad clans.
Zgharta produced two Lebanese presidents: Suleiman Franjieh and René Moawad, along with other prominent politicians, such as former MPs Youssef Salim Karam, Hamid Franjieh, Suleiman Franjieh Jr., and Estephan Douaihy who lost his seat in the May 2022 elections.
"The political history of Zgharta actually began in Ehden with the Karam family, before the Frangieh and Moawad families rose to political prominence," said professor and author Fawzi Yammine, a long-time Zgharta resident who supported Shamaluna, the coalition of opposition groups under whose banner Douaihy ran. "There was no political sphere in Ehden at first; the town's legacy, before it was ever political, was religious."
During the civil war, the Frangieh and Mouawad families settled their long standing vendetta and allied themselves together in defense of their town. Since the Ehden massacre in 1978, the two political families have dominated the scene in Zgharta, segregating its people into two main camps.
"Since then, the Franjieh family aligned themselves with the Syrians, and the rest of the political families in Zgharta aligned themselves with those opposing the Syrian regime," Yammine explained.
Following former President René Moawad's assassination, the Moawad family is considered the main political rival to the Frangieh clan.
It was in this context that Shamaluna, the new opposition group of which Douaihy is a part, formed.
"Some people like to call me, not necessarily the father of Shamaluna, but the one who thought it out, who designed it in his head before it ever happened," a relaxed Douaihy told L'Orient Today. In fact, Douaihy credits the 500-page thesis he wrote while pursuing his PhD, which focuses on the political history of Zgharta, Bsharri and Batroun from 1943 until 1975, as the founding ideology behind the birth of Shamaluna.
Shamaluna is a political coalition formed ahead of the 2022 elections by "the common people" in the North III district that includes Zgharta, Bcharre, Koura and Batroun.
Douaihy, one of the group's co-founders, ran under its banner and won one of the three seats in Zgharta alongside Tony Frangieh and Michel Moawad.
Ibrahim Jouhari, the lead advisor at the electoral lab in the Issam Fares Institute at the American University of Beirut noted that Zgharta is "one of the toughest places to run in, given its political history, old family feuds and the blood that has been spilled."
But with the creation of Shamaluna, he said, "all emergent parties were able to unify under a very strong list and get everybody on board."
Although he's a newcomer to Parliament, Douaihy is not new to politics.
"My friends know that when you are sitting with Micho Douaihy at the Midan [in Ehden] or any place, a political discussion will occur," Douaihy said about his deep interest in politics since his teenage years.
Born to a father from Zgharta and a mother from Tripoli, he grew up mainly in Beirut but spent much of his time in Zgharta, a very common occurrence in the small town of 23,857 registered voters.
Douaihy started off studying finance — obtaining a bachelor's degree from the Lebanese American University and a master's degree in financial services management from the University of Surrey in England — before he "woke up one day and said this is not for me, I want to do something else."
He would eventually get another master's degree in international political economy and international relations, which Douaihy said "opened his eyes to the world."
At the time, Douaihy was witnessing China's bloom into a globally recognized political and economic power. Initially he thought he would pursue a PhD on the topic.
"Before enrolling in the PhD program in England, I decided to travel to China, where I spent four years and a half of my life. I decided to stop my PhD then and instead opened a consultancy office, advising and writing papers about the political economy in China," Douaihy said. "I had a passion for Asia. I'm not sure where it appeared from, but it was there."
After moving back to Lebanon in 2009, Douaihy began teaching politics at his alma mater in 2010 before moving to teach at the American University of Beirut in 2017. During his residency at LAU, the newcomer MP decided to finally pursue his PhD on the political history of Zgharta, Bcharre and Batroun from 1943 until 1975; a project that extended for five years and included "thousands of interviews and intense field work."
"Some people accused me of specializing my PhD in our district's historical background because I was pre-planning my candidacy for the Parliamentary elections of 2022," he said with a chuckle. "Especially since the electoral law then wasn't the same as it is today. Zgharta, Bsharri and Batroun were different districts."
"I am a mixture of many things. I'm definitely an academic and researcher at heart. I love fieldwork, I love going out there and meeting people, talking to them, hearing their stories," said Douaihy about his time in academia. He added, "I love to be surrounded by youth. It's challenging, it's stimulating and it opens your eyes to so many things."
His involvement in the political scene began in 2010 when he first started lecturing at LAU and expanded throughout the years into the 2015 protests, the 2016 municipal elections and most importantly the Oct. 17, 2019 thawra (revolution) and its aftermath.
So what allowed Shamaluna and Douaihy's breakthrough win in Zgharta?
According to Yammine, many people and groups in Zgharta had tried to start or join protest movements that arose in the post-war years; however, none were successful as "Zgharta was a clan-familial power system."
Beginning with the Oct. 17, 2019 thawra (revolution) he said, "Many changes took place in the internal political life, and some politically and socially engaged locals were able to organize themselves in a coherent manner, taking advantage of the failed past experiences."
These changes were "reflected in the last parliamentary elections, where for the first time a person won a parliamentary seat in Zgharta without any affiliation to any of the traditionally dominant political families."
In a nationwide sample on data obtained from the elections, L'Orient Today identified the demographic of voters who cast ballots in support of Shamaluna. In a sample of 20 out of 450 voting boxes in North III, Shamaluna performed best with Greek Orthodox voted, who cast 13.4 percent of their votes for Shamaluna, while Maronite voters followed with 9.8 percent and Sunnis had the lowest share with 2.3 percent.. The samples also showed more female voters voting for Shamaluna in comparison to males; for example; 203 Maronite women voted for this list, while only 135 Maronite men did.
The group received a significant boost from diaspora voters; while Shamaluna took 11.5 percent of all votes in the district, it received 20.4 percent of the diaspora vote.
Now, with 13 MPs associated with the protest movement having been elected into parliament, Lebanese citizens have high expectations. Douaihy says that people's demands are valid and necessary but change cannot happen overnight. Activists have voiced their distaste for the alternative MPs building relationships and mingling with traditional party members who they accuse of demolishing the country.
"I totally agree with that and I see where people are coming from, but what do we do? We cannot sit in the corner and do nothing. We draft laws, we propose, we engage, we build the relationships and then we lobby with the [traditional parties], he said. "The 13 MPs make up only 10 percent of the parliament."
As for the issues that he plans to tackle now that he's in Parliament, Douaihy said, "Apart from issues such as Hezbollah's weapons, laws that are imposed by religious institutions and such need to be tackled. There has to be change in the 21st century. The goal is to give people the option to choose, to build a country where individualism has space away from sectarianism and religious mandates. We have to push for people's right to have choices."
He added, "I think about my kids. I want to contribute to building a country for them and others that is tolerant, accepting and forgiving. There are laws, but also a government that respects everyone in how they live their individual lives; their race, nationality, origin, sexual preferences, gender, etc."
Additional reporting contributed by Richard Salame.

BEIRUT — "I knew I was going to win. Almost a month before, I was going around town telling friends, family that I would win. I had so much faith and I believed that Zgharta's political trajectory was bound to change," the newcomer MP Michel Douaihy told L'Orient Today, as he sipped his coffee on a warm afternoon. To many observers, Douaihy's prospects of success seemed less clear. In...