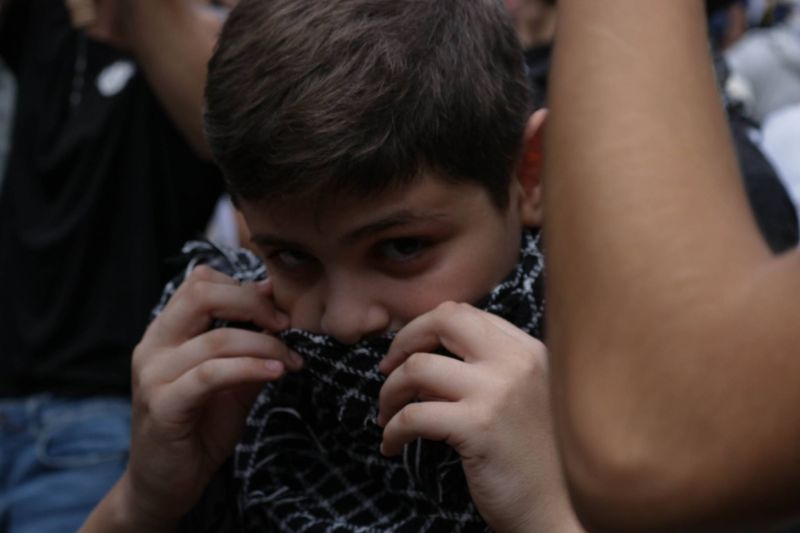 BEIRUT — The ABC shopping center is at the center of a controversy after the publication on Thursday of an article in the Lebanese daily al-Akhbar, an outlet close to Hezbollah, titled "The keffiyeh, banned at ABC Achrafieh!"
The article accused the mall of "tracking down any employee wearing a keffiyeh or clothing displaying Palestinian signs." According to the daily, these actions came "after a decision to remove merchandise relating to Palestine from kiosks located in the center."
Contacted Friday by L'Orient-Le Jour, Rita Salamoun, manager of the marketing department of ABC Achrafieh, confirmed that "the management did ask an employee to remove a keffiyeh that she wore during her working hours, the employees being subject to a dress code that prohibits them from displaying religious or partisan symbols."
"On the other hand, our customers are free to wear what they want," she added.
Salamoun also denied that the shopping center prohibits goods linked to Palestine. "We have no problem if one of our stores wants to sell handmade items related to Palestine," she continued.
In a statement published on Instagram, ABC said that it "embraces [its] customers diversity without any restrictions on their beliefs or attire."
"At ABC, we aim to provide a harbor for its customers to experience safety, tranquility and enjoyment by maintaining a distance from politics and tension," the statement reads.
"We offer our prayers to all those affected by the dramatic events that are happening in the region and hope for a peaceful tomorrow," the mall added, without mentioning Gaza or the Palestinian people in its statement.
In February 2022, ABC Achrafieh was the subject of a complaint brought forward by a group of lawyers "for having violated public and religious freedoms by preventing a veiled woman from continuing her work." At the time, the shopping center reportedly asked a brand that operated on its premises to fire an employee who wore a hijab at work.
This article was originally published in French in L'Orient-Le Jour.
BEIRUT — The ABC shopping center is at the center of a controversy after the publication on Thursday of an article in the Lebanese daily al-Akhbar, an outlet close to Hezbollah, titled "The keffiyeh, banned at ABC Achrafieh!"The article accused the mall of "tracking down any employee wearing a keffiyeh or clothing displaying Palestinian signs." According to the daily, these actions came...