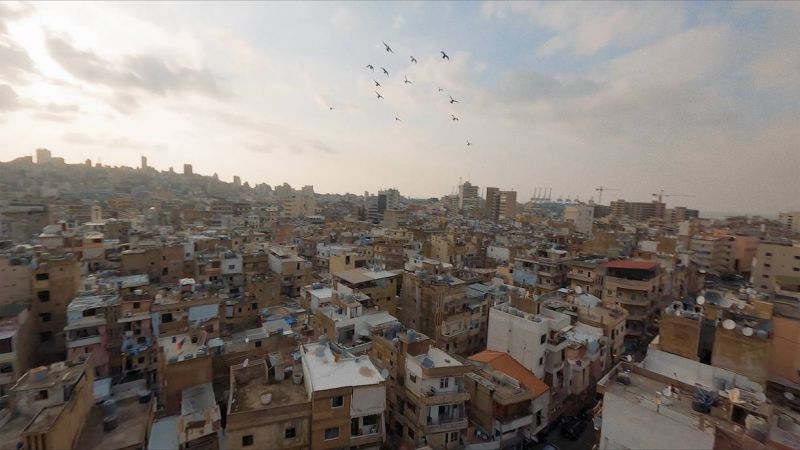 BEIRUT — In a small fishing boat near Pigeon Rock, Raouche, a camera operator has trained his lens on the boat's owner, Abu Mustafa, one of three characters in this film who devote much of their lives to their pigeons. At this moment the birds are nowhere to be seen as Abu Mustafa recites a well-worn tale of how Beirutis of all confessions are uniquely able to get along. From off-frame, a female voice giggles.
"Come on," she says. "What's it really like?"
He hesitates, then tells filmmakers Lea Najjar and Alia Haju a different story — about a country that is less than it once was because its politicians are more loyal to their own enrichment than to the needs of their constituents. Yet the people still support these leaders, he says. It makes no sense.
Kash Kash - Without Feathers We Can't Live, the debut feature-length documentary of the Vienna-born, Beirut-raised, Berlin-based Najjar, will have its regional premiere Thursday evening, screening as part of Beirut's German Film Week.
It tells the story of three "pigeon fanciers," men who acquire birds and fly them competitively. Kash hamami, as the sport is called, sends flights of birds aloft to perform circuits around their rooftop pens, egged on by their owners. It's familiar to anyone who's lived in Beirut, but hardly unique to Lebanon, having been practiced throughout the MENA region for thousands of years.
Abu Mustafa's co-stars are Hassan and Radwan. Young men still living with their parents — one on the west side of town near Mar Elias, the other in Karantina in the northeast — Radwan and Hassan are happy to lure their neighbors' birds into their flocks. Abu Mustafa, who has two sons in university, was born to a family of fishermen and doesn't compete as Hassan and Radwan do, instead raising pigeons just for the joy of it. A fourth character is Aïsha, a young girl who hangs out on Radwan's roof, fascinated by the birds but unlikely to become a fancier herself. Najjar frames these lives against the backdrop of Beirut's 2019 demonstrations, financial crisis, COVID-19 outbreak and the port blast of Aug. 4, 2020.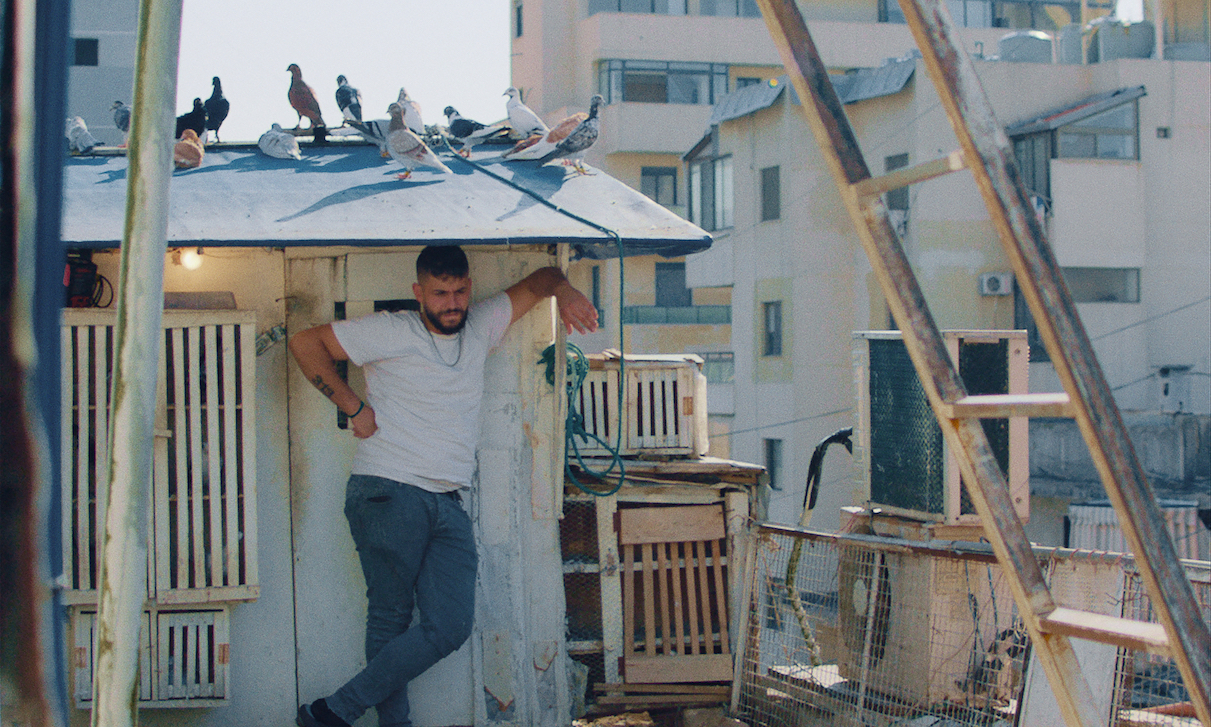 Hassan, one of three pigeon fanciers in "Kash Kash," all with a distinct attitude toward the sport. (Photo by Jonas Schneider)
Beirut and its pigeon fanciers
Kash Kash was Najjar's film school graduation project, born of a desire to make a feature film that captures some facets of Lebanon. That desire expressed itself in her and Haju's shared curiosity about the guys flying pigeons on the roof of a friend's building — a story that expanded as they learned about the worldwide network to which pigeon fanciers belong.
"We spent half a year researching," Najjar recalls. "With this sport, you could make a movie about the entire region. Everyone's playing and somehow connected. When we decided to start filming we realized we had to focus our story so it's realistic to produce."
Like many Lebanon film shoots in late 2019, Kash Kash encountered several obstacles.
"No one knew what the revolution was or what it would become. We thought we'd lose a week, but it got bigger and bigger ... [My crew members went] their own way, wanting to be part of this big thing that was happening," Najjar says.
"Every time we wanted to shoot, we faced a roadblock — thawra, corona, the explosion. Each time we realized, 'They're still [flying their pigeons] so we should continue to shoot.'"
As the project developed, Najjar's premises about her cast of characters altered.
"My very first instinct, which I later felt was wrong, was to have people from different sects or different backgrounds. What we decided in the end was to choose people that have different motivations bringing them to the roof," she says.
"Abu Mustafa plays for the beauty of it, because it brings him joy to see these birds flying. Hassan has a very different energy. It's about winning. It's an addiction, much more about proving himself in the neighborhood. Radwan is this introverted barber guy. His roof is his intimate place.
"Aïsha lives in Radwan's neighborhood. She was super curious, trying to spend as much time as possible on the roof. Of course, me and Alia were like, 'Can we find any woman in all of Lebanon who flies pigeons?'" she laughs, "We couldn't. Sometimes women feed the birds ... but none of them play for the joy of it. It's really frowned upon, especially in these working-class circles. To say someone is kash kash, it's like saying 'He's a liar' — a terrible stereotype arising from the sport's association with gambling. We wanted to find a way to show why. We thought we could in the curiosity of a girl who is interested but always gets, 'No, that's not for you.'"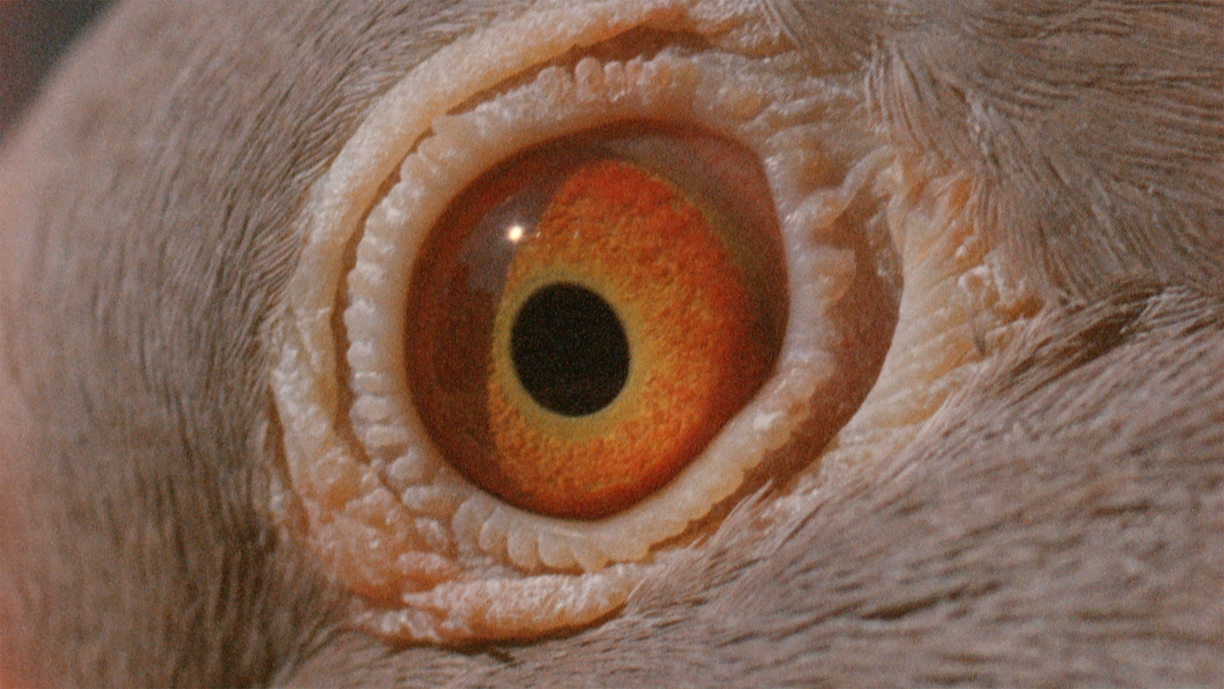 The cinematography of "Kash Kash" combines film and video footage, panormas and close-up shots, as here. (Photo by Jonas Schneider)
Pigeon themes reverberate through Kash Kash. From the scenic locations of Pigeon Rock to the birds circling over corn spilling from the port's ruptured grain silos, viewers may wonder whether the pigeon is Beirut's patron creature. It suggests insightful planning on Najjar's part.
"Honestly, I forgot that it was called 'Pigeon Rock,'" she laughs. "My mom reminded me. 'Why did you say it's the rock of death? It's called Pigeon Rock!'
"Of course, I was aware of the corn at the silos and all that, but we wanted to shoot at Pigeon Rock because we thought that Abu Mustafa's location is so serene, it was a fitting counterpoint to Hassan and Radwan's place. The name 'Pigeon Rock' came as a gift."
Come for the birds, stay for the filmmaking
Kash Kash has won several prizes since its premiere at Copenhagen's CPH:DOX festival, where it took the Next:Wave Award in March. On Tuesday evening Najjar won Next Steps, the German Young Talent Award, for the documentary film.
While the film's premise and characters defy conventional nonfiction treatments of working-class Beirutis — there is no discussion of their sectarian or political orientations, for example, and no mention of the Civil War — the camera frames the city and its characters in a way that is marked both by intimacy (or confinement) and an imaginative range of tonalities that captures the unsettled state of Beirut during the shoot.
The film opens with a claustrophobic shot taken from within a bag holding several pigeons. A series of jump cuts suggests the birds are being driven about in the trunk of a car to be sold. Kash Kash closes with a very different birds-eye view, as a drone-mounted camera follows a flight of pigeons soaring over the city. The stories of the humans who compete with, and for, these birds are told between these distinct bookends.
"It was a decision we made together with the DP [Jonas Schneider]," Najjar says. "Whenever we're not on the roof, we wanted to be really close to the characters, to feel more claustrophobic. When you go to the roof, it's to find a bit of breathing [room] because life is stressful and they all hustle to get by, day by day."
Complementing this close-proximity video footage with the doc's characters are some great tracking shots of Beirut captured on 16mm film — the first, filmed from a car approaching the city, serves as a sort of establishing shot.
"Jonas was like, 'I still have some 16mm rolls left and I'm gonna use them, no matter what you say!'" she laughs. "We couldn't afford to do a documentary on 16 millimeter [film], but we had these rolls. Jonas loves the way the light breaks on 16 millimeter … For him, I think it was like trying to make the picture feel more alive — having grain and not being too clean. We could have had a much higher quality image but it was like being on the street, buzzy, alive."
Najjar was nervous about working with a German director of photography at first.
"We wanted to shoot with someone Lebanese. I didn't want an 'exotic eye' thinking that every weird cable arrangement is like, 'Cool! We need to film that!'" she laughs. "After the revolution, I couldn't find anyone who could focus with me anymore. Everyone was really scattered. That's when we decided to switch to Jonas, which was the best decision because he didn't have the emotional baggage and could shoot this film at this harsh time — having empathy, of course, but without being directly affected."
Another segment, shot guerilla-style from a moving car, gazes upon the smashed shopfronts of a neighborhood after the port blast, the washed-out monochrome of a viewer in a stupor.
"For a long time, we were searching, 'Like what can we use after the explosion?' We felt this just had the right ... tonality. It feels like it should feel: it's nervous. There's no point showing destruction. We wanted to give this emotional impression of 'Everything's gone. We don't know what's gonna happen next.'"
As Radwan and Hassan remark upon their confined lives, and Abu Mustafa reflects upon the nonsense of people still following these shiftless politicians, a discomfiting possibility may dawn on viewers. If pigeon fanciers rule their birds like political leaders do their clients, perhaps humans resemble pigeons?
Najjar laughs, then says that's not exactly what she had in mind.
"Before this film was about all the historic and political stuff that was happening [in Beirut in 2019-20], when we thought that it was only about the game, we had in mind to follow the pigeons' journey, the different stages they go through in their lives — from being smuggled to being gambled, to being locked in one place and mated by force. We thought there were a lot of parallels in what can happen to the person's life — what's happening when people are smuggled, deprived of their freedom.
"This was, I think, maybe something from our earlier script that we had still in mind when we started shooting," she laughs. "It's a ghost of the first concept, that we had to throw away, because of everything that was happening."
Kash Kash - Without Feathers We Can't Live will be projected 8 p.m. Thursday, Sept. 29, at Galaxy Grand Cinemas (Blvd. Camille Chamoun, Beirut)

BEIRUT — In a small fishing boat near Pigeon Rock, Raouche, a camera operator has trained his lens on the boat's owner, Abu Mustafa, one of three characters in this film who devote much of their lives to their pigeons. At this moment the birds are nowhere to be seen as Abu Mustafa recites a well-worn tale of how Beirutis of all confessions are uniquely able to get along. From off-frame, a...