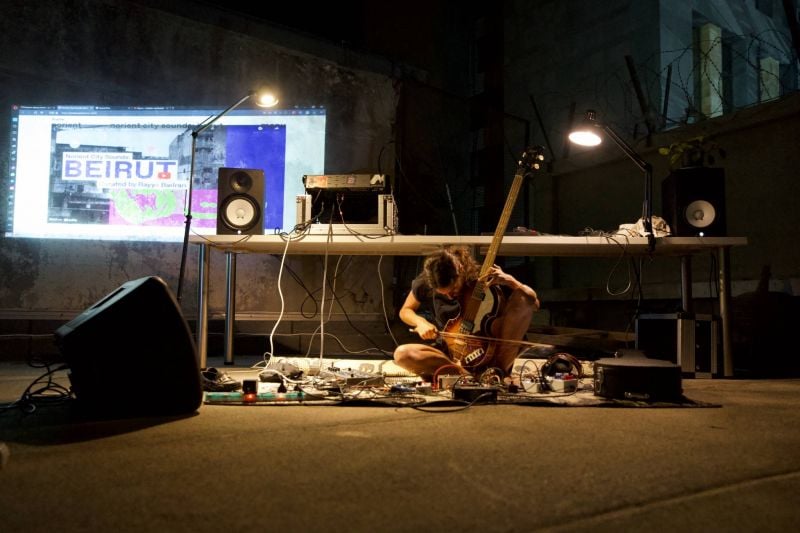 BEIRUT — It's a balmy summer night in late August, when, on a cozy rooftop tucked between badly maintained buildings of different shapes and sizes dotted with barbed wire, an audience listens intently, almost trance-like, to Jad Atoui's and Ziad Moukarzel's set of Beirut soundscapes — a mix of the mundane and the maddening.
Ironically, just after they start throwing helicopter sounds in the mix, an actual helicopter flies over the building at a low altitude, its tak-tak-tak sounds overtaking those emitting from the speaker, in a scene that seemed almost too good to be true. After its third appearance, the crowd collectively comes to its senses, realizing what's happening: they start clapping and collectively burst in a half-mocking but good-spirited zaghrouta.
It's Friday, the opening night of "Norient City Sounds: Beirut," bearing the apt title "Beirut Adrift," which, according to the event's intricate website, "evokes a sense of loss and disorientation but also a drift in the city's new sonic and musical terrains."

Curated by multi-hyphenate creative Rayya Badran, the contributors of this edition have responded to the sounds of this lost city through a multifaceted collection of essays, sound pieces, mixtapes, photographic series, sound walks and more.

Founded 20 years ago in Switzerland, Norient is an audio-visual gallery and a "community (of practice)" for the "seismographic" soundtrack of the world and our time, offering a platform for music, journalism and research "in an attempt to defy algorithms and filter bubbles," the organization says on its website. In the words of its founder and director, Thomas Burkhalter: "In 2002, Norient was an attack on Orientalism and Exoticism. It was about opening up to contemporary music and expressions from the non-Western world. Now it is about creating a true community of thinkers and artists."
After a first edition dedicated to Nairobi that was published earlier this year, the Norient City Sounds Online Special traveled to Beirut which it describes as "a city that continues to witness an aggravating financial and economic crisis in the midst of prolonged political and social turmoil. Plunged in darkness and reeling from traumatic events that have occurred since 2020, the city and its artists and musicians have resisted in various ways during this difficult time."
After Atoui and Moukarzel's slightly trippy and pleasantly disorienting set, which took place at the Beirut Synthesizer Center, a free co-op for electronic music aficionados in Mar Mikhail, the stage was inhabited by performer, music producer and sound artist Jana Saleh — literally inhabited, as, instead of ascending the DJ's throne behind the table, she sat down on the colorful rug before it, surrounded by cables, lights, synths and instruments, barefoot and dissolving into her immediate environment. At one point she hypnotizes the crowd, so intensely pounding her bass guitar with a fiddle that its strings snap.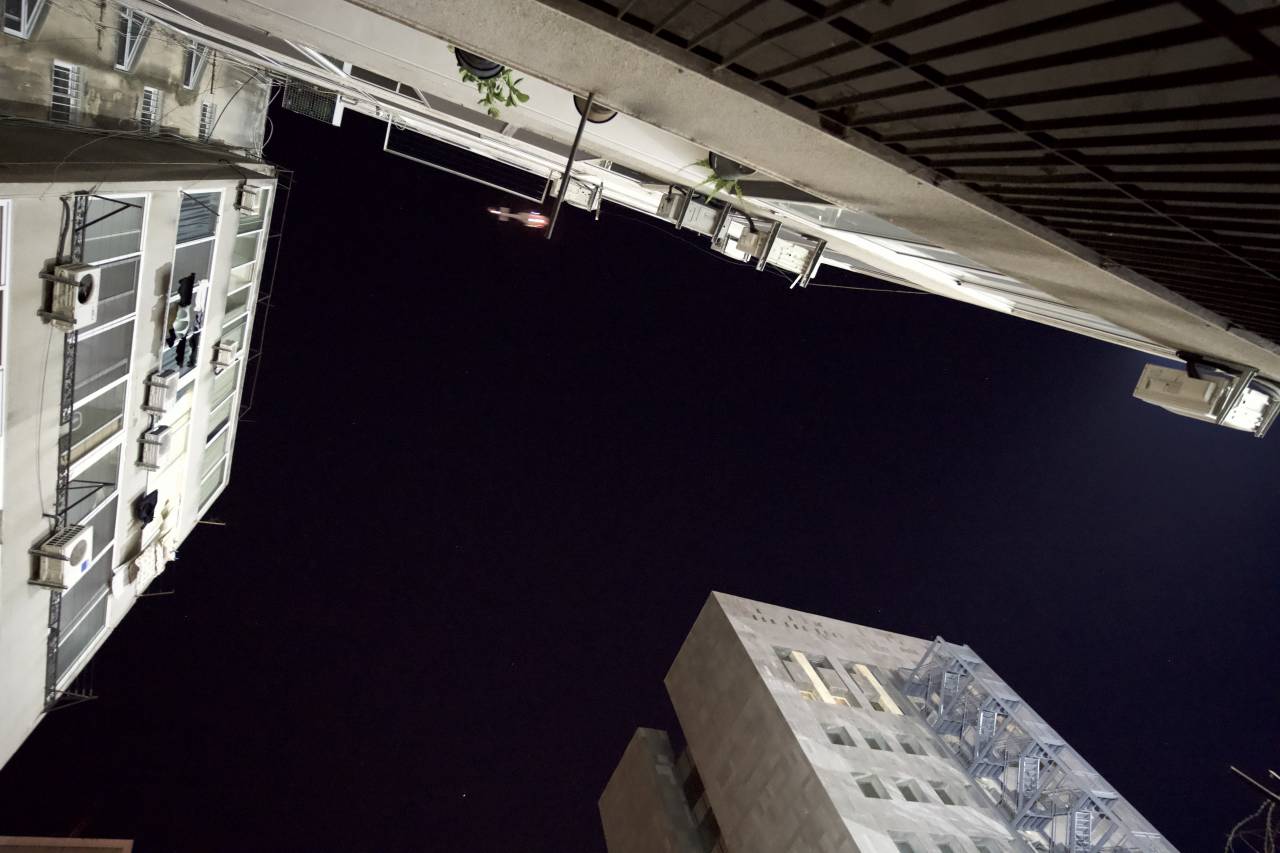 A low-flying helicopter briefly interrupts the set of Jad Atoui and Ziad Moukarzel at the launch of "Norient City Sounds: Beirut" at Beirut Synthesizer Center in Mar Mikhail on Aug. 26. (Credit: Tamara Rasamny)
Conjuring up a freestyle journey through sounds and memory, taking inspiration from what she refers to as "the Impossible Sound Banks of Beirut" (organized on her phone into the Oct. 17 uprising in 2019; the Beirut port blast on Aug. 4, 2020 and its aftermath; and the height of the economic and fuel crises in the summer of 2021) and building on the ideas she describes in her accompanying eponymous essay, we can hear a convergence of what she calls "techno-territorial dissonance":
"For the first time since I started collecting field recordings, the sounds I captured in a specific street or corner in the city became charged with distress. Instead of hearing a potential bass drum in a specific sample, sound became a source of post-traumatic anguish. A clapping sound, which I would have used in a rhythm section, oscillated between a sound of hope or despair."
While the act of recording and archiving felt necessary during the various upheavals and crises that hit the city in the past three years, sampling the sounds of Beirut "came with moral and emotional quandaries," Saleh writes. "I could no longer bring myself to use these recordings in musical compositions because it was impossible for me to disconnect the sounds from the people and the city that created them." Instead, she writes, what is sampled is the imbrication, or a layering, of the city on her. "I frequently return to these diverse sound banks and, although I do not use them, they help chart a vast sonic terrain that allows me to connect musically with my city."
The opening, both a contemplation and celebration of Beirut's soundscapes and the many ways in which Beirutis negotiate with them, functioned as a curtain raiser for a multi-disciplinary, multifaceted virtual exhibition that will be accessible until 2023. An interactive map of Beirut that doubles as a collage, presents icons that help the viewer explore the dynamic content of Norient City Sounds: Beirut.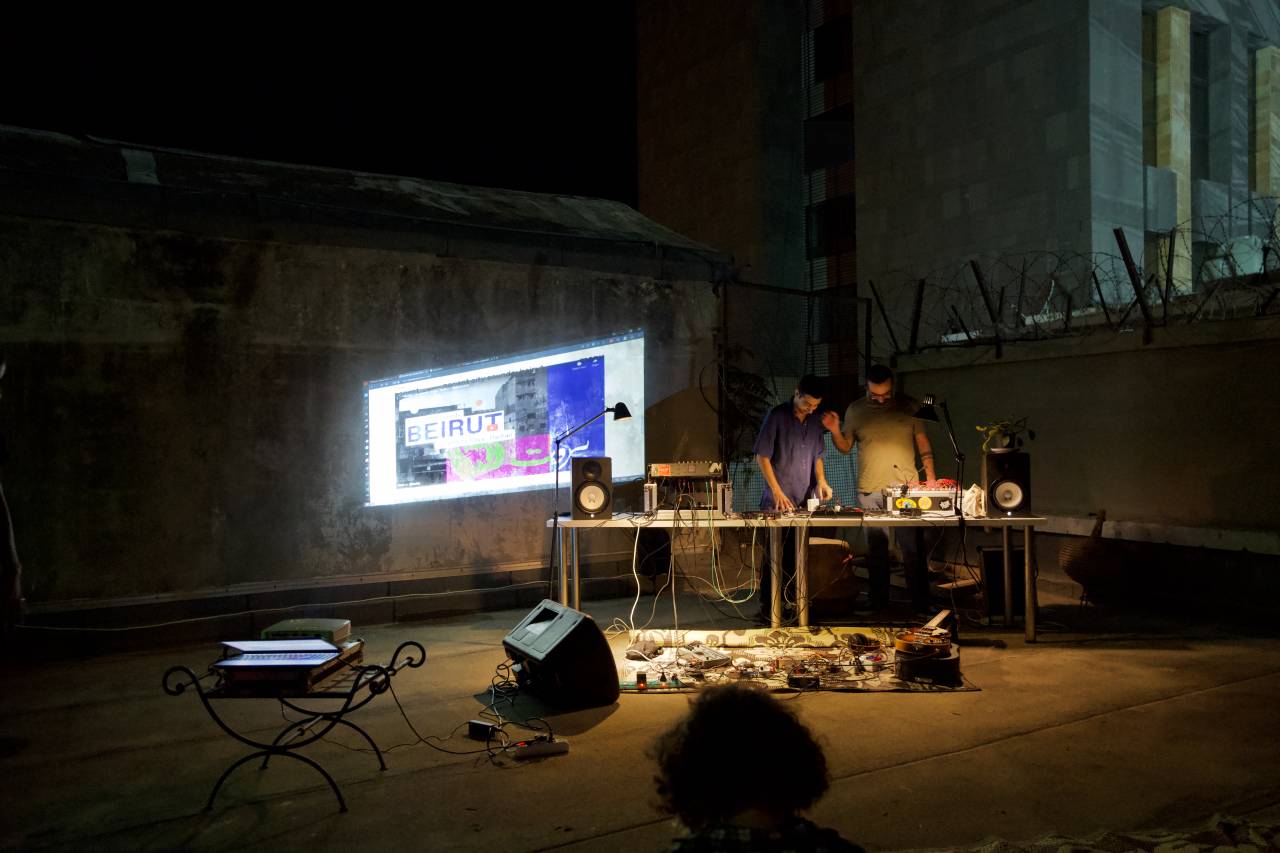 Jad Atoui and Ziad Moukarzel perform at the launch of "Norient City Sounds: Beirut" at Beirut Synthesizer Center in Mar Mikhail on Aug. 26. (Credit: Tamara Rasamny)
Badran, a writer, translator and art history instructor at the American University of Beirut, has the ideal background to curate this project. With a master's degree in Aural and Visual Cultures from Goldsmiths under her belt, her writing primarily centers on sonic practices and music. In fact, the love for Beiruti soundscapes and for the work of the artists she assembled is evident in every word she uses to describe the project.
"Norient approached me at a particularly difficult time, in Beirut, and in Lebanon in general. It coincided with the height of the fuel crisis last year," Badran tells L'Orient Today.
No stranger to Beirut's music and art scene, Badran had no shortage of talent to choose from in the city — and the country.
The roster she came up with is "not exhaustive" she says, "but I already sort of had an idea in mind when I started the process of contacting artists and musicians. So whether it was filmmaking, installation or performance, songwriting and singing and music, anyone I knew that had prioritized sound and music in their artistic practice."
"I was really hoping that these artists would also use this platform to voice out this entanglement of what was going on in Lebanon or Beirut, at the time or still, and how that intersected with how they practice," she adds.
At the same time, Badran says, she believes that artists in general don't force themselves to make art. Rather, they respond to their experience of the context. "I think that it's a necessity."
The artists in post-crisis Lebanon were trying to work with the sonic environment they were now living in being starkly different than before, she said. "There's this sort of a 'pre' and 'post' periods. And yet, these periods are kind of unclear, right? There's pre and post-Oct. 17 uprising but there's also pre and post-Beirut port blast and then, in the midst of all of this, there's the continuous economic and financial crisis."
What is the place of soundscapes, or art in general, in a country that is collapsing, where many people have no idea how they will get by until the end of the month and where desperation has led to increased crime and driven some to hold people hostage to gain access to their own money?
"This is the environment and the context with which they have to contend and which they are confronted by, or live in. And so to me, it doesn't feel obscene to want to think through what these new realities present themselves with," Badran says.
"I don't think it's even specific to Beirut or Lebanon. I think it's specific to art-making in general. I don't necessarily have a curatorial practice in the way that other curators do. But, I have worked with artists for more than 10 years. And, working with artists is always an ongoing conversation, an ongoing exchange," she adds.
For singer-songwriter Mayssa Jallad, who moved back to Beirut from New York in 2018 to "shake off the politically powerless dread of living abroad," "wilted" and concerned about losing her voice, as she describes in her essay "Songwriting in the Throes of an Uprising," the soundtrack to the Oct. 17 uprisings proved to be an injection of inspiration. She realized how "the power of collaboration in songwriting taps into the collective memory of song," she writes, when, during its second week, she joined a direct action group where she discovered the revolution's practice of using folkloric melodies mixed with anti-establishment lyrics:
"I don't remember the first time I heard the 'Hela Ho' chant in the square, but its adaptation of Bob Azzam's famous tune 'Chérie je t'aime' and the lurid insult it contained made it instantly addictive. I later discovered it was modeled after a chant by the fans of Nejmeh, a local football club, who copied it from a chant by the Egyptian Ahli football club fans," Jallad writes.
"There is something electric about finishing someone's chant, an unspoken complicity is born, like new lovers finishing each other's sentences. It's also thrilling to insult a politician out loud, protected by the masses."
In his sonic "diaristic essay," writer Majd Shidiac surveys the contrasting sounds that punctuate a city "under the constant threat of political violence and social strife, weaving an aggressive dual reality of resistance and regression." In March, he wrote about the sounds overwhelming him near Mkalles Warehouse:
"The constant buzz of the sleepless drone is overbearing. The urgency of motorbikes, the inconsistency of power generators, the wheezing of water pumps, and the chaos of borderline, all overbearing."
Over party banter, Shidiac writes, a friend told him that "clubs should not only be spaces of escape but also of confrontation."
Rabea Hajaig delves further into this notion of mixing the personal and politics in spaces of pleasure in his essay "We Want More Britney! A Dance Party in Pre-COVID-19 Beirut," in which he reminisces about DJing at the now-defunct queer-friendly Bardo: "When I got it just right, it felt transcendent: DJ, writhing bodies, and throbbing music merging in a joyous abandon in the smoke-filled room. The space of the dance floor became a site of communitas, a place for boundaries to be pushed, limits to be broken. As Lebanon continues to sink into economic and political uncertainty, respite from an increasingly constraining reality is harder to access for everyone across the board."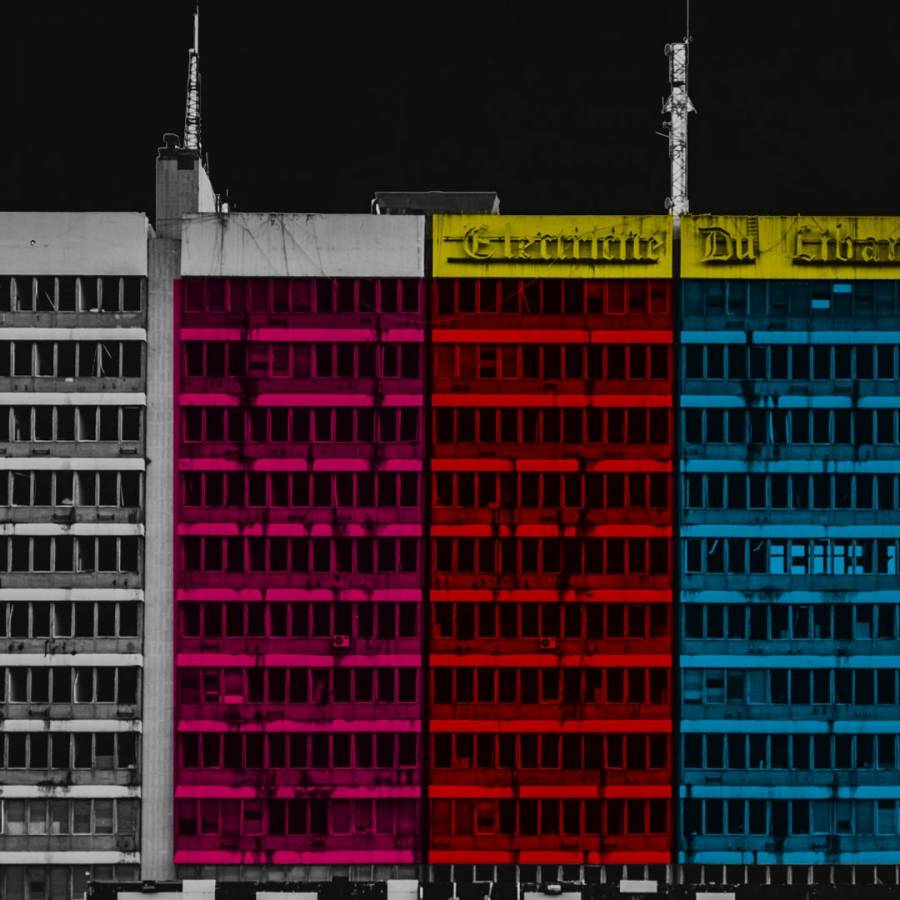 Visual accompanying Mayssa Jallad's essay in the virtual exhibition "Norient City Sounds: Beirut." (Credit: Bananamonkey)
Ruminating on all the music coming out of Beirut, in parties and live sets, Shidiac takes notice of the looping eruptions, "as if propelled in an active nuclear power plant." Unlike the world outside, however, he writes "it is the artists who choose the frequency and intensity of the imminent bursts."
Just like one can easily get lost, in good ways and bad, in the streets and sounds of Beirut, Norient Beirut is a veritable Alice in Wonderlandesque maze – a nourishing palette of photos, sounds and stories that don't shy away from illustrating the ravaged city's pain and discomfort while somehow simultaneously functioning as a complicated ode.
The virtual exhibit further pulls you in with everything from "virtual soundwalks" by Farah Awada and Nour Ouayda to Caroline Tabet's photographs capturing the discreet yet dominant details shaping the city's sonic palette, mesmerizing melancholic mixtapes by Liliane Chlela, Ziad Nawfal and Sandy Chamoun which casually complement essays by filmmaker Rami Sabbagh and artist Joe Namy, a poetic text by filmmaker Carine Doumit inspired by her forthcoming film and an eclectic playlist of ten music videos curated by Rayya Badran.
In July, Shidiac concluded his sonic diary with the following: "This city is overwhelming. Through sinuous walls, it is constantly deflecting sounds that require your attention — threatening, alerting, alarming. But it never falls short of sounds that push back: rough jazz in blue bars, courteous poetics in alleyways, songs of old revolutions disrupting corner shop small talk, and music; being played for the first time. This city demands to be heard — and so do we."

BEIRUT — It's a balmy summer night in late August, when, on a cozy rooftop tucked between badly maintained buildings of different shapes and sizes dotted with barbed wire, an audience listens intently, almost trance-like, to Jad Atoui's and Ziad Moukarzel's set of Beirut soundscapes — a mix of the mundane and the maddening.Ironically, just after they start throwing helicopter sounds in the...