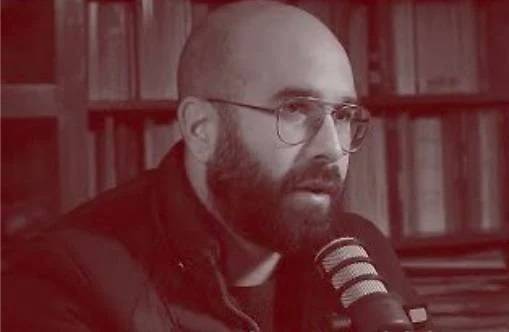 BEIRUT — With a boyish smile, shaved head, spectacles and a trim beard that give him the look of a young professor, 36-year-old Jad Ghosn is a well-known figure among members of Lebanon's intelligentsia and activist circles. Many of them tune in weekly to listen to him dissect the shortcomings of the country's political and financial system in a soothing drawl that belies the seriousness of the topics at hand.
The former Al Jadeed TV journalist turned independent podcaster announced last week that he is running in May's parliamentary election on the ticket of Citizens in a State (MMFD), a left-leaning opposition party headed by economist and former government minister Charbel Nahas, in the Metn district.
The news was greeted with delight by his fans — "I never would have believed I would say this in my life, but I wish I were from the Metn," one wrote on Twitter, proclaiming himself to be "with Jad Ghosn … in the face of the banking gangs" — while detractors equated a vote for him to a vote for Hezbollah. (In contrast to some of the other new candidates, who have made opposition to Hezbollah and its arms central to their campaigns, Ghosn has maintained that the party is not foremost among Lebanon's problems.)
Others questioned why someone who had made his name as an independent voice would want to risk his credibility by entering the political arena.
In fact, Ghosn had turned down a previous offer to run on the MMFD ticket in 2018. But this time around, he told L'Orient Today, he was convinced by the party's platform and felt he would be a "hypocrite" to stand on the sidelines after encouraging others to get politically involved. That's despite the fact that now is a far from ideal time for a political campaign: apart from the pressure of being self-employed, he is preparing to get married this summer.
Getting to the legislature will be an uphill battle — in 2018, only one independent candidate, Paula Yacoubian, also a former TV journalist, won a seat — and even if he makes it, Ghosn said he is under no illusions that change will come easily.
"Parliament is not where the decisions are really taken," he told L'Orient Today. "We have six to eight zaims [political leaders]. They sit and they take decisions, and when they can't, we have total stagnation. The Parliament are mere puppets — not all of the MPs, but most of them. So, what we are seeking through this candidacy … is to just say that this political program has the backing of X amount of people and its legitimacy comes from this amount of people, so you cannot neglect it."
The political program he is referring to includes conducting a census of Lebanon's population for the first time since 1932 as initial step toward developing an economic reform plan, putting in place a social safety net that would include universal health care at least for essential medication along with free basic education, and eventually a new election law that would have citizens vote in the districts where they live, not where their parents are from.
Ghosn himself was born in the northern Beirut suburb of Jounieh, but due to the quirks of the current election law mentioned above, he is required to vote in the southern suburb of Chiyah.
His introduction to politics came via his parents, who were supporters of the Free Patriotic Movement of now-President — then-exiled opposition figure — Michel Aoun. His first journalism job was at the FPM-associated OTV channel.
Initially, Ghosn said, he was convinced by the party's rhetoric about economic reforms and fiscal responsibility, but he gradually became disillusioned as the party's discourse took a more sectarian turn, toward "the Christians and the right of Maronites and 'we want our quota.'"
The last straw, he said, was when then-Labor Minister Nahas resigned in 2012 after the FPM shot down a wage reform proposal he had put forward that would have laid the basis for universal health coverage. A scaled-down wage proposal stripped of the health care component was passed in its place.
"They were moving to this rhetoric about confessional representation, and the price was having real reform," Ghosn said.
He left the party and in 2013 traded in his job at OTV for one at Al Jadeed, where he became known for incisive political and economic analysis.
Al Jadeed reporter Adam Chamseddine described Ghosn as "one of the very few colleagues in this profession who was able to dissect the enormously complicated situation in Lebanon and present it in a very — not simplistic — but a very reachable way … He just simply has this talent for uncomplicating things."
Chamseddine added that Ghosn had always resisted attempts by politicians, accustomed to trading favors with political journalists, to sweeten him up.
"Jad, out of my own knowledge, was always targeted by those politicians — you know, they saw him as a [potential] asset," he said. "We both know that a lot of journalists might be tempted by the interest of politicians, but Jad always saw it as an insult, for them to even think that he might be willing to offer any help to them."
Chamseddine noted that Ghosn had turned down an offer of a cabinet post during a previous government formation process. (When asked about the subject, Ghosn said he had been approached in 2020 by a political consultant about a potential position, but said he had taken it more as an attempt to win his allegiance than a serious offer.)
In August 2020, not long after the Beirut port explosion, Ghosn announced that he was leaving Al Jadeed for a position in Dubai with Asharq, a Saudi-owned media company that partners with Bloomberg.
Until then, Ghosn said, he had resisted the idea of emigrating. His siblings were already abroad and he was the only one left in Lebanon to look after their parents.
But after the economic crisis and the Aug. 4 blast, he said, "I was feeling that if [before] I was going to stay in the country for the sake of my parents, now for the sake of my parents, I should leave in order to have some more income" to help support them.
However, his plans were short-circuited. The job offer was rescinded after pro-Saudi social media figures mounted a campaign against him based on tweets in which he had criticized the kingdom's politics — including from 2017, when Lebanon's then-Prime Minister Saad Hariri unexpectedly announced his resignation during a trip to the KSA. Ghosn, among others, posited that the Saudis had strong-armed him into doing so.
Rather than returning to his old position at Al Jadeed or taking a job with another Lebanese channel, Ghosn struck out on his own, crowdfunding to launch a video podcast, "Reflections with Jad Ghosn," in which he intersperses long-ranging interviews with guest experts with his own commentary on the latest happening in Lebanon and the world. His YouTube channel has garnered more than 36,000 subscribers.
At a time when the slogan of the October 2019 thawra — "killon yaani killon" or "all of them means all of them," a broad indictment of the whole political class — has given way to a retrenchment along the lines of the former March 8 and March 14 axes, aligned with Iran and Syria on one side and with the Gulf and the West on the other, Ghosn has been one of the few public figures willing and able to engage with both.
He has held friendly debates with Ronnie Chatah, a strongly anti-Hezbollah podcaster and political commentator who takes issue with Ghosn's neutral position on the party and its arms; and with Asad Abukhalil, an acerbic leftist political science professor with a tendency to see Zionist plots everywhere, who criticized Ghosn for not taking a stronger stand against the machinations of Israel, the United States and Saudi Arabia.
"His reporting is sincere, his work is honest," Chatah told L'Orient Today. "That allows someone like me, who disagrees with him on a foundational issue, which is substate groups or even what sovereignty means for Lebanon, to listen carefully and even respect him when I disagree with him."
But for people like him, Chatah said, who respect Ghosn's work while disagreeing with his views, joining a political campaign "means that you're less independent, perhaps, and you are less persuasive," while "his caution, and at times, what looks to be actively ignoring a fundamental component to reform [by not addressing the question of Hezbollah], I think will put him at the margins faster."
He added that if Ghosn's run is unsuccessful, "he will not lose me, necessarily, [as a listener] but he may lose people that seem to fundamentally disagree with his politics. And I think that that is something that may not be good if he wants to continue in the media sphere."
Ghosn said the decision to run for office was not one he took lightly. Nahas had first approached him about running for Parliament on the MMFD ticket in 2018, he said, but at the time, he was unconvinced by the Kulluna Watani alliance that had been formed by MMFD and other opposition groups. (A spokesperson for MMFD declined to comment or make Nahas available to comment for this article, saying the party prefers to let Ghosn speak for himself.)
Many of the candidates taking part in the coalition "weren't in agreement politically, but they were just put together in order to have the appearance of strength and force and unity," Ghosn said. "But I believe that people saw through it — they weren't convinced into making this switch from the traditional political parties into something that is not really clear."
While some analysts have argued that a single opposition front is the best chance at winning seats, Ghosn said the approach, in his opinion, too closely resembles the "national unity government" setup favored by the establishment political parties.
"I cannot fathom this idea of the electoral ally. So, we are opponents on politics, but we ally in the elections, and then we do it again in the government, and then we tell the people that they should be polarized in their differences?" he said.
He characterizes the vocally anti-Hezbollah stance taken by some of the opposition political groups as grandstanding.
"How can you, through being elected as an MP in the next Parliament, disarm Hezbollah?" Ghosn asked. "If you can't, then you shouldn't lie to the population in order to polarize them and to have their votes."
While Ghosn said he agrees with the party's critics that it is "not normal" for a non-state actor to be taking on the state's defense functions, he argues that the first step towards changing that is to build a credible state.
"You first of all need to re-establish some some sort of trust between the electorate and this thing that we call the state, the government, because when you are talking to Hezbollah's constituency — not to their leaders — how can you convince any of them that … you should disarm yourself and just lay your arms down to a state that you consider as partly being formed by your enemies?" he said. "And you don't have any interest within the state, neither medication or education or any kind of services."
Analysts noted that, given this position, Ghosn may face a particularly uphill battle in the district where he has chosen to run.
Ironically, the same legal framework that forces voters to cast their ballots in the hometown of their fathers allows candidates to run in any district, regardless of where they live. Ghosn has never lived in the Metn, and the decision to run there, he said, was "based purely on a political choice."
Metn is the seat of FPM MP Ibrahim Kanaan, the head of the Finance and Budget Committee, the body that Ghosn blames for torpedoing an economic reform plan introduced by the government in 2020 "without any alternatives, and we are paying the price of that."
Nizar Hassan, a political analyst, co-host of the Lebanese Politics Podcast and a co-founder of LiHaqqi, another left-leaning opposition group, noted that the choice to run in the Metn will put Ghosn in confrontation not only with the FPM but with "the new March 14," including some of the new opposition groups that have made an anti-Hezbollah stance central to their campaigns, as well as establishment parties like the Kataeb that have aligned themselves with elements of the October 2019 protest movement.
"Jad Ghosn's candidacy makes sense given his politics, but it's tricky because of where he's running," Hassan said. Running in Metn, where the Kataeb is strong, he said, "means he will be at the forefront [of the fight], not only between MMFD and the ruling class but between MMFD and the new March 14."
While Ghosn's name recognition due to his high-profile media work will likely help his campaign, Hassan said, "Elections are all about grassroots mobilization — name ID gets you only to a certain point."
He added that while the Metn is not an area where MMFD's class-conscious rhetoric is likely to strike a chord, Ghosn might find a base among "ex-Aounis who joined the thawra, and people who are Christian but not anti-Hezbollah, who might see Jad Ghosn as a more reasonable choice."
It remains to be seen whether Ghosn's ability as a journalist to engage with those who disagree with him will translate into the political realm.
Ghosn said even if he makes it to the legislature, he has no intention of throwing in the towel as a journalist.
"Because I don't believe that any real change can be done through the Parliament. I will double my work as a journalist," he said.
For instance, since parliamentary committee sessions are closed to the public, he promised that if elected, he will attend as many as possible to report out the discussions and vote count afterward.
"It won't be like the romantic idea that some would have, that [opposition candidates] will go into the seat and the next day, all of the other politicians would go home or leave the country. No, it's a struggle," Ghosn said. But in the end, he said, he is running because he believes change is possible. "If I didn't have this belief, then it's a waste of time."
BEIRUT — With a boyish smile, shaved head, spectacles and a trim beard that give him the look of a young professor, 36-year-old Jad Ghosn is a well-known figure among members of Lebanon's intelligentsia and activist circles. Many of them tune in weekly to listen to him dissect the shortcomings of the country's political and financial system in a soothing drawl that belies the seriousness of...