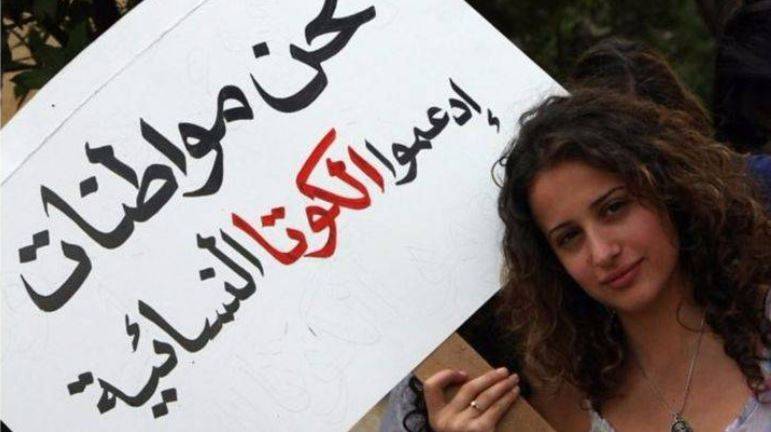 While 78 percent of the Lebanese live below the poverty line, according to UN estimates, and while the local currency continues to collapse against the dollar, how should we mobilize our fellow citizens around social issues?

Should we stop making an effort to bring about a shift in mentalities, to reform obsolete laws, to adapt to societal changes, or simply stop adhering to the Universal Declaration of Human Rights, under the pretext that things are going badly for us?
We should recall that things have been going badly for us for a long time. Since way before Oct. 17, 2019, although some would have us believe that this date triggered our descent into hell. It has also been a long time since a handful of reforms were passed in terms of personal rights and everything related to the societal sphere.
Apart from a few TV shows intended to stir the viewers' feelings, not a single organized public debate on topics relating to the genuine exercise of citizenship or human rights has been taken seriously.
Moreover, some of the major parliamentary blocs have never taken the effort to address these issues, except to abstain from voting or block the vote on reforms.
It is undeniable that if it were not for the persistence of NGOs, which have been doing the job of the state for decades, the codes regulating personal status matters and everything related to the modernization of old laws governing the private sphere would have remained unchanged since being codified during the French mandate.
Women's rights activists can attest: Every time they approached power-holders, politicians (who have always been men) and clergymen of all religious communities (also men), in pushing for equality, their answers – directly or implicitly – have been: "Is it really a good time? Can't you see that we have other priorities right now?"
We are certainly aware of the other pressing issues. We are staying abreast of the news as much as the leaders, if not more than them, and it's been ages since we learned that consensus democracy does not work, that our governments are impotent and our Parliament is ineffective, that political assassinations are sometimes perceived by some parties as a method of governance, and that at the height of the social crisis, nothing much stands between us and the abyss.
Underrepresentation in politics
The domestic violence law (which was passed in 2014 and amended in 2020) and raising the age of custody with the mother in divorce cases for some religious communities (Sunnis and Druze in 2019) which were hard fought for, were only achieved in the past few years.
Beatings, femicides and family tragedies are certainly flagrant problems that vulnerability exacerbates and that bring bloodshed and heartache. But our country suffers from another serious issue that is less visible to the naked eye and that does not mobilize public opinion: the under-representation of Lebanese women in leadership positions in the public sphere.
According to the World Economic Forum's Global Gender Gap Report 2021, Lebanon is ranked 112th out of a total of 156 countries regarding women's participation in politics.
No official, party leader, parliament speaker or cabinet chief has ever batted an eye over that, and if it were not for the activists, the international organizations that support local NGOs and the few ambassadors in office who were outraged by this lack of gender parity, nobody would have cared.
This cannot be blamed on lack of awareness. Civil society launched multiple campaigns and actions in this regard, but there is a persistent general tendency to consider gender inequality as a collateral effect of the country's compounding crises.
In fact, there are few people who see the correlation between the under-representation of Lebanese women and the disastrous situation we are in.
There is no need to prove the well-established failure of a policy of hyper-masculinity that is mainly powered by verbal and physical violence and based on clan affiliations, not on real skills.
According to the United Nations Development Program's latest figures, 59 percent of university students in Lebanon are female, and only 30 percent of women are part of the labor market. This low participation and their almost non-existence in politics is a loss for households, families, public institutions and for the entire nation.
The absence of women from official delegations, parliamentary sub-committees, boards of directors, municipalities and trade unions means that half the population is not taken into consideration, that neither their interests nor their need and — more importantly — their capacities are considered.
Preventing female citizens from being involved in negotiations, dialogue tables and official delegations means being denied their expertise in terms of solutions, planning, mediation and conflict prevention, at the expense of security and long-lasting peace.
The development of policies and legislation for greater gender equality increases the effectiveness of public policies, and creates a more equitable society, higher living standards, improvements in the areas of health, education and infrastructure, and lower political corruption.
Moreover, it has been demonstrated that women and girls' empowerment helps to foster economic growth and development in all spheres. Ending all forms of discrimination against women and girls plays a vital role in furthering sustainable development in order to address global challenges.
In 2015, Lebanon committed to attain the 17 Sustainable Development Goals, including poverty, inequality, climate, environmental degradation, prosperity, peace and justice, which are all inseparable and interrelated, and it adopted them in the 2018 Ministerial Declaration in a bid to prove its commitment.
Responsibilities
But aren't we used to our country signing with great pomp, treaties, conventions, agreements and protocols that it will never implement?
Unless gender parity and inclusiveness become an integral part of the reforms that the donors push for in return for pledged aid, the present situation will remain as is.
Knowing that actions aimed at rectifying discrimination in the Arab world and in Africa were most often taken when push came to shove, when it was the moment for a constitutional or political system change or others, a unique opportunity presents itself to us today — provided that the International Monetary Fund, the World Bank and other international bodies perceive that the issue is important enough to put pressure on our leaders.
How many women will be able to win a seat in Parliament in 2022, in light of the opaque mechanisms to access power within political parties, the filing fee for candidacies, the cost of appearing on TV, the electoral financing encouraged by the economic situation and the violent prevailing political discourse, as well as the health and security concerns?
Above all, we must not accept being told: "They just need to have the will in order to get there!" The quota system has been specifically put in place to increase the representation of women in many countries around the world. Lebanon has refused to include this measure in its electoral law, in the name of its never-ending "cultural specificity."
It will now be up to the parties and the new opposition movements to assume their share of responsibility and include a large number of women on their electoral lists, and to ensure they get genuine support and consequent visibility, not just photo ops.
Only by this means will Lebanese women be able, as is their right, to act as true drivers for change and help make this country a pluralist democracy, in the truest sense of the word.
Nada Anid is the founder of the Madanyat NGO working for gender equality in Lebanon.

While 78 percent of the Lebanese live below the poverty line, according to UN estimates, and while the local currency continues to collapse against the dollar, how should we mobilize our fellow citizens around social issues?Should we stop making an effort to bring about a shift in mentalities, to reform obsolete laws, to adapt to societal changes, or simply stop adhering to the Universal...