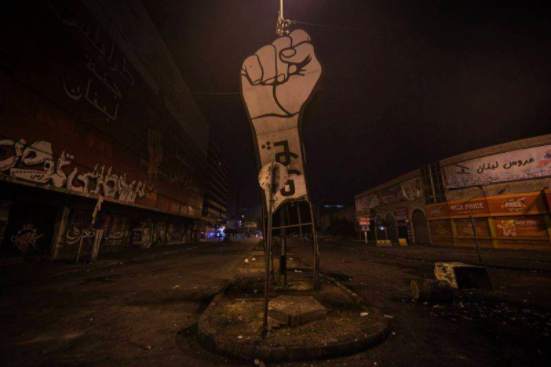 With the first parliamentary elections since the Oct. 17, 2019 protests just months away, many eyes are turning towards the various opposition groups that were either born out of the protest movement or claim its mantle as their own. Unless elections are postponed, this spring will be their first opportunity since the protests to demonstrate strength at the ballot box.
But even while some of the groups are hailing this election as a critical opportunity to challenge the ruling clique, others in the activist opposition are more circumspect, with some voices even calling for boycott of the polls.

Some activists believe a boycott of the election is necessary to avoid playing the traditional parties' game. They point to the steep incumbency advantage under the current electoral law — the same one that was in place in 2018, when hopes for a strong showing by non-establishment candidates were dashed — and the deep pockets of the traditional political parties, which use their substantial resources—including money looted from the state—to fund clientelist networks that provide voters with material support like jobs and healthcare in exchange for political backing. More brazenly, traditional parties have been known to engage in vote buying; intimidation of opponents; and, critics allege, fraud in the tabulation rooms.

"​​It feels like we have an opportunity right now to show a certain kind of political maturity," said Nadim El Kak, a researcher at The Policy Initiative and former member of LiHaqqi who is no longer active with the party who has previously voiced support for a boycott position. "Because a lot of the independent groups ran in 2018, they know what the elections are like. We've been living under this regime since the start of the revolution, we've seen their tactics. They've made it very clear that they are willing to go very far in protecting their interests and maintaining their grasp on power. So isn't it an opportunity to do things differently this time around, to show that we will not fall in the trap they're setting by [participating in] those elections and claiming to have some kind of democratic process?"

Those who are skeptical of the elections, who tend to have more leftwing politics, charge that the traditional parties conduct elections only in order to gain the appearance of democratic legitimacy domestically and on the international stage, while all but guaranteeing that their power is not meaningfully challenged by outsiders in a truly democratic competition. As political researcher Nizar Hassan, who is affiliated with grassroots progressive party LiHaqqi, has written, this view also contends that the ruling power is exercised through a variety of non-state institutions that make it less likely parliamentary representatives can change the balance of power.

For those reasons, rather than treating the process as legitimate, the opposition might decide it is better served by boycotting the elections and agitating through other means, some, including El Kak, have suggested

Nizar Ghanem, research director of the Lebanese think tank Triangle, who also is affiliated with the Depositors Union, has a different view.

"The regime doesn't have legitimacy," he says, "with elections or without elections."

Ghanem acknowledged, "There are many questions about electoral law, the process itself. I personally don't have trust in the electoral process. But I think it's something that we have to enter in any case… I think if we don't enter the elections we will be sidelined completely in political life, saying that we have nothing to offer actually, even as a position."

Ghanem and El Kak agree that if a boycott were to be attempted, it would have to be an active campaign that mobilized people in order to be successful in building popular momentum behind the opposition.

Boycott has not become the official position of any of the major opposition organizations, says El Kak, but exists among a larger or smaller minority of activists inside many of them. In public, he said, pro-boycott activists have avoided criticizing their parties' positions in order not to undermine them. A number of the Oct. 17-affiliated parties have already announced that they are running candidates in the polls set for May.

With the boycott tendency an undercurrent, opposition groups have largely adopted one of two public positions, according to El Kak.

The first position argues that winning parliamentary seats is among the best ways to confront the sclerotic ruling parties. Indeed, one alternative party, Taqaddom, has said it does not believe "there is an ability to throw them out of power in any other way."

While there is little expectation that opposition groups will be able to win a majority in the upcoming elections, some factions believe that they could collectively win between ten and 20 seats, giving them enough parliamentary representation to break up the unified front of the ruling class. By showing themselves to be serious and effective deputies, they can show the public what the opposition has to offer and what an alternative political life looks like. Over successive electoral cycles, they might eventually attain a majority of the 128 seats in the chamber.

Similar hopes were voiced preceding the 2018 elections, although the results were disappointing for the alternative parties, with only one independent taking office.

Tahalof Watani, which was part of the 2018 electoral push, could be said to be part of this current. It has said "elections would be the catalyst to great change with a big number of parliamentary seats being won by the current opposition representing the 17th of October uprising."

Similarly, Madinati, the party formerly known as Beirut Madinati, has said "reaching executive or legislative positions are a key step to achieving [our] political program and fulfilling the aspirations of the Lebanese people." And Mintishreen, which grew out of the Oct. 17 protests, has said "participating in the elections is the first marker that will allow us to start seizing power via representation."

A second position, mainly associated with more leftist organizations, is less optimistic about the prospect of participating in Parliament as a minority bloc, viewing the elections as an important confrontation more for their ability to attract attention and develop organizational capacity. With all eyes on the race, even casual followers of politics are likely to become aware of alternative parties' views, and cadres who cut their teeth on electoral organizing can transfer those skills to street mobilization in the future.

For this tendency, the goal isn't to form a broad coalition in order to maximize the chances of winning seats. Having a specific political message is more important.

"Opportunities for delivering a radical and progressive political discourse are few in Lebanon," Hassan wrote, and the elections are one such opportunity.

Citizens in a State, a progressive political party founded in 2016, is one organization that has recently expounded elements of this train of thought. Last fall there was speculation they might not participate in the upcoming elections, unlike those of 2018 when they participated as part of the Kulluna Watani coalition. But, in November, party head Charbel Nahas announced that they would be contesting the election.

At the same time, however, Nahas has been a strident critic of Lebanon's elections. A book written by Nahas and published last month dubbed them the "ritual of the sectarian non-state" and likened Lebanon's parliamentarians to "spokespersons or messengers" for a handful of sectarian leaders.

Nonetheless, Citizens in a State will be participating in the election, although Nahas told Al Jadeed on Sunday that the party would also engage in "confrontation" before the election around demands for free education, universal healthcare, and a transitional government to stop the crisis.

With two months until the deadline for candidates to register and electoral lists to be formed, the parties are working to find their niches.

So far two main electoral coalitions have formed among the opposition.

The Lebanese Opposition Front, which has been described as predominantly right leaning, brings together Taqaddom, Liqaa Tishreen, Khat Ahmar, and others but perhaps the largest organization in the coalition is also the most controversial among opposition members: Kataeb.

Kataeb, a party with a history as a militia in the Civil War, has claimed to have reinvented itself as an opposition party in the spirit of Oct. 17 but its about-face has not been without significant controversy among other segments of the opposition, with many groups refusing to join the coalition in protest of its inclusion.

Partly growing out of critiques of the Opposition Front, another bloc emerged. Announced last April, on the anniversary of the Ain el-Rammaneh bus massacre that is considered the start of the Civil War, the so-called April 13 Call is another marriage of a decades-old predominantly Christian party with newer groups born out of recent protest movements. It includes the National Bloc as well as Madinati, Mintishreen, Tahalof Watani, the Popular Observatory for Anti-Corruption, and several other groups. Sam Heller, a researcher at Century International, has described the groups as "roughly in Lebanon's political center."

Madinati, in particular, has had fairly robust showings in the past. The party first contested an election in the 2016 Beirut municipality elections, when it garnered 40 percent of the vote against a joint list of establishment parties.
Among the groups that have not joined either coalition, perhaps the most visible are Citizens in a State, LiHaqqi, and Sabaa, which was the only alternative political party to snag a seat in the last parliamentary elections, when Paula Yacoubian won in Beirut's first district. The Lebanese Communist Party and the Popular Nasserist Organization, leftist parties with long histories in Lebanon, including in the Civil War, have also not joined either coalition as of yet despite being considered potential allies by at least some of the other Oct. 17 groups.

With the first parliamentary elections since the Oct. 17, 2019 protests just months away, many eyes are turning towards the various opposition groups that were either born out of the protest movement or claim its mantle as their own. Unless elections are postponed, this spring will be their first opportunity since the protests to demonstrate strength at the ballot box.But even while some of the...