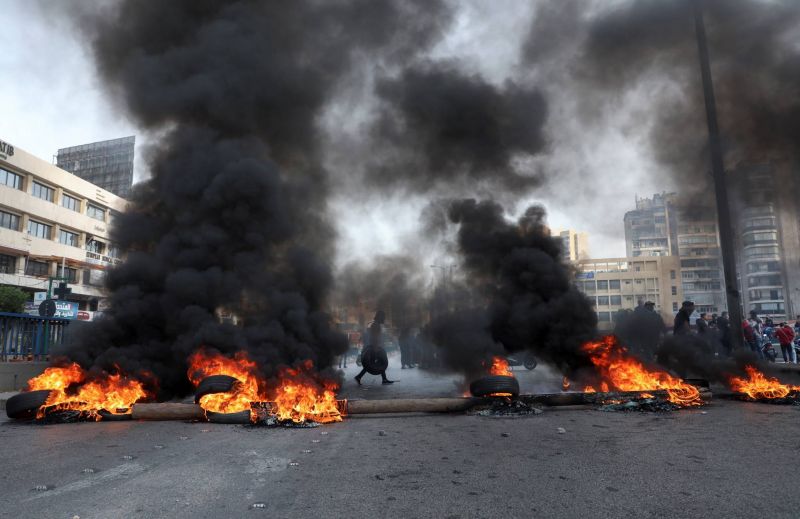 Want to get the Morning Brief by email? Click here to sign up.
Demonstrators blocked traffic in several areas across Lebanon, including Beirut, this morning to protest deteriorating living conditions. In the capital, demonstrators stopped traffic in Downtown Beirut, the Kola roundabout, Corniche al-Mazraa and other nearby areas. Lebanon's Traffic Management Center reported widespread road cuts elsewhere in the morning across the country, including Tripoli, the Bekaa and Saida. Monday morning's protests come on the heels of sporadic road cuts in Beirut, including along the Corniche al-Mazraa thoroughfare, in recent days as the Lebanese lira has tumbled in value against the US dollar.

President Michel Aoun left earlier today to Qatar to participate in the opening of the 2021 FIFA Arab Cup. Aoun is scheduled to hold a series of meetings in Qatar, including with Qatari leader Sheikh Tamim bin Hamad Al Thani to discuss Lebanon's ties with Gulf states following the diplomatic row that erupted last month after Information Minister George Kurdahi's comments on the Yemen war angered Saudi Arabia. Saudi Arabia, Kuwait, the United Arab Emirates and Bahrain all withdrew their envoys from Beirut in October, while Riyadh announced it was stopping all imports from Lebanon. Aoun will be accompanied on his trip by Energy Minister Walid Fayyad and General Security chief Abbas Ibrahim.
The Health Ministry's infectious disease committee will meet today to discuss possible travel bans in light of the Omicron variant of COVID-19. Health Minister Firass Abiad announced the meeting Saturday, while also noting that Lebanon has no direct flights from South Africa or neighboring countries where the variant was discovered. During a press conference on Friday, Abiad had given reassurance the ministry is not planning a lockdown to deal with rising COVID-19 case numbers in the near future. According to Abiad, the high number of COVID-19 infections in recent days is due to the current colder weather conditions and the reopening of schools — the majority of newly infected individuals are aged 10 to 19 — and finally, because many areas across Lebanon still have a high rate of unvaccinated residents, he said. Yesterday Lebanon registered 1,319 new COVID-19 cases. New cases have exceeded 1,300 for the past four days.
Lebanon's Military Court sentenced Radwan Mortada, an Al-Akhbar newspaper reporter, in absentia for defaming the Lebanese army. On Saturday, the Military Court handed Mortada 13 months in prison, the NNA reported. During a televised interview with Al Jadeed in January, Mortada criticized how the army failed to prevent the Beirut port explosion on Aug. 4, 2020 and called their efforts "donkey-like." Following an inquiry by Lebanon's chief prosecutor, Ghassan Oueidat, Mortada explained in a Jan. 18 interview that he was talking about individuals associated with the ammonium nitrate shipment stored at the port that had detonated in the blast, not the military institution as a whole. Following the sentencing, the Lebanese Press Editors Syndicate expressed disappointment at the Military Court's decision, claiming that it breached the authority of the Publications Court, which is responsible for legal disputes affecting press publications. Mortada released a Youtube video on Saturday defending his stand and expressing his right to freedom of speech. Yesterday, Information Minister George Kurdahi issued a statement stressing that Lebanon's Court of Publications is the only body examining publications cases, especially when it comes to the work of journalists and media professionals, in accordance with the constitution and regulations.
Elections for the Order of Dentists were canceled yesterday after a dispute broke out at the count and ballot boxes were overturned. The Order of Dentists' polls were canceled when confrontations occurred among voters during the counting of votes, according to L'Orient Today's journalist on the ground. At the BIEL exhibition center, dentists chose Sunday between three lists: "My order, my revolution," backed by the Kataeb party and represented by Emilie Hayek; Elias Maalouf's list, backed by Hezbollah and the Amal movement; and "The dentist's revolt," chaired by Ronald Younes, who is known to be close to the Lebanese Forces. Political parties late yesterday commented on the incident. "What happened in the dentists' syndicate elections is shameful and unacceptable," Kataeb leader Sami Gemayel said in a tweet, as he also put the blame on Hezbollah supporters, claiming that armed supporters attacked doctors and the staff administering the elections.The FPM released a statement denouncing the politically charged atmosphere between various parties, saying "today, unfortunately, we have seen those who insist on violating the simplest norms and requirements of democracy, imposing the logic of force instead of the logic of democracy and freedom of choice." This year's syndicate elections, alongside student union elections at the country's universities, are being closely watched in terms of opposition group representation and party alliances ahead of parliamentary polls scheduled for March 27 next year.
Since September, Hezbollah has spent more than $10 million obtaining fuel from Iran for the Lebanese people, the party's leader said in a televised address Friday. Hassan Nasrallah claimed that of the fuel purchased, $2.6 million worth had been given to Lebanese NGOs, municipalities, government hospitals and other groups for free, while more than $7.5 million of fuel had been sold at reduced rates, adding that the second phase of sourcing "will start in a few days." Nasrallah first announced fuel deliveries from Iran amid nationwide shortages of gasoline and diesel that led to hourslong queues at pumps and severe electricity rationing. Speaking on the timing of Australia's designation of Hezbollah as a terrorist group last week, Nasrallah claimed the move had to do with developments in the area or Lebanon's legislative elections, which are now set on March 27, although President Michel Aoun continues to reject this date, wanting a date in May instead.
The Free Patriotic Movement strongly criticized Banque du Liban Gov. Riad Salameh over the weekend. On Saturday, the party released a statement saying that as long as "there is no confidence" in Salameh, Lebanon cannot build confidence in the Lebanese lira. During a speech on Sunday, FPM head Gebran Bassil reinforced the statement by saying that Salameh "can no longer remain in his post if [Lebanon] wants to regain confidence in the Lebanese lira." He added, "even if Salameh is supported by the US, we want his downfall." Earlier in November, Bassil questioned why the Lebanese judges have not yet investigated Salameh even though his financial dealings are under investigation in four European countries and despite the fact Lebanon is grappling with its worst financial crisis in decades. Salameh earlier this month defended himself, saying he had asked a "reputable firm" to conduct an audit into investments and transactions that have been subject to media speculation. Meanwhile, an audit of the central bank, which Salameh has headed since 1993, is reportedly again in jeopardy as auditing firm Alvarez & Marsal struggles to obtain the documentation necessary to its conduct.
Registration for long-awaited cash assistance programs will be launched this week. The launch of a registration platform to be used to sign up prospective beneficiaries for a pair of cash transfer programs, a World Bank-funded program and a separate government ration card program, will be presented by the Finance Ministry, Economy Ministry and the Central Inspection and the World Bank on Wednesday. The World Bank authorized the Emergency Social Safety Net loan program in January, and Parliament first approved it in March, but it has been held up since then owing to a number of procedural difficulties, including revisions to the agreement made by Parliament that were not accepted by the World Bank. The announcement of the launch, follows an incident Friday in which a group of demonstrators stormed the Social Affairs Ministry and asked Minister Hector Hajjar about the government's long-awaited ration card program, designed to support the country's neediest families in light of the full or partial removal of state subsidies on essential goods.
Want to get the Morning Brief by email? Click here to sign up.Demonstrators blocked traffic in several areas across Lebanon, including Beirut, this morning to protest deteriorating living conditions. In the capital, demonstrators stopped traffic in Downtown Beirut, the Kola roundabout, Corniche al-Mazraa and other nearby areas. Lebanon's Traffic Management Center reported widespread road cuts...