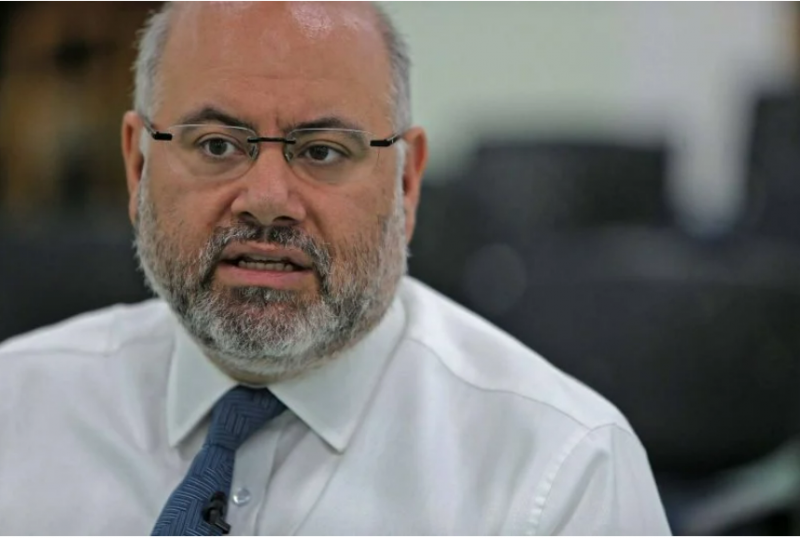 Some people's names are apt. Firass Abiad is seemingly one of them. Abiad is Arabic for "white." As white as the snow? The answer from his professional and immediate circles has been pretty much in the affirmative. One would really have to nitpick to find anything that could discredit Hamad Hassan's successor as health minister in the Najib Mikati cabinet.
Abiad, a 52-year-old surgeon, has taken over one of the most sensitive ministerial portfolios at a time when the Lebanese medical system is sharply deteriorating, people are increasingly facing challenges in accessing healthcare, the country is short on medicines, the COVID-19 pandemic is ongoing, hospitals are going downhill and qualified medical staff are leaving the country for greener pastures.
Unlike the majority of the technocrats in the new cabinet, Abiad, who has not made any public remarks since his appointment, is well known to the public. He is not known, however, for his political past, because he does not have one, but rather for the way he managed Beirut's Rafik Hariri University Hospital during the pandemic.
The nearly 4,000 tweets he posted since April 14, 2020 made him a valuable source of information and a prominent whistleblower on the pandemic's evolution and the various crises hitting Lebanon's health system.
"He did an impressive job amid the pandemic," says Hôtel-Dieu hospital's medical affairs director, Georges Dabar. It is quite rare in Lebanon that a private institution applauds a government hospital's efforts, given the deplorable reputation the latter have due to their severe resource shortages.
However, the facts speak for themselves. Rafik Hariri hospital was the first and only establishment to treat patients infected with the coronavirus in the first four months after the first case was confirmed in Lebanon, on Feb. 21, 2020. The establishment continued to be the point of reference in the battle against the pandemic, regularly adapting its healthcare units, equipment and admission capacity at peak times.
Still, the hospital made a spectacular recovery. The institution's poor condition and bankruptcy was known to everyone. So, how can one explain such success? It ultimately depended on the attributes of captain Abiad, in addition to the support he has received, says his immediate circle.
Unyielding to political pressure
The London-born father of three has led an academic life between the American University of Beirut, the United Kingdom and the United States. He embarked on his professional career in Saudi Arabia, where he worked for a decade at the Specialized Medical Center Hospital in Riyadh before coming back to Beirut in 2010 as a gastrointestinal and bariatric surgeon at the AUB Medical Center, and a professor at that same university, where he continues to teach to date.
In 2015, he was appointed chairman of the board of directors of Rafik Hariri University Hospital, the largest of the 32 public hospitals in the country. These public medical institutions are far from being shielded from the political yoke. Each is, in fact, managed by a council appointed by a sectarian party based on the principle of traditional quota sharing.
"The parties divided government hospitals among themselves, and the people appointed to run them are selected based on their political affiliation, no matter their qualifications," says the Karantina public hospital's pediatrics and neonatology department's head, Robert Sacy.
Hence, should Abiad be regarded as a close associate to the Future Movement, led by the son of late Prime Minister Rafik Hariri after whom the hospital is named? According to his circle, Dr. Abiad seems to be an exception in this politicized and poorly qualified landscape of managers.
Although Saad Hariri sought to appoint him health minister in the cabinet he vainly strived to form between October 2020 and July 2021, Mustapha Allouche, vice president of the Future Movement, notes that Dr. Abiad is not actually affiliated with the party.
"This is what the people think because he is Sunni and was previously approached to fill this post, but he is not politically active. He was Saad Hariri's favorite given the reputation he won in the way he ran the Rafik Hariri hospital. As far as I know, his positions have always been objective and rational. I would say it is an excellent choice," Allouche says.
"The Future Movement's members are the ones who know Dr. Abiad, not the other way around," says Imad Chokr, a pediatrician at the Rafik Hariri hospital. "He is not a partisan which has always been proved during our work with him. He makes the right decisions and he is independent," he insists.
However, former Health Minister Hamad Hassan was also initially favored by public opinion and the medical corps, before being suspected of serving Hezbollah's political agenda, especially by facilitating the entry of medications from Iran into the Lebanese market.
"There is no risk of seeing Firass Abiad turning his ministry into a puppet show to the service of the Future movement," says Allouche, who recognizes that the former minister was not faced with an easy task amid a severe political paralysis since the uprising and the Beirut port explosion.
Yet when Dr. Abiad was heading the hospital, with the capacity to admit more than 15,000 patients per year, he did face political pressures. When he took over the post in 2015, the institution was run down and had a huge financial deficit and an unqualified staff, similar to the majority of government hospitals.
"He never allowed politics to influence his decisions. He had to say no to those who wanted to hire people because of their political affiliation, even though they are not qualified for this or that post. It was a genuine challenge which he successfully overcame," says a source close to Dr. Abiad, on condition of anonymity.
Workaholic
"He is the kind of person who puts one to shame, he does nothing but work, and at the same time he can talk to you about football or give you a quote from the last book he read," says Christophe Martin, the former head of the ICRC delegation in Lebanon, a humanitarian organization working in partnership with the Rafik Hariri hospital.
Firass Abiad, a workaholic? Those who know him are affirmative. This overinvestment enabled him to win the international partners' trust. Unanimously, he assumed a big role in the success of the Rafik Hariri hospital's partnership with the ICRC.
Established in 2016, it was originally designed to support the hospital in the provision of healthcare to vulnerable segments, such as the Syrian refugees who had been admitted and treated there since 2012 without being able to afford the costs, which led the hospital into an abysmal deficit.
A series of rehabilitation projects was then launched. The hospital was able to renew its equipment, modernize its emergency department and train its staff.
"We are very happy with what we did. It was a real success. For his part, Dr. Abiad has greatly rationalized costs to the point of dividing the deficit by ten. In 2019, just before the COVID-19 pandemic outbreak, the Rafik Hariri hospital was no longer in deficit," Antoine Hess, ICRC project director, said.
Owing to such achievements, an additional partnership was built with the French Development Agency with a donation of 20 million euros.
"If we hadn't had someone like him run the hospital, we never would have reached this level of maturity. He has a vision, a commitment, and humility at the same time," said Martin who is full of praise of the man he describes as an excellent captain.
This captain has never counted his working hours, constantly seeking to spread a culture of merit in a public institution where patronage is often the order of the day.
"When he started to set up the COVID-19 vaccination center, he went to the hospital every day at 5:30 a.m. and spent all his time with the team to make sure everything was going smoothly for the patients. This is how he leads. He leads by example," said Ghina Ghaziri, Abiad's wife and an obstetrician gynecologist at AUBMC.
Was Abiad, however, appreciated by all his team members? The answers are mixed.
Bassam Akoum, the head of RHUH medical personnel committee, reproaches Abiad for having been so obsessed with the hospital's success that he completely neglected the employees.
The staff has been going on strikes regularly, partly because of disputes with the administration over wages that have been ongoing for several years.
"Although there was a decree to increase our salaries, but Mr. Abiad never gave up a penny. He always brushed aside our rights. He's someone who doesn't listen and that's why we had to escalate things several times," Akoum said, admitting nonetheless that Abiad arrived at the head of the hospital when it was "in tatters," and had to face the unprecedented financial crisis that has been plaguing the country since the end of 2019.
The only positive thing
Faced with significant financial losses that pushed some to increase their medical fees, further hampering access to healthcare for an impoverished population, hospitals are heavily counting on the new health minister.
"The only positive thing in this government is Firass Abiad. I don't know the other ministers," said Sami Rizk, director of LAU Medical Center-Rizk Hospital.
"He's a doctor, and he knows our every need. On a personal level, he is extremely ethical. We hope that he will put all his qualities at the service of the ministry, but he also needs to be given the means to achieve his ambitions," he added.
For his part, Sacy said that Abiad was "a public and not private hospital director, which means he will surely prioritize the public sector, which is important."
The new health minister 's entourage is convinced that he will not continue his mission if he is not given the means to do so.
"Firass will not waste time in politics. If he has accepted this position, it is because he believes he has what it takes to change things, but if he reached a dead end every time he wanted to get funds, he would leave," Martin said.
However, taking up a position within the Lebanese state, whose reputation has been long tarnished, could result in Abiad's past achievements going down the drain. Abiad's wife expressed the same concerns.
"At the end of the day, I was able to overcome my worry, because I believe in his mission. I told him, 'I actually see you as a Red Cross tent in the middle of a war, and all you have to do now is save everyone indiscriminately,'" Ghaziri said.
"Regardless of the consequences for his future, now his priority is to do the right thing."
This article was originally published in French in L'Orient-Le Jour. Translation by Joelle El Khoury.

Some people's names are apt. Firass Abiad is seemingly one of them. Abiad is Arabic for "white." As white as the snow? The answer from his professional and immediate circles has been pretty much in the affirmative. One would really have to nitpick to find anything that could discredit Hamad Hassan's successor as health minister in the Najib Mikati cabinet.
Abiad, a 52-year-old surgeon,...