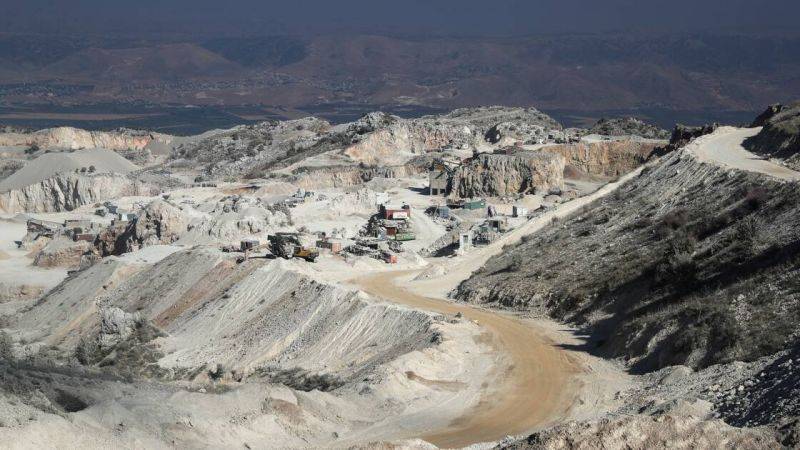 Last month, cement producer Cimenterie Nationale dramatically announced that it would temporarily halt cement production. In an accusatory press statement, the company blamed the decision on the government's closure of its quarries, complaining that stricter regulations had hamstrung Lebanon's struggling industrial and productive sectors.
It was the latest in a long-running standoff between the government and Lebanon's three cement companies: Cimenterie Nationale SAL (which controls 44 percent of the market), Holcim Liban SAL (38 percent), and Ciment De Sibline SAL (18 percent). In late 2019, Hassan Diab's so-called reformist government appeared to start clamping down on the country's myriad illegal quarries. In February this year, the Industry Ministry played its supposed trump card, lifting tariffs on cement imports. Some observers asked whether the move would threaten the companies' oligopoly.
Less than a month later, things were back to business as usual. This week, the government is set to reopen quarries in Chekka, where Cimenterie Nationale and Holcim source most of their raw materials, according to the Industry Ministry's Director-General Dani Gedeon. Equally anticlimactic was the lifting of the cement import tariffs. To date, not a single bag of cement has arrived in Lebanon from abroad, thanks to a set of deliberately unrealistic import requirements. Imported cement, for example, must be cheaper than the official local price of LL240,000 ($16 at the black market rate) per ton — half the international selling price — making Lebanon an unappealing market for international sellers.
Artificial barriers
By maintaining the status quo in the face of an economic crisis, the three companies have once again demonstrated their stronghold over the cement sector. For decades, Sibline, Holcim and Cimenterie Nationale have acted like a corporate cartel, maintaining their unrivaled market position thanks to various artificial barriers to entry and sometimes illegal practices.
Some of these barriers are legal and administrative; Lebanon's poor legal framework for promoting fair competition, for example, fails to punish the sector for maintaining cement prices at what appears to be an agreed level ensuring that consumers can access only one inflated price. Before Lebanon's economic crisis, a ton of white cement cost around $100 in Lebanon, while the same product sold for around half the price in Syria.
Other barriers are artificial, such as the opaque system for obtaining government approvals. To date, only Cimenterie Nationale, Holcim and Sibline have ever succeeded in obtaining and keeping a general industrial permit issued by the Ministry of Industry to operate a cement production factory.
Quarrying regulations suffer from equal opaqueness and poor enforcement. Decree 8803 from 2002 and subsequent amendments explicitly forbid quarrying in any area except several remote municipalities, largely concentrated in the Bekaa valley. Despite this legislation, Holcim, Cimenterie Nationale and Sibline extract most of the raw material needed for cement production outside these zones, in Kfar Hazir, Badbhoun and Sibline respectively, which considerably reduces the cost of transporting materials.
Meanwhile, prohibitively high tariffs (up to 75 percent) on cement imported from outside Lebanon keep foreign competitors at bay. Together, these artificial barriers to fair competition are particularly difficult to remove considering the three companies' proximity to political power and the breeding ground it creates for conflicts of interest.
Conflicts of interest
Conflicts of interest occur when an individual or a company can exploit their own professional or official capacity in some way for personal or corporate benefit. Just how deep these political interests ran has always been a matter of speculation — until now. In a recent investigative report that I co-authored and which was published by Beirut-based think tank Triangle, we used new data to quantify political interests within the cement and quarrying sectors.
The report distinguishes five types of politically exposed person (or PEP) and their degree of exposure. These include: current politicians (members of Parliament, cabinet ministers and top-level party officials), former politicians, extended family members of current or former politicians, those with ownership or management control in a company controlled by a PEP, and other individuals whose family have been entrusted with a prominent public function.
The most overt example of the sector's political exposure is Sibline, whose ownership is dominated by the Hariri family. The company contains at least seven politically exposed shareholders, including former Prime Minister, current Premier-designate and Future Movement leader Saad Hariri and former Prime Minister Rafik Hariri's widowed second spouse, Nazek Hariri. The two individuals own 42 percent and 16 percent of the company respectively. Politicians also feature on Sibline's board of directors, including former Economy Minister Nicolas Nahas and Progressive Socialist Party leader Walid Joumblatt.
To a much lesser extent than Sibline, Cimenterie Nationale and Holcim also contain formidable shareholders and board members. These include the late former minister (and former chairman and main shareholder of L'Orient Today's parent company) Michel Eddé, who owns less than 1 percent of Cimenterie Nationale. Seven of his extended family members (cousins or nephews-in-law) are also shareholders in Cimenterie Nationale, which is mainly a family company.
At Holcim, the case is different since the company is largely foreign owned. Nonetheless, some minor shareholders are PEPs, such as the daughter of former Finance Minister and founder of Banque Libano-Française Farid Raphaël (less than 1 percent) and the Maronite Catholic Patriarchate of Antioch (5 percent) — the seat of the patriarch of the Maronite Church, which has close historical ties to local and foreign political elites.
Perhaps less expected are the numerous PEPs who own and manage small- and medium-sized quarries. While these quarries are not directly part of the cement oligopoly, much of their quarried material ends up in kilns owned by Holcim, Sibline and Cimenterie Nationale. Based on a sample size of 55 quarries, the investigation found that at least one in four owners of smaller quarries and crushing companies have been PEPs since the Civil War (1975–90).
The real number of PEPs among Lebanon's hundreds of smaller quarries is likely to be even higher, since the finding is based on publicly available information. Politically connected quarry and crusher owners include Walid Joumblatt, who owns the Sibline quarry; former (and deceased) ministers or MPs Elie Hobeika, Michel Murr and Rashid Saleh El Khazen; and four extended family members of current and former politicians: Majed Terro, Pierre and Moussa Fattoush, and Nayef Hujairi.
Flouted regulations
Tellingly, almost all PEP-owned quarries are located outside of legally designated quarrying zones. The Ministry of Environment explicitly forbids quarries being located on the top of high hills that can be seen from the seashore and international roads, in areas of touristic and archeological importance, in green lands and in areas of high biodiversity. A drive through the Lebanese mountains shows that these environmental regulations are being flouted with impunity.
Multiple industry sources interviewed for the report agreed that successful so-called developers must have political clout, allowing them to benefit from informal arrangements with local landowners, municipalities and politicians. These arrangements provide a back door into the sector, giving connected developers legal coverage to extract raw materials without applying for an official quarrying permit or using an outdated or incorrect permit.
Now, as the construction industry falters under the weight of an unprecedented economic crisis, the oligopolistic cement sector is presenting itself as a reformed character. Last year, the three companies agreed to keep their prices below a ceiling of LL240,000 per ton of cement in exchange for preserving the cement import tariffs. But the companies continued to sell cement above this price, according to multiple industry sources.
As long as they have financial interests in the construction sector, PEPs are likely to continue blocking reform. Lasting change in the sector will necessitate much legislative reform, such as a stronger law on illicit enrichment, in addition to wide conflict of interest legislation that would separate the interests of the state and the private sector.
Eventually, public authorities and citizens should begin to ask existential questions about the cement and quarrying sectors and their environmental and economic impact. For instance, cement, and many other construction materials, could and should be imported from abroad more cheaply and with less environmental cost, in order to ensure the longevity of Lebanon's mountains and forests. Lebanon's economic recovery is likely to rely in some part on the tourism sector and preserving natural sites and biodiversity will be a key asset in that aspect.
Jacob Boswall is a freelance journalist and economic researcher.

Last month, cement producer Cimenterie Nationale dramatically announced that it would temporarily halt cement production. In an accusatory press statement, the company blamed the decision on the government's closure of its quarries, complaining that stricter regulations had hamstrung Lebanon's struggling industrial and productive sectors.It was the latest in a long-running standoff between...