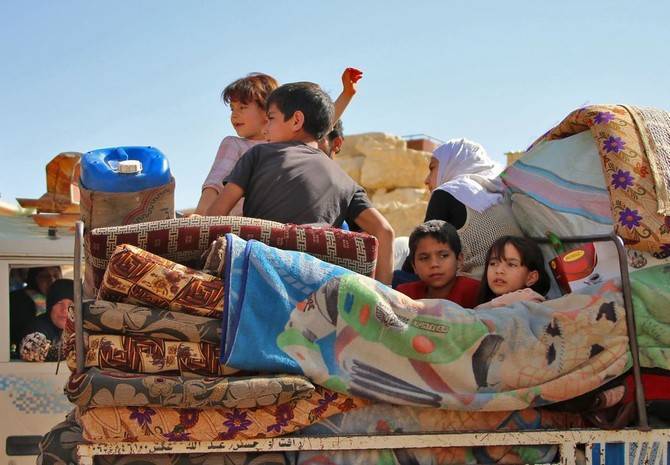 Last week, Amer*, 35, spent two nights under a tree in a small predominantly Shiite village in Bekaa.
"In Qaraoun, no young man slept at home. Unfortunately, we feel safer among Shiites, where the army does not dare to enter," said Amer, originally from Aleppo, Syria, who has been living and working in Lebanon for 13 years.
Nearly 450 Syrians were arrested at the end of April and about 60 were deported, an army source told L'Orient-Le Jour.
Amnesty International denounced these "illegal deportations," after the Lebanese army recently carried out searches of the homes of dozens of refugees who entered the country illegally or held expired residence permits.
"They hunt us down like rats. I have valid papers, but I leave every morning for work scared and I return home at night in terror. Believe me, if I could go back to Syria, I would. But for the moment we can't," said Mohammad, another Syrian refugee living in Lebanon.
The raids occurred amidst increased focus on the question of the return of Syrian refugees over the past two weeks.
Some Lebanese have been vocal on the matter.
"There is no more war, let them return home," is a sentiment expressed by many. Others voiced that "Lebanon can no longer accommodate so many people while it is experiencing an unprecedented crisis." Such sentiments have been repeated again and again on social media.
But the issue of the "return" of refugees, which has been the talk of the town of late, appears to be an extremely divisive issue.
Lebanon has a population estimated at 5.5 million, and the small country is home to between 1.2-1.5 million Syrian refugees — this has proved difficult to accommodate.
Meanwhile, only 805,000 Syrians are registered with the UN since in 2015, the Lebanese government requested that it stop registering refugees.
For several years, successive Lebanese governments have called for the gradual repatriation of refugees, organizing so-called "voluntary" deportations. So far, this strategy has not had its desired effect.
The last initiative was launched in September 2022 as part of the caretaker government's plan to repatriate 15,000 Syrians per month.
On May 4, General Security announced the resumption of deportation operations.
"The Lebanese state has failed. It talks about strategy, but I have never seen a strategy from the state that exceeds two or three A4 pages," said Wadih Asmar, head of the Lebanese Center for Human Rights (CLDH).
'The state does not have the means to deport 2 million people'
According to UNHCR figures confirmed by General Security, nearly 83,500 returns from Lebanon to Syria have been recorded since 2016.
From the beginning of January till the end of March 2023, 3,261 Syrian returned to their country.
While the number of departures from Lebanon is believed to be much higher, there are no official figures.
The figure includes Syrians who left Lebanon to settle elsewhere, such as Europe or Turkey and those who returned illegally to Syria, to opposition-held areas.
This is far from the estimate of 500,000 departures recently put forward by former President Michel Aoun.
The Lebanese plan has been criticized by the UN, which fears for the safety of refugees returning to Syria, although the Lebanese authorities have repeatedly insisted that this initiative is "voluntary" and "safe."
"The current approach is wrong. The Lebanese state claims that it wants to send back all the Syrians by military force and from time to time, we have feverish outbreaks, as is currently the case," said Asmar
"The state does not have the material means to deport 2 million people, not to mention the social impact such deportation could have and its effects on Lebanon's international image, as well as the risks of internal unrest," he added.
With the outbreak of the financial and economic crisis in late 2019, returns to Syria rose sharply, only to stagnate later on with the onset of the coronavirus pandemic.
In General Security-organized return convoys, those set to leave are registered on a list to be validated by Syrian security services.
"On the day the buses are scheduled to depart, we cooperate with the UNHCR. People from the agency would question passengers to make sure they are leaving of their own free will," said General Security.
As part of its protection role, the UN agency is present at the departure points, checking with the refugees before they cross the border.
"Cooperation between UNHCR and the authorities is not very transparent," said Asmar.
"Are these people leaving voluntarily or have they been pressured? We have heard of recent arrests on the other side of the border," he added.
Persecution, military draft
"The majority of Syrian refugees tell the UN that they want to return to Syria. The question is not if they want to go back but when," said Paula Barrachina, UNHCR's spokesperson in Lebanon.
"Most of them tell us that they remain concerned about several issues, including safety and security, access to housing, essential services, and livelihoods. It is important that refugees are able to make an informed decision," she added.
With Assad still in control, many returning refugees risk being conscripted into the Syrian army or imprisoned, or even killed.
According to data collected by the Syrian Observatory for Human Rights (OSDH), some 3,083 refugees who returned to Syria, mainly from Lebanon, Turkey, and Jordan, were arrested between 2014 and 2022.
Refugees give no credence to the famous amnesty law announced in April 2022 by Syrian President Bashar al-Assad touted as allowing "the opening of a new chapter" with those who had "gone astray" along the way, in reference to Syrians who opposed the regime since 2011.
"This decree can in no way lay the foundations for the post-conflict phase or contribute to the creation of a safe environment for the return of refugees and displaced persons, as long as the fate of detainees and the missing remains unknown," says Mohsen al-Moustafa, a researcher at the Omran Center for Strategic Studies and the Tahrir Institute for Middle East Policy (TIMEP).
Refugees also fear military service.
All of the Syrian men of draft age who spoke to L'Orient-Le Jour cited this as the main reason they refused to return to Syria.
"If the regime announced the abolition of military conscription, I could assure you that we would all go back," said Amer.
"I would earn $10, $20 a month, I would live in worse conditions than in Lebanon. And I don't want to fight, I just want to raise my family," he added.
Ahmad is in the same situation. Father of two and registered with UNHCR, he lives in a predominantly Shiite village in southern Lebanon.
"We live with the fear of being deported. I don't have a penny, what would I do if we were thrown into the regime's zone, even though I come from Idlib [under rebel control]?" he says.
If Ahmad wanted to return, he would have to do so illegally, to the northwest.
"I have already contacted smugglers, and it should cost me $1,700 because of the bribes, and another $1,000 for my wife and children," Ahmad explained.
Unfortunately, he does not have the money and is currently in debt.
In 2020, UNHCR estimated that nearly 93 percent of registered refugees are about $1,100 in debt, which is another factor that keeps them in Lebanon.
Driven by the Lebanese crisis, two nephews of Mohammad* returned to Syria last year through convoys organized by General Security.
"They returned to Aazaz, in Aleppo, but they soon became disillusioned, because the living conditions were even more difficult. So, they sold a plot of land and left, illegally, for Turkey in order to reach Europe," says Mohammad.
Ravaged by years of war, Syria has been unable to get its head above water, with unemployment and impoverishment rampant on a large scale. The country's infrastructure was devastated by years of conflict and the Syrian pound lost 99 percent of its value, leading to a historic rise in food prices.
"Until this situation improves, I don't see how people will want to return," said Moustafa. This is particularly true since the state does not pay for resettlement.
"Because of the bombing, I have no home or family in Aleppo. It's not like they're going to welcome us with open arms," said Amer.
Tripartite meeting?
For more than three years, Assad has made the question of the Syrians' return conditional on the lifting of Western sanctions that "suffocate" the country.
In 2020, during a video call with Russian President Vladimir Putin, two days before the conference on refugees organized by Damascus with the support of Moscow, the Syrian president declared that the issue was "his priority."
But in the opinion of many experts, Assad does not want a massive return.
According to CLDH, the Syrian services have never accepted more than 50 percent of the would-be returnees. Of the 5,000 names recently proposed, the Syrian state has accepted only 600.
L'Orient-Le Jour could not confirm these figures with General Security.
To dissuade people from returning home, the regime passed dozens of laws since 2011 on housing, land and property. This allowed the regime to redevelop former rebel areas and benefit directly, via expropriations, from real estate development.
Among these laws is Law No. 10 issued April 2018 (amended in November), which allows the government to seize private property to build large-scale real estate projects.
Compensation for the targeted buildings and land will only be provided to the owners who can provide evidence of ownership within one year of the real estate project's launch.
"Most of the refugees are from communities different from that of the president, so I don't think he would welcome them," said Youssef Courbage, a demographer and director of research at the (French) National Institute of Demographic Studies.
By allowing return only to areas under its control, the regime is automatically sorting people out.
"Assad prefers dissidents to remain outside the borders. And those he accepts are sent not to the cities, but to rural areas, such as around Damascus or Homs, where he will not need to provide many services. They work in agriculture and thus contribute to the country's food security," explained Moustafa.
In addition to the economic weight that the arrival of tens of thousands of people in the country's major cities would represent, the security services "fear an increased threat, such as the possibility that the returnees will take part in demonstrations or violence, which are less easy to control there than in the countryside," according to Moustafa
In a meeting between the Syrian government and a group of Arab countries in Amman on May 1, discussions were held on ways to facilitate the return of refugees, but Lebanon was not involved.
Last week, the head of General Security reportedly visited Damascus to discuss the issue with the authorities.
Will the Lebanese state be required to hold a tripartite discussion with UNHCR and the Syrian regime?
"It will be necessary to define how to encourage those who have no security risk to return, but also to consider that the aid allocated to refugees in Lebanon can be distributed in Syria,"suggested Asmar. who believes that is essential to create mechanisms to follow up with returnees.
*First name has been changed.
This article was originally published in French in L'Orient-Le Jour. Translation by Sahar Ghoussoub.

Last week, Amer*, 35, spent two nights under a tree in a small predominantly Shiite village in Bekaa."In Qaraoun, no young man slept at home. Unfortunately, we feel safer among Shiites, where the army does not dare to enter," said Amer, originally from Aleppo, Syria, who has been living and working in Lebanon for 13 years.Nearly 450 Syrians were arrested at the end of April and about 60 were...