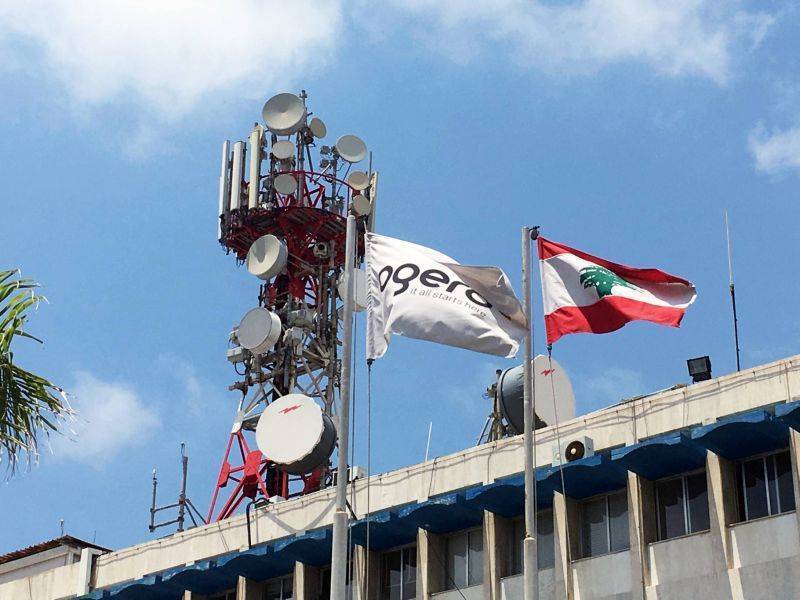 Holding his phone to his face, Georges rides along the road on his scooter, barely looking up to dodge a pothole or a stopping car. He hasn't reached his destination yet, but he has already accepted his next ride.
Whether they are Bolt or Uber drivers, home delivery workers, or even doctors looking for a source of "fresh dollars" through consultations online, numerous Lebanese depend on internet access to continue working in a crumbling country.
Notably, Lebanon has an already high level of internet consumption. As the first country in the region to be connected to the global network in 1995, Lebanon has a high "internet penetration rate" of 84 percent, similar to that of France (85 percent), despite the nation's mediocre connection speed and infrastructure deemed unreliable by Internet Society, a global non-profit organization.
But in a country that is already experiencing an almost total interruption of public electricity supply, soaring energy prices and a financially strapped state, the risk of seeing this last lifeline collapse no longer seems like a science-fiction scenario.
This appears to be a potential catastrophe for which the Internet Society, Lebanon's branch, has even estimated the cost: some $10 million of losses per day for the Lebanese economy, according to a report published last September.
This is not to mention the consequences such a scenario could have on health services or security forces — a prospect that Imad Kreidieh, chairman of Lebanon's state-run telecoms provider Ogero, did not rule out when he sounded the alarm in the summer of 2021, at the height of the fuel shortages.
"Increasingly frequent power outages and gradually scarce fuel supplies for generators threaten our ability to provide our services," Kreidieh warned at the time.
A year and a half later, the disaster has not struck yet, but the threat remains in a country that has not resolved any of its structural issues since the onset of the crisis in 2019.
Disaster scenarios
"The risk of a total blackout is really far-fetched, even during the current crisis," Kreidieh told L'Orient-Le Jour, before delving into the different scenarios that could hypothetically threaten all or part of Lebanon's access to the internet.
One of the main scenarios would be a technical failure on the submarine cables through which Ogero accesses the global traffic.
Notably, Lebanon is physically connected to the network via two submarine cables: CADMOS, inaugurated in 1995, linking Lebanon to Cyprus, and I-ME-WE, which connects it to a huge network of cables stretching between Marseille and Mumbai.
Ogero pays a license fee ranging between $5 million to $6 million a year to lease bandwidth, which it then resells to its customers or to the two Lebanese telecommunications companies, Alfa and Touch.
"There is no risk of default at the moment," Kreidieh assured.
But what about technical problems? In 2012, Ogero undertook maintenance work, redirecting its users (and only its users) to the CADMOS cable with a much lower capacity and which was quickly overloaded.
As for the rest of the country, it found itself without internet access for two days. Ten years later, the risk seems to have been eliminated, as CADMOS has been upgraded.
"We have 100 percent traffic redundancy between our cables, so if anything were to happen to one, we could move traffic to the other without a problem," Kreidieh explained.
If there is any other risk, it could lie in the operating and maintenance costs of the terrestrial infrastructure that allows the network to be extended throughout the country.
The Lebanese internet "wholesaler" consumes 23 megawatts every day to power its facilities via generators designed to provide electricity for a maximum of seven hours a day and which now operate 22 hours a day.
As a result, the fuel bill alone amounts to $2 million per month. And this is far from being the only problem facing the operator: "65 percent of our expenses are billed in foreign currency: spare parts, measuring equipment, all this is imported from abroad," Kreidieh said.
With the crisis, theft and damage have greatly increased.

Some of the "exchange points" could break down without the possibility of immediate repair, depriving certain areas of internet access.
Two-speed internet?
In fact, rather than a total blackout, Lebanon is more likely to experience a partial network breakdown.
Lebanon already saw this scenario play out in the summer of 2020, with interrupted service throughout the country between June and July.
SMEX, an NGO dedicated to the promotion of free internet in the Middle East, counted around 40 such outages.
More recently, slowdowns and outages occurred in Jan. 2022, due to fuel problems.
"If nothing changes, it is likely to happen again. In that case, we would have to prioritize the 20 percent of our infrastructure that provides internet access to 80 percent of our customers," Imad Kreidieh explained.
In other words, the least populated areas would be the first to lose connection.
For Kreidieh, increasing tariffs is the only possible way out to guarantee the smooth running of the company. This partially happened in June 2022, when the internet prices were multiplied by an average of 2.5, as part of a new pricing list.
Since then, however, the exchange rate has dropped to new lows.
"The increase was decided and calculated at a time when the dollar was worth LL22,000. Since then, we have lost half of the value of this increase," Kreidieh explained.
He goes as far as to advocate for the dollarization of rates.
Could that mean leaving out those whose incomes do not allow them to keep up with price fluctuations?
"If people can afford a hookah at LL120,000 during the World Cup, they can pay for [their phone services]," the Ogero chairman said.
There is one final question: Should the increase in prices be approved, would this mean that users would rest assured in the future?
An expert from the SMEX, who wrote a vitriolic report based on an audit of the sector's management, remains skeptical.
"When you see the amount of money that should have been used to maintain the infrastructure and that was wasted between 2010 and 2020, it is doubtful that everything will suddenly be fixed with a new price increase," he told L'Orient-Le Jour on condition of anonymity.
The '.lb' domains are functional, ISOC Lebanon confirms
Internet Society - Chapter Lebanon (ISOC Lebanon), a Lebanese non-governmental organization, said in a statement issued in early January, that the system governing ".lb" domains remains "functional" and that these websites constituting the national network are not at risk of being deactivated.
The reassurance came after many speculations about the survival of this network following the unexpected death on Jan. 3 of Nabil Bukhalid, the network's founder in 1993 and then manager.
Indeed, the destiny of the Lebanese domain names was until now closely linked to Bukhalid's.
The latter had in fact taken charge, at his own expense, of the future of the national network in 2020, while the country was and continues to sink into the worst economic crisis in its history.
At the time, Bukhalid moved data from the official Lebanese domain registry — the Lebanon Domain Registry, LBDR — to a cloud, a technique for outsourcing IT services to remote servers, including government domains for which it had received presidential approval.
Since then, by registering the LBDR as a corporation in the US state of Delaware in March 2021, and by partnering with intermediary registrars to whom ".lb" website holders pay their registration and maintenance fees, Bukhalid had set up a self-financing system that allows the national network to survive — at least as long as the fees are paid.
This is a task that is particularly incumbent on each government entity with a domain ".gov.lb", as Bukhalid pointed out last November to L'Orient-Le Jour.
"The agreement [with the government] is that I transfer the administration of 'gov.lb' domains to the Office of the Minister of State for Administrative Reform (OMSAR) without any [financial] compensation, while each government entity would be responsible for the renewal of its DNS via the accredited registrars," he said at the time.
This transfer is to take place once OMSAR is ready to receive the DNS concerned in order to house them.
After Bukhalid's death, however, caretaker Minister of State for Administrative Reform Najla Riachi told L'Orient-Le Jour that she was not sufficiently familiar with the file to provide answers about the system's progress, adding that, in any case, "the country is paralyzed" with a presidential vacancy and a government with caretaker status.
This article was originally published in French in L'Orient-Le Jour. Translation by Sahar Ghoussoub.

Holding his phone to his face, Georges rides along the road on his scooter, barely looking up to dodge a pothole or a stopping car. He hasn't reached his destination yet, but he has already accepted his next ride.Whether they are Bolt or Uber drivers, home delivery workers, or even doctors looking for a source of "fresh dollars" through consultations online, numerous Lebanese depend on...