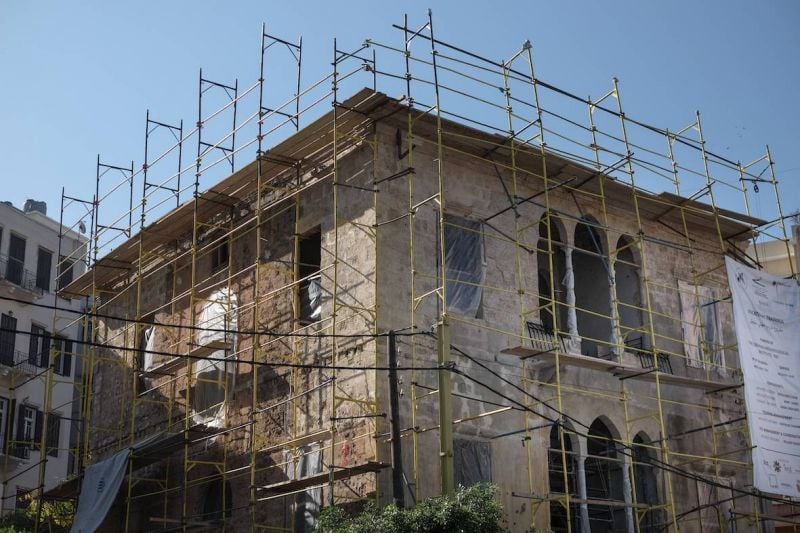 BEIRUT — "The Directorate General of Antiquities told us, 'The DGA has two woodworking machines you can use, but we don't know what condition they're in.'"
Architect-restorer Nathalie Chahine leads L'Orient Today into one of the old house's three ground-floor galleries, opening onto Gemmayzeh's Pasteur St. The smell of freshly cut wood fills a space crowded with planks. A length of timber rests atop one of the two machines.
"So the carpenter and I went to the Byblos depot, underneath the highway," she says. "The machines were in very bad condition. One of the depot walls had collapsed and lots of water had got at them. They hadn't been used since the '70s. I thought that maybe they date back to World War II, that's how bad they looked.
"'No,' the carpenter said, 'I can fix them.'" She pauses. "I think they were a donation or something. They were all made in Italy."
Chahine is a member of Beirut Built Heritage Rescue (BBHR), a group of architects and engineers who, after the Aug. 4, 2020 Beirut port blast, volunteered their services to the DGA — the only component of the Lebanese state that responded constructively to the disaster.
In mid-December L'Orient Today dropped by BBHR's signature project, Medawar 749. Supported by the German Archaeological Institute, the group is executing the authentic restoration of a late 19th-century central hall house. This is a rare thing in itself, since few local tradesmen have the skills needed for such work. The restoration is a means to an end that is more exotic still — training a group of young people to master these largely forgotten trades.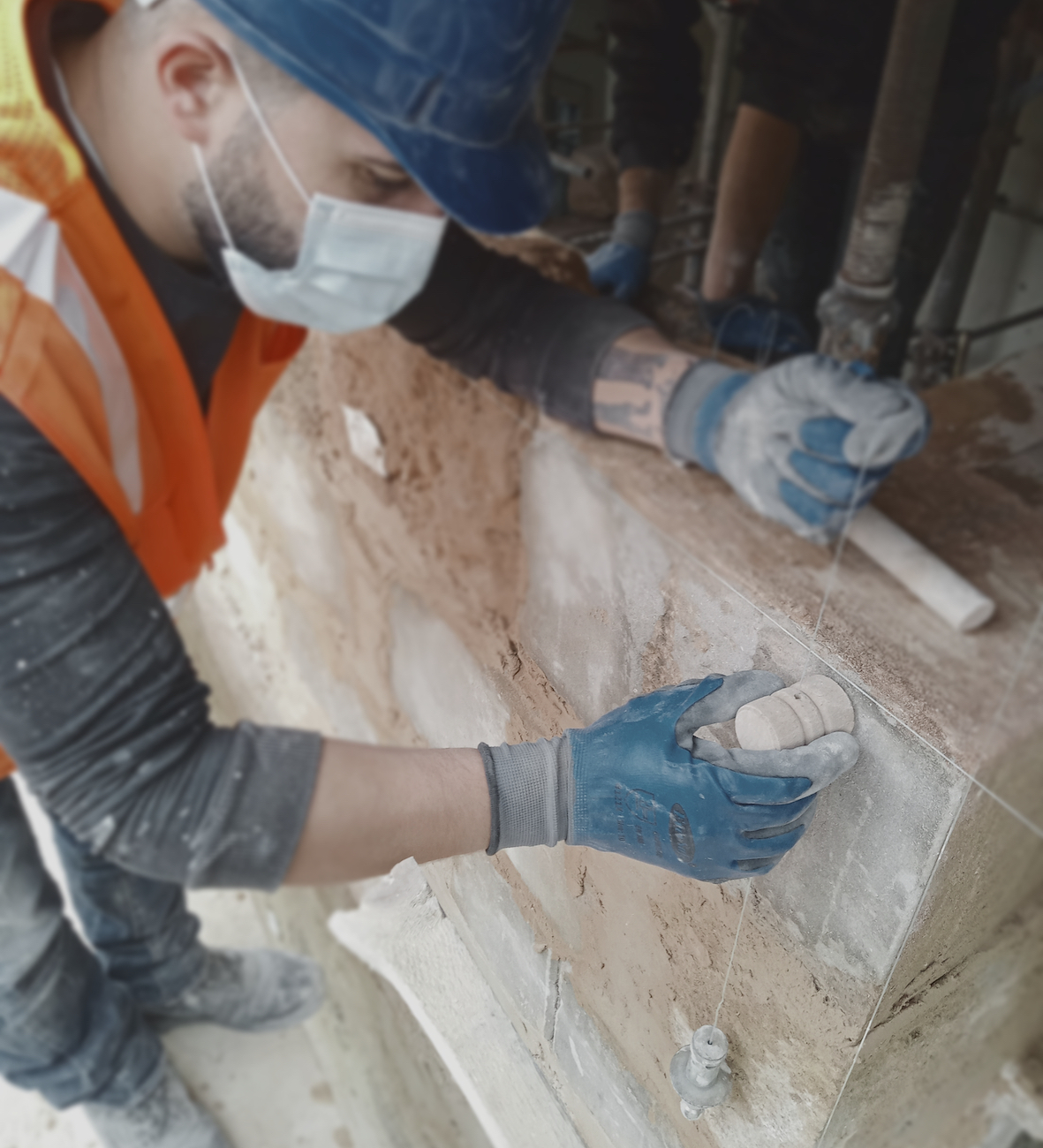 Masonry trainees working on the stonework of Medawar 749, during phase 1 of the restoration. (Courtesy of: BBHR)
In the context of contemporary Beirut, the Medawar 749 project is oddly hopeful. The stories the rehabilitation has uncovered are as informative of the culture that inherited this house as they are of the one that made it.
"A month later, we brought the machines to the site," Chahine continues. "The carpenters have been working on them ever since. They've served to rebuild this house.
"It's a nice story. The Lebanese, we don't have the mentality of fixing things. We say, 'You want to fix something, go to Burj Hammoud. Armenians fix things.'"
A house in Medawar
Not much is known about the early days of the house at Medawar 749. Of Beirut's historic structures, the best-studied are the large bourgeois residences erected in the second half of the 19th century, amid the orchards outside the city's old walls — first in Zoqaq al-Blat, later in areas like Gemmayzeh. These have sometimes been documented, allowing scholars to tell their stories. This is not the case for the Medawar house.
"We found the house in old photos — many were taken of Ras al-Medawar, which was then a popular swimming area," says architect-restorer Paula Abu Harb, who prepared a historical study of the house in advance of the renovation. "The construction doesn't appear in any records, so we can't date it exactly and we don't know who built it. Medawar took its name from the Medawar family, so Medawars may have owned this house, or another one that was close by."
Beirut's ruined grain silos, as seen from the triple arches of Medawar 749. (Credit: João Sousa)
Beneath her hard hat, Abu Harb shouts speculatively above the din. In the house's first-floor hall, carpentry trainees are busily cutting lengths of timber and a clutch of men, among them a metalsmith and his trainee, are preoccupied by a set of balcony railings awaiting installation.
"In that period this house was one of two overlooking the sea — St. Andrew's Bay, which was then much nearer than today," she says in a quieter side room. "The area was very active commercially, and the railway connecting north Lebanon to the port ran between the house and the sea."
Working with architect Jean Samaha, the house's current owners drew on recollections of the previous owners and neighbors to reconstruct some of the house's recent history. At some point members of the Abou el Rouss family, which in the 19th century ran a boutique in Saifi, took possession of the house's eastern shopfront space, formerly a stable, and relocated their business there.
The central gallery served as a coal store before a cabinetmaker took over the space in the 1950s, where he remained until recently. The western shopfront, the smallest, lodged a well-known Turkish-Armenian oud-maker called Agope who, it is said, made instruments for several renowned performers — including Farid al-Atrash and Wadih El Safi. The gallery fell into disuse after he died during the Civil War.
More can be inferred from the house's architectural typology.
When "important" families started building outside the city walls, around mid-century, they built open houses marked by balconies and triple arches, then a design innovation in the Ottoman Mediterranean. "They brought new materials as well as ideas from outside — marble from Italy, wood from Romania and Turkey, roofing tiles from France, etc." Abu Harb nods to the ruined grain silos framed by the hall's window. "The port greatly helped to ease the transition to new materials and techniques."
"This," she assesses the central hall's interior walls and ceiling, "wasn't a palace."
Medawar 749 conforms to the design often used for extramural Beirut's bourgeois mansions — with rooms flanking both sides of a central hall, not unlike a roofed courtyard house — but, as Abu Harb reiterates, "this was a more modest house. One theory suggests that the less-affluent part of the population adopted a lot of the typologies of wealthy houses, to say, 'Look at us. We are also very well off' — which was not necessarily the case."
In the house's design Abu Harb and her colleagues have noted evidence of the importance of representing wealth, real or not. Unlike conventional central-hall houses, this one is not strictly rectangular. The western wall isn't parallel with the eastern one, so that while the rooms to the east of the central hall are rectangular, those west of the hall are more triangular, as the house narrows. From the street, the house looks bigger than it actually is.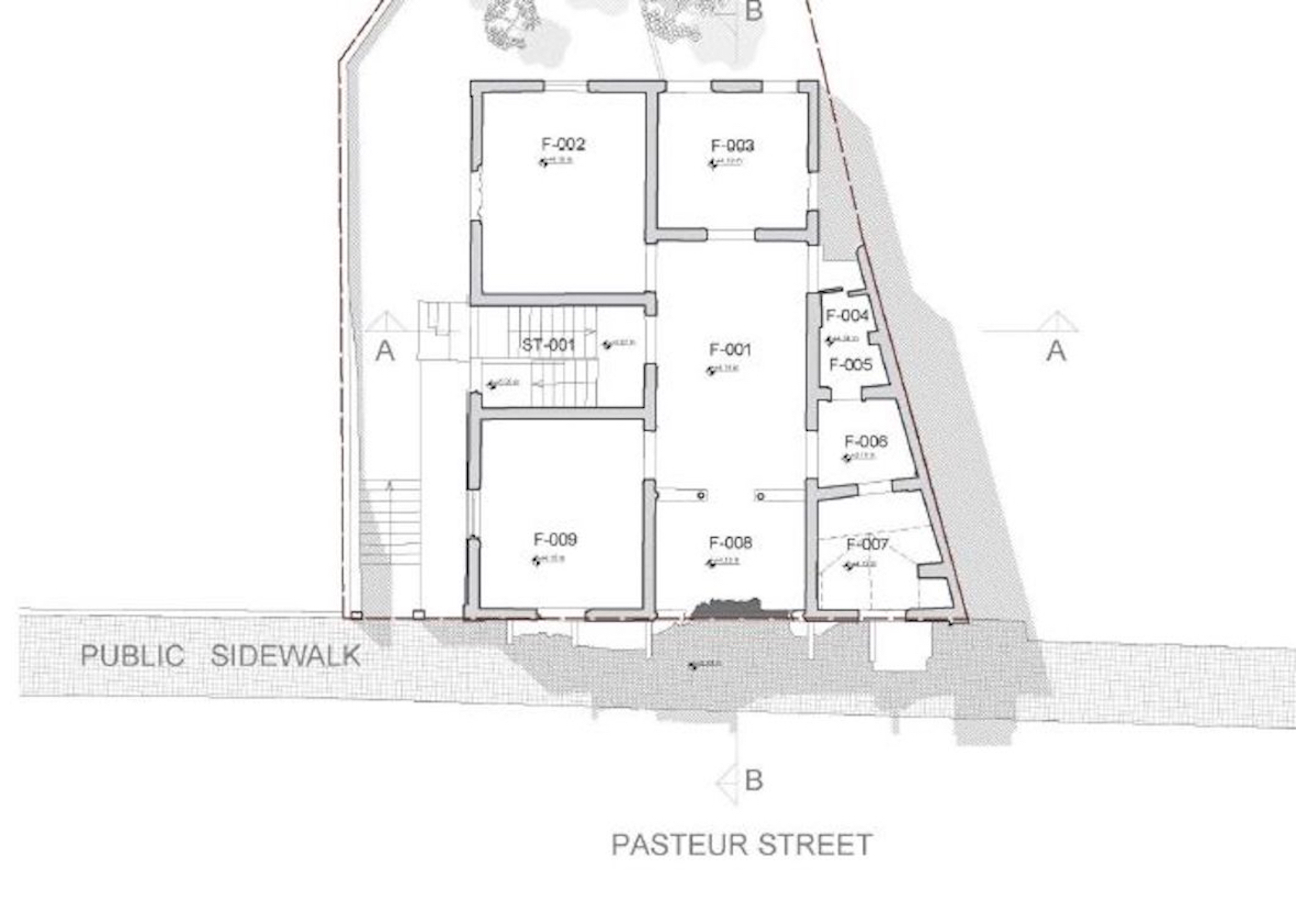 The plan of Medawar 749, showing the triangular plan of the rooms west of the central hall. (Courtesy BBHR)
"The area around the city walls was not completely empty," she says. "There were small houses, maybe little residences for those who tended the orchards. This plot might have originally been occupied by one of those houses. In the back, in fact, we have the ruins of a very modest one-storey house. Speculation is that this is an older structure, dating from the area's agricultural period. You can imagine the owners later building this much more impressive house on the plot. Afterward they tried to connect the two with a small bridge, but they weren't at the same height so it was a little bit tricky for them."
This building pattern was not uncommon in the agricultural land outside the city's old walls. Abu Harb says Medawar 749 was typical of its time.
"The structure is made of sandstone using lime-based mortar, with triple arches, marble balconies and wrought iron handrails. The ceilings were Baghdadi style — narrow wooden laths covered with lime plaster, sometimes decorated, sometimes not. This house was badly damaged when we first came but traces of lime plaster remained and we could see that it wasn't ornamented. There were different colors, but it's not like an artist came from Italy and painted landscapes on the ceiling."
Beneath a layer of paint, the restorers have found stylized floral patterns on the walls. "These stenciled motifs were commonly used to decorate such houses," she says. "On the ground floor there may have been some fake marble painting."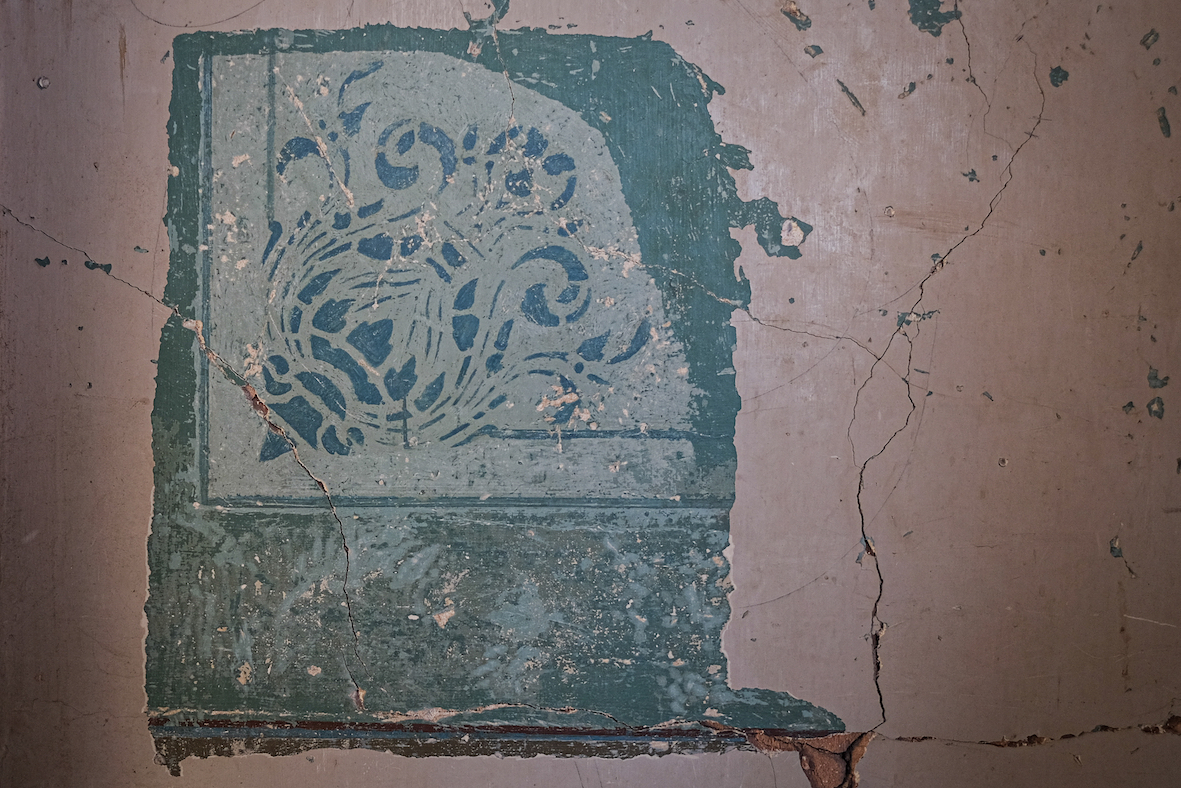 A sample of the stenciled floral motif that commonly decorated the walls of less-ostentatious houses in late 19th-century Beirut, including the Medawar house. (Credit: João Sousa)
"This house belongs to the late 19th century," Chahine reckons. "The development of this area started around 1885-1890, and the house doesn't have any concrete — cement wasn't used until 1925-30 — so I'd say it's not older than 1880, probably 1890. Because you don't see lots of modern interventions — new painting, concrete additions — you have the impression the house was abandoned for a long time, maybe during the [Civil] War."
Medawar 749 is an artifact of late-Ottoman architecture.
"Ottoman, yeah," Chahine laughs, "built by Beirutis."
George and Asbed
"I started metalworking with my father and worked with him for seven years. He learned the trade from his father," says 22-year-old George, a BBHR trainee. "When I was introduced to the training courses here, I was interested because it was about old school blacksmithing, hammer and anvil. I hadn't worked on this scale before. It was a great experience and I learned a lot of new skills. I'm looking forward to new projects."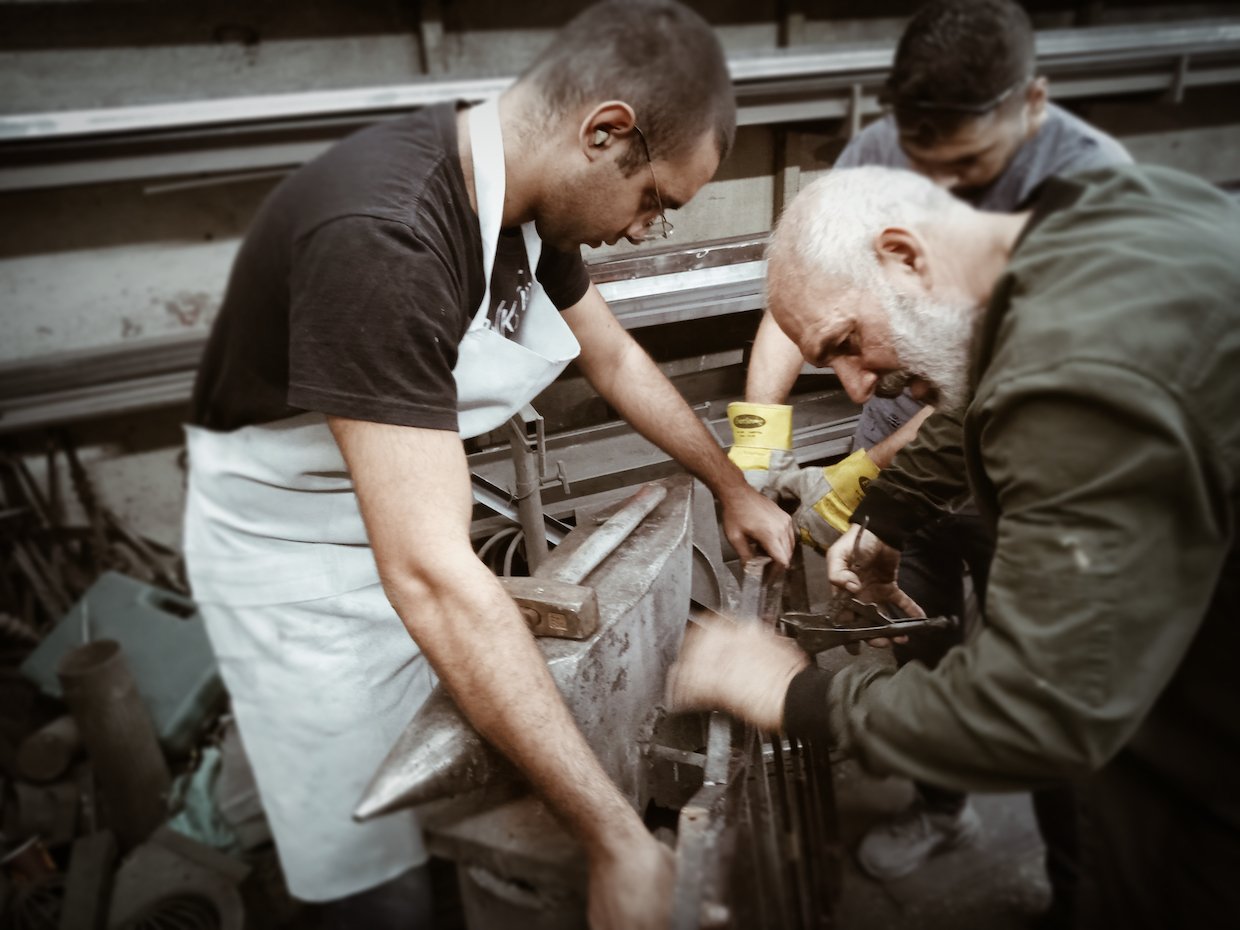 The metalsmith and his trainee at work on a balcony railing. (Courtesy of: BBHR)
George's friend Asbed, also 22, is on the crew of carpentry trainees. A resident of Armenia Street in Burj Hammoud, he says he heard about this opportunity from a social media post. Like George, he came to carpentry and painting through his father, with whom he worked before he passed away in 2017.
"Before the blast I worked on small projects," he says. "I don't have a shop for big machines. I've made doors on my own and installed accessories from A to Z. I learned many things from these training sessions — reconstruction, cutting and making measurements."
Asbed says that, with three traditional roofs now under his belt, he feels confident and hopes to do more of this work in future.
BBHR and Germany's role in rehabilitating port-side Beirut
The Lebanese state's absence from the port-side neighborhoods in the wake of Aug. 4 is well known locally. The exception has been the DGA. Though its work is in antiquities, it decided to step beyond this remit to help save the historic structures defaced by the port blast. Thanks to its profile and international connections, the directorate was well placed to help but, with only two in-house architects, it did not have the resources to meet a disaster of this scale.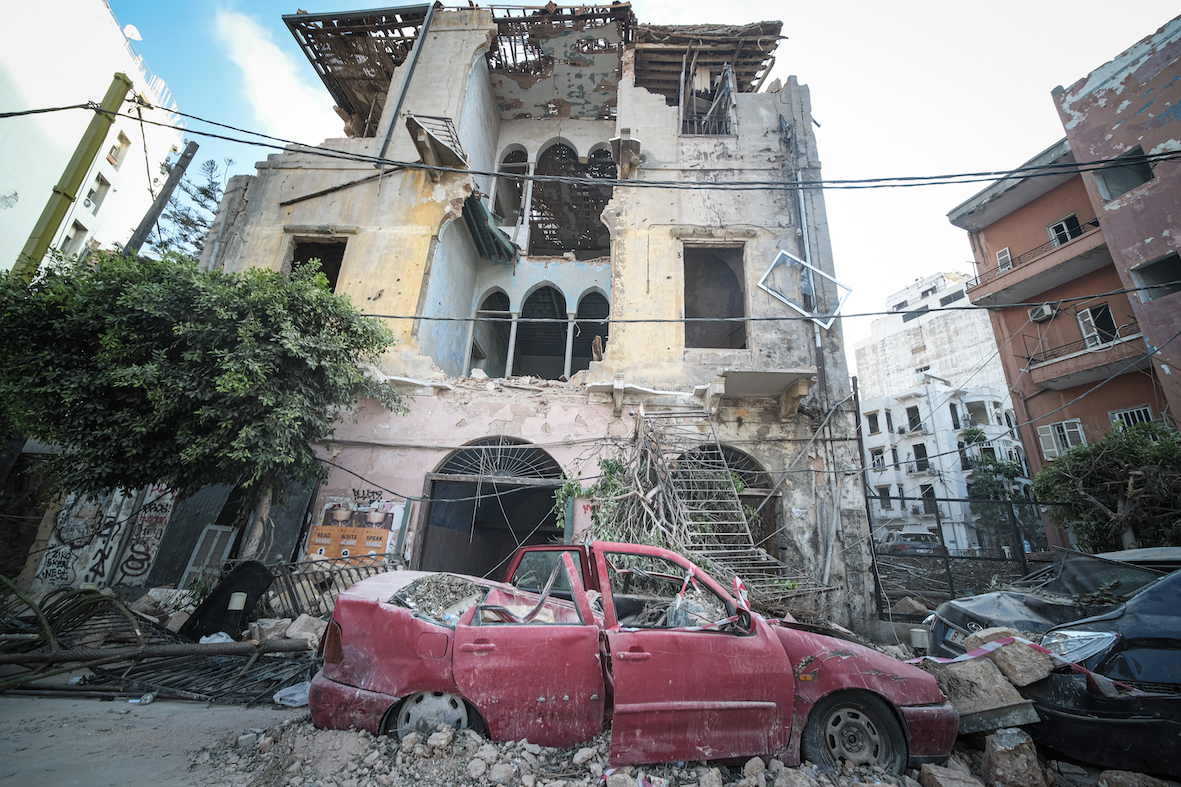 Medawar 749 as it looked shortly after the Aug. 4, 2020 Beirut port blast. (Credit: João Sousa)
Chahine recalls how on Aug. 4 the 40-odd architects and engineers that became BBHR took to social media and decided to support the DGA.
"We aren't an NGO. We believe in institutions," she says. "When you're surrounded by massive corruption, you support those doing something good. We supported each other.
"Take ALIPH [the international alliance for the protection of heritage in conflict areas]. They knew the DGA had no architects on the ground and that we were helping out, so they donated funds for the emergency response to the blast, administered by IFPO, [the French Institute Near East]."
Foremost among the international institutions the directorate could tap is Germany's DAI, whose orient department director, archaeologist Margarete van Ess, knows Lebanon well.
"Margarete called us on Aug. 5 or 6. By Aug. 12 she'd sent us a structural engineer and an architect to help out. I think maybe a month later she [funded] us, so we were able to continue work for an extra six months. You know, you can volunteer for two, three, four months, but eventually you need" to be paid for your work.
"She wanted to know what else DAI could do. We prepared files for several houses. The institute executed them — most with Beirut Heritage Initiative. For our house, Margarete said, 'Why don't we do a training program?' She found financing from the German Federal Foreign Office."
For the second phase of the program, BBHR received funding from Germany's Gerda Henkel Foundation.
"We're dealing with small sums, and we are making specific interventions, which we have to finish only through training sessions."
The support has been felt well beyond Medawar 749.
"After the blast we assessed 300 heritage houses in danger, of which 100 were near collapse. We made sketches showing how they should be propped up. The contractors offered the work for free, and the houses were saved. This is the story for at least 50 other houses aside from ours.
"After the blast, everybody was seeing pictures of houses about to fall down, but later on nobody asked why they didn't collapse."
Elias and Ahmad
"These shabab," says carpentry mentor Elias Karam, "they're nice guys."
Karam is 55 years old with 35 years experience as a builder, an expert in traditional trusses. He has a workshop in Ras al-Harf, near Bhamdoun, and when he is not here training these shabab, he's there working on his own projects. Before taking up his mentoring duties, Karam also repaired the DGA's vintage woodworking machines, vital to rebuilding this house.
"I'm pretty busy," he says, "because few people in Lebanon know these roofing techniques."
On his mobile phone, he pulls up some interior photos of a new church he has roofed. "I learned this technique in Lebanon," he says, "from a French builder. I can't teach 100 percent what I've learned to these guys because we're not creating something new here. We have to follow the old ways of building."
"He's one of a kind," says a trainee. "We're very lucky."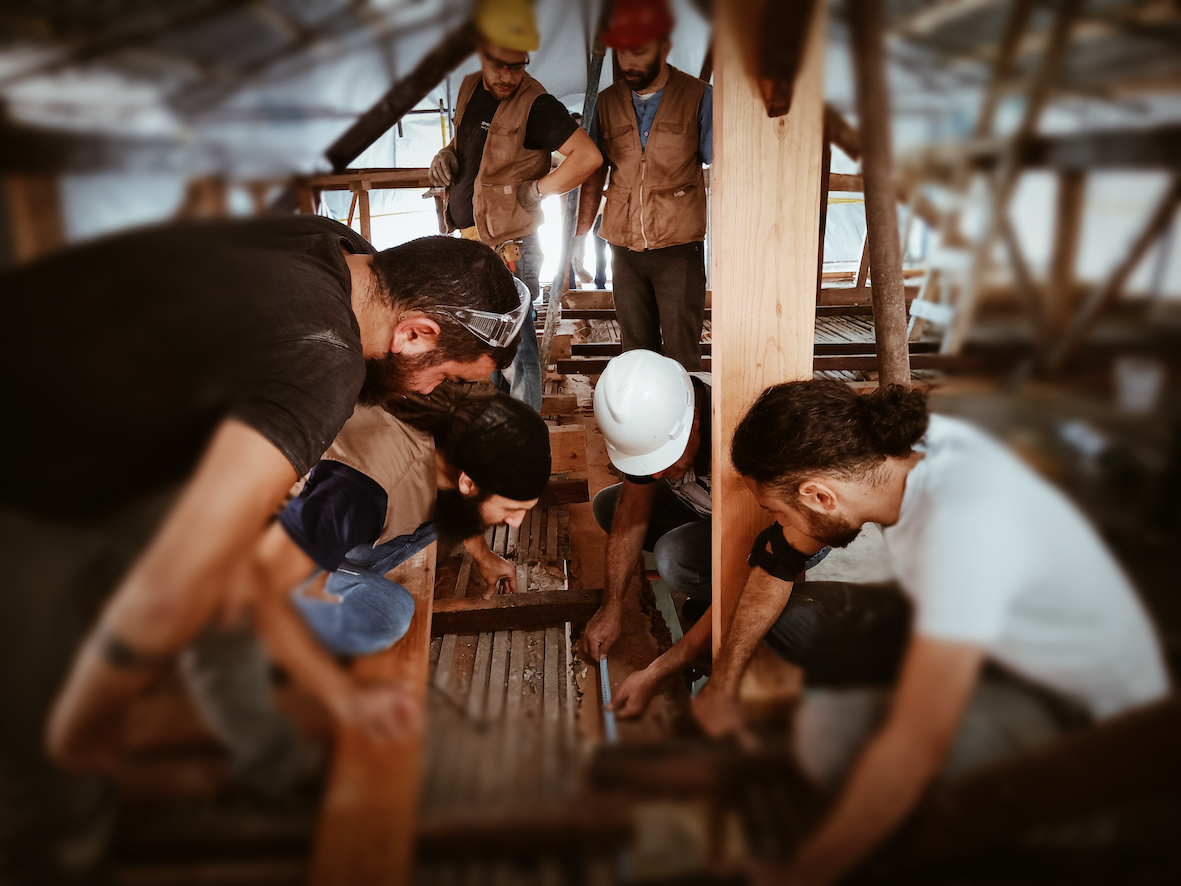 Carpentry trainees and their mentor at work on the house's roof during phase 2 of the restoration. (Courtesy BBHR)
Ahmad, one of Karam's trainees, studied Geographic Information Systems at Damascus University, but was unable to find work in that field. A Damascus native, he has lived in Lebanon for about three years.
"For about a year I worked in a friend's sweet shop on Hamra Street," he laughs.
He says he took up carpentry after the port explosion, independently at first, then working with the Institut Europeen de Cooperation et de Developpement.
He says that in the first week of the project he learned a lot from a team of on-site engineers, including a German structural engineer.
"They taught us technical carpentry, not just the usual hammer-and-nails stuff, which was very beneficial. The Europeans, they have a lot of techniques that are new to us."
He says after these restoration projects are completed he would like to continue working in carpentry.
"We need this in Syria," he agrees, "and here too we have many houses that need work. Many doors and ceilings need to be rebuilt."
Medawar 749 and Beirut's culture of restoration
Though there are still a few traces of Beirut's Ottoman, Mandate and early independence architecture, "authenticity," as BBHR understands the term, has not been the criterion driving most heritage rehabilitation in Lebanon.
Chahine acknowledges that a culture of restoration has taken root in the country, nurtured by Solidere's program of cherry-picking older structures in Downtown Beirut's built landscape for its own version of rehabilitation.
"Just keep a nice facade — no matter what you did to this facade to make it look nice — empty the inside, and replace it with whatever you want," Chahine chuckles. "Now everybody thinks that this is how to preserve historic structures. They say, 'We preserve heritage!' and show you an old-looking facade with a new building inside."
She pulls up a jpeg of a striking Mandate-era structure situated on the corner of a city block — built in a transitional style that architect Robert Saliba called a "bay window typology." Then she pulls up a photo of the developer's "restored" structure, a new building retaining a few motifs from the original facade.
"And they proudly say, 'We're preserving the city!'"
Chahine says this culture of restoration has compromised some of the best intentions of the NGOs that stepped up to save the heritage of port-side neighborhoods after the blast. Most of the trainees at Medawar 749 have worked with these NGOs and they will return after the training course.
"This is needed," she says, noting that many of the NGOs' interventions inadvertently did violence to the heritage. "They only wanted to help," she says, "but there are materials that you need to use, with some know-how" that non-specialist workers don't have.
She doesn't want to condemn these NGOs, but innocence of proper restoration practice, and the ill-informed choices that follow, bring systemic problems.
"Baghdadi ceilings — like those in this house," she points to the unplastered wooden laths above. "These need lime plaster, but instead of plaster, they used cement, which will collapse. They used poor-quality wood, so whenever it rains the wood warps, causing damage. Instead of building with sandstone, they used breeze blocks.
"Many things happened like this. So our project is creating a kind of awareness. It's not enough at all, of course. Part of BBHR's task has been to go and meet those NGOs and teach them the right methods. We did a manual with Ralph Bodenstein, an architectural historian of Ottoman Beirut, to disseminate best practices but, you know, not everybody is open to that.
"When you have historic paintings in these houses, you can't ask a painter to restore them. You must bring a conservator. Painters use acrylic and oil paint on work that was made with pigment based in linseed oil and egg whites. We ruin these techniques when we apply modern paint to them.
"Conservators are more expensive, yes, but if you have something precious, like historic paintings, you should not treat them this way. Restoring these interior elements is not that urgent, so best keep them as they are until you have money, then bring someone to restore them properly. Not everybody is willing to do this. They're impatient."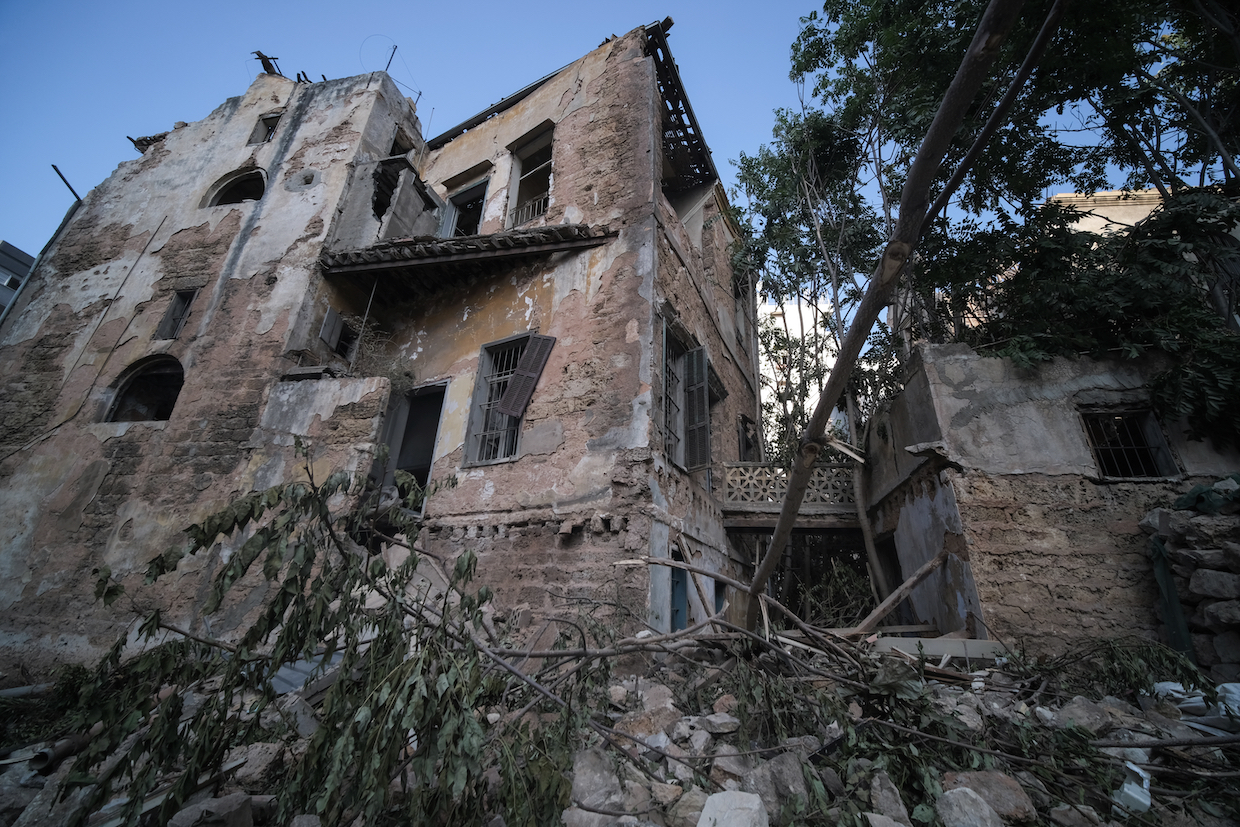 The Western wall of Medawar 749 as it looked shortly after the April 4 port blast, showing the bridge joining the modest original house, right, with the more ambitious late 19th-century structure. (Credit: João Sousa)
Tony and Fayez
A Koura native, Tony has a passion for carpentry. He has a small carpentry workshop of his own and he has been with this crew since it was formed about two years ago.
"All the work I've been doing with these guys is new to me," he says with some pride. "Before, my work was small handmade stuff, like furniture, that I'd do on my own. Large-scale work like roofing is all new. I want to keep doing this work in the future."
Fayez, 27, is from Damascus, where he studied economics, but never worked in the field.
"I started woodworking on my own about four or five years ago. I had my own shop in Beirut," he says, "building furniture mainly. Some repairs, windows, doors, stuff like that. I worked on a bar in Mar Mikhael.
"I started working carpentry with IECD about two years ago, like the other guys. We all love it. They teach us roof structure, traditional joinery, different types of wood, stuff like that. I'm more into furniture design than structural woodworking," he says, laughing, but "if there's a job, I will definitely go for it."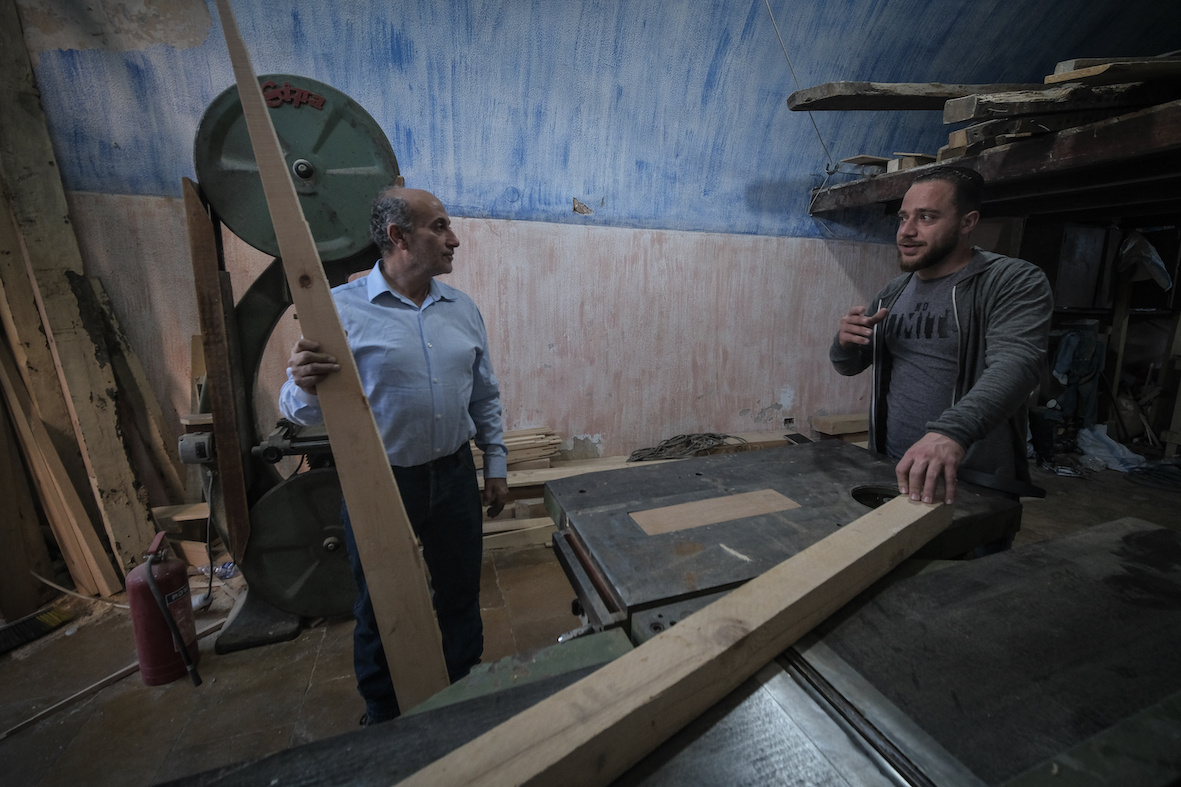 Master roofer and carpentry mentor Elias Karam, left, and carpentry trainee Ahmad al Husseini pose with the vintage woodworking machines they worked with at Medawar 749. (Credit: João Sousa)
Learning from past mistakes
The first phase of Medawar 749, running September 2021 to January 2022, focussed on restoring the face of the structure, torn away by the Aug. 4 blast. The NGO MARCH wrangled 12 skilled youngsters to do the masonry work — some Sunnis from the Tripoli neighborhood of Bab al-Tabbaneh, others Alawis from its oft rival area Jabal Mohsen. The work was overseen by a veteran mason from the Chouf.
The masons used whatever stones that could be salvaged from the rubble. Rebuilding the arches was like assembling a jigsaw puzzle, Chahine says. "Sandstone is fragile, so we had to buy some stones, because some were broken in the blast, but we finished without buying large quantities of fresh stone."
To rebuild the ceilings, BBHR partnered with IECD, which since the blast has worked with the DGA to oversee the training in heritage restoration jobs.
"They follow rigorous methods," Chahine says. "They teach the trainers pedagogy and they have a wide database of trainees, so we took five carpenters they'd already trained on another site. You need to have worked on several sites to become a master roofer. They installed the ceiling and now they're completing the roof.
"When they finish here they go back [to the IECD] to install another roof in Zoqaq al-Blat. This is great. Every site has new challenges, so they'll have an overview on all the problems that might affect a traditional timber roof."
Running September through December 2022, phase two commenced with a workshop led by a German structural engineer who returned weekly to follow up on the work. It is hoped phase three — metal and plaster work — can commence in the spring and finish in three to four months. BBHR's work here will then conclude, leaving the interior restoration to the current owners.
As restoration projects go, Medawar 749 is an unusual thing. For starters, there's no contractor. Filling that role is Roland Haddad, architect-restorer and training program facilitator. Like a contractor, Haddad procures materials, recruits the workers — mentors and trainees — and pays their daily expenses, coordinates transportation, cleans the site and anything else needed to enable the training. Unlike a contractor, the only money he makes is his salary.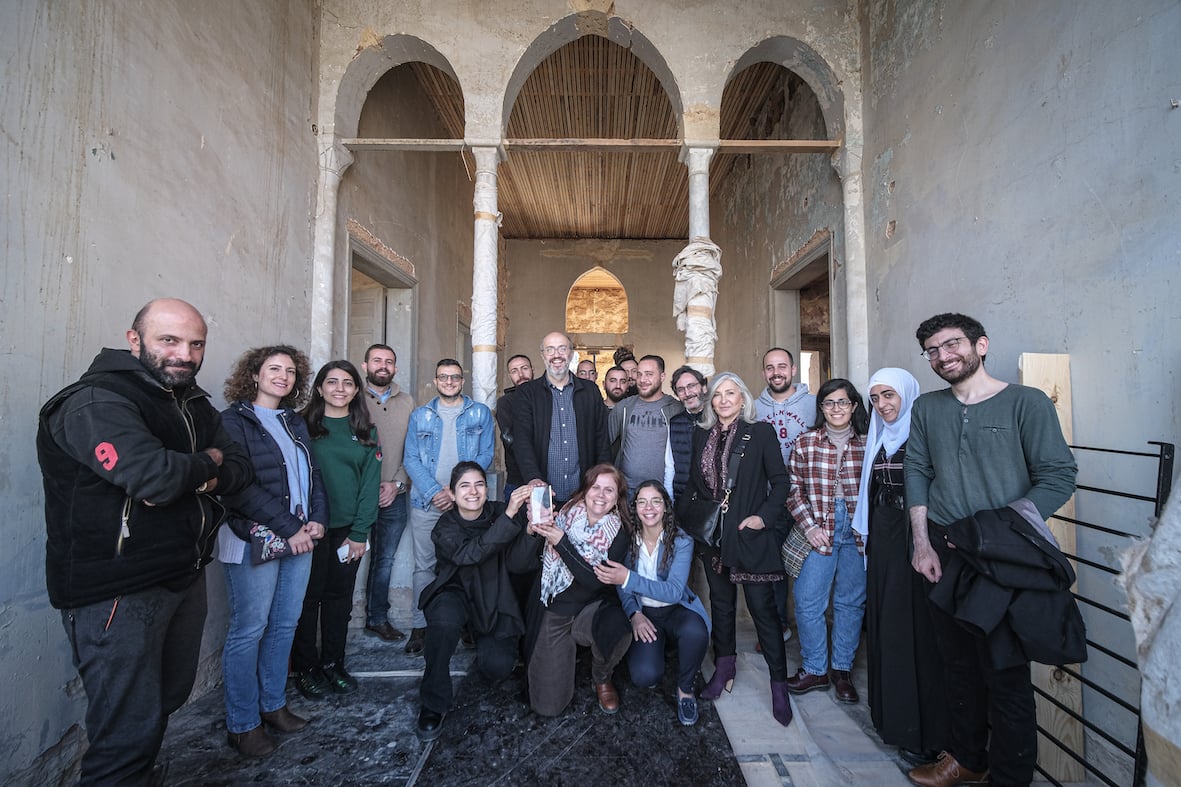 BBHR team members on site for the end of phase 2 of the reconstruction, Dec 2022. Restorers Paula Abu Harb, left, Nathalie Chahine and Ghina Sabalbal pose with 2022 Projects of Influence prize, awarded by the international Council of Museums. (Credit: João Sousa)
Haddad also works as a consultant on some other rehabilitation projects. "It's a totally different language [contractors] speak," he says. "It's not like here, where we're looking at authenticity of material and techniques."
He says the challenges of Medawar 749 have been unique.
"We have two challenges," he begins. "One is related to budget. Sometimes we are forced to pay for things before the funds have come in from abroad, but it's fine: We and the donors have known each other for a long time now and there's a lot of trust between us.
"The other thing is adapting the spirit of the work from construction site to training course. On other sites, the mentality is that you must do the job as fast as possible. Here, things could be done faster, but we are not [ruled by that]."
He pauses. "Of course we have a schedule, but … sometimes we disassemble some features and reinstall them. Dismantling is sometimes the aim. People learn from mistakes."
Neocolonial thrift?
Back among the timbers and the 20th-century woodworking machines that Elias Karam restored, in the former coal store-cum-cabinet maker's workshop, L'Orient Today wonders whether it might have been cheaper to simply buy some new equipment.
"I took Elias' prices for how much it would cost to fix these machines," Chahine explains, "all the new parts, etc. We calculated how much it would cost to rent a space, to transport the trainees there and to move the materials back and forth, as well as the time spent on the road. No, in the end it was worth it to fix them."
Given that the funding for this initiative has come from German institutions, a skeptical journalist might wonder whether this thrift originates with the sponsors.
"No no no," Chahine demurs. "It was me, a Lebanese person, who proposed fixing something instead of buying something new. This mentality, I tell you, it should be broken."

BEIRUT — "The Directorate General of Antiquities told us, 'The DGA has two woodworking machines you can use, but we don't know what condition they're in.'"Architect-restorer Nathalie Chahine leads L'Orient Today into one of the old house's three ground-floor galleries, opening onto Gemmayzeh's Pasteur St. The smell of freshly cut wood fills a space crowded with planks. A...