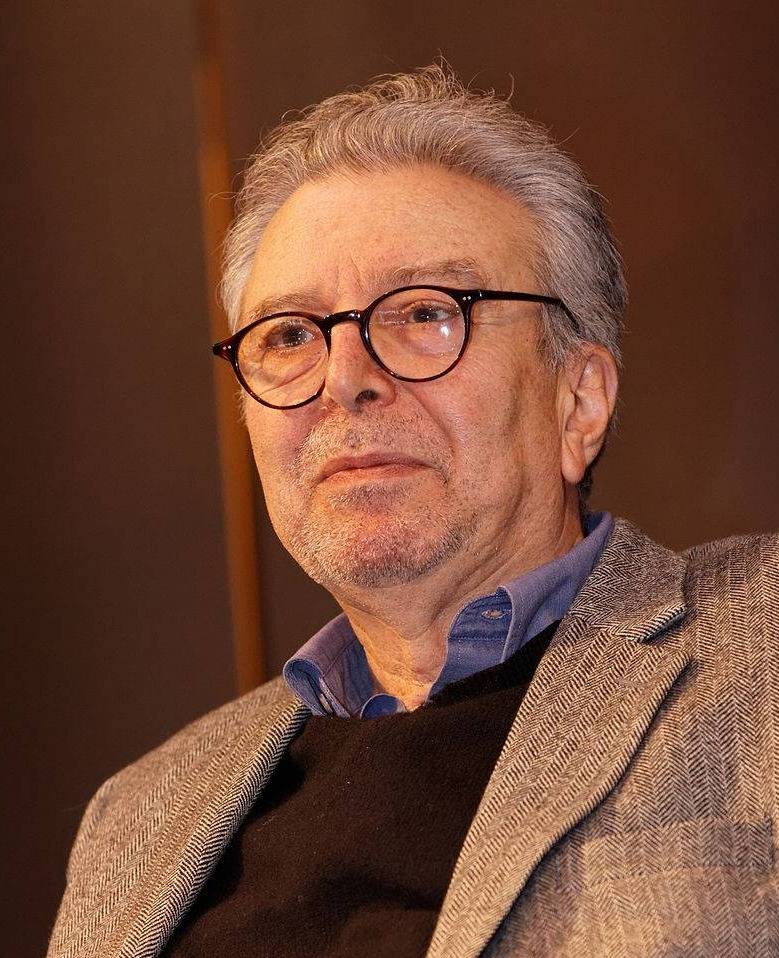 Your life path took you from Syria and the Arab world to France, with a passion for books and cultures, and bridges between languages. Tell us about your journey.
For a very long time, I have been equally passionate about Arabic and French literature. When I arrived in France, I continued to be, not through writing poetry, but [through] reading a lot. I worked for 14 years as a librarian at the library of the L'Institut National des Langues et Civilisations Orientales. I then managed the Institut du Monde Arabe's Library in 1989 (where I was a cultural advisor) until 1995. So I have always been in contact with books. I knew [the publishing collection] Sindbad because it was founded in 1972 by Pierre Bernard. I started my professional career in France, after my studies in political science, during the same period. Together with the IMA, we inaugurated the first Arab Book Fair in Paris in the early 1990s. When Actes Sud bought Sindbad in 1995, I was of course asked to take over the management of this collection, which I have been running ever since.
In what way have these specificities of your background and the experience of being away from home permeated your identity-related experience?
After graduating in law in Syria, then in literature and political science in Paris, I used to return regularly to Damascus and Beirut. From 1976 onwards, I could no longer return because I was frowned upon by the Syrian regime due to my disagreement with the Syrian intervention in Lebanon. I then lived for a few years as a foreigner with a residence permit, then I became a French citizen in 1982. I lived for a long time on the border between the Arab world and France. I felt I belonged to both worlds at the same time through my work, my feelings and my desires. I have spanned this border in both directions, continuously moving back and forth.
So you are experiencing life far from Syria as someone in exile?
I am and feel fully Syrian and French. It is not an exile as time goes by, but a very strong attachment that I felt for Syria and which was revived by the Syrian uprising in 2011, as it was for many people.
What are your links with poetry?
As a young man, I wrote poetry and before coming to France, in 1964, I published a booklet of poetry — of which I am rather ashamed today — A Piece of Sun (Kitʻat shams). However, my taste for classical poetry remained intact. I have always been keen to publish classical poetry, not just contemporary. In the early 1960s, while still a high school student, I followed closely the Arab poetry revolution that was underway and had built up a rather impressive Arabic bookcase of those early years of the poetry revolution.
How important is the poetry collection within Sindbad to you in terms of editorial policy?
From the very beginning of my work at Sindbad, I have been keen to publish contemporary Arab poets. I wanted to fill a gap: poetry was often published by small publishing houses on fine paper for limited and small sales. There were no reputable publishers of classical Arabic poetry in Europe except in Spain. But in France, for contemporary poetry, I did not see any publishing in normal formats for the general public. There were the two great tenors: Adonis at Sindbad and Mahmoud Darwish, who was the poet of Actes Sud. Pierre Bernard was not an Arabist but he was advised by scholars Jacques Berque and André Miquel, and assisted by Abdelwahab Meddeb and Claudine Rouleau. Thus, he gained access to classical poetry and published a small anthology of Abu Nuwas, the Muʻallaqat translated by Berque, and a small anthology of Sayyab translated by Miquel. When I arrived at Actes Sud, I re-edited Berque's Muʻallaqat (even though it was not my favorite translation), Majnun, Bewitched by Layla and Adonis. Then I added anthologies of classical poetry and pre-Islamic poetry, as well as an anthology of Mutanabbi and Maʻarri of which I am proud.
What about contemporary poetry?
Mahmoud Darwish, who was my friend and who lived in Paris for 10 years, gave Actes Sud the management of his international rights (except in Arabic), during his lifetime and four years after his death. We took on this task and I insisted that everything he published since Why Did You Leave the Horse Alone? be included in Sindbad. We even went back in time with two anthologies and published a good dozen of collections of Darwish's work. Sales far exceeded the [usual] sales figures for poetry in France. Then I found myself faced with a very difficult choice, with many proposals coming in. I wanted to publish the tenors of Arabic poetry in prose or free verse. I think of the founding fathers such as Ounsi el-Hage, Sargon Boulus, Bassam Hajjar, Wadih Saadeh, Abbas Beydoun, Amjad Nasser. With this, we provided the French readers with the main Arab poetic production from the 1980s.
The writing of women poets, especially contemporary ones, is not present in Sindbad. However, women seem better represented in novels. Why is this?
We published only one contemporary female poet: Iman Mersal, objectively one of the best poets regardless of gender. There may be others, but I don't know them. I never wanted to make an artificial parity.
You are dropping a bombshell with these remarks!
I assume! Among the younger [poets], there are more female names. I come back after each book fair with about 20 interesting collections. But for me, who is allowed only one collection per year, the choice is very difficult. The publication of poetry is limited and has few readers, unfortunately. Even bookstores are less and less willing to display poetry in their windows … On the occasion of Sindbad's 50th anniversary, I wanted to launch a special poetry operation with Parisian booksellers. We did not have enough respondents and it could not be done.
Nouri al-Jarrah's The Sleeper's Smile was published on the occasion of Sindbad's 50th anniversary. What does his poetry mean to you?
I have known Nouri for a long time, as a journalist when he launched the literary magazine Al-Katiba (the female writer).
He has done a good job of finding talented female poets in Arabic for Al-Katiba!
Indeed, it seems so ... Nouri al-Jarrah is a very abundant poet: his complete poetic work is published in Arabic in three large volumes of 500 pages each. I especially liked his last collections where he took a more important dimension. I was touched by these collections marked by the Syrian tragedy. Jarrah has a voice that is entirely his own, very different from others. While most contemporary poets write poetry of everyday life, he has developed a vein that no longer exists: that of a mixture between mythical metaphor and epic lyricism. He draws from the Arab and European spiritual and literary heritages, situating them in the present in the Syrian space. I found this to be original at the present time. He is the only Arab poet to choose this path.
On the occasion of Sindbad's 50th anniversary, you wrote: "The events that followed one another over the last three decades, almost always placing the Arab world and Islam at the forefront of international politics, as well as the social debates in France in this regard ... make Sindbad's existence more necessary than ever and give it new tasks." To which tasks are you referring?
The question of relations between France and the Arab world has been on my mind for a long time, and I have co-authored and published various studies in this field. From another point of view, Sindbad is not in a good position as far as sales are concerned. Immigration is scary, Islam is scary. More generally, sales of translated foreign literature are declining in France. Publishers are noticing a retreat to France in people's reading habits. Even the reading of American literature has dropped. The editorial reaction has been to reduce production. My comments about these unprecedented tasks are a nod to the director of Actes Sud. It is a way of saying that the public's reluctance to read Arabic literature should not discourage, but rather encourage us to move forward, because it comes as a response to the current situation.
The response through literature is a political and committed response.
I have never published a book whose content I did not like. I have been told in this sense that I am a committed editor. I believe that making editorial choices gives a platform that is quite rare in France today. Books must try to talk about what others do not talk about. More particularly concerning Arab societies, it is not a question of praising Arab civilization, but rather of saying: "If you want to know the Arab world, read its literature first. Maybe you will understand it better than reading an essay."
If you had the choice today, would you still publish these editions under the name of Sindbad? Or would there be another protagonist of Arab culture or literature who could more intimately evoke the soul and vision of this great collection?
There is the creator of Sindbad, Scheherazade, a woman. The equivalence of literature and life is a universal symbol. It is by speaking and telling that she has remained alive. What more could you want? But, Sindbad as a traveler and adventurer, remains a strong symbol.
This interview was originally published in French in L'Orient-Le Jour. Translation by Joelle El Khoury.
Your life path took you from Syria and the Arab world to France, with a passion for books and cultures, and bridges between languages. Tell us about your journey.For a very long time, I have been equally passionate about Arabic and French literature. When I arrived in France, I continued to be, not through writing poetry, but [through] reading a lot. I worked for 14 years as a librarian at the...