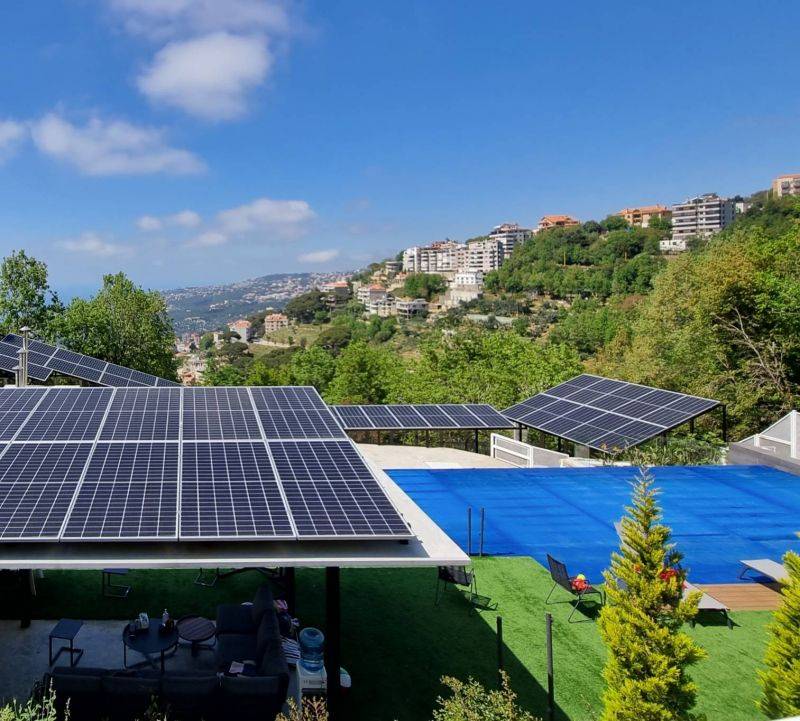 Faced with simultaneous energy, economic and financial crises, and with little to no provision of state electricity, many people in Lebanon are rushing to install solar panels.
Between 2021 and the end of 2022, $350 million were invested in the private sector for new 250 megawatt-maximum solar energy systems, in addition to existing 100-megawatt systems, according to Pierre Khoury, president of the government's Lebanese Center for Energy Conservation (LCEC).
These include small residential backup installations as well as larger solar panel projects equipping industrial sites, farms and even shopping centers.
This Lebanese frenzy for green energy coincides with state-owned Électricté du Liban's fuel supplies worsening over the past two years. During that time, and amid a rapid depreciation of the national currency that saw prices soar, EDL also lifted the subsidy on diesel used by standard generators.
Cost advantage
Last Wednesday, at a conference held in Beirut as part of the Middle East Green Energy trade show, caretaker Energy Minister Walid Fayad said that the Lebanese are currently paying $0.55 per kilowatt hour (kWh) for generators when they apply the ministry's official tariffs.
For comparison, people in Europe were paying €o.22 per kilowatt hour in 2021, according to Eurostat, an EU-run statistics office. However, that price is likely to increase in 2022 due to the impact of the Russian-Ukrainian conflict on the supply of gas to EU countries.
Public electricity tariffs have been fixed since 1994 on the basis of that year's oil prices — $23 per barrel — compared with around $90 today.
In this context, high electricity costs work in favor of renewable energy in general and solar in particular.
Khoury estimated production costs for government-launched solar panel farm projects to be $0.57 per kWh. "But it is difficult to generalize this number since, in practice, the cost of an individual installation varies according to several factors," such as sunlight, yield and batteries, he explained.
The actual yield of a panel also depends on the location, local weather conditions and the tilt of the module, which will not produce electricity when there is no sunlight.
Still, the cost of solar energy remains more advantageous, at $0.06 per kWh without batteries, and between $0.25 and $0.30 when including the cost of battery storage.
With EDL's setbacks in providing power, combined with rising generator tariffs, solar energy installments in Lebanon have seemed like good news on the surface.
But on the ground, the reality is much more complex, according to Philippe al-Khoury, co-founder of ME Green, a Lebanese company founded before the crisis that specializes in installing solar panels. The company is present in Lebanon as well as in some European and African markets.
"The country is missing out on a golden opportunity to build a viable ecosystem based on renewable energies, and the backlash is likely to be violent," Philippe told L'Orient-Le Jour.
The risks of poor workmanship
Philippe decried the fact that a significant number of solar energy projects launched in the last two years have been rushed by under-qualified companies lured by profit.
"There are a lot of bad investments, either in terms of the equipment chosen or the way it was installed," he said.
This includes flaws that pose fire hazards, as was the case in a July fire in Bshamoun in the Aley area, which made the rounds on social networks at the time.
"A fire can be related to poorly installed protections, whether those are fuses or lightning," Philippe explained. "It can also be caused by a lack of connection of a photovoltaic panel to the earth or a bad section of cable connecting the panel to the solar inverter," which is a device that adapts the electrical current produced by the panels so that it can be used.
Beyond the risk of fire, technicians must also consider other essential factors, such as the weight load of the installation on the structure that hosts it and the firmness of fasteners holding the panels.
In May, several poorly attached panels were blown off of their frames by strong winds in a central Beirut neighborhood, according to photos posted on social media at the time.
"The rate of such incidents is not marginal, and it is likely to increase over time," Philippe said.
Finally, certain other mistakes — such as the unsuitability of the batteries being used — as well as errors in other settings can accelerate the wear and tear of various components.
"With the wrong parameters, a battery can be thrown away after six months, even though its average lifespan is much longer," Philippe added.
Solar panels usually last between 25 and 30 years, while batteries last only three to 10. A battery's lifespan depends on whether it is lead-acid, which lasts for shorter amounts of time, or lithium. High-quality solar energy inverters are generally guaranteed for 10 years but can work for 15. Many inverters imported to Lebanon have a life span ranging from three to 10 years.
Apart from the financial losses, premature wear and tear also pose an environmental problem, as there is no real industry in the country that specializes in the recovery or recycling of such components.
Standards not applied
According to Pierre Khoury, the Lebanese Center for Energy Conservation president, a majority of people in the field are applying correct standards, and the equipment sold on the market is tested under procedures led by the Industry Ministry's Industrial Research Institute (IRI).
Lebanon also boasts a well-developed regulatory and certification process, according to Lena Dargham, Director General of the Lebanese Standards Institute (Libnor). She was a guest speaker on a panel about the topic at the Beirut trade show last week.
"Several action plans to develop renewable energy have been launched under the aegis of the state since 2010, and the latest target has been set at 30 percent of [total energy] consumption by 2030, provided by the various sources available," Dargham told L'Orient-Le Jour.
"Standards have been set for solar, wind and hydroelectric installations" as well as for "green" buildings, she added.
However, she said, "there are weak points in the system that need to be strengthened, because, although some of these standards are mandatory, the problem is implementation on the ground."
One of the main obstacles: Companies that decide to get involved in installing solar panels do not need to obtain a specific license, with the exception of loans subsidized by the Housing Bank, for which about 40 companies have been approved.
"Apart from these cases, any merchant can import equipment and present themselves as an engineer specialized in renewable energy, without even associating with an [actual] engineer or a technician," Dargham said.
One of the ways to remedy this situation without having to call on the security forces could be to resort to actors from the private sector specialized in certification and controls.
"The LCEC and IRI have also launched training sessions for technicians," Dargham said, adding that the sessions were a "good start."
Finally, she said, amid an excessive reliance on individual photovoltaic installations in Lebanon, these resources could be used instead to finance larger-scale projects that would strengthen the capacity of the public provider.
For example, Dargham suggested, one strategy could be to combine different renewable energy sources. Authorities could deploy a smart grid capable of optimizing the production and distribution of fuel in real time, as well as plan ahead for recycling the equipment in later years.
This article was originally published in French in L'Orient-Le Jour. Translation by Sahar Ghoussoub.

Faced with simultaneous energy, economic and financial crises, and with little to no provision of state electricity, many people in Lebanon are rushing to install solar panels.Between 2021 and the end of 2022, $350 million were invested in the private sector for new 250 megawatt-maximum solar energy systems, in addition to existing 100-megawatt systems, according to Pierre Khoury, president of...