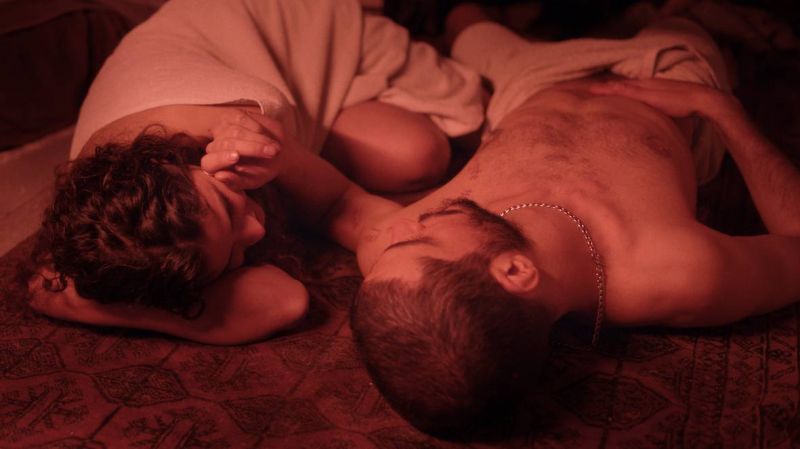 BEIRUT — "I shot this film here with a Lebanese cast and crew. My main audience is Lebanese. If I were in that audience, I wouldn't want somebody explaining something to me that I already know," Ely Dagher clarifies. "I didn't care about explaining so foreign audiences can understand the situation in Lebanon ... I didn't want a French audience to feel pity. 'Ah, how sad for the Lebanese youth!'"
The basement rooms of the Mar Mikhail bar have no musical accompaniment. A few meters away, a pair of youthful backgammon players murmur back and forth, until one fellow decisively clacks his plastic disk on the tawleh, as if in triumph.
"At a few screens in Paris, audience members told me they sympathized with the character's feelings because of their COVID lockdown. I'd rather that than them looking for answers like, 'Oh, what in the Lebanese situation got her to this place?'"
Ely Dagher's debut feature "The Sea Ahead" is very much of its time and place, recounting a young emigré's return to a depressed Beirut. The film is not, however, a parochial depiction of contemporary Lebanon. Dagher set out to tell a story that will resonate with Lebanese viewers without baffling audiences uninitiated on the country's eccentricities.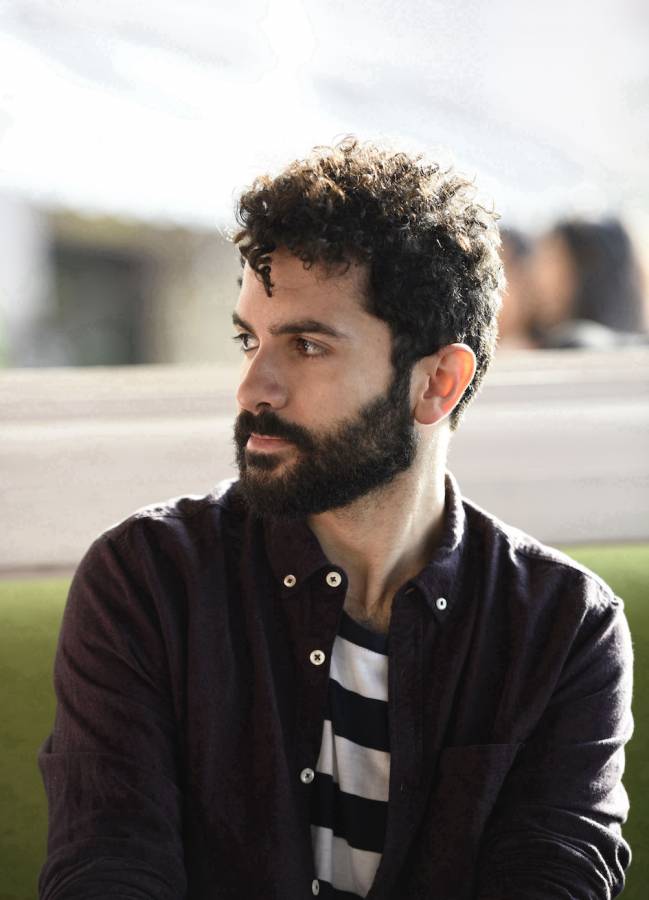 'The Sea Ahead' is Dagher's debut feature, after his 2015 film 'Waves '98' won the Palme D'Or for short film at the 68th Cannes Film Festival. (Courtesy Abbout Productions)
The film debuted about a year ago in the Director's Fortnight section of the Cannes film festival and has been projected in festivals and commercial cinemas since then. It premiered in Lebanon during the Ayyam Beirut al-Cinemaiyya film festival, and has since commenced a wafer-thin release in the city.
In "The Sea Ahead," Jana (Manal Issa) abruptly turns up at her parents' Beirut flat in the middle of the night, after some years in Paris. She finds a city becalmed by economic stagnation, its citizens anxiously awaiting some catastrophe.
"A tsunami's coming," an airport taxi driver tells her. A tidal wave rising from the shallow Mediterranean may seem unlikely, but Jana's mother Mona (Yara Abou Haidar) doesn't disagree. Mona feels less insecure, she says, because the family home is several storeys up, but she's begun stocking up on staples like rice and dried lentils.
"The tsunami comes from two places," Dagher says. "One is related to a creative blockage that I had, my experience of constant agitation, disaster anxiety. You're writing a work, thinking that, when the next disaster happens — war or whatever else — then whatever you're working on becomes irrelevant. It paralyzes you."
"So I put all those fears into the film in the shape of a tsunami. It was one way to confront them."
The tsunami motif is central to the film's story and themes.
"One of the reasons a lot of people leave the country is this constant threat of everything falling apart and ... suddenly having to start all over again. That was my parents' experience, the older generation who lived through the war, and the whole '90s reconstruction, 'Beirut's new golden era,' as they sold it." He pauses. "Now all their money, their jobs and everything else, stolen."
"Living in constant fear of losing everything, we don't really talk about that enough. Cinema often talks about big dramatic events, like 'The War,' but we never talk about its repercussions on the youth today or on how people in Beirut live today."
The ambient inertia Jana finds in her mother and father and Beirut generally reflects her own mood. She's abandoned her life and university degree in Paris — the goal of any aspiring Lebanese, according to local narrative convention — and can't talk about her life there or what compelled her to leave.
Jana seldom leaves her parent's place and is uninterested in seeing old friends. Days pass, possibly weeks, and her parents worry. As abruptly as Jana arrived, her old boyfriend Adam (Roger Azar) materializes at her door one night. The pair retreat to his flat and resume their relationship. From this point, the story unfolds in two quite distinct and self-enclosed parts — Jana's time with her parents, and her time with Adam.
Adam is a mystery. His source of income is unclear — he may be a musician — but he keeps his savings stashed in a strongbox hidden in the ventilation system.
"It's safer than in a bank," he explains to Jana, provoking a sprinkle of rueful chuckles from the audience at the film's Beirut premiere.
Adam seems to be the only tenant in a nearly-finished apartment block on the coast north of Beirut. Jana is amazed how much the city's changed since she left and Adam provides nocturnal tours of seaside property developments. The buildings were erected when everyone wanted to come to Beirut, he explains. Now they've stopped coming. The lights are on, but they're empty.
Dagher's depiction of contemporary Beirut is a striking evocation of its collapse, but "The Sea Ahead" is only incidentally a product of the post-2019 disintegration. Dagher began script development in 2015-16, finished pre-production in December 2019 and had wrapped principal photography by February 2020, just before COVID-19 began to race through Beirut's population.
Like his 2015 film "Waves '98," which won the Palme d'Or for short film at the Cannes Film Festival, "The Sea Ahead" is inspired by an older affliction — the systemic malaise that gave rise to Lebanon's current season of crises.
"In 2013, when I chose news footage for 'Waves '98,' it was all from the trash crisis of '98," Dagher recalls. "That film was about history forever repeating itself. A few months after the film's release, there was a new trash crisis. A lot of my friends left."
A quiet chuckle stalls in his throat.
"I thought it was important to talk about the story of migration from the point of view of somebody who's returned," he says. "It's not always easy to grasp, that the grass is not always greener, especially for those who left in the last two years. I met quite a few friends [who have] returned now because they have nothing to do. They left just not to be here, but didn't really have a plan, any idea what to do with their lives."
Though its themes are deeply rooted in the lived experiences of the filmmaker, his family and contemporaries, "The Sea Ahead" is not a work of conventional realism. This isn't immediately obvious. Aside from a dream-like lyrical motif showing Jana wading through flotsam-strewn flood water, the film's premise, locations and performances are authentic and convincing.
It's only as the story unfolds that certain improbabilities start to chafe against the appearance of realism. As Dagher sees it, Jana's return to Beirut is out of time.
Jana (Manal Issa), foreground, and Mona (Yara Abou Haidar) in a still from Ely Dagher's 'The Sea Ahead.' (Courtesy Abbout Productions)
"The film is unconnected to any realistic timeline," he says. "From the taxi scene at the beginning to the taxi scene at the end, it's all Jana's perspective of coming back to Beirut. We never really know how much time passes at her parents' house. Adam is like a ghost from the past that's anchored in reality — filled with all the regrets, all the rage, all the reasons why she returned. When Adam first comes to her house, it's still within the realm of [the possible] but there's something off about it: The film descends deeper and deeper into that world."
Like many Lebanese films that debut in Europe, the foreign career of "The Sea Ahead" has been more extensive than its domestic one. From development to exhibition, Dagher is ambivalent about the project's reception overseas.
"During development we received very little funding from Europe," he recalls. "They didn't think the film was 'Lebanese enough' or that the social context wasn't present enough. 'Why aren't the parents more conservative?' Jana's return from Paris had to be because she was raped, had a drug overdose or was in a terrorist attack."
He sighs.
"That's not what the film is about. To be a true Lebanese, you have to be 'The Other,' like, they can sympathize with your experience as long as they're detached from it."
So far, the film's principal audiences have been in France, Belgium and the UAE, where the audience response has been gratifying.
"Reactions were really good," he says. "It was always very different. You know, in Europe you often have Lebanese in the audience. A lot of them were people who had recently left, so the Q&As were mainly testimonies of their own experiences and how they relate to Jana. I guess their feelings of loss, or numbness were [prominent] but there was also something cathartic in the way they saw their experiences being portrayed on screen.
"In Dubai, some people said they were happy that for once they were seeing a Lebanese film that was not about the way we usually talk about Lebanon and the region — the nostalgia and such — about something that's actually closer to their experience. That's really rewarding for me."

BEIRUT — "I shot this film here with a Lebanese cast and crew. My main audience is Lebanese. If I were in that audience, I wouldn't want somebody explaining something to me that I already know," Ely Dagher clarifies. "I didn't care about explaining so foreign audiences can understand the situation in Lebanon ... I didn't want a French audience to feel pity. 'Ah, how sad for the...