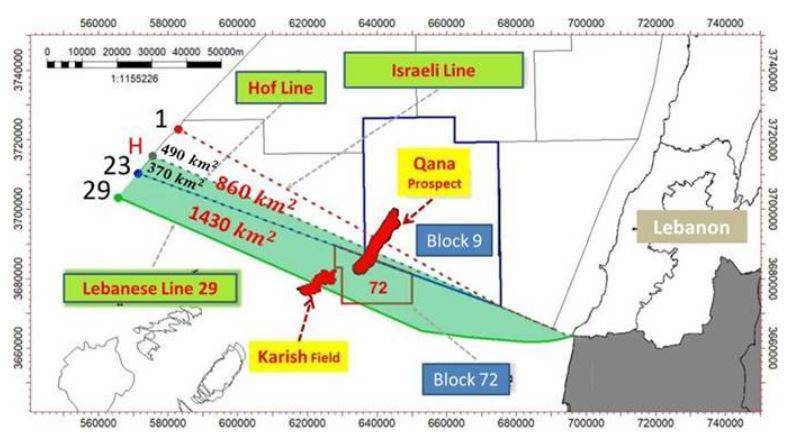 BEIRUT — Amos Hochstein, the United States mediator in the Lebanese-Israeli maritime border negotiations, in an interview with the US-based Alhurra TV channel Tuesday after two days of meetings with Lebanese officials, warned Lebanon against taking a maximalist position or focusing on making "the most legal case."
"Sometimes when you are the most right, you also have nothing to show for it," said Hochstein, a US citizen who was born and raised in Israel, adding, "As much energy should be placed into thinking, what is a creative idea that we can all compromise around, that both sides will feel, 'I may not have gotten everything I want, but I got a lot more than what I have right now'? Which, really, in the case of Lebanon right now, is nothing."
However, under the compromise that Lebanese officials appear to be prepared to cut, experts noted, Lebanon's takeaway may also be nothing.
Currently, there are three border scenarios in play in the negotiations — Line 1, claimed by Israel; Line 23, the line officially claimed by Lebanon, which would give Lebanon an additional 860 square kilometers; and Line 29, which was delineated in a study by Lebanese Army specialists but has not been formally claimed by the Lebanese state, and which would give Lebanon 1,430 square kilometers more than Line 23.
A Line 29 scenario would give Lebanon part of the Karish field, which contains an estimated 1.4 trillion cubic feet of gas reserves. Hochstein's latest visit was prompted by tensions that arose after Israel deployed a floating production, storage and offloading vessel to the disputed Karish offshore gas field. Another field, known as Qana, straddles all three lines.
A source at Baabda Presidential Palace told L'Orient Today on Monday that Hochstein had proposed back in February "a zigzag form" of line 23 as Lebanon's end of its maritime borders.
A day before Hochstein's statements to Alhurra, a source at the Baabda Presidential Palace told L'Orient Today that Lebanon is going to try to secure the so-called Qana gas field, which Line 23 crosses, and then negotiate on Line 29.
However, to date, there are no proven hydrocarbon reserves in the Qana field.
In February 2018, after years of delaying the matter, Lebanon awarded a consortium of Total, ENI and Novatek the right to explore the Lebanese offshore area with the aim to find natural gas. In addition to Block 4 of the offshore territory, the three companies were awarded Block 9, which intersects with Line 23 and the Qana field.
The three companies awarded licenses to drill the Lebanese offshore have so far not found significant natural gas in Block 4, where they have drilled. The companies have so far not drilled in Block 9 or the Qana field.
Laury Haytayan, an expert on the maritime border demarcation issue and spokesperson for the Taqadom party told L'Orient Today that "what they are calling a prospect of gas in what they call Qana has to go through an exploration drill to discover if the gas exists or not. As of today, the gas does not exist."
Marc Ayoub, an energy policy researcher at the Issam Fares Institute for Public Policy and International Affairs at the American University of Beirut, told L'Orient Today, "Two-dimensional and three-dimensional seismic surveys say that this [Qana] is a prospect area. There is high prospectivity but we can't know the quantities until we know our first few wells."
In Karish, where "they have done five wells in 10 years, it's a good prospect right now," Ayoub said. "If we consider the Qana versus Karish field, so far we know nothing about Qana. We don't know if Qana includes gas or how much gas it includes and it will take us at least three to five years [of drilling] to know how much it will include."
Asked about why it is called Qana gas field when gas hasn't been discovered yet Haytayan said, "At one point in time we started calling the field Qana. I don't think in the proposal that was submitted by the Americans it was called Qana, so it's a purely Lebanese name for an imaginary field."
President Michel Aoun has so far not signed an amendment to Decree No. 6433 of 2011 that would affirm Beirut's claim to territory up to Line 29 of the maritime borders rather than Line 23, while there have been calls from many, including 13 opposition MPs coming out of the protest movement, for him to do so.
"I think the strategy of the political class of saying that they are trading Karish for Qana is to make it seem that they are strong in the negotiations after refusing to amend Decree No. 6433," Haytayan said.
"They gave up the Karish field for an imaginary field maybe because they don't want to do the extra step and then anger the Americans because they want them to be on their side," she continued, adding that "maybe they feel that if they give their rights away they might get something back in politics."
"I cannot say why, only history can tell why they didn't do that extra step," Haytayan said.
A source from Baabda Presidential Palace said that "the Lebanese Petroleum Administration made studies about Block 9 in which they estimated that it has billions of dollars of gas, and that's why Qana is important."
The source said that Lebanon dropped the idea of Line 29 after suggesting it in the previous round of maritime talks because "when we did this, the Israelis refused to negotiate anymore, so the discussions stopped."
Hochstein is now expected to visit Israel and then return to Lebanon to discuss the Israelis' reply to the current proposal.

BEIRUT — Amos Hochstein, the United States mediator in the Lebanese-Israeli maritime border negotiations, in an interview with the US-based Alhurra TV channel Tuesday after two days of meetings with Lebanese officials, warned Lebanon against taking a maximalist position or focusing on making "the most legal case.""Sometimes when you are the most right, you also have nothing to show for...