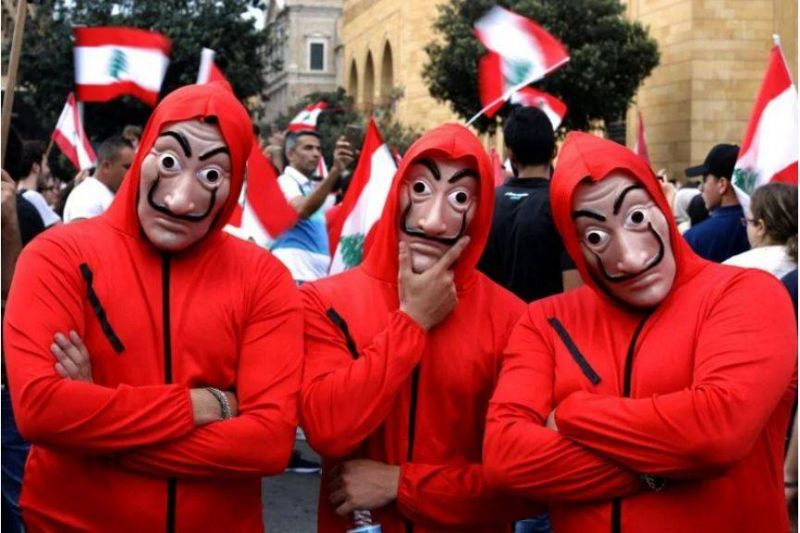 Sitting on one of the benches in the reception area, the man waited patiently. He waited for the parents who were accompanied by their children to finish their transactions, or their complaints, at the counter and to leave the premises.
Behind the plexiglas, this Lebanese depositor recognizes the employees' faces. Perhaps he even knows their names. How many times has he visited this BBAC branch in Jeb Jenine in the Bekaa valley? He has lost count. What he does know, however, is that each time he went in, he came out empty handed.
Yet every time he inserts his card into the ATM and accesses his account statement, thousands of dollars appear on the screen. These greenbacks were his until the Lebanese banks decided otherwise.
For them, it is a question of survival in a bankrupt Lebanon. It is buying time before the fateful hour. No matter the collateral damage.
It has been two years and seven months since the Lebanese banking sector imposed illegal restrictions on depositors' foreign currency accounts. These restrictions, which have been imposed by almost all banks and which have increased as the crisis has worsened, then reached Lebanese lira deposit accounts.
The national currency has lost more than 90 percent of its value against the US dollar. So, when it broke the LL34,000 depreciation record against the dollar on the parallel market in mid-January (while its official rate remains fixed at LL1507.5.), Abdallah el-Sai had a difficult choice to make: if he did not save his business, which was almost going bankrupt, he would soon be unable to feed his children.
On Jan. 18, he made up his mind. When the families left the building, he plucked up courage, got up, opened his bag and, in front of the employees and the last stunned customers, emptied a gasoline bottle he had concealed on the floor.
A hero for some, an anti-hero for others, this father has nonetheless become a herald of a crucial stage of the financial crisis, whether for the Lebanese banking system or all those who have their savings trapped there to date.
Sai recovered the $50,000 he had been seeking to withdraw, after threatening to set the bank on fire. It is his money.
"Not a dollar more," his sister told the press a few days after the incident. "The bank even had him sign a receipt."
This preposterous story — in which the robber was robbed by the robbed in a robbery that is not really a robbery — illustrates a new episode of the journey into absurdity, which Lebanon, where everything is possible, had started.
Under the yoke of a kind of "capitalist Darwinism" shamelessly implemented by their elite, the Lebanese have become subject to a jungle law regulating their money.
Before he was able to actually use his money, Sai had to go to jail. Two weeks. After having left the bank and entrusted his family with the money he had withdrawn, this merchant who hails from the Bekaa knew what was waiting for him at the police station.
"He was wrong in form," Edgar Abawatt, a lawyer specializing in public law said, "But not in substance," he said.
Rebecca: 'There is no rule of law'
"There is a contractual relationship between a bank and a depositor. When the latter wants to withdraw his money, banning him from doing so is a breach," Abawatt added. "All banking restrictions imposed by this sector are illegal and all circulars issued by the Banque du Liban making instructions in this regard are tantamount to violations of the constitution."
If this is the case, it is clear that the Lebanese banks have chosen to look out for own interests since August 2019.
"Only legislation passed in Parliament endorsing these restrictions, due to exceptional circumstances in light of the monetary crisis in the country, would have made them legal," he said.
More than two years since the crisis began, a capital control law legalizing these restrictions is currently under consideration by the authorities.
"It's an amnesty law [exempting] the banks," Rebecca* said.
Rebecca, a Lebanese woman who graduated recently from George Washington University in the United States, filed a lawsuit against three banks, which she declined to name, in August 2020.
Although she has a scholarship, "I still had to pay about $20,000 in university tuition fees," a sum theoretically available in her bank account and that of her parents in three banks that banned her from withdrawing and transferring the money abroad.
"I had to exchange money by paying astronomic sums in Lebanese Lira on the parallel market and to borrow money from my family members and friends," she said.
Since the lawsuit was lodged, the 24-year-old woman, now in debt, had only one hearing, in January 2021.
"The decision is being postponed on a regular basis and I fear that this capital control [law] will annihilate all our lawsuits," she said with frustration.
The law, which is one of the several conditions for the staff-level agreement reached between Lebanon and the International Monetary Fund regarding financial assistance to the crisis-stricken country, was initially drafted by the team of Saade Chami, the deputy prime minister who heads Lebanon's delegation to the IMF.
Chami recently said that "Lebanon's government and its central bank are bankrupt," before stating that his remarks were truncated. At least, "he confirmed that our money is financing a government that no longer has any," Rebecca said.
Rebecca, who is studying and working at the same time, has been providing for her family ever since the crisis began. So she stayed in the country. For this activist at heart, "leaving Lebanon would also mean surrendering" to the ruling elite and the banks.
The young woman is not naive though.
"When I started this process, I had some hope. But the situation has gotten so bad since then that today I don't really have any."
For Rebecca, Abdallah el-Sai's story is a good example of Lebanon. A country "where there is no rule of law and where goals can only be attained by using violence."
Dana: 'It's our money'
"The tide is turning," said Fouad Debs, a lawyer and co-founder of Depositors Union, which was created at the height of the crisis to defend the legal interests of Lebanon's depositors. "Bankers and politicians are starting to smell like trouble. There are quite a few lawsuits that are being won in Lebanon. That's probably why they want to pass the so-called 'capital control law' now, when in reality it is a text that simply seeks to rid the banking sector of any responsibility."
If the law was passed "in its current form," it would lead to "hundreds of Abdallah el-Sais" in the banks, the head of the union, Hassan Moghnieh, warned in a press conference on Tuesday.
Because, Sai was released from prison against "only" a LL200,000 bail, "a good sign" for the final decision, assures the Union, Sai should soon be tried only for making threats of violence.
The culprit of the robbery is known. And it is not him. Of the 312 legal actions of all kinds filed with the Union, "we have won 14 so far, although not all of them have been implemented yet. We have lost 25, and 18, mostly debt-related, have been settled out of court. The rest are in progress," Debs said.
It is a balance sheet that still leaves much to be desired, but "the battle will be long," he told one of the Union's first customers in January 2020.
Dana* was well aware of this, even if she could not imagine that a pandemic would turn upside down the already slow-moving Lebanese legal docket. She could not even have imagined one of the biggest non-nuclear explosions in modern history on that fateful Aug. 4, 2020 in the port of Beirut.
"It's been more than two years since the start of the proceedings. The last hearing took place just two weeks ago, but the bank did not show up," she said. Based in London since 1998, this artist had money in Lebanon since 2003, which she and her husband had decided to leave in the bank.
It is a small amount that was the sum of a family inheritance, the fruit of her work and that of her husband, also an artist, in the region between 2003 and 2011.
They would use it during their stay in the country. In 2018, these parents of two children decided to buy a house in the United Kingdom, for which they put down a deposit.
"We then wanted to get the money back from Lebanon to pay a part of it."
That's when things got complicated.
In the summer of 2019, "the bank promised to transfer the money and then it kept postponing the transaction," she said, The crisis in the country began to be visible, and on Oct. 17, the people took to the streets against what they called a corrupt ruling class.
In November, "the bank announced that it could no longer make the transfer." Since then, "We have had one late payment after another to pay off the house, and we no longer have the means to guarantee the academic future of our two teenagers," she said.
Moreover, "I can't help my mother financially, who is still in Lebanon, except by sending her medicine from time to time."
Although she does not have much hope of seeing her money ever again, Dana continues to fight, and has even joined a collective action against Lebanese banks in France and Switzerland.
"It doesn't matter how much, it's our money," she said. Her husband, a French national, can't get over the injustice in Lebanon. "He thinks like a Westerner. He doesn't understand how no court of law can reverse what the banks are doing against the depositors."
Moreover, if the capital control law is ever approved by Parliament, "It must then be promulgated by the head of state Michel Aoun and then published in the Official Gazette. Within 15 days from that date, an appeal could be filed before the Constitutional Council to annul it," said Abawatt.
But for Dana, even if "people tell me to stop and that the money's gone and won't be back, I can't accept it. I have to keep going."
Karen: 'If only I had known!'
A struggle that Karen* and her husband recently embarked on. "We got married in London in 2007 and lived there until 2011, when we returned to Lebanon," said this mother of two young children.
In 2021, like many other Lebanese who packed their bags and left, this family decided to move to the United Arab Emirates, having gotten fed up with the situation, amid fears of the future and education for their children. With this, the Lebanese medical sector lost yet another surgeon.
Emigration, however, was not a magic solution to all their problems. The absurdity playing out in Lebanon appeared to transcend the country's borders.

When the couple arrived in Abu Dhabi, they had to negotiate their children's entry into the school system.

"We showed them my husband's new employment contract as proof that we could pay the school fees in installments," she said.

"We have worked all our lives, we have the money, and here we are in this situation," she added.

The couple still had more suprises in store.

As she was telling her story, Karen struggled to suppress a nervous laugh.

"A month ago, my husband received a call from our bank in Lebanon announcing the closing of our account and asking him to pick up a bank check for our entire deposit."

The check is in "lollars" (or the dollars blocked in the bank) which, until now, can only be cashed in "real dollars" for less than a fifth of their real value.

This must often be done through parallel networks, because finding a bank that accepts this check is almost impossible.

"It was our joint account that we opened when we lived in London and never thought of changing its residence status in England [after moving back to Lebanon]," she explained.

In March, the bank concerned, Bank Audi, unilaterally decided to close all such accounts after the British High Court of Justice ruled in favor of a Lebanese-British businessman in a complaint against two Lebanese banks, Bank Audi and SGBL, for refusing to execute requests to transfer funds from Lebanon to abroad in 2019.

The Feb.28 British court's decision required the two banks to transfer the amount claimed by the client in foreign currency to several accounts abroad, setting a precedent for similar legal actions.

"We didn't even know about this," said Karen. As soon as she was informed of the bank's decision, she took to social media and spoke to the local press.

"The next day, the bank manager, who had previously refused to speak to my husband, gave him a call," Karen recouted.

Still shocked by what happened, she said: "She asked my husband to calm me down and tell me to stop talking about this story in public."

The couple dug in their heels: her husband was livid red and Karen continued to be outspoken in her criticism of the bank.

The bank did not take long to retaliate.

"They closed all my other accounts with them, including the one I share with my father and the one I opened to save for my children's future college expenses," Karen said, adding that this prompted them to launch a legal procedure.

When contacted, Bank Audi declined to comment.

"Even in the worst-case scenario, no one could have imagined what would happen," Karen said indignantly.

When she remembers the beginning of the crisis, she laughs sourly.

"When the October Revolution started, a friend told me to withdraw all the money I had in the bank because the country would collapse," she recalled.

"I refused. I told her that if everyone withdrew their money, Lebanon would de facto collapse and I didn't want to be part of its fall," she added

Since then, the country's losses are estimated at more than $70 billion and depositors will necessarily pay the price.

In any case, the deposits, notably those of the smallest depositors, have already been effectively drained by the backdoor lirafication policy put in place by BDL governor Riad Salameh at the beginning of the crisis.

"If only I had known!" Karen said.

*Family names withheld.

This article was originally published in French in L'Orient-Le Jour. Translation by Joelle El Khoury and Sahar Ghoussoub.

Sitting on one of the benches in the reception area, the man waited patiently. He waited for the parents who were accompanied by their children to finish their transactions, or their complaints, at the counter and to leave the premises.
Behind the plexiglas, this Lebanese depositor recognizes the employees' faces. Perhaps he even knows their names. How many times has he visited this BBAC...