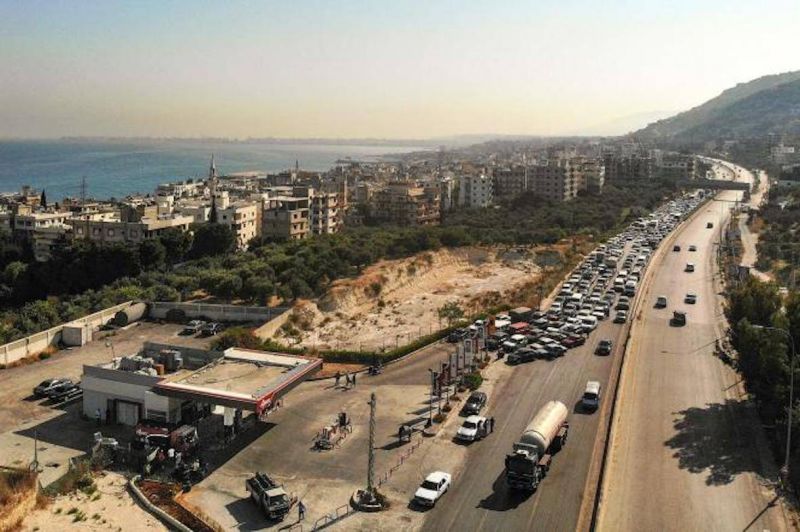 Since Russia first invaded Ukraine in late February, the Lebanese public has witnessed spiraling costs for fuel, on which the country relies overwhelmingly for basic services, from electricity to water to transport.
Lebanese households stood powerless amidst rumors that petrol station owners were hoarding fuel, cynically waiting for prices to increase. These developments are just the latest instances of desperate conditions suiting Lebanon's oil import sector, an exclusive group of 13 companies that dominate the country's fuel supply.
Last summer, the looming removal of state fuel subsidies left ordinary Lebanese monitoring the oil import sector's every move. They hoped that importers would reach agreements with Lebanon's central bank, Banque du Liban (BDL), to finance new fuel shipments.
Amidst the turmoil, Lebanon's oil importers reign supreme — an immense power that they wield by design, not by accident. Over 30 years, Lebanon's post-war reconstruction was built around oil dependence. Successive governments prioritised projects that maintained high fuel consumption levels — like road infrastructure — and shunned public transport and renewable energy production. Perhaps most damagingly, the Lebanese public received generous state fuel subsidies, blinding them to the true cost of imported oil.
Conflicts of interest
In depressingly familiar fashion, Lebanon's political elites benefit directly from presiding over a hopelessly oil-dependent country. Several of the oligopoly's 13 oil importing companies have blatant, demonstrable links to politicians or sectarian leaders. These links create conflicts of interest — situations where an individual or company can exploit their professional or official capacity in some way for personal or corporate benefit.
A recent investigative report, co-written by these authors and published by Triangle, distinguishes four types of politically exposed person (or PEP) and their degree of exposure. These include current politicians, former politicians, members of their extended families, and other individuals owning or managing companies in which any of the previous categories have economic interests.
Indeed, considering the long-term, embedded conflicts of interest facing key powerbrokers in the oil industry, the sector's unpalatable circumstances become predictable. To put it another way, even if they do not exploit this situation to their advantage, the fact that Lebanese oil importers have enough leverage to influence policy decisions affecting the sector is in itself problematic.
According to Lebanon's Commercial Registry, PEPs are current shareholders in at least three Lebanese import companies. Cogico is a particularly brazen example of this trend. Walid Jumblatt, the Progressive Socialist Party (PSP) leader and former militia commander, owns 38.7 percent of the company. His son Taymour, a sitting parliamentarian, also holds shares (1.2 percent).
Political connections in the sector run deeper than the Jumblatts. Bachir Aboul Nasr and Adib Bassatne have business interests tied to Cogico, while also owning few shares (less than 1 percent) in its rival Hypco. Meanwhile, former Energy Minister Bassam Antoine Yammine owns 50 percent of Gefco — the other half belongs to his brother, Kabalan Antoine Yammine.
Conflicts of interest reportedly loom over still more oil importing companies. The Hajjeh family, which owns a controlling 88 percent stake in APEC allegedly has close ties to former senior politicians Fouad Sinioura and Ashraf Rifi — according to an article published by Legal Agenda in 2020.
Poloitical connections could also be found in the case of ZR Energy SAL, which is part of the ZR Group holding company owned and managed by brothers Teddy and Raymond Rahmé. According to the BBC Arabic documentary "Web of Corruption" (2021), the brothers have been closely linked to Amal leader Nabih Berri (through their business partner Ayman Jomaa), Lebanese Forces leader Samir Geagea, and head of the Marada Movement Sleiman Frangieh — the latter of whom has publicly defended Raymond Rahme.
Dominant position
With powerful connections in place, Lebanon's oil importers have secured dominant positions over the oil supply chain, controlling an estimated 70 percent of the local market. Government imports account for the remaining 30 percent. The private sector's operations have a cartel-like dimension. For example, all licensed importers must have the capacity to store fuel shipments, transport fuel around the country (typically by truck), and distribute fuel to state and commercial customers or consumers. In this way, the infrastructure requirement ensures that these licences may act as an artificial barrier to entering Lebanon's oil market.
From ship to point of sale, Lebanese oil companies receive concessions and political coverage, yet do not face proper regulations for storage, transportation, or distribution. For example, importers own around 68 percent of Lebanon's distribution trucks in Lebanon and manage more than half of the estimated 3,100 petrol stations scattered across the country. Yet, the government does not systematically track fuel shipments after private companies have collected their cargo from coastal storage facilities. This lack of transparency creates opportunities for Lebanese oil companies to generate illicit profits, despite the government's regulated fuel price scheme.
At the height of last summer's fuel shortage, the state had no effective tracking procedures in place to stamp out smuggling to Syria, where sellers could quadruple their profits inside Lebanon. Separately, private companies also have faced allegations of hoarding stockpiles of imported fuel so that it could be sold at a higher price. It was again the case during the invasion of Ukraine. In no instance could Lebanese authorities establish that fuel distribution had been illegally manipulated, given the lack of effective regulation.
Of course, oil importers have long profited from state fuel subsidies, which have given their customer bases wildly inflated purchasing power. Oil subsidies added around $3 billion in annual losses to the state treasury — a mounting public debt that the Lebanese people must now face, amidst the country's unprecedented economic collapse. Indeed, the financial crisis has underscored, rather than challenged, the power of local oil importers. As foreign currency grew scarcer, BDL provided oil companies with favourable credit lines in US dollars for import purchases. Importers complained about late payments from BDL out of the country's dwindling reserves, while commanding high profit margins between March and September 2021.
Change
Despite these advantages, oil importers cannot avoid an inescapable reality of Lebanon's economic demise: The withdrawal of state fuel subsidies. For Lebanese consumers, this development signified an end to almost three decades' worth of cheap, abundant fuel. Customers can no longer spend freely on the oil products that powered their cars, air conditioning units, factories, diesel generators, and more.
Lebanon's oil importers also cannot ignore a growing public appetite for change. For example, those with access to the necessary capital have started installing solar panels to cut down on diesel generator bills. Opposition groups and activists must seize this zeitgeist and insist that the government finally bring the oil sector to heel. These long overdue reforms should begin with introducing an independent competition regulator, properly enforcing oil industry regulations, and punishing any illegal behavior on the part of importing companies.
Ultimately, these changes can only provide short-term relief. In the absence of clean public transport, the Lebanese public is forced to buy oil-based products, which generate their electricity, power their water pumps, and propel their vehicles. This arrangement has become prohibitively expensive, while remaining extremely harmful to public health and the environment.
Lebanon's oil oligopolists have shown that they can survive, and even thrive, despite a war and Lebanon's crippling economic crisis. But while the nation's oil importers remain powerful and resilient, the Lebanese people should not meekly accept an oil-dependent future.
Shaya Laughlin and David Wood are researchers at Beirut-based think tank Triangle.
To our readers,
Following the publication of this article, we received, from the English law firm Schillings acting for Raymond and Teddy Rahmé, a letter clarifying and contesting somme of the allegations regarding their clients. In compliance with the provisions of the Legislative Decree N° 104/1977, extracts of these remarks are published below, within the framework of "the right of reply" defined by the Lebanese law :
" We write in relation to the article published on your website on 2 April 2022 (...)
The Article makes the following statement in respect of our clients: "We also find this type of relationship within the latest arrival in the oil oligopoly, ZR Energy, whose name emerged in the Sonatrach scandal of 2020. Owned and managed by brothers Teddy and Raymond Rahmé, ZR Energy is a Lebanese shell company that is part of Dubai based ZR Energy DMCC."
This description of our clients is false. Our clients have never heard of a company called "ZR Energy". They therefore do not own or manage such a company.
In respect of ZR Energy DMCC, our clients have never had any ownership stake or beneficial interest in this company, nor have they have ever been directors. Our clients are directors and owners of ZR Group SAL Holding ("ZR Group") which is incorporated in Beirut, Lebanon. A company called "ZR Energy SAL" is registered and incorporated in Lebanon and ultimately 51% owned by ZR Group and 49% owned by Ibrahim Zaouk. Neither ZR Energy SAL nor ZR Group have ever held a contract with the Lebanese state and are not part of any cartel as described in the Article. ZR Energy DMCC is a wholly separate entity incorporated in the Dubai Multi Commodities Centre and fully owned by Mr Zaouk and is not a part of the ZR Group. (...)
A link between ZR Energy DMCC and our clients was incorrectly made by public prosecutor Judge Ghada Aoun in politically motivated proceedings against our clients in Lebanon in 2020. However, on 8 December 2020 the Indictment Division (acting as an Appeal Court) dismissed the charges relating to this alleged association, concluding that the alleged link between our clients and ZR Energy DMCC was false.
(...)
The simple fact is that our clients have no responsibility for the actions (alleged or otherwise) of ZR Energy DMCC. The Allegation is clearly extremely serious and has no doubt caused, and will continue to cause, serious harm to our clients' reputations.
We have previously written to L'Orient-Le Jour regarding inaccurate reporting in respect of similar false allegations concerning our clients and ZR Energy DMCC (...). Following that letter, you amended an article to remove a reference to our clients being directors of ZR Energy DMCC. (...)
We note that the reporting in the Article is based on the purported findings of a recent investigative report co-authored by L'Orient-Le Jour and Triangle Global Ltd, entitled "Fueling Addiction: How Importers and Politicians Keep Lebanon Hooked on Oil"(...).
Although the Article is based on the purported findings of the co-authored Report, you are individually and separately liable for republication of the Allegation and the resulting damage caused to our clients. It was incumbent on you to carry out your obligations to act as responsible journalistic organisation, namely to put the Allegation to our clients prior to publication, and to review and fact check the Article before uploading it onto your website which you failed to do sufficiently. (...)
Yours faithfully,
SCHILLINGS. "
Editorial clarifications:
The text published on April 2 in the opinion section is an op-ed signed by two researchers at Beirut-based think tank Triangle, which partly summarize the conclusions of a report written by the same authors and published by Triangle. Contrary to what is stated in the above letter, L'Orient-Le Jour was in no way associated with the publicaion of the original report.
Since the presentation of the company headed by the Rahmé brothers in this op-ed could mislead the readers, we have edited the sentence accordingly. We also note that the letter from Schillings acknowledges that ZR Energy DMCC and ZR Energy Sal have common shareholders - in this case Mr. Zaouk - which would make them linked within the same group.
Finally, we note that the information relating to the decision of the Indictment Division in the Sonatrach case as reported in Schillings' letter, is incomplete, since, according to our information, Raymond and Teddy Rahmé have indeed benefited from a partial dismissal of certain charges brought against them, but are still facing other charges in the trial that has to be held at the criminal court of Mount Lebanon.


Since Russia first invaded Ukraine in late February, the Lebanese public has witnessed spiraling costs for fuel, on which the country relies overwhelmingly for basic services, from electricity to water to transport.Lebanese households stood powerless amidst rumors that petrol station owners were hoarding fuel, cynically waiting for prices to increase. These developments are just the latest...