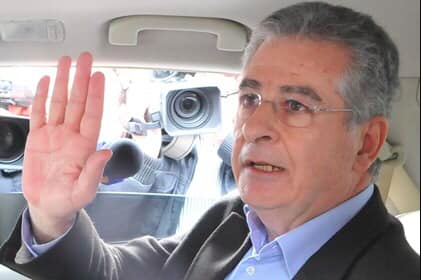 BEIRUT — When Fayez Karam, a retired general and former aide to Michel Aoun, announced last month that he would run as the Free Patriotic Movement's candidate in Zgharta in the upcoming parliamentary elections, the news sparked controversy.
Karam was convicted in 2011 of collaborating with the Israelis and sentenced to two years in prison for it. This makes him a surprising choice for the list of the FPM, which is allied with Hezbollah, a party whose main selling point to its supporters is its history of resistance against Israel.

In late February, Karam announced his candidacy in Zgharta for May 15. His name appears on the Interior Ministry's official list of candidates who filed to run by Tuesday's deadline, but the party lists for each district have not yet been finalized. Karam's name was not included in the candidate list, the FPM announced on Sunday. Instead, the name announced in Zgharta was Pierre Rafoul.

When asked if the party had decided to withdraw Karam's candidacy, a spokesperson for the FPM said that "until now nothing is final."

"We cannot confirm or deny all the news that comes out about us regarding the elections. We are only responsible for what we state officially. When we make the decision, you and the media are the first to know," the spokesperson said.

Karam, for his part, insisted in an interview with L'Orient Today that he is indeed running under the FPM banner, and at the request of party leader Gebran Bassil.

Karam, a retired general, held several leadership positions in the Lebanese Army, including head of the counter-terrorism and espionage bureau. He remained in his post until 1990, when Aoun, the army commander at the time, went into exile in France after being ousted by Syrian-led forces. Karam later fled to France as well, and returned with Aoun to Lebanon in 2005 when Syria withdrew its troops from the country, ending its 29 years of occupation.

In 2010, Karam was arrested and later convicted of collaborating with Israeli intelligence. A report by a Lebanese military court judge at the time indicated that during the investigation Karam had acknowledged that he had gotten help from the Israelis to flee Lebanon back in 1992 to escape arrest by the Syrian regime.The report concluded that, consequently, he justified giving them something in return. According to the report, he had also initially confessed to giving information to the Israelis about the FPM and its allies, including Hezbollah. He reportedly revealed some of the Hezbollah leadership's names while meeting with an Israeli commander abroad.

He later recanted the confession and said he had made it under torture.

Karam was sentenced to two years in prison, of which he had already served one, after being convicted of giving information to the Israelis, a charge that could potentially lead to the death penalty in Lebanon. In 2012, while he was serving his prison sentence, Parliament reduced the "prison year" from 12 to nine months, which reduced Karam's term, leading to his early release.

While his initial sentencing had included revocation of his civil rights, including the right to run for office, his civil rights were later restored on appeal.

Upon his release, Karam headed to Rabieh to meet with Aoun, who was then head of the FPM. After the meeting, Karam told Al Jadeed TV, "I wanted to visit [Aoun] to prove my commitment to the FPM."

"I will not change my political affiliations, and no one can threaten me with my past," Karam said. "I have performed my duties in the army and along with my colleagues. We have sacrificed everything for the sake of Lebanon and all of its sects."

He then headed to his hometown in Zgharta, where he was given a hero's welcome, complete with fireworks and residents showering him with rice, a ritual usually performed to welcome a champion.

Contacted by L'Orient Today, Karam said that the FPM's leadership, including Bassil, had informed him that he would be their candidate in Zgharta.

"They did an initial poll, and I was informed that I'm the most likely to win and hence [I should be] their candidate," Karam said. "The reason why they didn't announce my name on Sunday, as I understand, is because I am currently not formally a member of FPM, so my name wouldn't be announced with the others, but I am still their candidate and no one told me otherwise."

Karam also asserted that he had not been convicted of spying for Israel but of a "supposed call with the enemy, which did not take place." Lebanese citizens are legally prohibited from all communications with Israelis, not only from sharing sensitive information. He said that he was outside of Lebanon during the period in question, "so the claim that I gave information doesn't make any sense."

He added, "My father fought Israel, as he was a member of the Lebanese Army, so fighting Israel is ingrained, contrary to all the claims."

An electoral alignment with FPM in the presence of a candidate who has been convicted of collaborating with Israel could be problematic for Hezbollah in the eyes of its supporters. Hezbollah considers itself as an armed resistance movement against Israel first, and a political party second. Much of its popularity among its base comes from succeeding in 2000 in pushing the Israeli army out of almost all Lebanese territory after it had occupied South Lebanon since 1982.

Rana al-Sahili, a spokesperson for Hezbollah, told L'Orient Today that the FPM and Hezbollah will be aligned "in most districts" during the upcoming polls.

Regarding Karam's candidacy, Sahili said that as far as she knew, Karam had withdrawn his candidacy and that she was under the impression that the list announced by the FPM on Sunday, which includes Raffoul in Zgharta, is the official one.

Asked if a Karam candidacy on the FPM list would be a deal-breaker for the alignment of FPM and Hezbollah in the elections, Sahili said, "Of course not. It will only mean that in that district we will not vote for Karam."

Some supporters of Hezbollah said such an alliance might shake their confidence in the party.

"I am critical of Hezbollah's role in Lebanese politics, especially when it comes to their alliances with the Amal Movement and FPM, who are corrupt," said a 23-year-old supporter of the party originally from South Lebanon but living in Haret Hreik in Beirut's southern suburbs, who spoke on the condition of anonymity because he was worried about being unable to get a visa to travel if publicly identified as affiliated with Hezbollah. "However, the reason I will vote for them in May is their role as a resistance."

He explained that he had supported Hezbollah since he was a child; during the 2006 war between Lebanon and Israel, his house was destroyed and Hezbollah were the ones who paid for its rebuilding, he said.

Of Karam's candidacy, the supporter said, "I don't think Hezbollah would go on with their alliance with a side that runs a spy, or else what is the point of all the resistance?"

He added, "If Hezbollah does align with the FPM while Karam is their candidate, it might be a reason for me not to elect them on May 15."

However, other Hezbollah supporters appeared to be prepared to give the party a pass, even if Karam runs on the FPM list.

"As al-Sayyed (sir) Hassan Nasrallah has said before, we can have our differences with our allies but agree on most things," Ali, 28, who lives in Burj al-Barajneh in Beirut's southern suburbs, and who asked not to be identified by his full name also due to concerns about being unable to travel, told L'Orient Today. "They are aligned on building a strong state, and this is what matters the most.''

He added that Hezbollah has made similar compromises before for the sake of the country.
"For example, Hezbollah sits with [Lebanese Forces leader] Samir Geagea, who acknowledges the country of Israel, at the same table in Parliament," he said. Geagea's forces allied with Israel during the 1975-90 Lebanese Civil War.

Some of FPM's other allies have taken a stronger stance against a Karam candidacy. A spokesperson for the Syrian Socialist National Party told Al Jadeed that if Karam ran on the FPM list, his party would break off its alliance with the FPM throughout Lebanon.

Referring to the allies of the FPM that might have a veto on him running, Karam said, "I don't have any problem with Hezbollah and the Syrian Socialist National Party, I am just representing a group of people in my district who are convinced that I am innocent."


BEIRUT — When Fayez Karam, a retired general and former aide to Michel Aoun, announced last month that he would run as the Free Patriotic Movement's candidate in Zgharta in the upcoming parliamentary elections, the news sparked controversy.Karam was convicted in 2011 of collaborating with the Israelis and sentenced to two years in prison for it. This makes him a surprising choice for the...