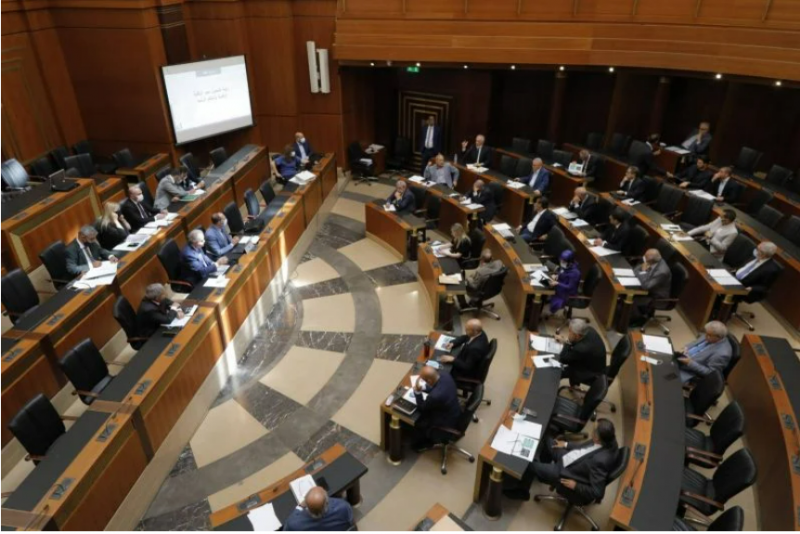 As in every election season, the political caste has brought up a list of proposed amendments to the election law ahead of the 2022 vote. The elections, which are due to be held in the spring — although the date is still under discussion — will be held in accordance with the 2017 electoral law, which adopted a proportional representation voting system. Last week, parliamentary committees discussed a number of proposals for the upcoming 2022 polls, including mechanisms related to the diaspora vote, lowering the voting age and a quota for the number of women.
Here's a quick run down of the various proposals to amend the electoral law and where they stand now.
The diaspora vote
The diaspora's participation in parliamentary elections was first introduced in 2018. It was put forward and championed for that year's polls by Free Patriotic Movement leader Gebran Bassil, who served as foreign minister at the time.
In 2018, as an exceptional measure, Lebanese expatriates cast their ballots for candidates running in one of Lebanon's 15 existing constituencies — the one in which their town of origin is located — rather than in the newly created international constituency of six seats.
In the 2022 legislative elections, as the law is currently written, diaspora members will select six members, who would then represent a 16th constituency and be added to Parliament's existing 128 seats, making it a 134-seat legislature.
These six seats will be distributed among the country's six largest religious communities (Maronite, Greek-Orthodox, Greek-Catholic, Sunni, Shiite and Druze), and a sect will be allocated to each continent, with the exception of Antarctica.
During discussions in the joint session last Thursday, the diaspora vote was opposed by Shiite MPs from the Amal Movement and Hezbollah's bloc, who complain that they have difficulties reaching voters during campaigning due to the sanctions imposed on Hezbollah in some countries with large diaspora populations.
However, Hezbollah was quick to change its mind. Sheikh Naim Qassem, Hezbollah's deputy secretary general, affirmed on Saturday that his party is "in favor of the expats' vote during the legislative elections planned for next spring."
The allocation of six seats to the diaspora has been divisive. While Bassil's FPM continues to champion this option, others opposed to it, including Amal, the Lebanese Forces and Walid Jumblatt's Progressive Socialist Party, argue that it limits expatriates' influence on the course of politics in the country, or that it is too complicated to implement.
"It is not a complicated process; we could have put it in place as early as 2018. It is even easier in 2020 with the advances in technology," Bassil said at a press conference last Tuesday.
MP Chamel Roukoz (Ind./Kesrouan) has submitted a draft law proposal to annul the six seats option. The draft was discussed in the joint committee session but as an agreement was not reached, it was rather raised to the Parliament in plenary session to vote on it.
Speaking with L'Orient Today, Roukoz called the current proposal a setback for the diaspora, noting that more Lebanese live outside the country than inside it, and allotting them only six seats in a 134-person legislature amounts to disproportionate representation.
Roukoz argued that Parliament is not prepared to host, nor does it have a mechanism for hosting, remote MPs, and his draft law proposes again allowing voters to choose candidates running in the towns of origin, as took place in 2018.
Lowering the voting age to 18
Granting 18-year-olds the right to vote is raised every election season, but it remains the case that only citizens aged 21 and older are entitled to cast a ballot. Last Tuesday, the Future Movement, Amal, the PSP and MP Jihad al-Samad (Ind./Dinnieh) put forward a draft proposal to lower the voting age. The MPs debated the proposal on Thursday but did not reach a decision.
"The young people called for change in the October 2019 uprising. They need to be allowed to express themselves in the polls by being entitled to vote," MP Bilal Abdallah (PSP/Chouf) told L'Orient-Le Jour.
Deputy Speaker Elie Ferzli (FPM/West Bekaa) told L'Orient-Le Jour that making such a change requires amending the Constitution. This would require Parliament's vote and government approval.
"It is incredibly complicated to do," he said. "I would say that the law will remain as is, and that no amendment will be added because they require a great deal of work."
"However, the legislative elections need to be held on time," he added.
Women's quota
Another topic that the various blocs bring up periodically is the issue of a quota for the number of women in Parliament, as women's political participation in Lebanon remains very low, with only six women elected in the last elections.
MP Inaya Ezzeddine (Amal/Sur) said her party has put forward a draft stipulating that 26 seats be reserved for women, to be equally divided between Christians and Muslims.
"Our text provides for automatically electing one female candidate on the winning list, even if she scores lower than the other candidates," Ezzeddine told L'Orient-Le Jour. "We also require that female candidates make up at least 40 percent of each list. We will see if those who claim to defend women's rights really want them to enter Parliament."
However, during the Thursday session, MPs proved reluctant to discuss the amendment, Ezzeddine told L'Orient Today.
"MPs from the Free Patriotic Movement specifically argued that it would disrupt Parliament's representation," Ezzeddine said, adding that she had assured FPM representatives that the quota law would take into account sectarian representation in Parliament.
Two FPM MPs did not respond to requests for comment.
Ezzeddine said she had walked out of the session after male MPs said that there was insufficient time to discuss her quota proposal and instead took a roll call vote in which the majority voted against it.
Voting in a single electoral district
There are 15 constituencies under the 2017 electoral law, but the Amal Movement seeks to reopen the debate on whether voters can cast a ballot from any district rather than having to return to their town of origin. Parliament Speaker Nabih Berri, who leads the party, has always championed this proposal.
"We already know that our proposal will not be accepted and that we will be told that there is no time to debate it. But we will continue to champion it," an Amal official who declined to be named told L'Orient-Le Jour.
A Parliament source told L'Orient Today that this proposal had been voted down.
Two preferential votes instead of one
The current law states that voters are entitled to give a preferential vote to a candidate on the list they voted for, provided that the vote goes to one of the candidates running for the district where the voter is registered in cases where the constituency consists of more than one district.
In September, MP Jamil al-Sayyed (Ind./Baalbeck-Hermel)proposed a system of two preferential votes instead of one. "Each voter would have the right to vote for two candidates from the same or from different electoral lists, with an option to not vote for any list," Sayyed told L'Orient Today.
The proposal was not discussed during the last session, according to Sayyed, who added that he anticipates that it will be voted down in the next session because it goes against sectarian interests.
Setting up megacenters
Speaking at the press conference, Bassil voiced support for the creation of voting megacenters that would allow voters to cast their ballot in large polling stations near where they live rather than in their town of origin, which may be far away. This provision is already laid out in the 2017 electoral law, but it has not been implemented.
Ferzli, among others, is somewhat skeptical of the proposal's viability. He says, "The country has neither the financial means nor the time to embark on this project. For that reason the idea of megacenters was dropped.
What's next?
When the joint committees come to an agreement on amendments, they will present the electoral law for Parliament's approval. Parliament in turn must approve it before submitting it to the Interior Minister for cabinet's review. Finally, it requires the president's signature.
Sayyed cautioned that there might not be enough time to discuss all the amendments and that Parliament may run out of time and eventually decide to stick to the old law with no amendments.
"According to the Constitution, if amendments are not made [at least] two months before the elections' date, the last electoral law will take effect," he said.
A version of this article was originally published in French in L'Orient-Le Jour. Translation by Joelle El Khoury.

As in every election season, the political caste has brought up a list of proposed amendments to the election law ahead of the 2022 vote. The elections, which are due to be held in the spring — although the date is still under discussion — will be held in accordance with the 2017 electoral law, which adopted a proportional representation voting system. Last week, parliamentary committees...