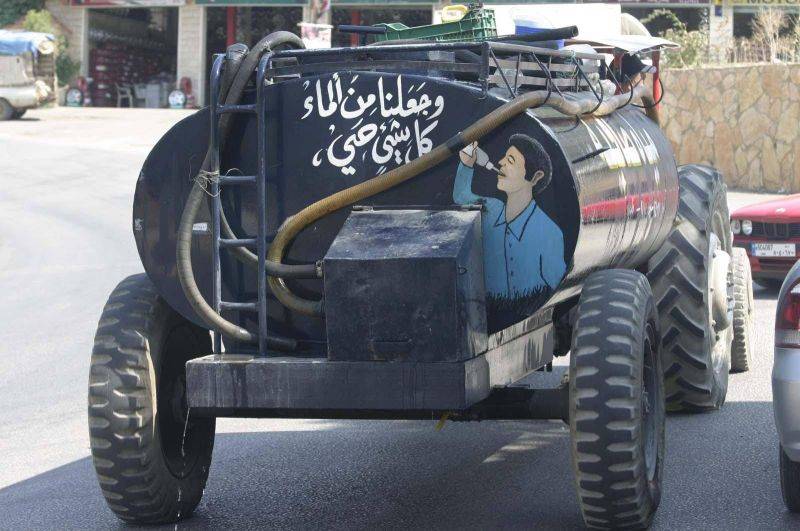 Michel,* 50,feels irritated as he stands in front of his mini market in Ain al-Rummaneh. He, like many others, has not had regular access to water for several months — presenting him with yet another problem to address amid the economic crisis, power cuts, and fuel and medicine shortages.
"We have always had this kind of problem in our neighborhood, but this summer is unprecedented. We only have water supply for a few hours per week, which does not even allow me to fill the roof tank," says Michel, who has lived in this neighborhood in Beirut for decades.
Jana,* 22, who lives in Tripoli's Mina neighborhood, shares the same suffering. "It has been almost three weeks since we have gotten any drop of water. We are used to power cuts, but the lack of water has made our daily life so difficult," she says. The young architect recounts that she "had to go shower at her friends' places several times."
Unlike Beirut, this type of problem is new to Tripoli. Entire neighborhoods have suffered from severe water shortages since June. However, unlike Beirut, the capital of the north does not have a parallel network for the delivery of water by tanker trucks, and it is hard to find a company that offers this type of service there.
Lebanon's unprecedented economic crisis has taken a toll on this vital resource. Yukie Mukuo, the UN Children's Fund's (UNICEF's) representative in Lebanon, sounded the alarm on July 23, announcing that 71 percent of the Lebanese people risk losing access to water if the situation remains unchanged.
"More than 4 million people, including 1 million refugees, are at immediate risk of losing access to safe water in Lebanon," UNICEF wrote in a statement.
A month later, UNICEF estimated that "water costs could skyrocket by 200 percent a month," and that "most water pumping will gradually cease across the country." On Sept. 16, the Beirut and Mount Lebanon Water Establishment said that it was running out of fuel to power its generators and would implement a severe rationing schedule within days, which would disrupt water pumping significantly.
However, the land of the cedars has long been regarded as the water tower of the Middle East, across which water resources are lacking. Lebanon, for instance, has an amount of total renewable resources per capita of 770 cubic meters per year, while Jordan has only 120-200 cubic meters. But while Lebanon does not lack water resources,, its pumping and distribution systems are inadequate to consistently channel water to its inhabitants, due to economic pressure and to the endemic incompetence of the authorities concerned.
"Beirut and its suburbs are affected the most"
Speaking to L'Orient-Le Jour, Mukuo states that "nearly 2.4 million people are already affected by the water crisis in Lebanon." This number is significantly higher than it was in 2020. It is an exceptional situation for a country that the World Bank described as an upper middle-income economy in 2019. "We call on all donor countries to contribute so as to prevent this resource from running dry," Mukuo says.
The collapse of Lebanon's water system will have disastrous repercussions on many sectors, particularly the health sector, as it risks the emergence of diseases, such as cholera, due to water contamination.
"Beirut and its suburbs will be affected the most by an acute water crisis, due to high population density," says Nadim Farajalla, director of the climate change and the environment program at the American University of Beirut.
The extensive use of tanker trucks for the delivery of water is already bringing uncontrolled and potentially contaminated water into homes, which poses a serious health risk to the population.
While the water crisis has worsened due to diesel shortages and power cuts, the structural problems that are at the root of the crisis are not new and derive from decades of neglect. In the land of the cedars, water distribution and collection are operated through four regional autonomous establishments: in the north, the Bekaa, Beirut and Mount Lebanon, and the south.
Each of these structures is independent from the others. They are also financially independent from the Energy Ministry. The ministry's responsibility is to ensure that there is enough supply in the country's water tables and dams so that these establishments are able to supply water to the inhabitants.
But with the national currency's depreciation, these autonomous establishments have lost the financial means even to provide minimum services. "Since 2020, the amount of water supplied to the population has dropped by nearly 40 percent. Sometimes, entire neighborhoods in villages don't receive water," says Wassim Dagher, director-general of the South Lebanon Water Establishment.
According to Farajalla, "This crisis stems mainly from the state power outages and diesel shortages, due to the lira devaluation." As simple as it sounds, the dilapidated power plants in Lebanon have placed pressure on the pumping stations across the country. Each pumping station is equipped with a power generator, but these generators can't replace the state power provider Electricité du Liban.
"A drop by 50 to 60 percent in six months"
Jean Jibran, director-general of Beirut and Mount Lebanon Water Establishment, points to the same problem. "Once again, diesel is the main hurdle. We are only receiving half of the needed quantities, which is forcing us to ration a water supply that has dropped by 50 to 60 percent in the past six months," he says. In addition, it has become impossible to ensure ongoing distribution since the power generators are not made to run for more than eight hours a day.
A budget is needed in order for these pumping stations to maintain their machines. In this regard, at the outset of the current crisis UNICEF launched a program to empower Lebanon's infrastructure.
"The currency devaluation has prevented the autonomous establishments from purchasing spare parts. Based on that, UNICEF launched a support program that ended in June 2021. This program is vital, and it is imperative to ensure its continuity," says Mukuo.
Mukuo highlights that the cost of distributing water (privately) by tanker trucks to the Lebanese population will be much higher than maintaining the existing infrastructure. Indeed, the overland delivery of water to the 3 million subscribers with the water establishments requires a budget that is eight to ten times bigger.
"In order to ensure the maintenance of the infrastructure, we are asking for $40 million in aid, namely $10 million for every autonomous establishment," Mukuo adds. UNICEF is currently digging into its own pocket to meet the most basic needs.
Brain drain has an impact on the sector
The four local water establishments are also losing their workforce as more and more engineers are tempted to leave Lebanon due to the economic situation. "It takes years to train qualified and innovative engineers," recalls Dagher."Forty of the seventy [engineers] have left their jobs since the start of the crisis," he adds. Their salaries are hardly worth more than $100, while they can earn 20 times more abroad.
Jibran stresses that this tendency is also found in his establishment: "One of my employees just left for France after 24 years of meritorious service. It is very hard to replace these people in the short term."
In times of crisis, the remaining employees must double their efforts to make up for the departure of their peers. The logistics of supplying and maintaining power generators at hundreds of pumping stations across Lebanon (there are nearly 350 stations in South Lebanon alone) is also a major obstacle to the stable operation of these stations. "The establishments do not have the ability to manage such an operation," Jibran told L'Orient-Le Jour.
Solar power as a solution
There have been a number of civil initiatives since the beginning of this crisis to push inhabitants to organize themselves to ensure ongoing water flow in their villages. This is how solar energy came to occupy a fundamental slot in the strategy developed by Dagher, who hopes to find sustainable and environmentally friendly solutions that are also economically attractive.
"The municipalities and local organizations are pushing for solar energy as an alternative to generators. Our 2019 strategy, which spans the next three years, aims to achieve 35 percent solar energy consumption at our pumping stations. Today, it is less than 5 percent, which is a good start," he says.
UNICEF also perceives that solar energy should be one of the solutions for Lebanon. Solar panels, often imported from China, are increasingly being seen in neighboring Syria, which has been facing severe fuel shortages since the start of its civil war a decade ago. Lebanon could also opt for the same solution, particularly in light of the difficulties in securing foreign currency with which to buy fuel on the international market.
*Names have been changed
This article was originally published in French in L'Orient-Le Jour. Translation by Joelle El Khoury.


Michel,* 50,feels irritated as he stands in front of his mini market in Ain al-Rummaneh. He, like many others, has not had regular access to water for several months — presenting him with yet another problem to address amid the economic crisis, power cuts, and fuel and medicine shortages."We have always had this kind of problem in our neighborhood, but this summer is unprecedented. We only...