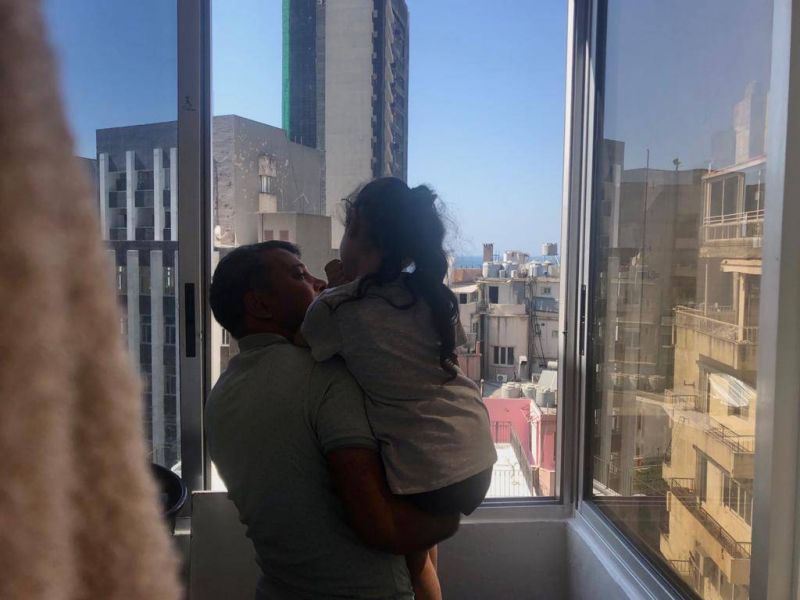 BEIRUT — The last time Abbas Mazloum walked was on Aug. 4, 2020.
That day, less than 2 kilometers away from Beirut port, Mazloum was at the Mar Mikhael restaurant where he worked as a chef. He was watching columns of black smoke curl into the sky when a colossal blast ripped through Lebanon's capital, destroying large swathes of the city in its wake.
Mazloum, 44, was slammed into a wall by the force of the explosion, breaking what he later learned were four vertebrae in his back.
"The last thing my legs could do for me was take me to a hospital. There were no ambulances, so I walked 200 meters until I found a pickup truck, which drove me to St Joseph Hospital [in Dora]," Mazloum told L'Orient Today.
Doctors operated on his back for four hours that night, "but nothing could be done," Mazloum said.
One year after the devastating Beirut port explosion, the father of five is paralyzed from the waist down and is wheelchair bound. He is unable to work and is in need of regular medical care, hospital visits and physiotherapy.
* * *
Mazloum is one of approximately 800 people in Lebanon who were either permanently or temporarily disabled by the Beirut port explosion, according to estimates from the Lebanese Union for People with Physical Disabilities.
However, disability-rights advocates and victims say the government has provided minimal financial support to cover a raft of medical costs — including surgeries, physiotherapy and prosthetic body parts — over the past year for people with lifelong disabilities as a result of the blast. Much of the financial burden of medical bills has fallen on the victims themselves, who in many cases have had to seek out assistance from friends, family and NGOs.
In December, President Michel Aoun signed Law 196, which stated that "Individuals who have been completely or partially disabled as a result of the explosion are considered to be covered for life by the health benefits of the National Social Security Fund."
However, Nada Ozeir, the national coordinator of employment for people with disabilities at LUPD, said this law has not been implemented and that any minimal support victims have received from the Health Ministry so far is not enough to cover the lifelong costs associated with living with disabilities inflicted by the explosion, which is widely believed to have been caused by state negligence and corruption.
President of LUPD Sylvana Lakkis pointed out that in order to be covered by the NSSF, a person must be employed.
"If they are unable to work after being disabled by the explosion, they are unemployed and therefore no longer covered by the NSSF," Lakkis told L'Orient Today.
Mazloum said that Lebanon's Health Ministry covered his first two emergency surgeries, which took place immediately after the blast in August — one on his back and one on his head.
Since then, Mazloum said he has received no compensation from the state and has been turned away repeatedly when he has asked the Health Ministry for financial assistance for his treatment.
"[Lebanese authorities] did this. They destroyed me and they destroyed our country. They took my legs away, they took my life away. I barely have money to feed my children, and now I'm expected to pay for their crime," Mazloum said.
Ozeir told L'Orient Today that "many disabled from the blast who went to inquire about Law 196 were turned away and told they were covered by Law 220/2000."
Law 220, adopted in 2000, establishes that people with disabilities have the right to health care and rehabilitation at the expense of the government, as well as the right to limited disability-related social security payments.
Law 220 "is just ink on paper, it is not implemented and it is out of date," Lakkis said.
"Some of those who get help from the ministry are still asked to cover at least 10 or 20 percent of the treatment or procedure," Lakkis said, adding that costs go beyond just one or two operations.
"Many don't have homes, which were destroyed in the explosion. They can't take care of their children or pay for rent because they're paying for hospital fees. If they're in a wheelchair, or lost their eye or leg, they need regular checkups," Lakkis said.
"This is a crime, those responsible for the explosion need to be held accountable. These people need to be compensated by the state for what happened," she added.

The Health Ministry's responses to L'Orient Today's questions about the matter also suggest there is no consistent government policy to help victims of the Aug. 4 explosion.
A Health Ministry source told L'Orient Today that the ministry was mainly responsible for the treatment of "acute cases" following the explosion and that other organizations and insurance companies were responsible for covering or following up with victims disabled by the blast.
"We do not have a system for follow-ups in the ministry," the source said, stressing that the Health Ministry, like all establishments in the country, was under the pressures of Lebanon's economic crisis.
However, Joseph Helou, director of the Health Ministry's medical care directorate, denied the allegations of lack of support and told L'Orient Today that the ministry was helping anyone disabled by the explosion who came forward seeking medical care, so long "as it was within the ministry's capacity."
* * *
Mazloum has had to move to Beirut's Achrafieh neighborhood to be close to the hospital at which he is receiving treatment.

Mazloum lives on the fourth floor of the building and due to nationwide electricity cuts and fuel shortages, he is at present only permitted to ask his building's caretaker to turn on the generator twice a day so he can use the elevator to leave and re-enter his apartment. He lives there with his wife, while his five children, all under the age of 10, live in a village in the Bekaa with his wife's family.
"I can only see them once a week, if at all. I have to pay a taxi at least LL500,000 to drive to them. It is money I don't have and need to pay for items like diapers and food," Mazloum said.
The rent for his small one-bedroom apartment is being paid by the owner of the restaurant where he was employed before the explosion. His former employer has also paid a large portion of Mazloum's medical bills. A German NGO has also provided help, but its yearlong funding of Mazloum's physiotherapy will end in August.
Making matters worse, due to nationwide drug shortages, Mazloum is struggling to find a lot of the medications he needs at pharmacies, many of which have gone on strike in recent weeks.
"Doctors say I need five more years of physiotherapy and I might be able to use a walker," Mazloum siad, then asked: "Who is going to pay for five more years of medical bills?"
"My dream is to work again and to walk again … If I can't walk again, it would be like I'm dead," he added.
Fatima Jaber, a mother of four, whose hand was amputated after the explosion, also laments her former life.
"It's unbearable. I can't find work. I can't afford rent and I have no money. Who is going to hire me now? If I was dead it would be better than living this life," Jaber, 48, told L'Orient Today.
Jaber woke up in hospital four days after the explosion to find her right hand had been amputated. She had been found the day after the blast under the rubble of her house in Karantina.
One year later, Jaber still uses an oxygen tank to help her breathe due to lung damage sustained while she lay under the wreckage of her house. She and her four children have moved into a two-bedroom apartment, which they share with her sister and her husband.
"I was a teacher's assistant. My salary used to take care of everything for my children and now I can't do anything for them. They can't enjoy their life and we're constantly under stress," Jaber said.
The four operations Jaber has had to undergo on her hand and injuries to her back have been financed by taking loans from friends and family, she said.
"The Health Ministry didn't pay for a thing and they didn't give me a response when I called to ask for help," she explained.
To add to her worries, Jaber told L'Orient Today that the antidepressant medication she has been taking since the explosion is no longer available at pharmacies.
* * *
In the absence of government assistance, victims say NGOs have helped cover some of the medical and financial burdens they faced as a result of the blast.
Six-year-old Sama al-Hamad, whose family came to Lebanon after fleeing the war in Syria, lost her right eye in the explosion. She had been standing at the window of her family's Gemmayzeh apartment, watching the smoke engulf the port, when glass shattered by the blast entered her eye.
Hamad's father, Makhoul al-Hamad, said that the Health Ministry only helped cover his daughter's first operation. After that, all costs for a prosthetic eye have been covered by a donor from the United Arab Emirates, who has also agreed to continue payment for Sama's eye, which needs to be replaced every three months until she turns 18.
Mirna Habboush, 37, also lost her right eye in the explosion and has replaced it with a prosthetic eye over the last year. Some expenses for the treatment have been covered by NGOs and loans from friends, while others she has had to pay out of pocket.
Mirna Habboush, who lost her right eye in the blast, has had to cover much of her medical expenses herself. (Credit: Ghada Alsharif/L'Orient Today)
Habboush was driving along the inner highway parallel to the port with her 1-year-old son, on the way to get milk from a pharmacy, when the blast shattered her vehicle's windows, sending shards of glass flying through the car.
"I just felt the pieces cut through my skin and then I felt an immense pressure and the car flew 50 meters across the highway," Habboush told L'Orient Today.
She felt hot blood pouring from the right side of her face. Her son was also covered in blood and cuts.
In surgery at St Joseph Hospital later that evening, doctors removed four large pieces of glass from Habboush's eye.
"My eye was cut in half. I could hear the doctors muttering that there was no hope," she said.
Habboush has undergone four operations since Aug. 4, 2020, mainly to heal her eye and for an artificial transplant. The first two — for her eye and a broken arm – were covered by the Health Ministry.
However, the cost of the third was rejected by the government and her insurance. It was partially covered by the NSSF and Habboush covered the difference herself. The fourth, Habboush paid for entirely out of pocket.
She has two more operations left, which Habboush said she will also have to cover.
"I've gone to the Health Ministry for help and I was turned away," Habboush said. "NGOs helped cover a large amount of the treatment and also the physiotherapy for my arm. I paid the difference," she said.
As the Aug. 4 anniversary approaches, Habboush said she is filled with rage. "The state is absent. It is asleep. I feel a fire is growing inside me as we get closer to the day," she said.
"I don't know if I'll go down and protest on the day. I might feel the rage now but on Aug. 4, I might be filled with fear. I never used to be afraid."
The Embrace emotional support and suicide prevention helpline is contactable on 1564.

BEIRUT — The last time Abbas Mazloum walked was on Aug. 4, 2020.That day, less than 2 kilometers away from Beirut port, Mazloum was at the Mar Mikhael restaurant where he worked as a chef. He was watching columns of black smoke curl into the sky when a colossal blast ripped through Lebanon's capital, destroying large swathes of the city in its wake.Mazloum, 44, was slammed into a wall by the...