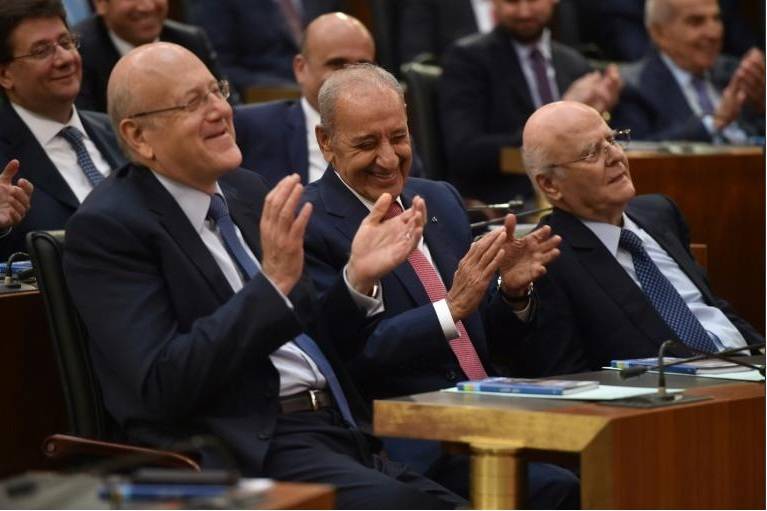 "Mikati is like water flowing through fingers that can never be picked up." This statement by a politician who wished to remain anonymous sums up the political journey of the man the political class systematically resorts to when there is no other alternative.
He is a man who is difficult to classify politically and who makes sure to maintain cordial relations with everyone.
Engaged in politics for nearly three decades, the 65-year-old MP is now poised to become prime minister for the third time in his political career — each time amid crises and great tension.
In 2005, he was appointed in the wake of the assassination of former Prime Minister Rafik Hariri.
In 2011, he was once again appointed to head the cabinet following the fall of Saad Hariri government because of deep differences between Hariri, Hezbollah and the Free Patriotic Movement.
Today, Tripoli's billionaire, and one of the leaders of the Sunni community, is looking at an even more daunting situation.
Mikati refuses to lead a government whose sole mission would be limited to preparing for the 2022 elections, when Lebanon is in need of urgent reforms.
But his room for maneuver is extremely restricted by many:
• The people and the opposition forces who see him as an integral part of the political system.
•The Sunni community, which will not agree to make any concessions in the formation of a government, most notably following Hariri's resignation.
• The two Shiite parties, Amal and Hezbollah, which expect him to be the conductor of a national unity government that would keep a permanent compromise [between the two] in place.
• President Michel Aoun and his son-in-law Gebran Bassil who have no intention to make his task any easier.

• And finally, the international community, which appears to be increasing its pressure on Lebanon and is set to announce new sanctions soon.
'The Mikati experience was extremely bitter'
Mikati was named prime minister twice in the past because he was seen as an acceptable candidate by all parties.
He was appointed public works minister between 1998 and 2004 and managed to introduce some reforms. In 2005, after Rafik Hariri's assassination, Omar Karami was forced to throw in the towel. At the time, Mikati seemed to be an appropriate replacement.
The baron of Tripoli, who until 2012 owned several companies in Damascus, maintained close ties with the Syrian government at the time. He was also close to then American and French ambassadors to Lebanon, Jeffrey Feltman and Bernard Emié.
At the time, everything played out in Paris, where talks were launched that included late Saudi King Abdullah bin Abdulaziz and his Foreign Minister Saud al-Faisal, Emié, Feltman and Lebanon's Druze leader Walid Joumblatt.
Mikati knew that he could not run in the legislative elections scheduled for the same year given the Future Movement's popularity in the north of the country. So, he accepted what he refuses today: to head a government whose sole mission was to supervise elections and the Syrian withdrawal from Lebanon.
Between 2005 and 2010, Mikati would try not to position himself as an opponent to Hariri, but would also endeavor to stay outside the latter's camp.
The true rupture between the two men, however, materialized in 2011, after the fall of Hariri's government following the resignation of the March 8 alliance's ministers.
Hezbollah wanted a prime minister from its own political camp. Karami was once again approached. But Joumblatt, who said he was ready to cooperate, did not want to name a pro-Syrian official.
The Progressive Socialist Party head met with Syrian President Bashar al-Assad, Parliament Speaker Nabih Berri and Hezbollah Secretary-General Hassan Nasrallah in a bid to turn the tide, after failing to convince them to find a compromise with Hariri.
Joumblatt managed to persuade all parties to endorse Mikati.
At this point, the Druze leader met with Hariri to keep him in the loop, advising him to take a realistic stance and bring Mikati back to his camp.

Once appointed prime minister, Mikati met with Hariri again.

"I am ready to cooperate with you. Would you like to be part of the government," Mikati asked.
"No," Hariri replied.
"Do you have any recommendations for me," Mikati asked again. There was no reply from Hariri.
This was the beginning of a spat that would drag on throughout Mikati's tenure and would culminate with the assassination on Oct. 19, 2012, of Gen. Wissam al-Hassan, the chief intelligence officer of the Internal Security Forces.
The Future Movement held Mikati's government politically responsible for the assassination and oversaw protests calling for its downfall.
It was then that Mikati visited Berri in his Ain al-Tineh residence with the intention of resigning.
The Parliament head advised him to calm down. "Your Excellency, it is you who shall protect me and protect the Sunni prime minister from now on," Mikati reportedly said.
His tenure as head of government was during a turbulent time: war raged in neighboring Syria and tensions between Shiites and Sunnis ran high.
Mikati tried to stick to Lebanon's "disassociation policy," but Hezbollah was quick to jump into Syria with both feet.
Mikati's relations with Aoun and Bassil would soon become complicated, notably concerning the electricity issue and judicial and other administrative appointments.
Bassil was then serving as energy minister. At the time, there was a project to build power plants and overhaul the entire sector at a long-term interest rate of 1 percent from a Kuwait fund.
Bassil refused, opting for leasing offshore power barges to increase the electricity supply instead.
"It was impossible for Mikati to work with Aoun and Bassil," a source close to the premier-designate tells L'Orient-Le Jour.
Bassil and Mikati were at loggerheads and Aoun no longer wanted to hear anything about the prime minister.
"The Mikati experience was extremely bitter," a source close to the FPM head says.
Mikati eventually resigned in March 2013 following a row with Hezbollah and the FPM over the extension of Ashraf Rifi's tenure as the Internal Security Forces' director-general.
'Mikati is not Hariri'
Mikati and Hariri might have had their differences, but their shared experience with the Aounists would eventually bring them closer together — in appearance, at least.
"Each of them thinks that he is more legitimate than the other for the job," says a Sunni source, who knows both men well.
Today, Mikati is once again prime minister-designate, almost a year since Lebanon was left without an empowered government and in the wake of the failure of two men to successfully complete the task of forming one: Mustafa Adib, a former adviser to Mikati, and Hariri.
Since the resignation of caretaker Prime Minister Hassan Diab in the wake of the Aug. 4 Beirut port explosion, both Mikati and Hariri have believed that only one of them should be the premier-designate, but neither spoke frankly about it during all the recent confabulations between former heads of government, according to sources close to the pair.
Meanwhile, the French wanted Mikati all along, since the very start of their initiative. This explains the appointment of Adib, Mikati's former chief of staff — a claim that the new premier-designate has denied, insisting that Adib was Hariri's choice.
Yes, Hariri's self-nomination to the post came much to Mikati's dismay. He suspected that Hariri was the reason behind Adib's departure.
On Monday, Mikati accepted the task once again on a few conditions: Sunni backing, the Future Movement's vote of confidence and the receipt of international support.
The first two conditions are met. Nothing is certain for the last one.
"The designation of Mikati does not change anything. Everything that is happening is just a way to play for time until the elections and the great collapse, when the Lebanese people will be convinced that the only way out is through international intervention," an Arab diplomat says.
But even at the local level, the knot is far from being unraveled, because it is now a question of coming to an agreement with Aoun.
According to a European diplomat, the French advised Mikati to communicate with Bassil­, which Hariri refused to do.
"If no agreement is reached, he can then present the cabinet lineup he deems appropriate [confident in] the French promise to pressure Aoun and his son-in-law [to cooperate]," the source added.
But everyone knows that the game is far from over.
"Mikati is not Hariri. Either he quickly forms a cabinet, or he will step down," a source close to Mikati says.
This article was originally published in French in L'Orient-Le Jour. Translation by Sahar Ghoussoub.


"Mikati is like water flowing through fingers that can never be picked up." This statement by a politician who wished to remain anonymous sums up the political journey of the man the political class systematically resorts to when there is no other alternative.He is a man who is difficult to classify politically and who makes sure to maintain cordial relations with everyone.Engaged in...