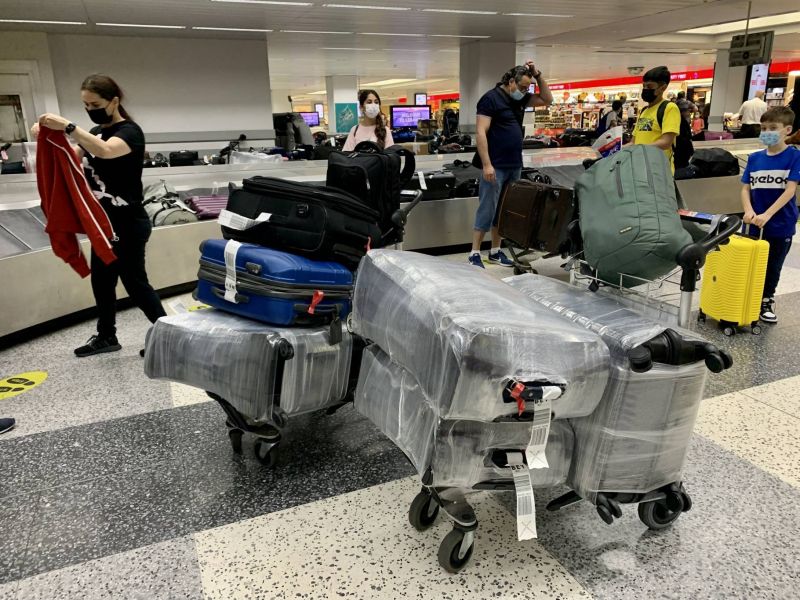 BEIRUT — After a year and a half of worldwide closures and travel restrictions due to COVID-19, Christine Ozeir, the owner of the four-star Bossa Nova Beirut Hotel, was eager for this year's summer tourism season to begin. Visitors were returning, pushing weekend occupancy in most hotels to 90 percent, according to the head of the Lebanese Hotel Association.

But as the country falls deeper and deeper into economic crisis, instead of worrying about fine-tuning her guests' experiences, Ozeir is forced to think about how to ensure that essential facilities such as power and water are available throughout her hotel.
"It is very unfortunate. We really thought we were going to work well during what was supposed to be a tourist summer but instead are stressing about things that should be taken for granted, while barely making a profit," Ozeir told L'Orient Today.
Prolonged fuel shortages — one upshot of Lebanon's financial crisis — have presented serious challenges for hotels.
Like other businesses operating in Lebanon, hotels are accustomed to running private generators to bridge gaps in the state power supply, which has long since been inadequate. However, as those gaps have lengthened over the past several months in tandem with ever more severe diesel shortages in the market, keeping those generators running has become increasingly challenging.
"We are getting two hours of state electricity, which we previously managed to cover through our private generator, but now we have to worry about how to get diesel for the generator, which takes a lot of unnecessary stress and effort," Ozeir explained.
Without power, water shortages become an issue, as the pumps that fill water tanks are electric. When the water isn't pumping, hotels must purchase water privately to refill their tanks.
"Even the water we have to buy, because we can't rely on state water, which has been cutting every other day after the latest fuel shortages," Ozeir added.
With considerable extra effort and maneuvering, some hotels have succeeded in supplying just enough electricity, but others have on occasion failed — and lost business as a result.
"Sometimes we fail [to get enough] diesel, which means the electricity cuts for an hour or two, which leads some clients to leave," said Faisal Zein, the owner of the Lavender Home Hotel in Hamra, which opened in 2011.
"We even get bad reviews on applications from customers sometimes, even when we are doing more than we should to please them, but the situation [in Lebanon] forces us to come up short on service," Zein added.
Zein explained that he was encouraged to open his hotel in 2011 when the tourism industry was booming; however, since then he said that successive crises — from the war in neighboring Syria to homegrown political crises to a global pandemic to a financial meltdown — at first damaged and then devastated the tourism industry. Many establishments have been forced to close.
For those hotels that have withstood the recent economic downturn and pandemic, "the thing that kept us going until now is that we knew how to adapt," Zein said. For example, when tourism dipped due to COVID-19, Zein reduced prices to attract guests while still bringing in just enough money to pay employees, enabling him to keep his hotel open. Now that the country is open again, he bumped up prices. He said his hotel's occupancy is now filled 75 percent on average.
On top of the unprecedented economic crisis, the Aug. 4 Beirut port explosion also impacted the hotel industry. The blast, caused when 2,750 tons of improperly stored ammonium nitrate detonated at the port, has discouraged some tourists from visiting, while many hotels in the capital suffered substantial material damage as a result of the blast.
To this day, the landmark five-star Phoenicia Hotel has not repaired the damage from the explosion, its owner, Makram Salha, told L'Orient Today. William McClenahan, who owns the Saifi Urban Gardens hostel in Gemmayzeh, said his establishment remains in ruins.
'We can't afford to be cheap'
Despite all the challenges, one thing initially boded well for the country's tourism industry this summer: the currency crisis.
With the lira's value plummeting against the US dollar — it is now trading at about LL22,000 to the dollar on the parallel market — the cost of a vacation in Lebanon for those with access to foreign currency seemed set to decrease dramatically, making the country an attractive destination for those who wanted to see their hard-earned cash go a little bit further.
But Ozeir warned that the extra financial pressure businesses like hers are facing just to keep the lights on and the water running will inevitably drive up prices, reducing Lebanon's perceived affordability as a holiday destination.
"The reputation now is that Lebanon is cheap, but we can't afford to be cheap if we have to pay for extra expenses," Ozeir said.
The national currency's continuous devaluation also means that because many food and other products are imported, hotels must repeatedly raise their lira prices or charge in US dollars.
Pierre Achkar, the Lebanese Hospitality Association's head, told L'Orient Today that due to the increasing prices, they decided that hotels can charge only non-Lebanese guests in US dollars.
"What do you do if someone books a month before, and the lira rate changes drastically during this time, which means you lost a good percentage of that money," Achkar asked, adding, "Because our politicians are not doing anything, we decided to take things into our own hand and recommended charging Lebanese people in local currency and the foreigners in dollars."
But even charging foreigners in dollars can go only so far in covering hotels' spiraling costs, because there are just not as many people arriving from abroad as in previous years.
Numbers issued by the Beirut Rafik Hariri International Airport indicate that even after worldwide flight restrictions were loosened, the number of passengers arriving to Lebanon during May and June 2021 (387,879 passengers), is far fewer than the number of arrivals during the same months of 2019 (773,432 passengers), before the COVID-19 pandemic and the economic crisis set in.
Achkar told L'Orient Today that the majority of hotel guests are Lebanese — either residents vacationing at home or Lebanese expats. Of the non-Lebanese visiting, Achkar said most are from Iraq, Egypt and Syria.
Mohammad al-Hakim, 27, who came to Lebanon from Iraq for an eight-day vacation, explained the attraction of a holiday in the country: "Lebanon is our hub for nature, entertainment and nightlife, which you don't find altogether in other countries in the region."
"It is easy to come here because we don't need a visa. It is a cheap country now, and to us it is not a country of instability, because the bad situation in Iraq cannot be compared with [that of] any country in the region," Hakim explained. ​​
Hakim explained that he didn't notice the effects of Lebanon's crises while in town as hotels took care of everything.
Protecting the guest from the country's troubles is at the core of the hotelier Sherif Samaha's approach to hospitality.

"We don't let them feel any of it as we can't afford not to provide everything," said Samaha, who owns the four-star Mayflower Hotel in Hamra.
"We have to provide 24/7 electricity no matter what, even if it means buying fuel from the black market that costs a fortune a month," he added.
Samaha explained that because of the consistency of services he provides despite the country's situation, his hotel has been full over the past month — but he has had to deliver some unusual services to maintain his reputation.
"If a taxi driver is picking up one of our clients, we have to secure fuel for him; if a Lebanese client needs fuel [for their personal vehicle] to get back to a distant area, we have to do the same. This way we are actually sparing our clients a two-hour wait at gas stations," he said.
"Lebanon has gone through economic crises before. This is just one of them, and hopefully we will recover, but our politicians are so incompetent, they can't even form a government," Achkar said.

BEIRUT — After a year and a half of worldwide closures and travel restrictions due to COVID-19, Christine Ozeir, the owner of the four-star Bossa Nova Beirut Hotel, was eager for this year's summer tourism season to begin. Visitors were returning, pushing weekend occupancy in most hotels to 90 percent, according to the head of the Lebanese Hotel Association.But as the country falls deeper...