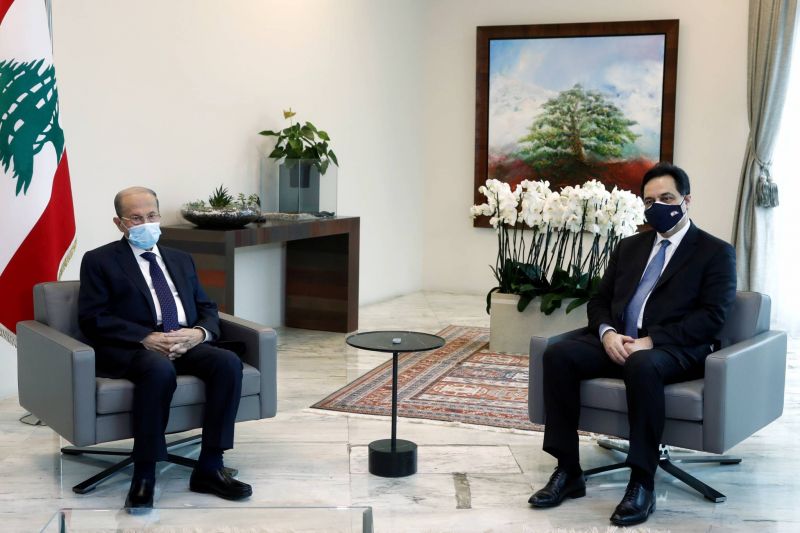 BEIRUT — In the seven months since Prime Minister Hassan Diab's cabinet resigned in the wake of the Aug. 4 Beirut port explosion, Lebanon has been governed by a caretaker cabinet that has no prerogative to meet or make major decisions, at least constitutionally speaking.
Amid a political deadlock that has stymied all efforts at government formation, Diab and President Michel Aoun have at times taken exceptional decisions on urgent matters. These decisions, issued via the cabinet's secretary-general, are made by the president and premier.
In January, as the number of positive COVID-19 cases spiked after the holiday season, Aoun and Diab issued an "exceptional" approval of the Higher Defense Council's recommendation for Lebanon to enter a full COVID-19 lockdown. A month earlier, they had approved the council's recommendation to extend the state of general mobilization for an additional three months.
This increasingly common practice — whereby Lebanon's top two politicians sign off on measures more or less unilaterally — has raised red flags for legal experts.
"With all due respect, the president and the prime minister cannot be an alternative to the council of ministers [cabinet]. They cannot replace it," Ziyad Baroud, a lawyer who served as interior minister from 2008–11 under prime ministers Fouad Siniora and Saad Hariri, told L'Orient Today. "It is not constitutional."
"This has been done for a few years now — the practice by which the president and prime minister give what they call exceptional approval, which is not a practice that is in the constitution," Baroud added.
"Nobody is saying no to this because it's making people's lives easier."
A new normal
In theory, processes such as extending lockdowns or states of general mobilization should require the cabinet's approval.
But Lebanon has been without a functioning government since Diab's cabinet resigned in the aftermath of the catastrophic Beirut port explosion in August. Political bickering over the new government's formation has dragged on even as the country's economy and national currency plummet to record lows. Even before Saad Hariri was again designated prime minister and tasked with forming a new government, he and Aoun were at loggerheads, stymieing the formation of the cabinet, the composition of which the heads of state and government must agree on.
Article 64 of the Lebanese constitution stipulates that "the government shall not exercise its powers before it gains confidence nor after it has resigned or is considered resigned, except in the narrow sense of a caretaker government."
However, in 1969 the State Shura Council, an administrative court that oversees decisions made by the state and its agencies and has authority to demand a review of rulings, decided that caretaker cabinets can meet to address urgent matters, especially those pertaining to public safety and security.
"This [State Shura Council] decision means that if there is an urgent matter, cabinet has an obligation to meet," Rizk Zgheib, a lawyer and senior lecturer at St. Joseph University, told L'Orient Today.
For example, when Prime Minister Najib Mikati resigned in 2013, his cabinet continued to run the country in a caretaker capacity for 10 months amid political deadlock. During that period, Mikati held an extraordinary session with his caretaker cabinet to appoint the supervising committee to oversee parliamentary elections.
Mikati at the time stressed that the government must reassume its role until a new cabinet was formed to avoid accusations that the president and the caretaker prime minister were monopolizing "extraordinary" decision-making.
However, both Baroud and Zgheib noted that in more recent post-government resignation periods, instead of caretaker cabinets meeting and issuing decisions on urgent matters, the president and caretaker premiers have taken to signing off on measures on their own.
Zgheib and Baroud conceded that some challenges the country has faced during the last year may have necessitated the president and caretaker prime minister to approve measures extraordinarily. However, their main concern is that this practice is being normalized.
"We are in extraordinary circumstances, in a pandemic," Baroud said. "When there is an emergency like we are in now, the government can and must take action to deal with the emergency."
But both expressed fear that the practice of having the president and caretaker prime minister issue decisions without convening the cabinet is becoming the norm rather than the exception.
Diab's resigned government marks the fourth such cabinet since Najib Mikati's caretaker government held the 2013 extraordinary session, including one headed by Hariri from 2018–19 that lasted for eight months due to political deadlock. However, none of these caretaker governments convened during the past eight years.
"If this is something that just started now during exceptional circumstances like the pandemic, it might be okay — we can say there are other priorities [than convening a resigned cabinet for urgent matters]. But this is becoming a normal practice every time a government resigns, and it is illegal," Zgheib said.
Speaking with L'Orient Today, Leila Hatoum, a media adviser to Diab, argued that with Diab's cabinet resigned, Article 64 precludes it from convening.
She noted that unlike Mikati, who convened the caretaker government with Parliament's blessing, "Diab does not have the backing of several political parties within Parliament." She said that as a result, any decision taken before a new government is sworn in may be scrutinized, and he could be threatened with legal action.
Hatoum also pointed out that while Diab and Aoun sign off on COVID-19 lockdown decisions, various ministries and experts take part in the committees that make recommendations to the Higher Defense Council, including the Defense and Interior ministries.
Between a rock and a hard place: The 2021 budget
Beyond concentrating power into the hands of just two men, the decision not to convene the caretaker cabinet can have immediate implications for the state's ability to function. For instance, the 2021 budget has yet to be approved. The legal deadline to submit the budget draft — a key part of any road map for addressing Lebanon's spiraling financial crisis — was in the fall of 2020. Caretaker cabinets have been convened before to approve draft budgets. In 1969, Rashid Karami's resigned cabinet met for this purpose, citing exceptional circumstances.
But as of late March, the 2021 draft budget is at a standstill, as Diab has not yet called for a meeting to approve it.
"According to the [constitution] the government has to submit a draft proposal to Parliament within very clear deadlines. The budget needs to be voted on by Parliament by the end of the year," Baroud said. "So the cabinet does not have much choice but to submit a draft to Parliament."
"It's not an option not to meet; it's an obligation when it comes to something like the budget," Baroud added. "When you have the dollar at LL15,000, this is considered highly urgent."
Despite the precedent, Hatoum, Diab's media adviser, said the 1990 constitutional amendments prevent a caretaker cabinet from making decisions that are considered binding to the next government.
"So in all cases, Prime Minister Diab is caught between a rock and a hard place," she said.
No clear path forward
The constitutionality of convening a cabinet in caretaker status is a question that goes all the way to the top.
Last Wednesday, Diab issued a statement calling for Parliament to clearly define the role of his resigned cabinet amid the ongoing government formation deadlock, saying it is simultaneously accused of failing to act and of going beyond its constitutional authority.
"The demand for activating the resigned government has increased on the one hand, and warnings against constitutional violation have been issued on the other hand, with some accusing us of failing to conduct government business," Diab said.
"The controversy over the powers of the caretaker government confirms the need for a constitutional interpretation that defines the limits and the role of the resigned government in light of the current reality resulting from the delay in government formation," Diab said.
A spokesperson for the Presidential Palace told L'Orient Today, "The situation needs to be studied. … There's a constitutional element and there's also the reality that the country does not have a government and some decisions need to be made."
"We don't have any final position on this yet; it's still being discussed."
Whether the failure to convene the cabinet is one of habit, strategy or simply confusion, the concentration of power into the hands of only the president and the prime minister may erode the credibility of the cabinet's decision-making process.
"When the constitution or the law says this kind of thing should be dealt with by the council of ministers, there's a reason behind it," Baroud said. "Some issues need to be discussed in the council of ministers, and the vote sometimes requires [a] two-thirds [majority].
"The reason behind this is to give decisions enough support or credibility, or to make all those concerned a part of the decision."
Baroud added that the normalization of this process under a caretaker cabinet may prolong periods of political deadlock and diminish incentives for a swift government formation.
"The caretaker government is the exception, and it should be very limited in time. [It] should not stay there for months," he said. "When you normalize the situation, you say, 'OK, in order to make things move [forward] the president and prime minister can sign.' This might encourage … those who are not willing to form a new cabinet to keep opposing a new cabinet."
BEIRUT — In the seven months since Prime Minister Hassan Diab's cabinet resigned in the wake of the Aug. 4 Beirut port explosion, Lebanon has been governed by a caretaker cabinet that has no prerogative to meet or make major decisions, at least constitutionally speaking.Amid a political deadlock that has stymied all efforts at government formation, Diab and President Michel Aoun have at times...