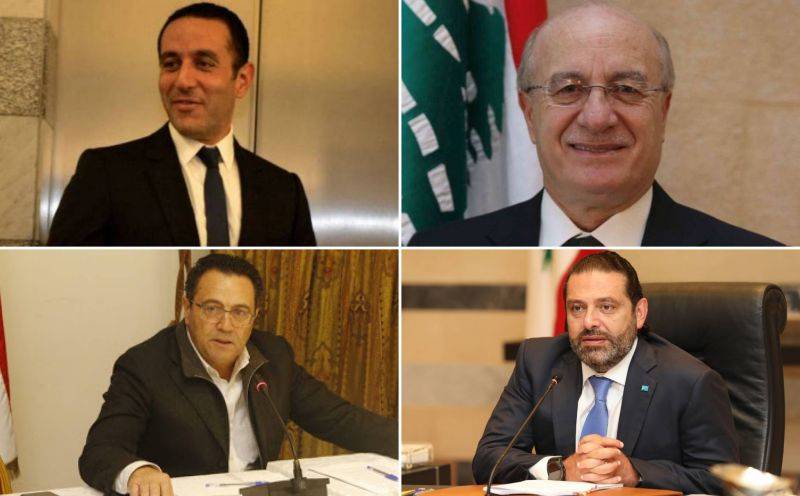 He used to wake up at five in the morning. By six, he would be at work, sitting like a king on an elevated armchair, ensconced in the marbled reception room of Qoreitem Palace. This was Rafik Hariri, the prime minister who would later be assassinated.

His advisers paraded up and down before him throughout the day. They were politicians, journalists and also technocrats hailing from different backgrounds. Tireless and obsessively attentive to details, the man liked to surround himself with those he considered "the best."
His son Saad Hariri does not seem to have inherited this trait. For years, a part of Saad Hariri's entourage has been criticized by his father's former close associates, Western diplomats and even the political partners of the Future Movement's head.
Saad Hariri was not destined for a political career but was forced into it after the assassination of his father in 2005. The more years go by, the heavier the comparison between the father and son becomes.
"The father is not the son," some supporters of the prime minister-designate admit. "He is secretive, shy, less dynamic and impatient," says a former politician close to Rafik Hariri.
Parachuted into the complex arena of an unmanageable country, Saad had at first shyly tried to follow in his father's footsteps by surrounding himself with a few of the elder Hariri's advisers.
His entourage included Mohamad Chatah, a diplomat and economist of great stature, who remained by Saad Hariri's side for several years before being killed in a car bomb attack in Beirut in December 2013.
"He was a brilliant man, very meticulous. But Saad never gave him the attention he deserved," says a politician familiar with the Hariris' state of affairs.
Chatah used to carefully write down his advice and hand the piece of paper over to Saad, who rarely took it into consideration.
A defender of Lebanon's sovereignty, Chatah was openly outspoken against the Syrian regime.
His son Ronnie, who now lives in the US, recounts some of his father's frustrations during that time.
In 2009, one of the issues that most weighed on Mohamad Chatah was the political pressure to normalize relations with Syria.
"My father had refused to be part of Saad's visit to Damascus, where the latter stayed for one night. He felt that the few achievements that had been made, including the withdrawal of Syrian troops in 2005 and the creation of the Special Tribunal for Lebanon, were being trampled underfoot," says the younger Chatah, recalling the political context at the time, which called for an easing of regional pressure — a necessity to which even Saudi Arabia had adhered.
The sight of Saad Hariri shaking hands with Syrian President Bashar al-Assad, who was suspected of being behind the assassination of his father five years earlier, was unbearable for some of his supporters.
After Chatah's assassination, very few of Rafik Hariri's advisers remained in his son's close entourage.
Among those who stayed were Ghattas Khoury, his right-hand man; Nadim Mounla, his economic adviser; and Nohad Machnouk, who is said to have "never really gained [Rafik Hariri's] full confidence" but was nevertheless among his senior advisers.
"Rafik Hariri kept him within his [inner] circle to make sure that he would not turn against him one day," says a Hariri family relative.
Saad Hariri appointed Machnouk as interior minister in 2014. But that was not enough to satisfy the latter's personal ambitions or to control and direct his free spirited temperament.
After having been a member of Hariri's Future Movement, Machnouk broke away from the party after the 2018 legislative elections.
"Nohad Machnouk used Saad Hariri as a springboard for engaging in politics and forging relations with the Gulf, where he sought to replace Hariri among Arab interlocutors," argues a political analyst close to Hariri's circles.
As of 2018, Machnouk no longer hides his ambition to challenge Saad Hariri's leadership of the country's Sunni community. However, he has never said it publicly.
The founder of the Asas Media online platform, Machnouk is no longer shy about attacking his former ally.
But he is not the only one to do so, as other Future Movement hawks have joined in, including former Justice Minister Ashraf Rifi; Radwan Al Sayyed, who served as one of Rafik Hariri's key advisers; and Nadim Koteich, the former star journalist of Future TV, who quit his job following a disagreement with Saad Hariri.
In an interview with L'Orient-Le Jour, Machnouk condemns these accusations as baseless.
"I can never claim to be the head of government without getting Saad Hariri's endorsement first. My hands are not as free as people think," he says.
The former minister, however, admits that there is a conflict with the Future Movement leader that revolves mainly around "the 'presidential compromise' and his relationship with [FPM leader] Gebran Bassil."
'Incapable of handling an $11 billion plan'
Loyalty is not a golden rule in the Hariri circles, where some advisers are said to be taking advantage of Saad's weaknesses.
Ghattas Khoury has abused Saad Hariri's trust on a few occasions, close observers say.
"Saad used to send Khoury to consult with [former foreign minister and highly respected figure] Fouad Boutros and ask him for advice. Boutros, however, realized over time, and by talking directly with Saad, that some of his messages had not been faithfully transmitted because of the differences he had with Ghattas Khoury," says a close relative of the former tenant of Bustros Palace, the home of the Foreign Ministry.
Khoury, who also served as minister of culture from 2016-19, is in addition criticized for having largely contributed to the deterioration of his boss' relations with other political parties, notably the Free Patriotic Movement and the Lebanese Forces.
Relations with Walid Joumblatt's Progressive Socialist Party are not in good shape either.
"Because of Ghattas Khoury, Saad can only talk to himself today," quips the analyst close to Hariri's circles.
Khoury did not respond to requests for comment.
For his part, Nadim Mounla, who used to run the currently bankrupt Future TV, was promoted as Saad Hariri's economic adviser and was in charge of monitoring the international CEDRE conference in support of Lebanon — something he did not exactly shine at doing, according to experts who dealt with him.
"Mounla had devised an investment plan without a strategic vision. He handled this file very lightly. The French [who were the sponsors of CEDRE] got fed up with him in the end," says an economist who closely followed the process.
Moreover, according to a Western diplomat, "Mounla was incapable of handling an $11 billion plan," a reference to CEDRE.
"I have worked with the Hariri family for 35 years and it was Saad who requested me. My plan for reviving Lebanon had been approved by 50 countries and international organizations including the World Bank and the IMF," Mounla tells L'Orient-Le Jour in defense of himself.
'The worst is Nader'
It is difficult to re-establish a reputation in a city where everyone knows each other and where information circulates very quickly at social gatherings. Saad Hariri has for years earned a reputation for being a man who does not know how to surround himself with good advisers.
Some scandalmongers go as far as to say that Hariri's advisers only seek to use their positions to enrich themselves by establishing a network of solid relations in both the business and political worlds.
"The worst of them is undoubtedly Nader Hariri," says an MP who is well-established in the Hariri circles.
Nader, the son of Bahia Hariri, Saad's aunt, was trained at the hands of a close relative, Bassim Halaby, who is a businessman at the Benchmark, a real estate developer.
Nader Hariri is renowned for being the architect of the famous "presidential compromise," whereby Michel Aoun became president following a deal made with the Aounists and Hezbollah.
He meticulously organized a meeting in Paris between Saad Hariri and Michel Aoun.
This was when the compromise, the terms of which remained secret for a long time, was concocted. Saad Hariri then met with Gebran Bassil to agree on power-sharing, once Aoun was elected.
"It was in Paris that the distribution of shares within the government and administration was decided," an MP affiliated with the FPM tells L'Orient-Le Jour.
The deal, however, seemed to go beyond merely sharing the political cake. Most of the people interviewed for this article pointed out that there was also a business aspect to the "presidential compromise."
According to information leaked to the media in recent years, deals were allegedly made between Nader Hariri and Bassil in the fields of telecommunications and energy — most notably, contracts regarding the leasing of Turkish power ships. L'Orient-Le Jour, however, was not able to confirm this information. Bassil held ministerial portfolios for telecommunications and energy between 2008 and 2014. From 2014 until early 2020 he was Lebanon's foreign minister.
So did Nader Hariri really take advantage of his cousin Saad's weaknesses? A former politician who knew him well does not believe so.
"If the job of an adviser is to defend the interests of his political leader, then we can say that Nader served Saad well," he says.
He also alludes to the rapprochement between Saad Hariri, Hezbollah and the Aounists, a "deal" that may not have served Lebanon but did guarantee Hariri's post as the Future Movement leader.
"All the Lebanese parties conclude juicy contracts behind the scenes, mainly to secure their own financing," he says.
Because Nader Hariri antagonized Saudi Arabia, which accuses him of having led his cousin into dangerous territory — i.e. to a compromise with Hezbollah — he was sacked.
"Saad offered his head as a trophy to Saudi Arabia to appease its anger," says a former MP.
The Saudis were furious with Nader, who did not mince his words with Riyadh following Saad Hariri's detention and later-rescinded resignation from the premiership in November 2017 while in Saudi Arabia.
Nader Hariri did not respond to requests for comment.
'Ahmad was the least talented of the three'
The compromise between the Future Movement and its erstwhile opponents, the FPM and Hezbollah, has in recent years pushed major political figures away, mainly the former's hawks or members of its parliamentary bloc.
This is the case with former MP Ahmad Fatfat, former Deputy Speaker Farid Makari, former MP Mohammad Kabbani and former Prime Minister Fouad Siniora.
Many influential members of Rafik Hariri's old guard abstained from voting for Michel Aoun during the 2016 presidential election.
"We are not on the same wavelength with Saad, but we cannot say that ties are definitively severed," Fatfat says.
Of Fouad Siniora, who has never been able to stomach the rapprochement with Hezbollah, a Tripolitan political analyst says, "He only gives signs of life when the premiership is threatened."
"He does not so much seek to save Saad Hariri as to safeguard the post of prime minister and its prerogatives," the analyst says.
The Future Movement leader may have parted with one of his cousins, but he remains close to Nader's brother, Ahmad, who serves as the Future Movement's secretary-general. Like his cousin, Ahmad was not truly trained in politics.
"He was the least talented of the three," says an acquaintance of the family. The post of secretary-general is only an honorary title bestowed on Ahmad since it is Bahia who effectively runs the party.
A former party sympathizer and sheikh in Tripoli decries what he sees as greed and the drive to cling to power having taken precedence over the political line and the articulation of a clear vision.
The Future Movement, which lacks the structure and organization of a modern party, does not have a system for accountability either, according to sources close to the party.
"Political Harirism relies on community spirit and clientelism, while it presents itself as a moderate party," argues a politician who was close to the party. "Therefore, the grass roots identify with a Sunni party and not a liberal one."
Ahmad Hariri is responsible for nurturing the community by building a relationship network with the rank and file, and the supporters of the party.
"In Bab al-Tabbaneh, he knows everyone, from the smallest mobster to the neighborhood sheikh. He spends most of his time communicating with them on WhatsApp," says a local sheikh.
Ahmad Hariri did not respond to L'Orient-Le Jour's request for an interview.
Last month, Saad Hariri reshuffled posts within his party, bringing in a new politburo.
Among its members, Moustafa Allouche is "a man of great culture, a fierce politician and an excellent surgeon," a former politician says. Ghazi Youssef and Jean Oghassabian, two former members of the Hariri bloc, were also appointed to the board.
Former second-tier figures have been promoted. Little change, however, has been made to the party's new structure.
According to an analyst close to the March 8 camp, given the rifts and conflicts of interest at the heart of the party, the return of key "Haririst" figures who were close to Rafik Hariri is no longer possible today.
Moreover, many people who wish to preserve the legacy of Rafik Hariri are wondering: what if the main problem is not Saad Hariri's advisers but Saad Hariri himself?
"He is the kind of man who prefers to have a court rather than real advisers. He entrusts the people surrounding him with a specific mission depending on his mood," says a politician who was once close to the party.
"We should not forget that Lebanese political life is a game of power, close friendships and interests," he adds, as if to emphasize that this was not the approach of Rafik's "Harirism."
Correction: This article has been amended to correct Bassim Halaby's company. He is the founder and CEO of Benchmark, a real estate development company, not a businessman at the Millennium group. The spelling of his name was also corrected.
This article was originally published in French in L'Orient-Le Jour. Translation by Sahar Ghoussoub.


He used to wake up at five in the morning. By six, he would be at work, sitting like a king on an elevated armchair, ensconced in the marbled reception room of Qoreitem Palace. This was Rafik Hariri, the prime minister who would later be assassinated.His advisers paraded up and down before him throughout the day. They were politicians, journalists and also technocrats hailing from different...