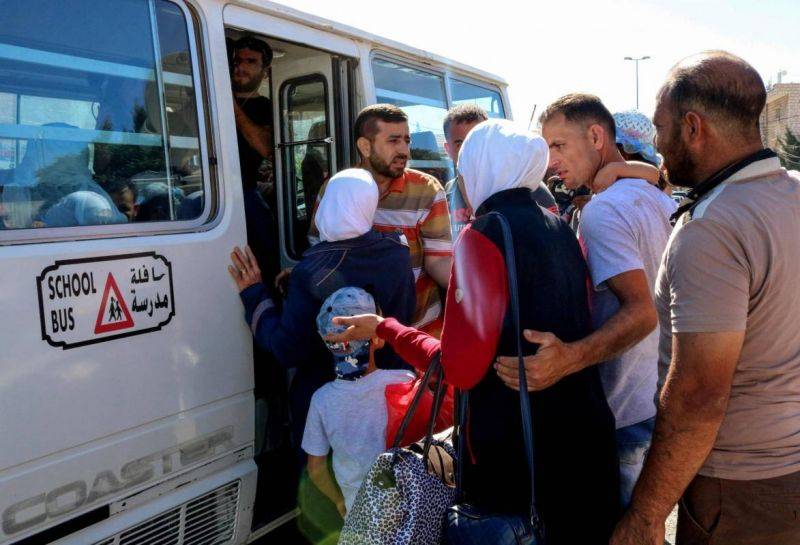 BEIRUT — A Russian-organized conference on the return of Syrian refugees is set to kick off in Damascus Wednesday, with Lebanon's minister of social affairs attending.
It's the latest in a series of attempts that Lebanon has taken part in to organize a mass return of refugees and the second attempt by Russia to play broker on a large-scale return initiative — so far with limited results.
Prior to the COVID-19 epidemic and closure of the Lebanese-Syrian border, the trickle of refugees returning to Syria had been growing as a result of worsening circumstances in Lebanon. In 2019, before Lebanon's currency crisis, 55 percent of refugees lived below the extreme poverty line; today the number has grown to 90 percent, a spokeswoman for the UN's refugee agency, UNHCR, told L'Orient Today. In a particularly stark illustration of the increasing desperation, a Syrian man registered as a refugee set himself on fire in front of the UNHCR office last week.
But even with the worsening circumstances in Lebanon, the number of returnees has remained limited. Armenak Tokmajyan, a nonresident fellow at Carnegie Middle East Center, said that even with the worsening situation in Lebanon "there are multi-layer security and economic problems in Syria, which discourage refugees from returning."
How many refugees have returned from Lebanon so far?
The UN Refugee Agency reports that a total of 59,877 registered refugees have voluntarily returned from Lebanon to Syria since 2016. The pace of returns increased from 2016 onward, reaching a high of 22,728 returns in 2019. With the COVID-19 pandemic and closure of the Lebanese-Syrian border in 2020, the number of returns fell off dramatically to 6,595. As of late October, 879,529 registered refugees remained in Lebanon.
UNHCR acknowledges that these numbers are almost certainly undercounts, as many Syrians in Lebanon are not officially registered as refugees and some registered refugees return to Syria through unofficial channels without notifying the UN.
Lebanese officials have, in some cases, asserted significantly higher numbers of returnees, which they point to as proof that conditions are safe for return. President Michel Aoun claimed in November 2019 that 390,000 refugees had returned from Lebanon "and no complaints were received from them about the pressures they were exposed to after their return," but did not say where he had gotten the figure from.
Return attempts
While Lebanese officials from across the political spectrum have periodically blamed Lebanon's problems on the refugees and called for their return, there has been a divide in their approach to the question.
Since the forces of President Bashar al-Assad retook the majority of formerly rebel-held territory, Lebanese political factions aligned with the Syrian regime have largely maintained that the conflict is over and there are no security issues standing in the way of refugees' return, advocating for Lebanon and Syria to work bilaterally on return plans.
Meanwhile, those opposed to the regime have pushed back against direct Lebanese-Syrian coordination and have, in some cases, called for returns to be overseen by the United Nations.
The two factions have also disagreed on the language to use in talking about returns; President Michel Aoun, who is with Hezbollah and its allies in the pro-Assad bloc, has objected to the other side's insistence — shared by the UN — that returns should be "voluntary," instead calling for a "safe" return.
The major actual or attempted return initiatives to date have included:
Arsal ceasefire deals: In 2017, several thousand Syrians returned from the area around Arsal to rebel-controlled areas in Syria under a series of cease-fire agreements brokered between Hezbollah and Syrian militant groups operating in the area. The returnees in these cases were primarily militants and their families, but some refugees who were not participants in the fighting also joined them, in some cases citing pressure by Lebanese authorities.
General Security returns and political party initiatives: In mid-2018, Hezbollah announced that it was opening offices where Syrians interested in returning to their country could register. Soon after, General Security announced that it was setting up its own procedures for Syrians wishing to return. Refugees would sign up with General Security, which would then run the list of names by Syrian authorities to ensure they were not wanted for arrest — one of the major concerns preventing refugees from going back — and would reject those who turned up as "wanted." Those approved for return would then be bused across the border.
As of early 2020, about 20,000 had returned this way, according to figures reported by General Security. While the number of refugees joining the trips remained relatively small, the numbers were growing before the COVID-19 pandemic and closure of the Lebanese-Syrian border put a halt to them. The last return trip, in February 2020, brought 1,093 refugees back across the border, according to General Security.
The first Russian initiative: In 2018, Russia made a first attempt at brokering a diplomatic consensus on refugee return, which was supported by Lebanese officials across party lines. In July, Lebanese leaders announced the formation of a joint Lebanese-Russian committee to implement the return program, but the initiative ultimately fizzled.
"One important reason was that Russia's initiative found no support from the international community," Tokmajyan said. "Lebanon was one of the few exceptions. Another crucial reason was the absence of real 'pull factors' from Syria." He added that since the first Russian initiative, the economic situation in Syria has deteriorated further.
Nasser Yassin, a professor of policy and planning at American University of Beirut and chair of the AUB4Refugees initiative, said the circumstances have not changed since then.
"Still there's no international support for the Assad regime — on the contrary, there are more sanctions on the regime," he said. "So any attempt by the Russians to create some sort of international support for the Syian government is unrealistic."
Forced returns: While the Lebanese government has put pressure on refugees to return through various means, Lebanon has largely held to a policy of not deporting refugees to Syria. Instead, those arrested for residency violations are usually held for a few days and released. But last year, that began to change, with decisions by the Higher Defense Council and General Security that allowed for deportation of Syrians who had entered the country illegally after April 24, 2019. Between late May and late August of 2019, General Security reported it had deported 2,731 Syrians under the new rule. Some rights groups alleged that the deportees included people who had entered the country before April 2019 and that some of those deported were arrested and tortured in detention.
The new Russian-Syrian attempt
Russian and Syrian authorities have touted this week's conference as "a chance to discuss the refugee problem from a humanitarian viewpoint, without politicizing the issue," but the effort has garnered little international support, at least from the West. The United States and European Union are boycotting it, saying that conditions in Syria are not suitable for mass returns. The United Nations is sending its resident and humanitarian coordinator for Syria, Imran Riza, only in an observer capacity.
Lebanon's caretaker Social Affairs and Tourism Minister Ramzi Musharrafieh will attend, but a list of countries attending published by Syrian state media does not include Turkey or Jordan — the two other neighboring countries hosting large numbers of refugees. (Turkey, which has supported Syrian militant groups trying to overthrow the Assad regime, was not invited.) The countries listed as attending are China, Russia, Iran, Lebanon, the UAE, Pakistan and Oman.
Syrian state media quoted Assad ahead of the returns conference as saying that the issue of returns "is a priority for us as a government in the coming period, especially after the liberation of a large part of the Syrian territories." He said that the Syrian state had taken measures to facilitate returns and that "the biggest obstacle facing the return of refugees is the Western siege imposed on Syria."
But some questioned whether the Syrian regime, in fact, wants to allow a significant number of refugees to return. AUB's Yassin pointed, for instance, to a recently instated requirement by Syrian authorities that all returnees must bring $100 to the border in cash and exchange it for Syrian currency at the official exchange rate — which is considerably lower than the street rate.
"They're creating conditions to keep people away, or to not invite them back," he said. "Imagine a family of five or six people going back from Lebanon to Syria — there is no way they can afford it, knowing that the vast majority of Syrians in Lebanon are under the poverty line."
Some Syrians may have no home to return to, even if their houses are still standing, as those living outside the country who have houses in areas designated for reconstruction face having their properties seized if they cannot show up in person or send a representative with proof of ownership.

Tokmajyan noted that the return of a large number of refugees might be perceived as a security threat by the regime, while there is also a lack of infrastructure to handle an influx.
"Damascus is facing serious challenges in providing sufficient state services and basic needs, like bread and fuel, to the population that already lives under its control," he said. "The addition of a few million returnees will only make the regime's task more difficult."
Former Minister of State for Refugee Affairs Mouin Merhebi — of the Future Movement, part of the anti-Assad bloc — was blunter.
"In my opinion, the Syrian regime does not want the refugees to return," he said. "It killed them and destroyed their villages and cities and drove them out with the intention that they would not return, to the end of demographic change. … We are not going to see anything in reality that seriously advances the return of the refugees" at the Russian conference.
What would convince refugees to return?
When refugees in Lebanon have been surveyed on the question of return, a majority say they want to go back to Syria — but not now.
A report by the International Crisis Group on the question noted, "Threats of detention and conscription weigh most heavily. … Many refugees also have reason to fear that returning to Syria will make them even poorer. Significant parts of the country remain out of the government's reach; others are inhospitable for returnees, if only because they will find their homes destroyed or expropriated, and the economy in tatters."
Some Lebanese government officials have called for the international community to offer monetary incentives for Syrians to go back, either in the form of lump sum payments or ongoing aid, but so far the UN has been wary of the proposal.
"The issue of cash assistance is very problematic when it comes to supporting those who return when you don't support millions of IDPs or even poor families who live alongside those returnees," Yassin said.
The Crisis Group report suggested that Lebanese authorities could facilitate refugees' ability to go back on brief "fact finding" trips to see conditions on the ground in their area of Syria before deciding whether to take their families back permanently.
Merhebi said the government, during his term, had tried to remove barriers to return on the Lebanese side; for instance, by canceling fines for would-be returnees who were in violation of residency requirements.
"I don't believe that we, as Lebanese, can do more than to open the borders in the direction of their return," he told L'Orient Today.
Tokmajyan said ultimately multiple policies would need to change on the Syrian side before refugees would be likely to return in large numbers.
"The long list includes easing of security measures, revising the military conscription regulations, restraining abusive militias and warlords that emerged during the war, creating job opportunities and restoring state services, revising the controversial land and property regulations, to name a few," he said.
BEIRUT — A Russian-organized conference on the return of Syrian refugees is set to kick off in Damascus Wednesday, with Lebanon's minister of social affairs attending.It's the latest in a series of attempts that Lebanon has taken part in to organize a mass return of refugees and the second attempt by Russia to play broker on a large-scale return initiative — so far with limited...