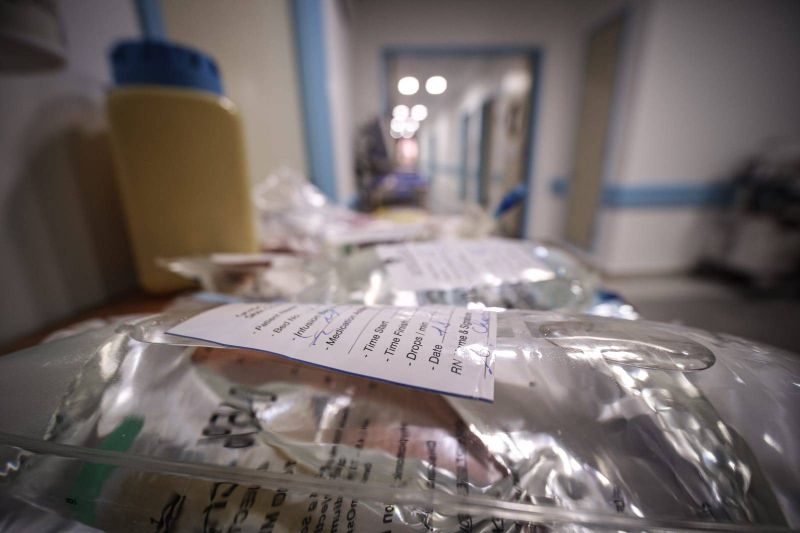 In the span of eight years, Sophia* has seen nearly a dozen dieticians in a bid to lose weight, to no avail.
During her early adolescence, Sophia received all kinds of body-shaming remarks and disapproving looks. At 1.67 meters tall and over 100 kilograms, the high-school student is "severely obese" according to her body mass index (BMI).
At age 15, she was diagnosed with prediabetes and polycystic ovaries, which prompted her to consider a gastric bypass surgery.
According to the latest figures from the Global Nutrition Report, 39.9 percent of women in Lebanon are considered overweight, compared to 30.5 percent of men.
These numbers prompted the Health Ministry to address the issue in 2019.
But given the complexity and high cost of the procedure, not all overweight people opt for surgery, all the more so today amid an acute economic crisis.
Weight-loss surgery in Lebanon is nevertheless back in the spotlight following the death of Lebanese-Syrian singer George Wassouf's son on Jan. 7.
Wadih Wassouf had a successful gastric bypass operation but was admitted to the ER more than a week after the surgery due to complications that resulted in his death.
Such surgeries have become very common and are performed by hundreds of thousands worldwide with an extremely low mortality rate of around 0.19 percent, according to the latest global statistics.
There are no statistics on the exact number of patients who undergo such surgical operations in Lebanon today.
"Before the crisis of 2019, the number of these patients was roughly estimated at 2,000 per year," Nagi Safa, a metabolic and bariatric surgeon who heads the Advanced BMI Weight Loss Clinic in Zalka, told L'Orient-Le Jour. "These are safe surgeries, but unfortunately, the focus is on this one case that didn't go as planned."
She added, "There is no such thing as zero-risk in surgery."
Developed in the 1960s, weight-loss surgery has been on the rise in Lebanon since the late 1990s through various techniques, namely the gastric band — a band placed around the stomach to reduce its size — which is a technique that was long used but is less common today.
There's also the gastric bypass (or short circuit) and sleeve gastrectomy, which consists of removing more than 75 percent of the stomach — the most common surgery in Lebanon.
"It is estimated that 60 percent of bariatric surgeries use the sleeve technique, compared to 20 percent for the bypass," said Elie Barouki, a general surgeon specializing in laparoscopic and bariatric surgery at Bellevue Medical Center (BMC) in Mansourieh.
Short-term complications include fistula, bleeding, pulmonary embolism and risk of infection.
Long-term complications vary depending on the surgery, ranging from vitamin deficiency to hemorrhages, in the most serious cases. In the vast majority of cases, however, the operation is successful and helps prevent a wide range of diseases.
"You can't say that there is one type of surgery that is better than another since each technique is adapted to each patient," Safa said.
'It was in fashion'
Pascal*, 53, underwent weight-loss surgery two decades ago.
"In 2003, I was 33 years old. I weighed 152 kg and I opted for a gastric band because it was in fashion," he told L'Orient-Le Jour.
The operation, which was carried out in a renowned hospital in Beirut, was a failure, he said. His esophagus was punctured.

Pascal was shocked and still under the effects of anesthesia when his surgeon proposed that he undergo the gastric bypass technique.

"I was just recovering from a medical error, and here I was again under anesthesia a few hours later. It was madness," he said.
While Pascal lost a few kilos during the period of convalescence, he soon regained the same appetite he had prior to the surgery.
After several physicals and tests, the news came as a blow.
"I paid $6,000, but the bypass was not performed. I never lost the weight I expected," he said.
Twenty years later, this unfortunate experience is still causing him gastric problems. He pays nearly $150 per month for medication.
"I thought about filing a lawsuit, but lawyers told me it would be pointless," he said.
Since Pascal's accident, surgery techniques have become more sophisticated. In Saudi Arabia, surgeons performing this type of operation must, by law, be sub-specialized in bariatrics.
In Lebanon, nothing legally prevents a surgeon of any specialty from performing such operations.
Neither the Order of Physicians nor the Health Ministry responded to L'Orient-Le Jour's requests for comment.
In Ghassan's* extended family, more than a dozen people have gone under the knife for weight reasons.
"It was the best decision of [their] lives," according to one woman in the family who had the surgery.
Ghassan is now paying a high price for the decision to receive surgery, one that he bitterly regrets.
In 2017, this businessman, then aged 45, weighed 125 kilograms and stood 1.75 meters tall. He consumed a poor diet and used tobacco and alcohol.
At the time, in a bid to avoid cardiovascular problems and other diseases, his doctor advised him to undergo a sleeve gastrectomy.
He lost 60 kilograms in a few months after the operation, which cost $10,000.
"At the beginning, he was very happy to have lost so much weight, but little by little, he started to feel that something wasn't right," Laura,* his wife, said. "He sank into a serious depression."
Two years after the operation, he became addicted to alcohol and started smoking compulsively.
"He couldn't eat as much as before, so he started drinking. His doctor warned him, but he couldn't help it," Laura said.
"We prepare patients beforehand because it's a whole lifestyle that has to be changed, with 70 percent diet and 30 percent physical exercise," Barouki, the surgeon in Mansourieh, said.
While he never regained weight, Ghassan lost muscle tone and suffers from vitamin deficiencies and early osteoporosis.
"He regrets his decision all the time. 'Why did I do that?' he keeps saying," Laura said. "Since the surgery, he has not been happy, which is really hard for him, but also for our children and me."
She added that Ghassan's psychological state was not evaluated beforehand to determine whether he could withstand the operation and its aftermath.
Medical tourism
In France, each potential weight-loss surgery patient's profile is carefully studied for six months before the operation gets the go-ahead. This comes following consultation between a surgeon, a cardiologist, a lung specialist, an endocrinologist, an anesthetist, a dietician and a psychologist.
During these six months, the social security or insurance company must look into all the patient's health risks before giving a green light for any surgery.
"Depending on the patient's profile, age or if they suffer from co-morbidities, they are referred to several specialists before the operation is performed," Safa, the surgeon in Zalka, explained.
"In Canada, it can take up to three years to get a place in the operating room in a public hospital, whereas in the private sector, it takes two weeks," he added.
Despite the departure of many Lebanese doctors in the wake of the economic crisis, medical tourism continues to exist in Lebanon, with patients visiting the country from Iraq and Kuwait for surgery.
Sophia, the high school student, was 16 years old in 2021 when she underwent surgery.
"I wanted to finally be able to live a normal life without being judged. In Lebanon, people are obsessed with looks. Also, boys don't even notice you if you're fat," she said.
She was encouraged by the successful surgery experiences of friends her age.
"This type of surgery is not uncommon in teenage patients and generates good results. In Japan, an obese 8-year-old was operated on," Barouki explained.
Sophia got opinions from three surgeons before making up her mind.
She said the first surgeon she visited, in one of the most reputable hospitals in the country, was quick to tell her, "Yalla, you need a sleeve," without even knowing her first name or age.
"It was as if I were being sold a car," Sophia said.
She wanted to get a second opinion. Eventually, her choice fell to the third surgeon.
In less than a week, the operation was approved and performed.
"I didn't have to do any special exams beforehand, I didn't have to see a psychologist. The procedure was simple and fast," Sophia said.
A little too simple? Eleven months later, she has lost 25 kilograms but is still not satisfied.
Nevertheless, Sophia has certainly changed her lifestyle. She is eating healthier, started to exercise and feels better about herself.
"I'm more comfortable, people around me see me differently, that's for sure," Sophia explained. "But I definitely want to lose more weight, so I've become … How can I put this? I'm on a dangerous path," she admitted.
Since the surgery, she has been trying to alert her family to her bulimic behaviors, talking them into letting her see a psychologist.
"In Europe or North America, the lifestyle is more solitary, so sometimes depression occurs after surgery because of the change in eating habits," Safa said.
"In Lebanon, however, people have a stronger social life. Many Lebanese know other people who have had successful surgery. Patients usually have a more positive self-image," Safa added.
This is the case of Kamal*, 23 years old. A year ago, he weighed 120 kilograms and stands at 1.67 meters. His BMI indicated morbid obesity. His parents were pushing for surgery, and it took a cousin to jump in before he agreed.
"I did a lot of research beforehand because I was afraid. I saw several doctors and was shocked by the difference in fees, which ranged from $13,000 to $3,500," said the young man, who chose the least expensive option.
"You have to know that, in addition to the rates that hospitals charge according to their reputation, the equipment needed for this kind of surgery has a cost. Some opt for European or American products, others for Chinese, which is necessarily much cheaper," Barouki explained.
One year after his operation, Kamal is down 50 kilograms and satisfied with the result. It will take years, however, to be sure if the procedure was a complete success.
"It's all positive for me. I have never felt the guilt I used to feel when I ate," he said.
*First names have been changed.
This article was originally published in French in L'Orient-Le Jour. Translation by Sahar Ghoussoub.
In the span of eight years, Sophia* has seen nearly a dozen dieticians in a bid to lose weight, to no avail.During her early adolescence, Sophia received all kinds of body-shaming remarks and disapproving looks. At 1.67 meters tall and over 100 kilograms, the high-school student is "severely obese" according to her body mass index (BMI).At age 15, she was diagnosed with prediabetes and...