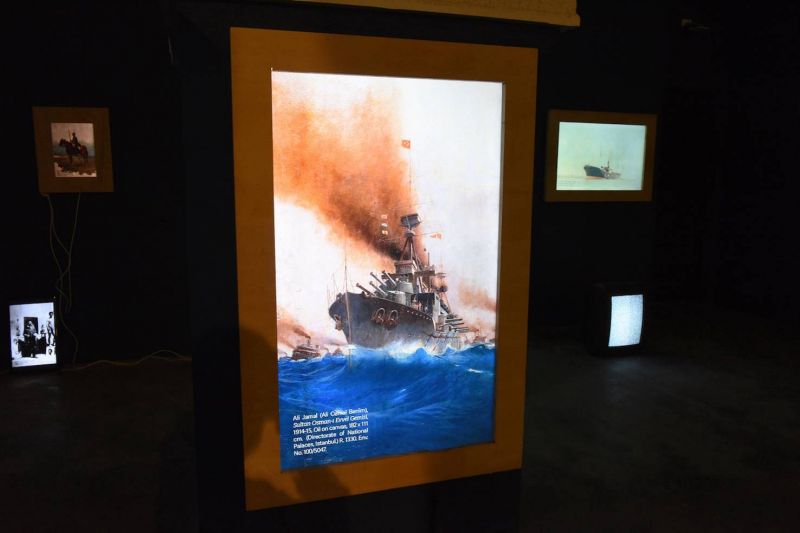 BEIRUT — "This is an interesting case," Octavian Esanu gestures to a light box showing a photo of a painting of a sinking ship. "The artist's name is Dimashqiya. He is considered a central figure in the Marine School. The painting is called 'The Shipwreck of the Victoria at the Port of Tripoli.' Everyone speaks about it."
The director of the American University of Beirut Art Galleries and Collections, Esanu is walking L'Orient Today through the current exhibition he's curated for AUB Byblos Bank Art Gallery, "The Marine School of Beirut — A Repressed Art History."
Esanu says that when he pored over the standard sources for Dimashqiya's "Shipwreck," he drew a blank.
"So we did a Google search. The only images that come up are in very low resolution. We decided to use this one with a note — 'Look, we did a Google search. We couldn't find anything. If you know anything about Dimashqiya, please tell us.'"
As if on cue, the light box's reproduction of the shipwreck fades out, to be replaced by the curator's written plea. Then the shipwreck reappears.
"We are an academic enterprise," Esanu blinks. "We allow ourselves to be playful with these things."
The AUBBBAG show is concerned with painters active in Beirut in the late 19th and early 20th centuries. The works on show include oil paintings, reproductions of historic paintings and 19th-century photographs. The photos are significant, since the artists who populated the art pre-history of Lebanon belonged to the first generation of painters whose monopoly over artistic figuration was challenged by mechanically generated and reproduced images.
Though born in the territory now called Lebanon, these artists aren't the luminaries usually lauded in the country's art history — like Daoud Corm (1852–1930), Khalil Salibi (1870-1928) and Philippe Mourani (1875-1970), who tended to be Christian and likely honed their craft in Europe. The passions of the artists of the Marine School, as it came to be called, were stoked elsewhere.

A history of Lebanese art before Lebanon
"The Marine School of Beirut" offers tentative documentation of a period of transition in the art history of the Ottoman Empire — thus the art prehistory of successor states like Lebanon. This unsettled period corresponds to a century of top-down change, when Istanbul's political class sought to reverse decades of military and administrative stagnation by adopting European-modeled reforms, the cornerstone of which was education. These reforms did not save the empire, but they did help form the sensibilities of artists whose work came to be associated with the Marine School.
Esanu points to one of the exhibition's pieces, an anonymous, undated mixed-media depiction of a warship that mingles painting and modeling.
"I've come across artifacts like this," his eyebrows furrow, "and wonder, 'What is this?'"
The curator learned that during the reform period a large number of the empire's Arab citizens studied at Istanbul's marine academies.
"In addition to subjects like typography, physics, fortification and such, the academies taught topography, architecture, cartography, drawing, perspective and painting," he said. "The object was to strengthen the empire's military capacities, but during their studies many of these students embraced art."
In the empire and its successor republic, this embrace gave birth to a strong tradition of soldier artists.
"They were all trained as officers and had an enormous passion for the arts," Esanu says. "Most didn't pursue art as a career but many did go into the subject more deeply."
Installation view of 'Above Water,' part I of 'The Marine School of Beirut — A Repressed Art History,' at AUBBBAG through 1 March. (Courtesy of: AUBBBAG)
Most Lebanese art histories ignore or deride the soldier artist tradition. The curator and his team had to dig around to find Lebanon's Ottoman-educated artists. The earliest reference they could find to "the Marine School" was in a paper on "precursors of Lebanese art," written by trailblazing painter Mustafa Farroukh (1901-57) and delivered at a Beirut conference in March 1947.
"Farroukh recalls artists like Ibrahim Serbai, Dimashqiya, Said Merhi, Ali Jamal — all of whom devoted their art to boats, natural scenery, the sea. He notes that Ali Jamal went on to study in Istanbul and joined the Marine School, so I presume the term 'Marine School' originated with Farroukh's paper. After that, all the critics and art historians and writers talk about the Marine School, but no one asks where it comes from."
Those who write about the group stress that it was a Sunni phenomenon. Esanu notes that Lebanon's soldier painters tended to be based in Beirut and Tripoli, whose residents were mostly Sunni and Orthodox Christian in those days. The Ottoman Empire was a self-consciously Sunni Muslim polity, whose military ranks were conventionally filled by Sunnis.
The curator observes that prevailing art history narrative tends to identify Corm, Salibi, Mourani et al as Lebanon's art pioneers, but he's convinced that the Lebanese offshoot of the empire's soldier painter tradition is a vital part of the history of figurative art in this region.
"It is a transitional phase in Ottoman forms of representation — from the tradition of 'Persian miniatures' to the first steps toward oil painting." He surveys the gallery. "This is how transition looks. This is what it looks like to try and make a landscape in a place where landscape paintings didn't exist, except as miniatures."
The exhibition
"The Marine School of Beirut" is divided into two parts — "Above Sea Level" and "Underwater." The distinction echoes with contemporary gallows humor as much as art history.
"Part I is 'Above Sea Level' because the works actually exist." Esanu nods to a depiction of a ship painted directly on the gallery wall. "We painted a boat here to show that we're above water."
The works range from oils attributed to members of the Marine School and some of their more canonic contemporaries, to reproductions of figurative wall murals that antedated local experiments with oil-on-canvas landscapes, and 19th-century photographs shot by Adrien Bonfils and Jean-Baptiste Charlier.
One wall of "Above Sea Level" is dominated by a few wide-canvas works credited to Ibrahim Serbai (1865-1931).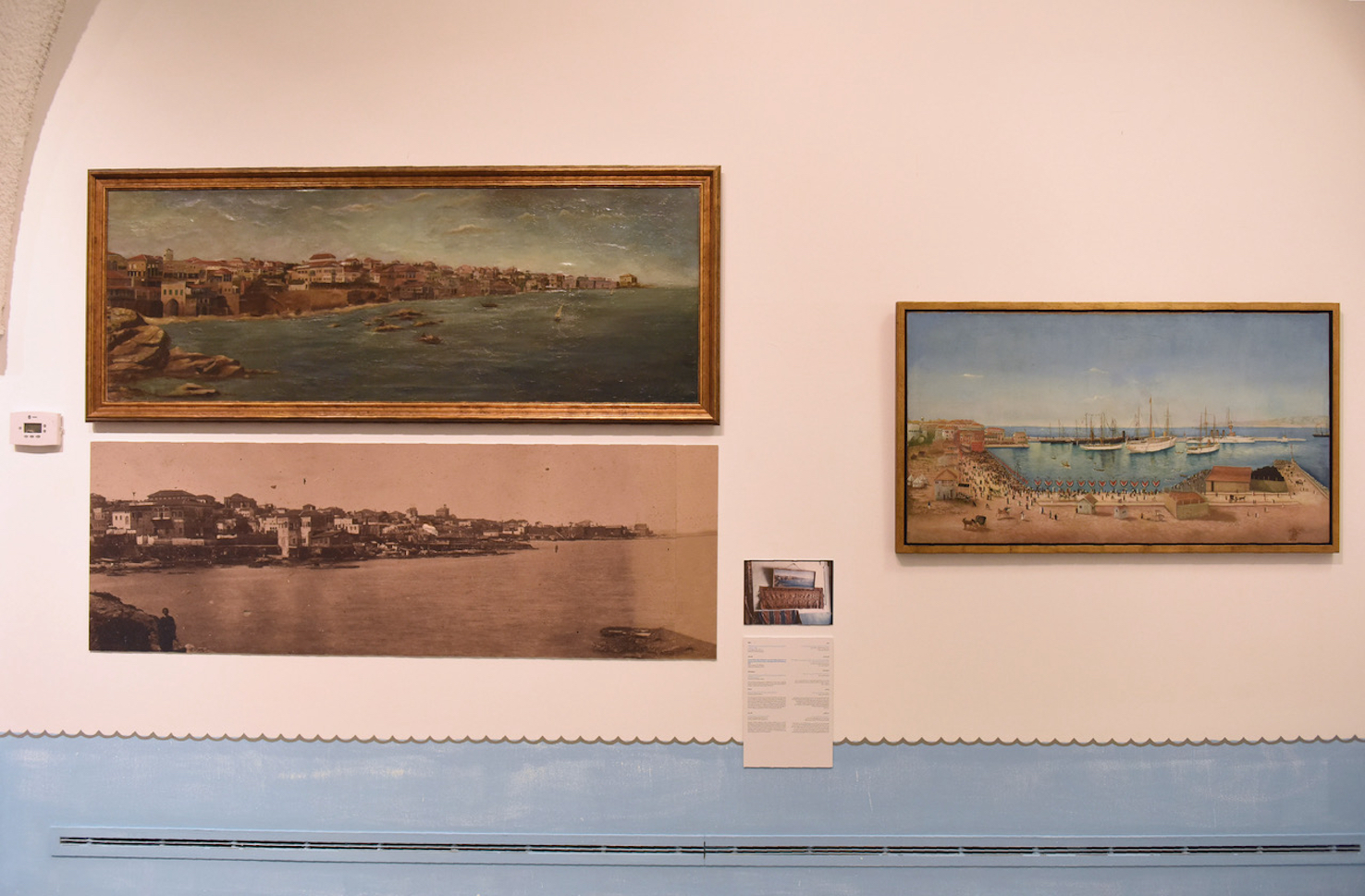 Above, left, attributed to Ibrahim Serbai, 'Panorama of Zeytoune and of Minet al-Hosn,' 1890, oil-on-canvas; below, left, Jean-Baptiste Charlier, 'Ras Beyrouth,' undated photo reproduction (on loan from the Philippe Jabre Collection); right Ibrahim Serbai, 'The Reception of Guillaume II at the Port of Beirut,' 1898, oil-on-canvas (on loan from the Saleh Barakat). (Courtesy of: AUBBBAG)
An oil from 1890, titled "Panorama of Zeytoune and of Minet al-Hosn" (aka "Hotel Bassoul"), is hung above Charlier's undated photo "Ras Beyrouth," both on loan from the Philippe Jabre Collection. The two vistas are not quite identical, but they serve to illustrate a convention of Ottoman landscape painting.
"Serbai painted from photographs," Esanu says, "so we have reproduced one of the postcards that he copied."
Esanu notes that the precision of the artist's figuration betrays his military training.
"Serbai's paintings resemble military forms of representation," he muses. "He tells you precisely which house is where. If you attack, you know which place to attack, and which one to spare."
He chuckles, gesturing to the fidelity in his depictions of individual buildings.
"Around that time the Impressionists would represent such a scene with masses of color, avoiding contour. Why? Because after the invention of photography, they have a different understanding of the function of painting. Photography starts doing what painting had done to provide an accurate image of reality."
He points to "Zeytoune" and "Ras Beyrouth." "Here, for a moment, photography and painting work hand in hand."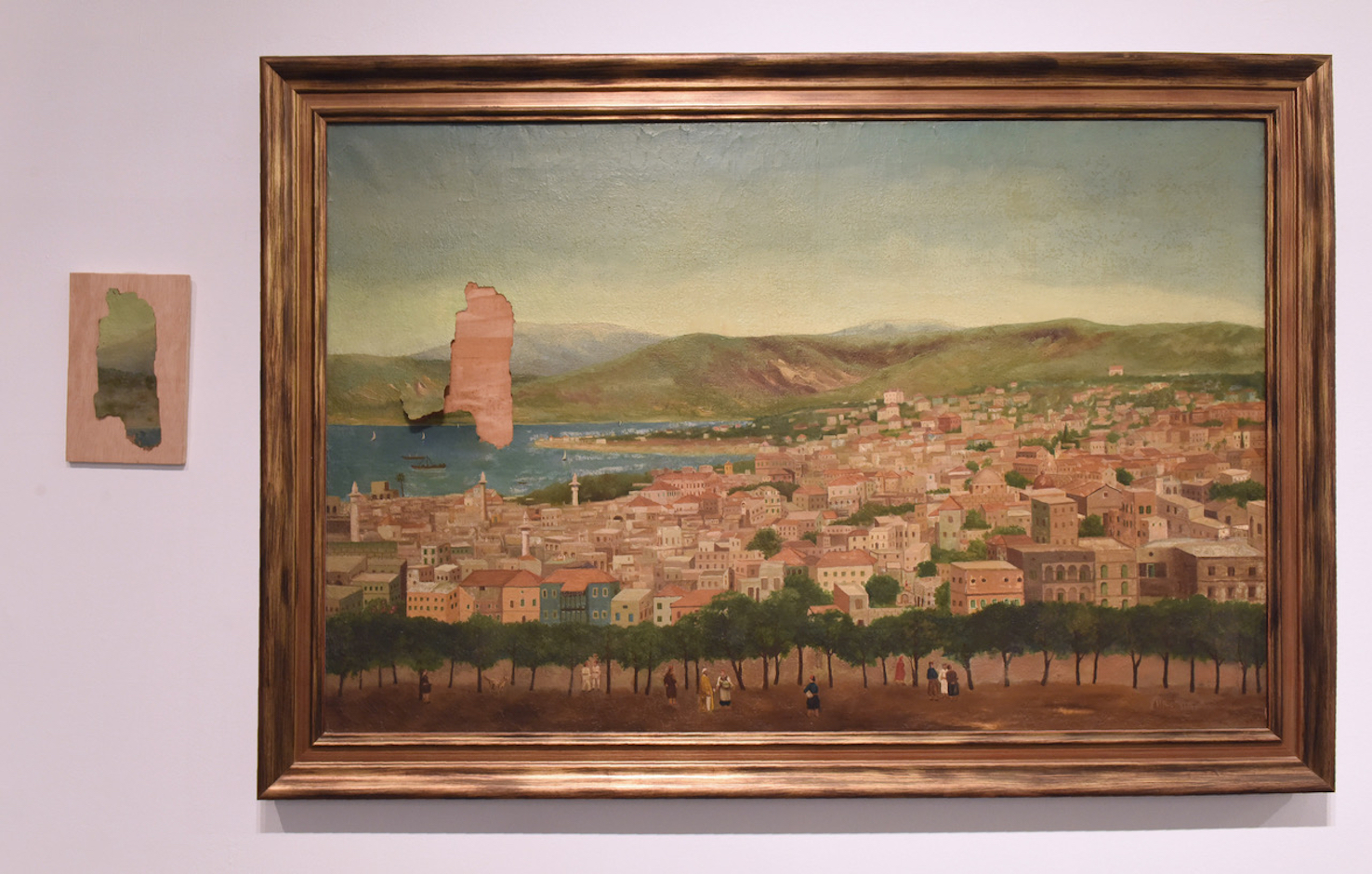 Attributed to Ibrahim Serbai, 'Panoramic View of Beirut from Horsh al-Snaubar,' 1867, oil-on-canvas (on loan from the Camille and Leyla Ziade collection). (Courtesy of: AUBBBAG)
A few works by Salibi and Corm are among the non-Marine School pieces here. "These Christian artists adopted Ottoman modes of representation," he notes. "Under the paint of this portrait is a photograph of this guy. It was very common in Istanbul."
"Panoramic View of Beirut from Horsh al-Snaubar," another oil attributed to Serbai, dated 1867, has a rent taken out of the left side of the canvas — where the hills above Jounieh Bay might be. The absent shred of cloth is hung separately nearby.
"The painting was damaged by the [2020 Beirut] port explosion." Esanu pauses. "The piece is from the Camille and Leyla Ziade collection. She insisted that it be exhibited, because in a way it's also part of the Beirut port tradition."
"Underwater," Part II of the show, includes a few original pieces, but the principal media are video screens and light boxes.
"We put some fish on the wall to make it absolutely clear." Esanu nearly smiles. "Most of these works exist only as files, so we decided that Part II will mostly show photos of reproductions from museums.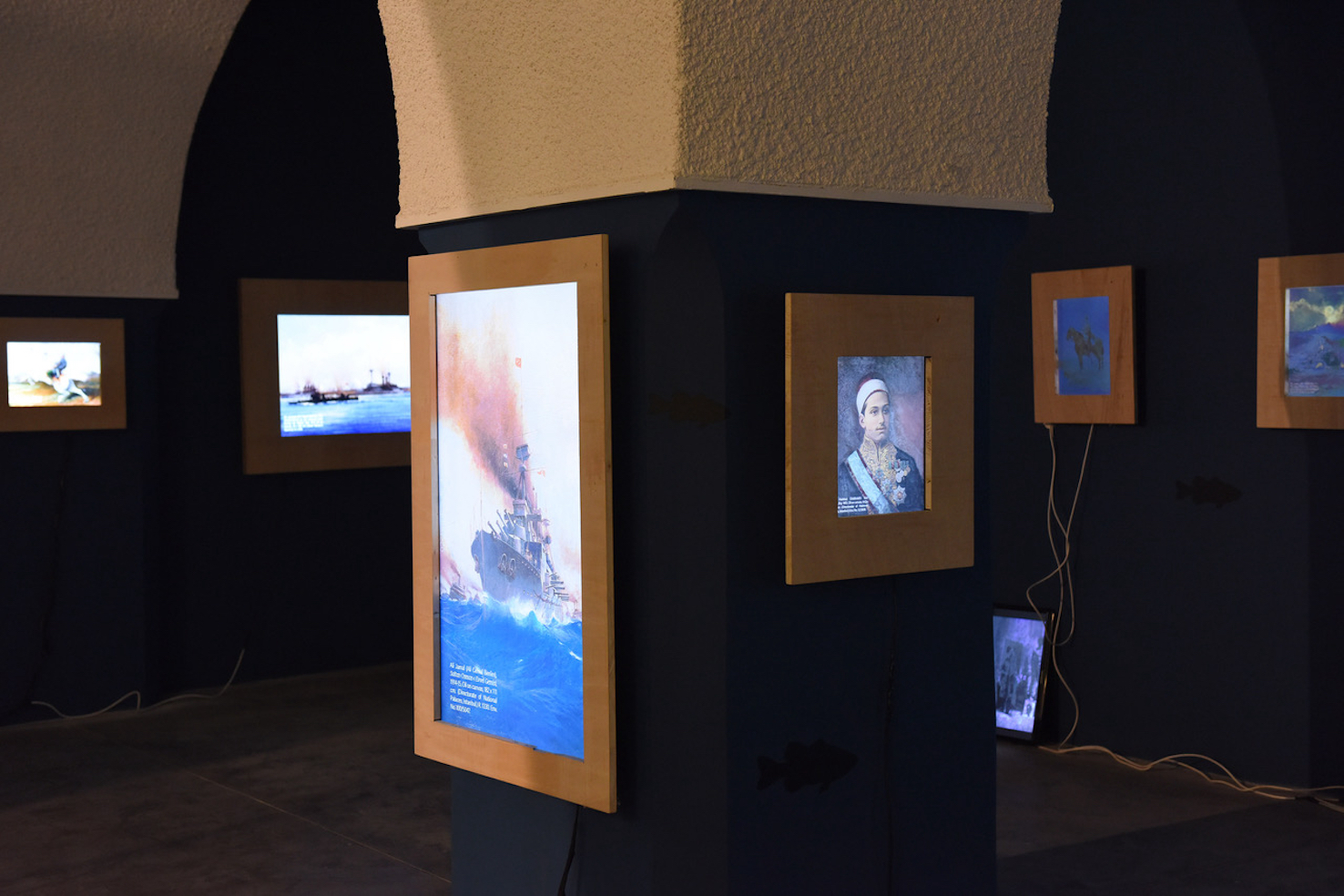 Installation view of 'Underwater,' part II of 'The Marine School of Beirut — A Repressed Art History,' at AUBBBAG through 1 March. (Courtesy of: AUBBBAG)
He pauses before a light box showing a reproduction of an oil dated 1914-15, titled "Sultan Osman-i Evvel Gemisi," painted by Ali Jamal (1881-1939). It depicts the British-built dreadnought destined for Ottoman service that was confiscated for the Royal Navy.
"We have not a single work of Ali Jamal in Lebanon today. After he retired from the military, he became a professor at Istanbul's Academy of Fine Arts. All of his works hang in two Istanbul museums."
He blinks thoughtfully. "I mean, who would consider lending original works to a show in Lebanon these days? So I asked if they'd allow us to reproduce some files of his work.
"Anyway," he says firmly, "these are postmodern times. Originals are unnecessary."
"The Marine School of Beirut — A Repressed Art History" is up at AUB Byblos Bank Art Gallery through 1 March.
BEIRUT — "This is an interesting case," Octavian Esanu gestures to a light box showing a photo of a painting of a sinking ship. "The artist's name is Dimashqiya. He is considered a central figure in the Marine School. The painting is called 'The Shipwreck of the Victoria at the Port of Tripoli.' Everyone speaks about it."The director of the American University of Beirut Art...