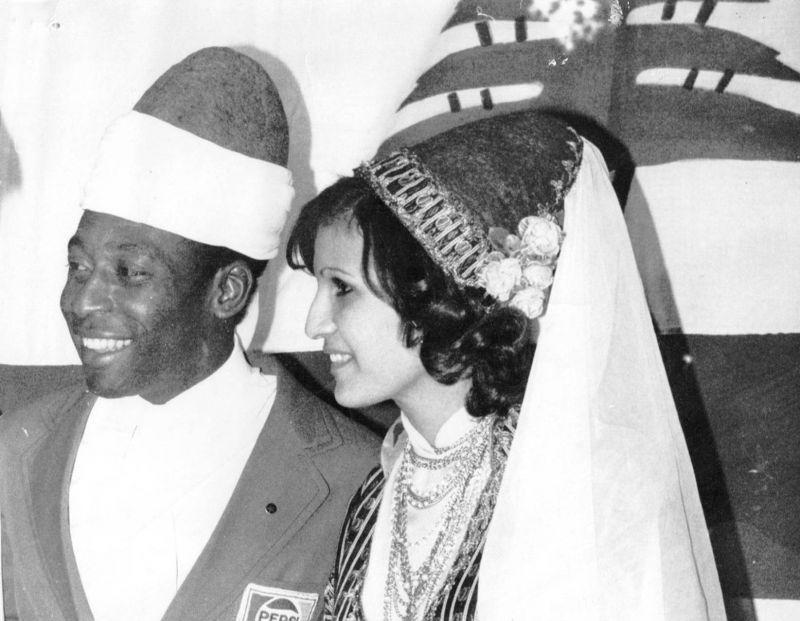 BEIRUT — "Imagine how a player like me would have felt playing alongside Pelé," 70-year-old Jamal Khatib says, reminiscing about one of the highlights of his career.

Khatib, a Palestinian former football player and the star of Beirut's Nejmeh Sporting Club, had the honor to play alongside Edson Arantes do Nascimento — that is, the man considered to be one of the greatest football players of all time — nicknamed Pelé.
Also known as "The Black Pearl," Pelé grew up in poverty in Bauru, in the state of São Paulo. As a boy, he reportedly couldn't afford a football, usually playing with either a sock stuffed with newspaper and tied with a string or a grapefruit, yet went on to win three World Cups — the only player in history to have done so.

In 1975, he decided to show off his skills in Lebanon.
The football star's fame stopped Khatib in his tracks. "You want to show him that you're good, so when we were playing, I was passing the ball to him and then stood in my place just to watch what he's going to do next."
In April of that year, Pelé was visiting Lebanon as part of an international tour, playing a friendly exhibition match with Nejmeh SC against a team made up of players from different French-language universities. More than 35,000 fans attended the game, L'Orient-Le Jour reported at the time.
Less than a week after Pele's much-publicized visit, right-wing Phalangist gunmen shot at a bus full of Palestinian refugees in the Ain al-Rummaneh suburb of Beirut, killing more than two dozen people, triggering a civil war that would go on for the next 15 years.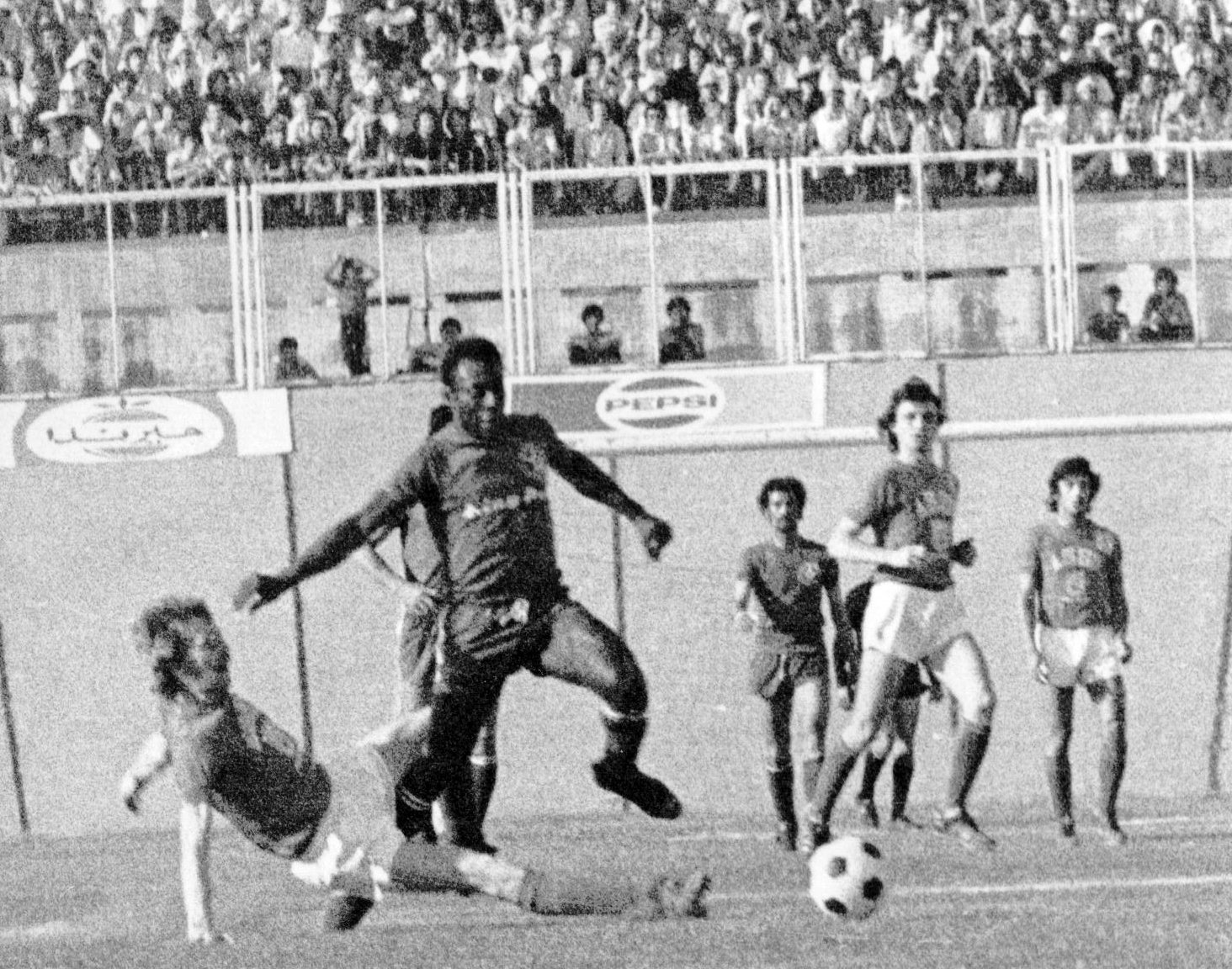 Pelé in a match against French University team. (© OLJ Archives)
But before all that, Khatib was so mesmerized by watching Pelé play in front of his eyes that he forgot to run with him and assume the appropriate positions. "But, no, I used to stay put in my place and the crowd would start screaming: 'Move captain!'"
The crowd's reminder made him snap out of it and prompted him to run. Ultimately, Nejmeh won the game 2-0. At the post-game press conference, Khatib recalls Pelé being asked his opinion on Nejmeh SC and the general football scene in Lebanon.

"He answered that their level is very average, but that he thought player number eight, the tall tanned one, is capable of playing with international clubs. Of course, he was talking about me," Khatib says.
Football diplomacy
Khatib says communication wasn't exactly easy, as he didn't speak English well and Pelé didn't speak Arabic. But people who accompanied Pelé from Pepsi-Cola, one of his sponsors, translated for him.
In 1970, Turkish-American record producers Ahmet and Nesuhi Ertegun decided to launch a soccer team, popular in their home Turkey but not yet caught on in their adopted homeland. They dubbed it the New York Cosmos.
Two years later, Warner Communications acquired the team and went on a recruitment spree to attract the best possible players. After winning the 1970 World Cup with Brazil's national team, Pelé became a huge football star. This fame caught the eye of Warner group and in 1975 they began courting him. They offered a spot for an astronomical amount of money, but the Brazilian government, which had legally designated Pele a national treasure, refused to let him go.
And so, the Cosmos asked for the intercession of the US government, by way of Steve Ross, head of its parent company Warner Communications, through then-Vice President Nelson Rockefeller, administrator of the historic New York landmark Rockefeller Plaza, where Warner was headquartered, but the billionaire scion had no interest in the role. Instead, he passed the ball to then-US Secretary of State Henry Kissinger, a major football fan, who managed to convince Brazil's foreign minister by emphasizing that it would strengthen bilateral ties. Soon after, Pele's transfer was approved.
Pelé later recounted to Esquire magazine that when he met Kissinger, he told the football star: "Listen. You know I'm from the United States, and I'm in politics there. Soccer is coming along there — they're playing it in the schools. Would you like to help us promote soccer in the United States? And I said, 'My God.'"
In 1975, the Cosmos took their star players on exhibition tours to try to promote the team. The tour took them through major European and Asian cities and was partly sponsored by Pepsi-Cola.
One of those stops was Beirut.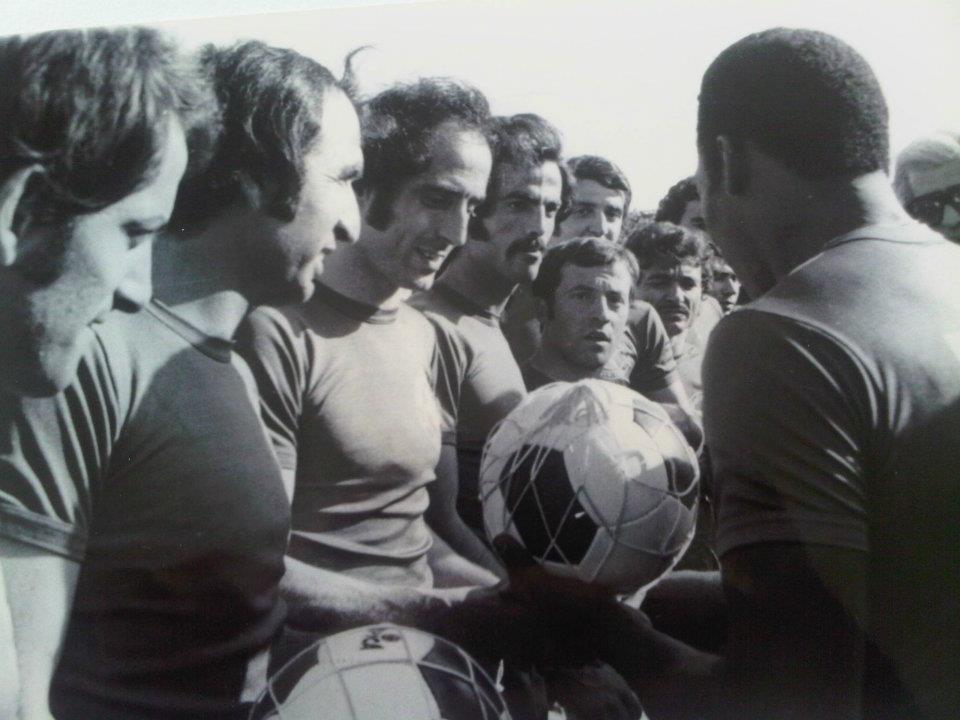 The Nejmeh team with Pelé. Jamal Khatib can be seen with the mustache. (Courtesy of Jamal Khatib)
According to Khatib's recollection, when Nejmeh found out about the tour they reached out to Pepsi saying they wanted to host Pelé.
"Pepsi accepted the invitation, and Pelé came here." During the club's last practice before Pelé arrived, Nejmeh president Omar Ghandour told the players that the Brazilian football star was on his way, and that "maybe there was a surprise" for the club, Khatib says.
"It turned out that the Nejmeh Club invited him and he was going to play with us, but we didn't know against whom."
Later on, they learned they would be playing against what L'Orient-Le Jour at the time called "the national team of French universities."

"So, we played against them, and imagine playing with Pelé back then, he was a legend and represented football worldwide," Khatib recalls. "At the beginning, he played for 10 minutes as a goalie. Then he changed to the striker position alongside me."
According to L'Orient-Le Jour, Pelé ended up "juggling" the ball for 45 minutes (a regular football game lasts twice as long) during which he did not manage to score. However, after he left the field, Nejmeh held up Lebanon's pride by scoring twice against the "French" team.
L'Orient-Le Jour afterward published a photo of the football legend, whom it called "the magician of the round ball," donning a traditional Lebanese felt cap.
A national sport
In the 1970s, Nejmeh FC dominated Lebanese football. It was a golden era for the club as they became the country's most popular team, drawing in fans from across Lebanon.
Football first sprouted in Lebanon in the late 1880s thanks to British missionaries, later becoming more popular after the end of WWI when many sports clubs were established. Football's popularity continued to grow and is still arguably Lebanon's most beloved game.
Unfortunately, while the sport flourished, those in power started to get involved. Some political leaders hoped to benefit their parties by appeasing fans and associating clubs with their own sectarian identities.
Nejmeh, however, managed to stay away from all that during its formative years. Founded in 1943 by people from the Druze and Sunni communities in Ras Beirut, the club later became known for having a largely Shiite fanbase — though the club itself never emphasized any particular sectarian identity.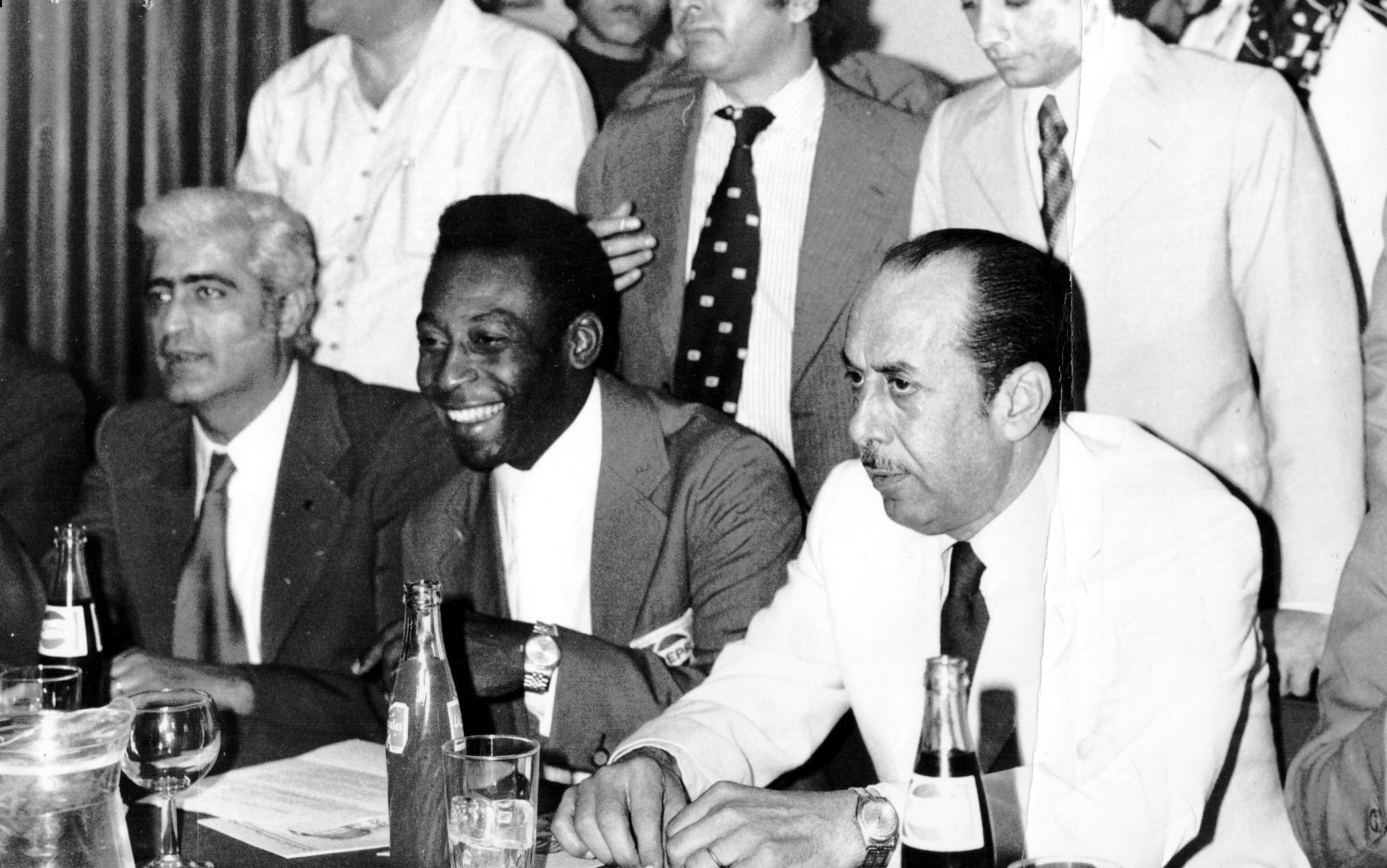 Pelé during his press conference at Holiday Inn Hotel. (© OLJ Archives)
The Daily Star, Lebanon's leading English daily at the time, wrote of the match: "Lebanese Football Champions, Nijmeh Club of Beirut, wrote history once again and entered the annals of stardom as they scored a 2-0 victory over the Equippe de France Universitair in a friendly encounter at the Camille Chamoun Stadium on Sunday. Two late goals by Youssef Ghoul and Ahmed Chatila, gave the Pele inspired Nijmeh club the well-deserved win after a goalless first half."
The paper went on to describe how "around 100 sports critics" fired questions at the legendary football virtuoso at the "jampacked" press conference held at the Holiday Inn Ballroom the night before.
As part of his weeklong visit to Lebanon, Pelé gave a two-hour "Brazilian-style" training session at the American University of Beirut's Green Field, assisted by coach Julio Mazzi and 44 young football players.
Khatib was there, too, at the AUB training session, which took place the day after the game, though seems a bit underwhelmed by the training.
"We went and trained with him a bit there also. But it was mostly to make an ad that Pelé was training at AUB."
Nevertheless, the visit brought a glimmer of joy to Khatib and other footballers on the eve of a war that would spend the next 15 years devastating Lebanon beyond recognition.
"This was the most anticipated and exciting game for us," says Khatib.
"Among all the Arab countries, he came and played with us."

BEIRUT — "Imagine how a player like me would have felt playing alongside Pelé," 70-year-old Jamal Khatib says, reminiscing about one of the highlights of his career.Khatib, a Palestinian former football player and the star of Beirut's Nejmeh Sporting Club, had the honor to play alongside Edson Arantes do Nascimento — that is, the man considered to be one of the greatest football...