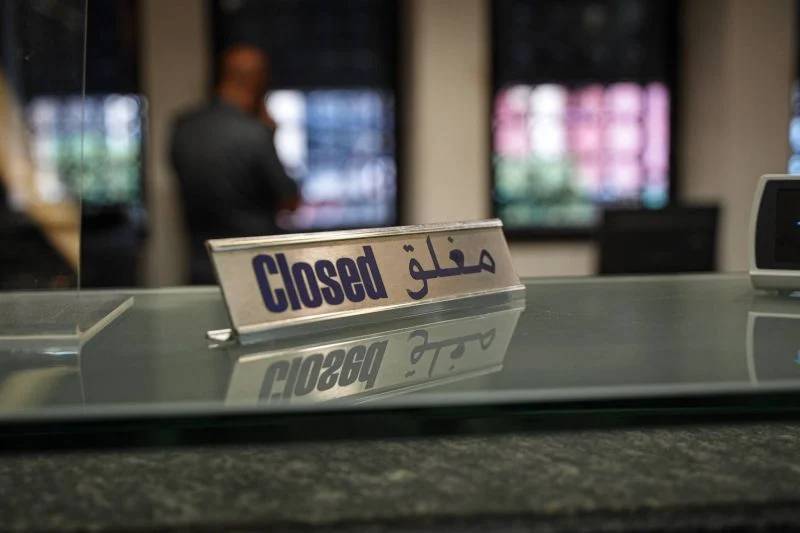 Want to get the Morning Brief by email? Click here to sign up.
Banks indefinitely close following "attacks" by depositors seeking to withdraw their own savings, a statement by the Association of Banks in Lebanon said Thursday evening. "In view of the attacks on banks, all bank branches throughout the country will close their doors and will be limited for the time being to providing their services through ATMs for individuals and through customer service for businesses," the ABL wrote. An armed depositor held up a Bank Med branch in Nabatieh, South Lebanon, in an attempt to forcibly withdraw funds from his own account, marking the seventh such incident this week. Yahia Ali Badreddine, a 55-year-old supermarket owner, threatened to kill himself if the bank did not grant him access to his savings. Later in the day, first investigative Judge Charbel Abou Samra released Sali and Ikram Hafez on bail, whose Sodeco Blom Bank holdup last month sparked a wave of similar incidents. Blom Bank reportedly dropped charges against Hafez, as have other banks against their assailants. "You've dropped charges against me, but I've said there's no need, we're both under the rule of law," Hafez told local media while announcing her intent to recover the rest of her deposit, reportedly to finance her sister's cancer treatment. However, holdup perpetrators might face a different form of legal jeopardy with the threat of bank employees filing personal lawsuits against them. Abdallah al-Saii — who is facing two such lawsuits after threatening to burn down a Bank of Beirut and Arab Countries (BBAC) branch in Jeb Jenin — echoed Hafez's bravado in the face of legal repercussions. There will be a hearing session on Oct. 13 for Hafez and the two activists who helped her during the holdup, which coincides with the date Parliament will be meeting to elect the next Lebanese president. Restrictions on depositors' access to their bank accounts — which have been in place since the onset of the economic crisis in late 2019 — are still informal in the absence of a capital controls law. The Association of Banks in Lebanon criticized authorities' delay to officialize restrictions, in a statement attempting to blame the state for "squandering" deposits via regulatory restrictions.
Israeli Prime Minister Yair Lapid "instructed the negotiating team to reject substantial changes Lebanon is seeking to make" to US mediator Amos Hochstein's proposal on the maritime border demarcation. "If Hezbollah or anyone else tries to damage the Karish rig or threaten us, the negotiations on the maritime line will stop immediately," said an Israeli official, while declaring plans to produce gas from the Karish field — which in June sparked tensions between Lebanon and Israel after the latter deployed a gas exploration vessel to the field. Israeli Defense Minister Benny Gantz ordered the Israeli Defense Forces on Thursday to "prepare for a scenario of escalation in the north, both offensively and defensively." Hezbollah leader Hassan Nasrallah previously threatened military action against Israel if it begins gas exploration before Lebanon is assured its rights. Lebanon delivered its proposed amendments to Hochstein's proposal Tuesday evening. Israel reportedly rejected the amendments due to Lebanon's refusal of officially recognizing a five-kilometer Israeli border "line of buoys" and "the Lebanese government's role in the Qana gas field operations," Israeli daily Haaretz reported. Deputy Parliament Speaker Elias Bou Saab said Sunday that he expected a resolution to the border dispute within "days" after Hochstein's preliminary proposal was positively evaluated by Lebanese and Israeli officials. Bou Saab added that the changes Lebanon would propose to the agreement were not "fundamental."

Lebanon announced it recorded its first case of cholera since 1993. "We have a very clear signal that the Lebanese healthcare system needs support," caretaker Health Minister Firas Abiad said. Abiad said the case was recorded on Oct. 5 in the rural northern Lebanese region of Akkar, attributing the infection to crossover from Syria where an outbreak of the disease has claimed dozens of lives. The Health Ministry released a list of recommendations intended to curb the spread of the disease. Abiad added that the patient is in stable condition and currently receiving treatment.
Parliament Speaker Nabih Berri scheduled the second Parliament session to elect President Michel Aoun's successor for Oct. 13, two weeks after legislators failed to agree on the next head of state. Only two candidates received ballots during the first round of voting: Zgharta MP Michel Moawad, who led with 36 ballots, and Murex co-founder and L'Orient-Le Jour shareholder Salim Eddé. The remainder of the present 122 MPs cast 64 blank votes, 10 votes for "Lebanon," one vote for Mahsa Amini — whose death in Iranian morality police custody sparked widespread protests — and one vote for "the line of Rachid Karami," a former prime minister assassinated in 1987. "The unity of the rank is necessary at this time, especially to elect a new president, regardless of [him/her as a] person and the opinions of each party," caretaker Prime Minister Najib Mikati said yesterday after a meeting with Maronite Patriarch Bechara al-Rai. As Prime Minister-designate, Mikati has yet to form a cabinet, prompting fears of concurrent presidential and governmental vacancies.
Beirut Accusation Committee Judge Maher Cheato ordered the release of ex-Customs Chief Badri Daher, arrested for his alleged involvement in facilitating the release of a Saudi prince charged with smuggling Captagon. Daher will remain in custody as part of the Aug. 4, 2020 Beirut port blast probe. Judge Charbel Bou Samra issued an arrest warrant for Daher in November 2020, on charges of accepting bribes and embezzling public money after he reportedly facilitated the release of the Saudi prince. Suspicions rose after Daher reportedly filed a request to lift a travel ban on Prince Abdel Mohsen ben Walid al-Saoud, who was arrested in 2015 and charged with attempting to smuggle two tons of Captagon into Saudi Arabia. Yesterday, caretaker Interior Minister Bassam Mawlawi announced the arrest of two suspects in relation to the Anti-Narcotics Division of Lebanese customs' seizure of 1.8 million Captagon pills reportedly intended to be smuggled to Tunisia. Captagon smuggling led Saudi Arabia to ban agricultural imports from Lebanon in April 2021 after pills were found hidden in a shipment of Lebanese pomegranates. The charges against the former customs head came while he was already in custody on accusations of wilful negligence in the immediate aftermath of the Beirut port blast. Daher is reportedly at the center of a controversial — and, according to some observers, politically motivated — Higher Judicial Council decision to appoint an alternate judge in the blast probe to rule on detainees, around 15 of whom are in their second year of custody without trial.
The Japanese Ambassador to Lebanon Takeshi Okubo found another stray bullet in his home. "For the second time, my residence was exposed to a stray bullet, most likely from a Kalashnikov type. This time the bullet rebounded and landed in the hall of the house, but no one was hurt. I am very sad about what is happening. Please stop shooting in the air so that this does not turn into harm or tragedy for others," Okubo said on Twitter yesterday. Although celebratory gunfire is illegal in Lebanon, according to a 2016 Law No. 71 passed by Parliament criminalizing shooting firearms in the air and punishing those who do with prison terms from six months to three years, this type of gunfire remains extremely common, with the most recent example of a former MP Othman Alameddine who was caught on video shooting in the air and was later — briefly — arrested and later released on bail, and his trial was moved to a military court. Celebratory gunfire regularly claims casualties, with a woman being hit in the spine by a stray bullet in July after gunfire from Lebanese baccalaureate results.
In case you missed it, here's our must-read story from yesterday: "Legal threat to holdup depositors comes from unforeseen source."

Compiled by Abbas Mahfouz
Want to get the Morning Brief by email? Click here to sign up.Banks indefinitely close following "attacks" by depositors seeking to withdraw their own savings, a statement by the Association of Banks in Lebanon said Thursday evening. "In view of the attacks on banks, all bank branches throughout the country will close their doors and will be limited for the time being to providing their...