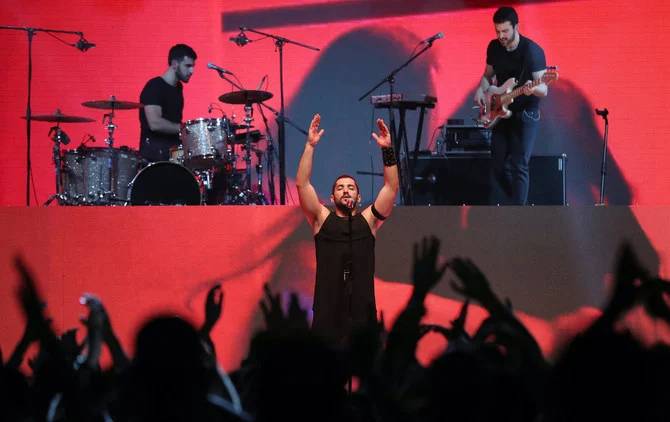 Social media was aflutter with indignation and disappointment after several news outlets reported that Hamed Sinno, the lead singer of celebrated Lebanese indie band "Mashrou' Leila" had announced the band was disbanded.
The announcement came Sunday night when Sinno appeared as a guest on the Lebanese podcast "Sarde After Dinner." However, a review of the interview found that the singer merely said "no-one is thinking of working together again for now."
The revelation came after one of the Lebanese podcast's hosts, Médéa Azouri, asked Sinno point-blank whether "the project is over."
The openly queer singer, who recently returned to Beirut after finishing his master's degree in New York, didn't specify whether Mashrou' Leila was actively disbanded or merely on a break, but did say that "with all these things, we reached a point where we said, 'Let's stop for a moment and each of us can go in a direction and then, later on, we will see what will happen.'" His statement seemingly leaves the door to future collaboration at least slightly ajar.
Band members declined to comment when contacted by L'Orient Today, while on Monday, Hamed Sinno wrote in his Instagram story: "Super grateful for the deluge of support since last night. I'm not going to respond to DMs and posts, but I want you to know that I see you, and I feel cradled and loved."
Mashrou' Leila (meaning "the night project" or "Leila's project") was formed by a group of students at the American University of Beirut in 2008, and is known today as the line-up of Sinno, Haig Papazian, Carl Gerges and Firas Abou Fakher. After their first eponymous album came out, the indie rock darlings experienced a meteoric rise to fame, quickly becoming one of the most popular bands in the Middle East. They've since performed in sold-out venues from Amsterdam to Paris and New York and graced the cover of Rolling Stone magazine.
The band hasn't released an album since 2019's "The Beirut School," and only performed together twice since their last tour, causing some fans to form the impression that the band was on hiatus while others thought they had quietly broken up. In 2021, however, they worked together and contributed to Yo-Yo Ma's album.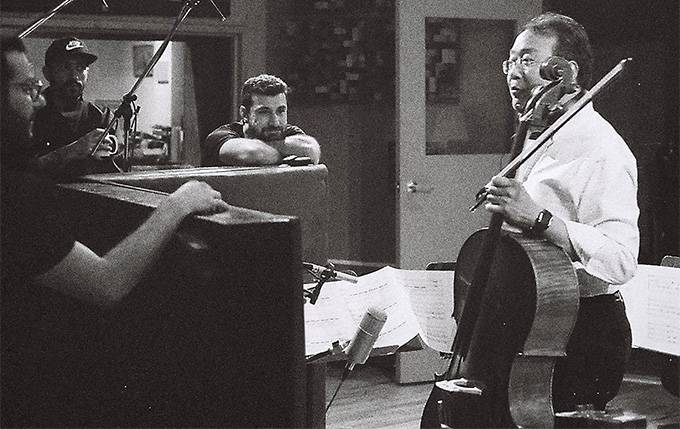 In a studio in Boston, Yo-Yo Ma with Mashrou' Leila and rapper Narcy for a recording session of the song "Ha'aoud." (Photo courtesy of Carl Gerges)
The last time the band was featured prominently in the news was in February 2020, when their lecture at Northwestern University in Doha about media in the Middle East was canceled for "security" reasons after a campaign on social networks was launched against the participation of the group via the hashtag in Arabic "We refuse the conference of Mashrou' Leila."
Although some news outlets focused on what they considered a bombshell revelation of the band's breakup, a closer read of Sinno's interview shows the situation is more nuanced.
During the intimate podcast episode, Sinno candidly commented on the events surrounding the cancellation of their scheduled concert at the Jbeil festival in 2019, Egyptian queer activist Sarah Hegazi's suicide and the Beirut blast, all of which distressed him personally and as an artist. Consequently, Mashrou' Leila was affected as a whole.
"When there was this issue with Sarah [Hegazi] and the issue with [Jbeil] this was honestly very harmful to me, psychologically and emotionally … I decided it was enough," Sinno said in the interview with Sarde.
"I also felt that each member of the band had a huge amount of stress on us. And this is not a normal life to have 100,000 people on Facebook telling you, 'You must die,'" Sinno said. "There was an incredible amount of resentment, mesh maa'oul (it's unbelievable). And no one can go through this and end up normal or sane or adapt to it."
Sinno recounted the emotional toll these events took on the band, which was banned from various Arab countries and had concerts in Jordan canceled in 2015 and 2016 due to objections by authorities, including the band "contradicting" religious beliefs, as Amman governor Khalid Abu Zeid was quoted as saying by the Associated Press in 2016.
In 2017, a huge controversy ensued in Egypt after some in the crowd of 35,000 people raised rainbow flags, among them Hegazi. Following the concert, Egyptian authorities banned Mashrou' Leila from the country and arrested Hegazi, along with more than 75 others.
Hegazi was subjected to sexual harassment and torture during her three-month imprisonment, as documented by Human Rights Watch. She later obtained political asylum in Canada, but took her own life in 2020.
Reflecting on these horrific events, Sinno said: "It was very difficult, and I felt guilty for a long time, and I felt that I did not want to make music."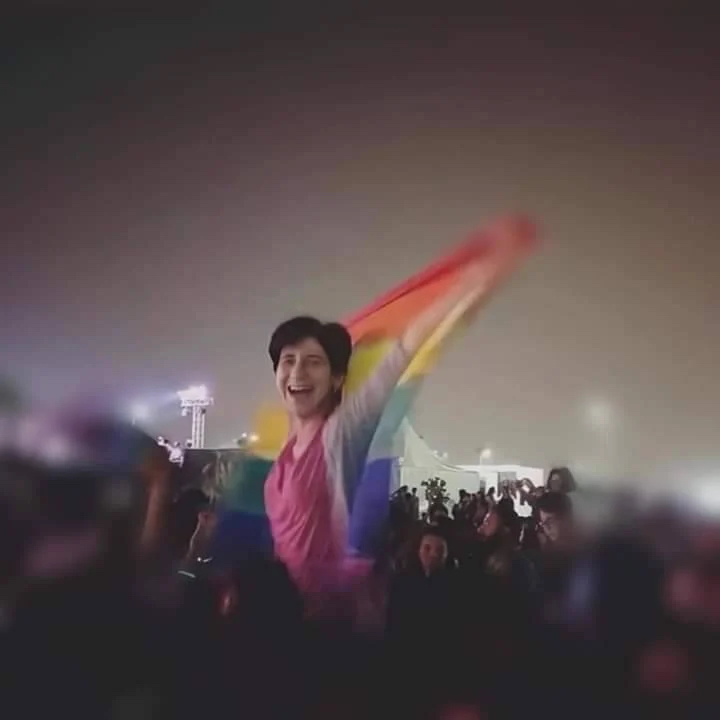 Sarah Hijazi, during the concert of Mashrou' Leila, in Cairo, Sept. 22, 2017. (Credit: Mashrou' Leila's Twitter profile)
Two years after the fallout from the Cairo concert shook fans and the LGBTQ community to their core, Mashrou' Leila found themselves banned from the Byblos International Festival in Beirut, following accusations by Christian organizations and politicians that some of the lyrics of their album "Ibn El Leil" promoted Satanism and insulted Christianity.
Ironically, during their first appearance at the Byblos Festival in 2010, Sinno unfurled a rainbow flag that was handed to him by a member of the audience in the first public display of a gay pride flag by an artist in Lebanon.
During that appearance, the band performed songs denouncing police brutality and political corruption while then-Prime Minister Saad Hariri was in attendance. No significant repercussions ensued.
A week before the 2019 festival, the Maronite Catholic Eparchy of Jbeil said the songs "undermine religious and human values [and] attack sacred symbols of Christianity." The Eparchy demanded a cancellation of the concert, while Facebook users threatened to stop the show by force, with some referring to themselves as "Soldiers of God."
Jounoud al-Rab (Soldiers of God) are still prominently active in their crusade against the LGBTQ community in Lebanon. During Pride month celebrations in June, they destroyed a billboard of flowers with the LGBTQ rainbow flag, which was set up by Beirut Pride in Sassine Square, Achrafieh, with the hashtag #LoveAlwaysBlooms.
Meanwhile, lawmakers in Jbeil urged the festival's organizers to pull the concert to "respect sanctities and morals."
Mashrou' Leila's concert was officially canceled "in an unprecedented move … to prevent bloodshed and preserve security," according to festival organizers.
When the band originally announced their participation in the festival, a four-year-old Facebook post suddenly started recirculating online. The post, which was shared by Sinno, featured an image with the face of pop star Madonna photoshopped onto a religious relic of the Virgin Mary. The post's reemergence ignited online harassment and death threats against the band.
"Suddenly, we were seeing religious organizations that are politically influenced, that are carrying guns … now acting as if they're being oppressed and persecuted because of a song? Walaw? Aayb [shame on them]," Sinno said in the Sarde interview, apparently still in disbelief.
"People were showing each other on Whatsapp and Facebook which guns they had to shoot at the crowd with, in case the concert would go through," Sinno added. "And I would never allow myself to put my public in danger, no one in the band would allow this, nor the Byblos Festival."
Although the definitive reasons for the ban were not explicitly mentioned at the time, Sinno said he's convinced the real reason behind the ban was a politically motivated vendetta due to his outspokenness on social media.
"I can assure you, four years after this, the scandal was not about what happened then, for sure. It was used as a justification," Sinno told the Sarde hosts, adding that he had been actively criticizing political figures on social media in the runup to the incident and suspects that one of them may have pushed for the crackdown on the band.

"I think it was more related to what I was saying on Facebook and what the band generally symbolized. Of course, it was not related to the songs."
Aya Majzoub, Human Rights Watch's researcher for Lebanon, told L'Orient Today, after reviewing some clips of the Sarde episode: "It's a really damning indicator of freedoms in the Middle East, that internationally renowned and prominent band Mashrou' Leila has cited the stressors of their work as a reason to stop producing music."
She added, "In multiple instances, over the last several years we've seen the Lebanese authorities fail to take any action to protect members of the band from violent threats that they were receiving on social media, but [they] acted very quickly in response to complaints by religious authorities and other powerful groups to silence the band."
Sinno also explained why he hadn't addressed details of the ban, and other issues, publicly before.
"Back then it wasn't the time," Sinno said. "I was afraid to say something that would eventually be harmful for the guys because I was in the US and they were [in Lebanon]."
However, Sinno told the Sarde hosts he now feels free to say that "even if they were insulting a religion, so what?"
"You have the right to believe in whatever you want and live the way you choose to, but you do not have the right to force me to live by your religion. I can criticize this," Sinno said. "Religion is a cultural attachment. It's a choice."
This story has been updated to reflect that band members of Mashrou' Leila declined to comment and to include comments posted by Sinno on Instagram. It has also been updated to clarify that Mashrou' Leila was formed by a group of AUB students, and is known today as the line-up of Hamed Sinno, Haig Papazian, Carl Gerges and Firas Abou Fakher.

Social media was aflutter with indignation and disappointment after several news outlets reported that Hamed Sinno, the lead singer of celebrated Lebanese indie band "Mashrou' Leila" had announced the band was disbanded.The announcement came Sunday night when Sinno appeared as a guest on the Lebanese podcast "Sarde After Dinner." However, a review of the interview found that the singer...