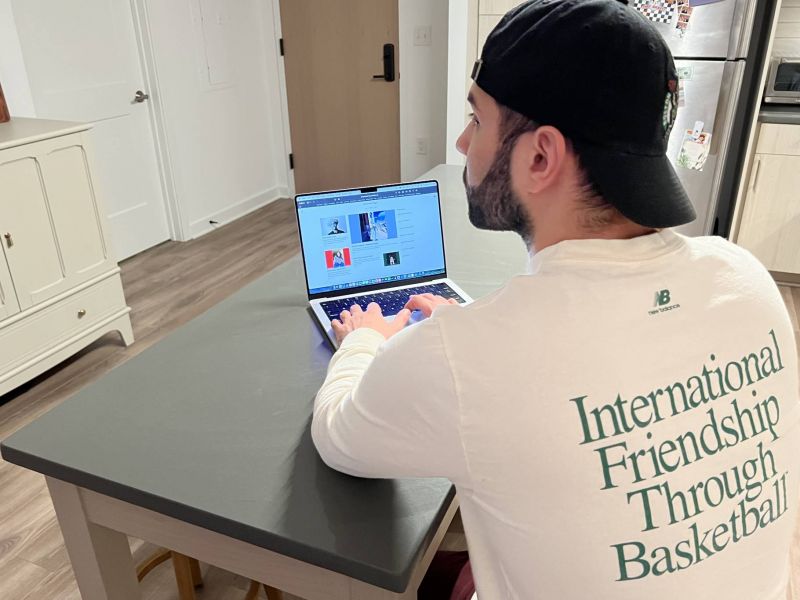 BEIRUT — Danny Hajjar remembers the day vividly: He had just woken up and thought to himself "I'm just going to do it." 'It' being the creation of a newsletter called Sa'alouni El Nas for and about the Middle East and North Africa region. While he initially intended to only focus the newsletter on music, the August 4 port blast that destroyed large swaths of Beirut, killed 218, injured around 7000 and displaced thousands more, shook Danny to his core.
Like any Lebanese, it was all he could think about. But Hajjar, a first-generation Lebanese-American who would often visit his homeland, wasn't in Lebanon at the time nor did he have the opportunity to take time off work to go be with his family. He had to find a different way to try and process what was happening.
"I think that was a moment which was surreal for me on multiple levels. Obviously, it was shocking to see something like that happen in a city that is considered home for me, one of my homes I should say, where my family lives. But the fact that it was not provoked, it was literally of the government's own doing, I just couldn't believe this was happening," Hajjar told L'Orient Today from Washington D.C., where the 31-year-old media relations professional currently lives.
He realized that in the weeks after the blast, he didn't want the attention being paid to his country to wane. "I know how these things go in the West, people will care for a couple of weeks and then that's it. And I didn't want that for Lebanon," he said. He created his newsletter "to continue sharing stories about what was going on in the country, what was going on with the aftermath of the blast, what people were doing on the ground to hold politicians and the government and the elites accountable."
After it dawned on him that for many people the blast unfortunately was their first brush with Lebanon, he thought to himself, "Could this be a way to say: look at all the other things that are happening in Lebanon? Of course everything that was happening in the aftermath of the blast but also all the other things that get no attention."
So, now that all eyes were on Lebanon, Hajjar set out trying to pay extra attention to cultural and human interest stories to include in the newsletter as well, in order to paint a holistic picture of the country and its people.
"This newsletter was a way to do my very small part in trying to help. I wanted to share stories about the blast, the kafala system, government corruption, but also about the Olympics and our athletes, music scene and films. I don't want this kind of xenophobic trope of a Middle Eastern country of 'Oh look at the poor Arabs they don't know any better, they're uncultured,'" he said.
"In the week after the blast I noticed stories started to die down, and I originally had been toying with this idea of creating a newsletter for a totally different purpose, more centered around music, but when the blast happened in Lebanon I just decided to combine the two ideas."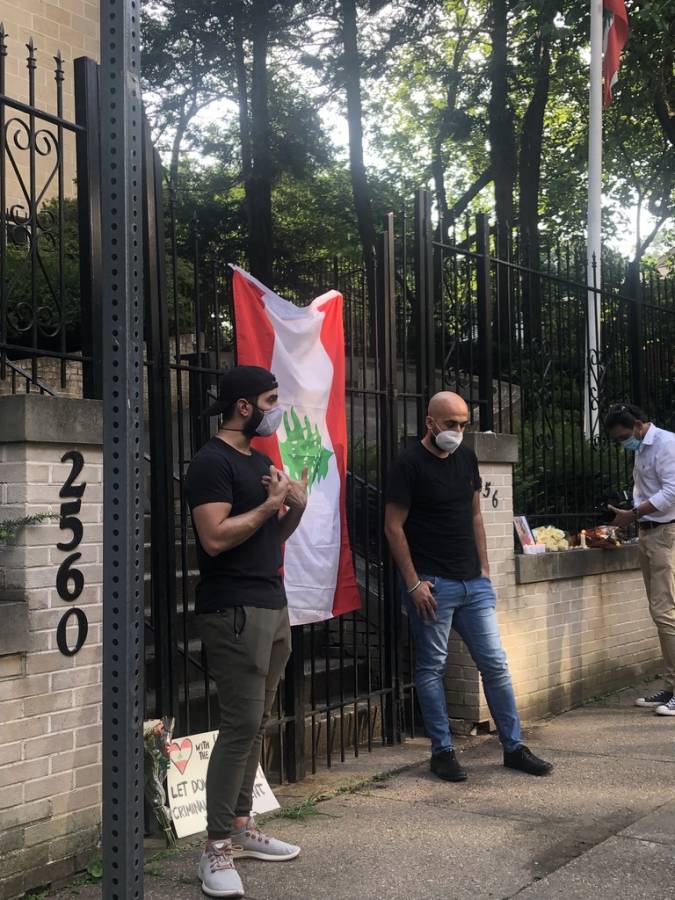 Danny Hajjar (l.) attends a vigil outside the Lebanese Embassy in Washington, D.C., in August 2020. (CREDIT: Photo courtesy of Danny Hajjar)
The original idea for the newsletter was to burst the Arab pop bubble and highlight genres in the region that tend to get overlooked by mainstream media instead.
"Look, I love Arab pop, please don't get me wrong. I understand the space that Arab pop inhabits and why it's important to our cultural fabric and our nostalgia, but there are also so many other genres and artists that are doing things that aren't the typical formulaic pop," Hajjar, who moonlights as a DJ and on Twitter describes himself as a "curator of vibes," says.
"I came up with the title Sa'alouni El Nas very randomly. I was just trying to think of a good song — the one thing that I knew I wanted was for it to be a song by a Lebanese artist and I felt this song really suited the newsletter."
"Sa'alouni El Nas" — "The People Asked Me" — is a quintessential song by Lebanese icon Fairouz. The title is very fitting, not only because the newsletter aims to introduce people to new songs, stories and personalities, but also because it invokes the feel of a digital sobhiye, a concept known to anyone in the Middle East, which involves sharing a morning coffee with a group of friends. More than that, it also entails a gossip session over a freshly brewed rakweh of Arabic coffee. Only the morning coffee is called a sobhiye, because it comes from the word sabah (morning).
The newsletter, which comes out every Friday morning, has a similar vibe, sharing the latest news and music and introducing people from all over the world with a shared culture, language and, on many levels, identity. It's also created in a way that asks people to engage with it, when it's shared on social media, which people love to do. Usually, when the newsletter is shared, it leads to a long comment thread in which people discuss its content and express how they relate to it.
Guests that have appeared in the newsletter to answer five song-related questions, which give us a glimpse into their personality, include Lebanon researcher for Human Rights Watch Aya Mazjoub, Iraqi multi-hyphenate artist Yassin "Narcy" Alsalman, Palestinian-Panamanian tatreez (Palestinian embroidery) expert and Adabiyat podcast co-host, Lina Barkawi, Palestinian-American Ahmad A., the man behind official Apple Music Curators BLAD and Norf, world-renowned chefs Tala Bashmi (who is Bahraini) and Reem Assil (who is Palestinian-Syrian American) and Egyptian writer and journalist Bahira Amin.
The playlists that Hajjar shares every week, which he divides into the categories "Flows by Middle Eastern, North African, & Diaspora Artists", "Vibes by Latinx & Hispanic Artists" and "Other Good Music" contain everything from North-African hip-hop, which includes elements of the Black Sufi tradition, to beloved Mariah Carey classics that many of his guests have proudly admitted knowing all the words to.
Hajjar says that he sometimes worries that the newsletter might come off as tone-deaf, talking about music and art, and highlighting other things in the region when there's so much pain and tragedy. "Like, I'm sitting here tweeting about music all the time, meanwhile people living in Lebanon are literally hostages in their own country and have their livelihoods taken away from them and so it might be insensitive?" However, Hajjar says he now thinks of the newsletter as a quick moment of levity. "We're all going through something, and I'm with you: I empathize and I'm in solidarity. But everyone deserves a moment of happiness, period. We all need that escapism, I know I do."
People from all over the world have responded to the newsletter and engaged with Sa'alouni El Nas in different ways. Often, complete strangers have reached out to Hajjar to let him know what the newsletter meant to them. The very day he sat down to speak with L'Orient Today, a Lebanese-American mother had written to him. "As a Lebanese-American myself I really appreciate everything you do for the community. It's so hard to raise kids and still keep them informed and embraced in our culture. I send them all of your music and they love it," she wrote.
Another Lebanese in the diaspora who believes Sa'alouni El Nas is so much more than a mere newsletter is Farah Bazzi, a Lebanese-Dutch PhD candidate in history at Stanford University. Farah randomly stumbled upon the newsletter on social media. "The newsletter was retweeted very often in my little Arab diaspora twitter bubble. As a lover of Fairouz's music, I loved the name and wanted to know more," she said. When she read the newsletter she remembers thinking that it was an absolutely brilliant way to share experiences and amplify voices of Arabs in the diaspora through common love for music.
"For me, music has been, in addition to food, the thing that connects me most to the place my parents come from. They connect me to a place and time I do not want to lose," Bazzi said.
What does such an initiative mean for the Lebanese diaspora in particular?
"While growing up in the Netherlands I was never surrounded by a big Lebanese or Arab community. Since I've moved to the States, things have been so different from what I had been used to. Danny's newsletter is definitely one of the initiatives that respects the diversity of experiences that unite us as a Lebanese and Arab global diaspora," Bazzi added.
Another diaspora Lebanese who has a particular affinity with Sa'alouni El Nas is Lebanese-American Farrah Berrou, a 34-year-old who works as an Ancient World wine buyer at a prominent Southern California wine shop and produces the Aanab zine and Wine Zine and the B for Bacchus podcast. Berrou was already following Hajjar on Twitter when he launched Sa'alouni El Nas. "Danny had always shared fun facts about music and sampling," she said.
Berrou believes that the sense of community the newsletter offers is its main appeal. "Seeing others like you out in the world and finding that familiarity and belonging — it's a need that is almost primal. There are many initiatives that focus on different subgroups of the global majority but, when it comes to ours, they tend to lean towards religion. That's fine and needed in its own way but I'd much rather be connected through common sensibilities," Berrou said.
"Our literal community is multifaceted so I want that to be reflected in the digital communities we're building. Our identities are not neatly defined. It's an online coffee shop or courtyard where we swap ideas and question the 'how?' and the 'why?'. Danny's newsletter is part of that too, just in smaller doses," the wine connoisseur added.
Berrou's main takeaways from the newsletters have been discovering music acts from the region she never knew of and staying plugged into the news from home (and around the world) in a concentrated way. "I can stay informed without doom-scrolling daily. The featured guests are a bonus because, like the music, I get to learn about different people who are like me but have their own obsessions. The degree of separation in our region is barely 0.5 and when Danny features someone, it's like being introduced to a friend of a friend," she said.
Highlighting the diversity of the MENA community, both inside and outside of the region, continues to be Hajjar's main motivation to continue his newsletter. Additionally, he says, he makes a conscious effort to connect people who might want to collaborate on a project, artistic or otherwise.
"Of course, I want people who have no affiliation to this region or identity to see how dope we really are but I also want to strengthen bonds within the community itself. If I know somebody who's doing something cool in Beirut similar to someone in Tunis or LA, then it's incumbent on me to connect these people," Hajjar said.
He also thinks the guest feature, in which a different person answers questions about their favorite music, is the perfect way to humanize people outside of their career, as people often try to maintain a professional image on social media.
"Regardless of people's jobs and activism, we all need to decompress and create a space for ourselves, and many of us tend to do that through music," he said.
Most importantly, says Hajjar, Sa'alouni El Nas is meant to uplift people in the community. Once he started approaching people to be included in the newsletter as guest features, he was amazed and humbled by the enthusiasm with which he was met. "Most people I approached were just people I thought were doing great things that I wanted to highlight," he said.
Although the thing that ultimately created a sense of urgency for him to actually create his newsletter was a terrible tragedy, Danny is glad that people could find some comfort in it. "This is what happens in tragedy too, it weirdly brings people together. And I love bringing my people together."
One paragraph in this article has been updated to clarify the attribution of information.

BEIRUT — Danny Hajjar remembers the day vividly: He had just woken up and thought to himself "I'm just going to do it." 'It' being the creation of a newsletter called Sa'alouni El Nas for and about the Middle East and North Africa region. While he initially intended to only focus the newsletter on music, the August 4 port blast that destroyed large swaths of Beirut, killed 218,...