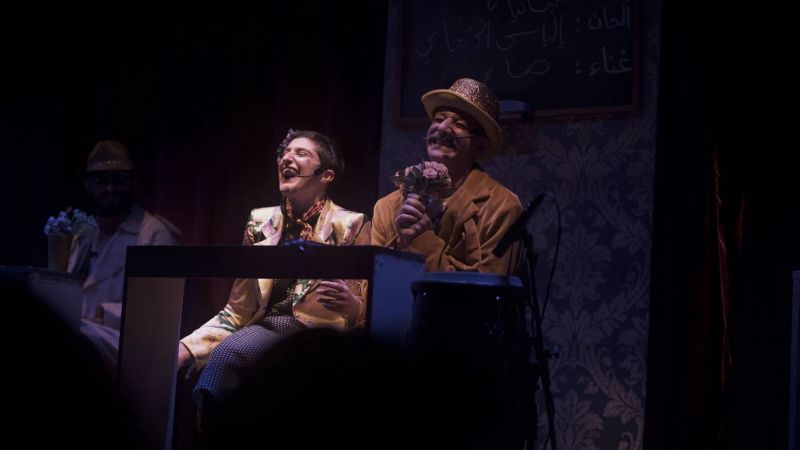 BEIRUT — The tabletop is just big enough for a QR code and a whiskey. It is wedged between a table of perhaps a dozen young women and the stage, a tight squeeze for waiters scurrying past with filled glasses. To give the staff a few extra centimeters, L'Orient Today has propped an elbow upon the stage — like an Électricité du Liban bill collector leaning out the window, awaiting his next workday.
It's a few minutes before the curtain, and the terraces of Metro al-Madina, capacity 150 souls, are full. The house includes women and men of various vintages, though most appear to be 40 or younger. Many have a drink in hand, but not all — the lady in a hijab at the next table, for instance.
Corona-induced chic persists here, with servers peering down from above surgical masks, and a handful of patrons blinking back from behind their own, though most are wearing their PPE on their sleeve.
This is the opening night of "Fawazir," the latest entertainment to arise from the mind of comedian Hisham Jaber. He founded Metro al-Madina in 2012 with the aim of reinventing Beirut's renowned cabaret tradition, which had declined during the civil war and reconstruction. In addition to various tasks that include arranging Arabic standards and writing and composing the troupe's new material, Jaber embodies Roberto Kobrosli. This on-stage persona, whose incisive wit is camouflaged by a childlike demeanor and a mild speech impediment, emcees many of Metro's shows.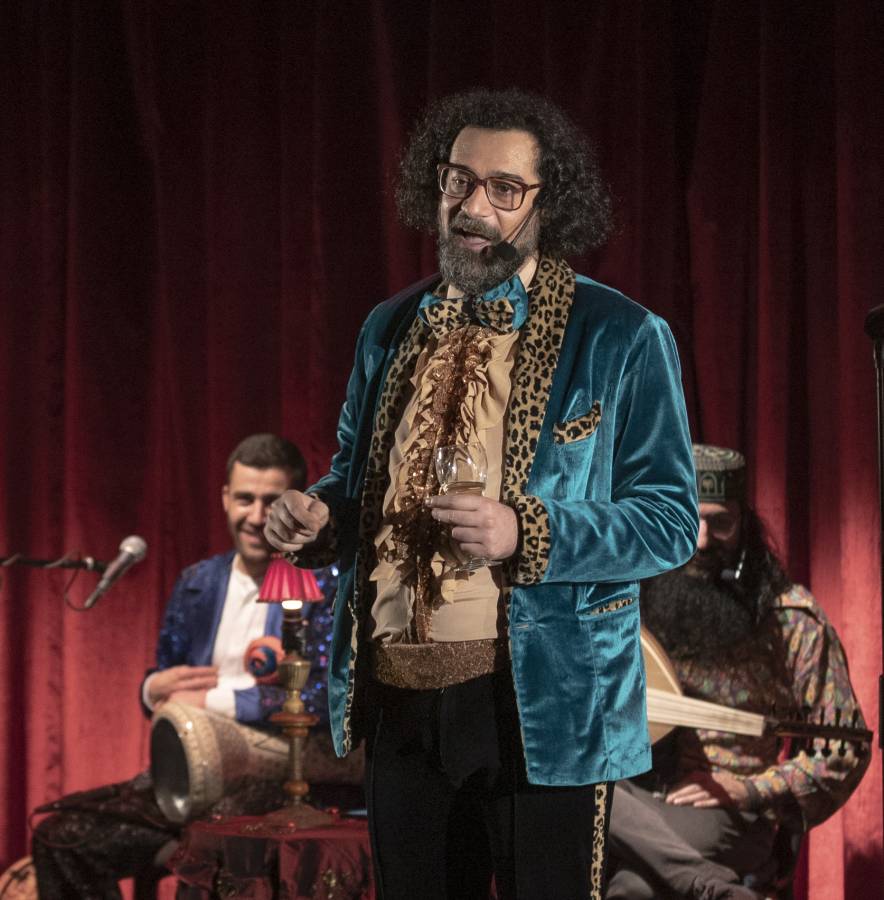 Roberto Kubrusli hosting Metro al-Madina's 10-year anniversary show in January. (Photo: Yara Bou Antoun)
A few hours before "Fawazir" opened, Jaber sat down to chat about working through Lebanon's overlapping crises — "Work without hope," he chuckles again — and Metro's plans for the uncertain future.
"When we reopened at the beginning of this year, it was good," he said, offering his pack of Luckys before lighting his own. "Usually nothing happens during Ramadan. I think this one was better."
When the Lebanese lira went belly up in 2020, Metro instituted a pay-what-you-can policy for its audience. When theaters were allowed to reopen after being forced to shut to contain the pandemic, the venue reduced its seating and imposed a mask mandate. With COVID numbers now declining, the theater is back to full capacity, but the troupe still wants to make the venue available for people impoverished by the financial collapse and bank theft.
"We have early-bird tickets that are half the fixed price. And we have ten free tickets per show, but you can't reserve those." He laughed. "You know, some people will see it's cheap, so they'll reserve, but won't come."
To broaden its audience base during the pandemic, Metro started working with the Dublin-based Syrian platform, Aratoc. As the venue staged its shows live for half-house audiences, Aratok streamed them internationally. Two years into the pandemic, the model has adjusted.
"After corona, audiences hate everything coming from this fucking machine," he slapped his phone. "The numbers dropped so much we stopped the online shows. Now we're trying to work with an online forum in Dubai. [The site manager] says that some of the audience there still prefers to watch in their homes. We already uploaded 'Bar Farouk.'"
"After the infijar [explosion] at the port, you could feel the trauma in the audience. They were here but not here," he said. But since the beginning of this year, when the dollar somewhat stabilized on the parallel market at an exchange rate of around LL20,000, "you could feel the audience come alive. People want to be alive again."
Metro was a strong backer of the popular demonstrations of 2019-20 against Lebanon's political regime, and Jaber isn't optimistic about impending legislative elections.
"There's a nice story about somebody who held a rally in Tripoli," he chuckled. "If you came, they said they'd pay you LL100,000 or something … When the guy didn't pay, the people took the chairs with them when they left.
"After the elections I think they'll fuck us," he said. "They'll impose capital controls. Everything will have to be paid in US dollars – telephone, internet, passports.
"We won't wait. We'll work. This is the best way forward. Keep working. Don't put yourself in this 'Let me wait' for fuck knows what. If you do, you'll wait your whole life. We're working and hoping for nothing. Work without hope," he laughed. "This is our new slogan."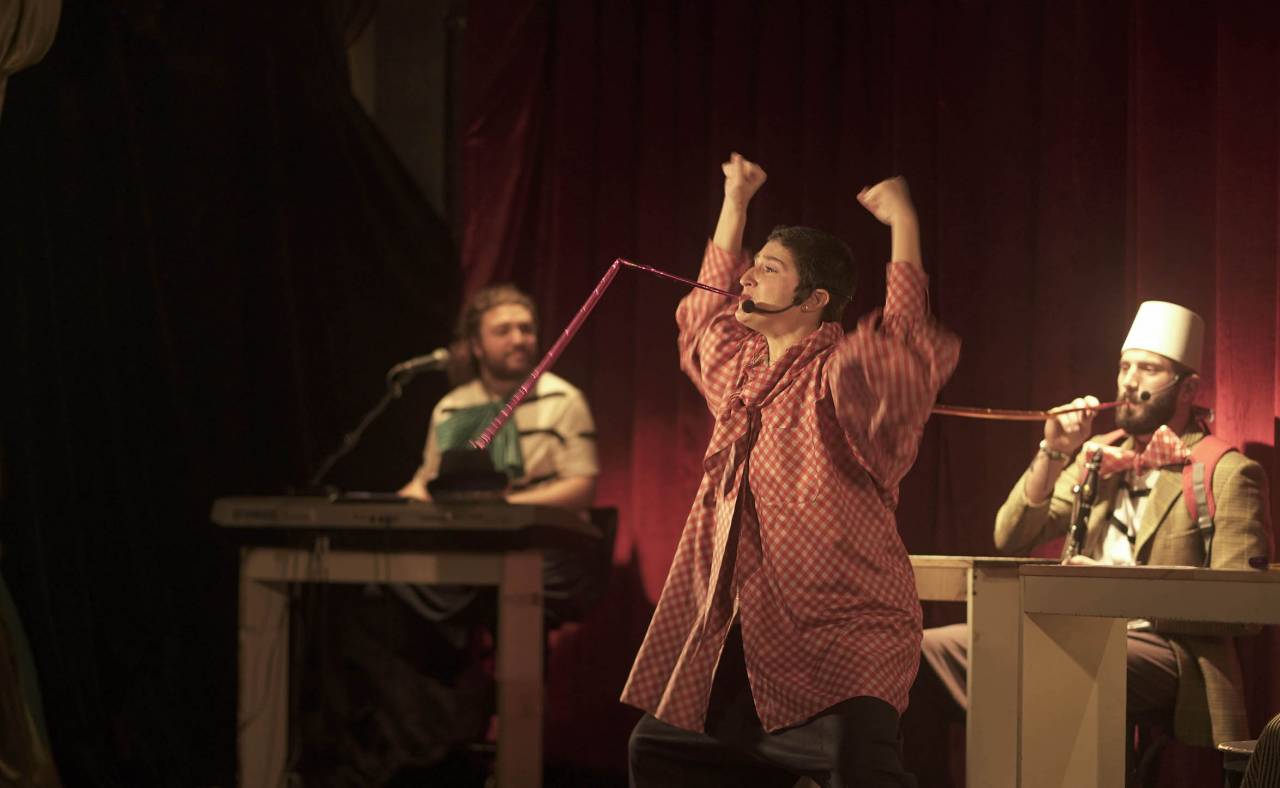 Yasmina Fayed, foreground, Nour Hamza, left, and Ali Kanbar, right, during the opening night performance of 'Fawazir,' April 28. (Credit: Marjane Shatila)
Metro's stock-in-trade is homegrown musical-comedy, and "Fawazir" is structured around a musical guessing game, with performers challenging the audience to predict what number they're going to perform next.
As the curtain rises on the clownishly costumed ensemble, vocalist Yasmina Fayed bounces up to a chalkboard and on the top line writes "Lebanese," in Arabic. Smiling, she then writes the name of composer Elias al-Rahbani on the second line and coaxes the audience to guess what's next. Several shout out suggestions and, much to Fayed's delight, someone guesses the right tune: "Alef bBoubeye," a much-loved tune from the old Lebanese TV series "Al Mouaalima wal Ostaz."
Cue a couple of hours worth of song, dance and laughter, with guessing game interludes.
"Fawazir" debuted April 28, just before Eid al-Fitr, so it is in a sense a Ramadan show. That said, Jaber insists it isn't really a Ramadan show.
"We're working on including all the great Lebanese and Egyptian [figures]," he said. These include critically minded balladeer Omar Zaani, born in 1895; Abou Salim, the best-known creation of comic actor Salah Tizani, born in 1928; actress and monologuist Thuraya Helmi, born in 1923; and singer-songwriter-actor Mohamed Fawzi, born in 1918. "They all have amusing stories and funny characters. It's fun, a little burlesque, a bit clown-like."
The Lebanese-Egyptian playlist of "Fawazir" is performed by Fayed and five other members of Metro's in-house band — Ziyad Al-Ahmadiyya (oud and vocals), Nour Hamza (keyboard and harmonica), Ayman Suleiman (drums) Ahmed Al-Khatib (percussion) and Ali Kanbar (clarinet).
As with all its shows, the troupe maximizes its tiny stage with a pair of more-miniature stages, upstage left and right, whose curtains are kept shut until a skit requires props (a café table, say, or a kitchen) and where video projections suggest various locations (a window looking over historic downtown Beirut, or a road receding from the back window of a moving car).
"Fawazir" shares many of the features of Metro's more successful shows – the record-holder so far being "Hishik Bishik," based on profane music of early 20th-century Egypt, which has been playing to full houses for nine years now.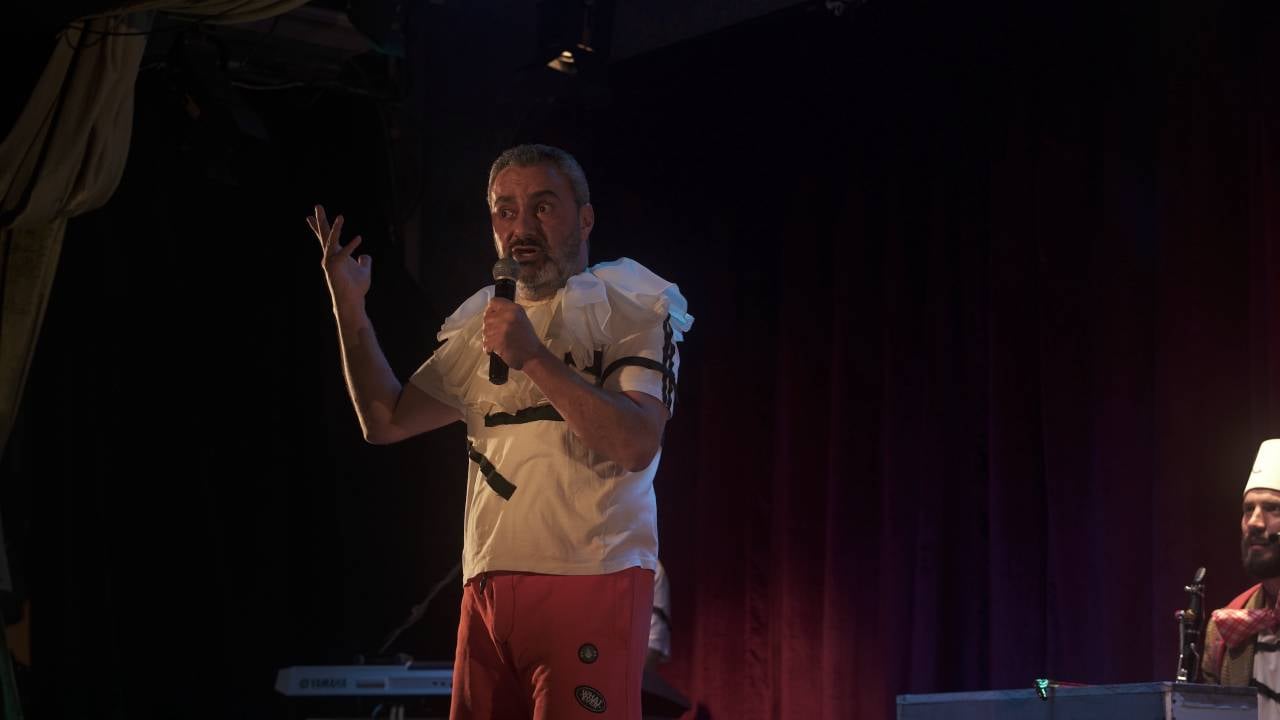 Ziyad Al-Ahmadiyya performs during the opening night performance of 'Fawazir,' April 28. (Credit: Marjane Shatila)
The show draws on tunes that local audiences have grown up hearing and stages them with a sense of humor that ranges from irreverent to silly — a combination that alternatively prompts the audience to sing along or to collapse into gales of laughter. Its cast is drawn from a seasoned ensemble of in-house talent, shameless clowns and talented musicians both, several of whom have been with Metro since its launch in 2012.
Ahmadiyya and Khatib are central pillars of the band's ensemble and solo performances, and "Fawazir" takes considerable momentum from Fayed's nimble vocals and comic antics — one minute exuberantly bounding across the stage mid-verse, the next performing an array of hilarious caricatures.
Since the crisis began, particularly after the port blast, Lebanon has witnessed a substantial brain drain, including many of its artists and cultural workers. Metro has lost some of its seasoned performers, but most remain.
"Samah [Abi el-Mona, accordionist and vocalist] and his family are now in Italy – but he's in Beirut now, so he's doing 'Hishik Bishik' with us," Jaber said. "There's also [vocalist] Elie Rizkallah, who's between here and France. All the others are still here."
He chuckled, "None of the others can leave now. They stopped making passports."
Though the core of Metro's troupe remains intact, Jaber & Co are working to bolster their ranks with a new in-house talent incubator, Al-Mehania.
"We started the academy two months ago," he said. "We have seven performers in the making, aged 16 to 30 years old, selected from three castings of over 100 candidates."
Metro al-Mehania aims to train its candidates in the skills needed to become all-round performers, attaining professional competence in their specialities, instrumental or vocal, as well as musical composition and arrangement following both Western and Eastern music theory, solo and ensemble performance, acting, body movement and gesture, dancing, clowning, circus performance and puppetry.
After nine months of hands-on instruction and workshops, the candidates commit to nine months of performance with the Metro ensemble.
"We'll do a show with them, which they'll perform over the next year. Then we'll select more candidates for the next round of training," Jaber said. "The academy is taking a lot of time and this is great. Now it's time to work, to build. I think the academy is a great long-term project that can grow ... You feel already that you're doing something positive."
Egyptian popular music from various periods has inspired some of Metro's most popular shows but Jaber also finds inspiration from Lebanon's cultural history. For some time now he and his collaborators have been preparing a major show set on Al-Mutanabbi Street, in historic Beirut's once-famed red light district.
"In Baghdad, Al-Mutanabbi is the book street," he chuckled. "In Beirut, it was the street of prostitutes."
Jaber said the three principal characters are women, all prostitutes, but that with other actors, dancers and musicians, the show many need as many as 26 onstage performers.
"Each of the three has her own story. You follow their stories — and with them details of how everything was at that time, with all the laws, other characters, etc. Then you have a continuing story about the padrona [madame] they work for.
"Like all my work, the characters are a mix of real figures and fiction. The padrona, Athena, is a fictional character based on a historical figure, Marika [Spiridon]. We're not making a documentary. We hear a lot about Athena but we never see her. We just have a feeling of her.
"It's a big show," Jaber mused. "Maybe we need a bigger stage."

BEIRUT — The tabletop is just big enough for a QR code and a whiskey. It is wedged between a table of perhaps a dozen young women and the stage, a tight squeeze for waiters scurrying past with filled glasses. To give the staff a few extra centimeters, L'Orient Today has propped an elbow upon the stage — like an Électricité du Liban bill collector leaning out the window, awaiting his next...