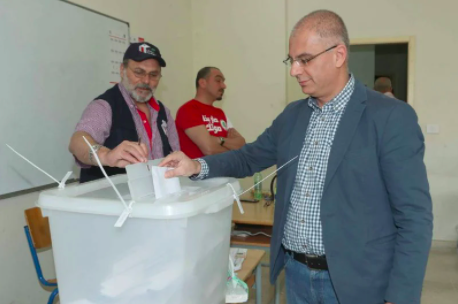 North Lebanon III is the constituency where the upcoming electoral battle promises to be particularly fierce, especially since it is in this predominantly Christian area that the future of Christian leadership will be decided, and perhaps the succession of President Michel Aoun, whose six-year term ends in October.
The competition will thus pit the main Christian parties, which are the Lebanese Forces and the Free Patriotic Movement, against one another, as well as the traditional politicians. The groups emanating from the Oct. 17, 2019 protest movement have joined this political chessboard as well.
The concerned forces
It is in this set of four districts (Batroun, Koura, Bcharre, Zgharta) where 10 seats are to be filled (seven Maronite and three Greek Orthodox) that the two main Christian political leaders, Samir Geagea (through the LF, since he is not a candidate himself) and Gebran Bassil, must wage their most important battle.
The head of the Marada movement, Sleiman Frangieh, a third important Maronite leader, is also a presidential candidate. These three main protagonists must keep an eye on a strong alliance, formed by the independent candidate Michel Moawad, the Kataeb and Majd Harb, the son of former MP Boutros Harb.
The Syrian Social Nationalist Party (SSNP), which is divided in two wings, is another component of this electoral chessboard in North Lebanon III. Shamaluna, an alliance of groups stemming from the protest movement, a fifth player, will also fight the electoral battle in hopes of achieving a breakthrough.
Yet, there are two other lists, backed by thawra (revolution) groups, that are also running, which may reduce their chances of securing a seat in Parliament.
From 2018 to 2022
In the previous elections, Bassil secured three of the 10 seats, as did Geagea and Frangieh. The 10th seat went to the SSNP, an ally of Frangieh at the time. This year, the "Strong Lebanon" bloc must fight to keep two of its seats, as it lost the third that was held by Moawad along the way.
The latter exited the FPM's parliamentary group, before resigning from Parliament in the wake of the Aug. 4, 2020, Beirut port explosion.
Moawad's alliance with the Aounists allowed him to be elected in 2018 with 8,571 preferential votes in Zgharta, where the Marada Movement has long monopolized parliamentary representation. Today, he is in the opposition camp and is leading the battle alongside Kataeb and Harb.
"The Kataeb had to support Harb and to withdraw their candidate (Samer Saadeh) so that we could win the battle in Batroun, against a Christian figure who provides cover for Hezbollah's weapons," a source close to Moawad told L'Orient-Le Jour.
From 2018 to 2022, Bassil also lost an important ally: former Prime Minister Saad Hariri, who suspended his political career.
In 2018, the Aounists took advantage of their alliance with Hariri'sFuture Movement to bring their leader, Bassil, to Parliament. Bassil (who had lost in the 2005 and 2009 elections) obtained the highest vote share, after being credited with 12,269 votes.
Therefore, the Sunni abstention this year could serve as a major obstacle in the May elections, knowing that the Sunni voters (57 percent) in Koura had increased the electoral threshold of the Aounist-Haririst list in 2018.
These two major losses left the Aounists with no choice but to ally with the SSNP, which is deeply shaken by internal divisions. Hezbollah applied strong pressure in a bid to unify the ranks of Antoun Saadeh's party, to the advantage of the FPM, but to no avail.
The FPM list includes Walid Azar, a candidate for one of the Greek-Orthodox seats in Koura, a choice that was reportedly made due to Hezbollah pressure. Several sources told L'Orient-Le Jour that Azar is close to Rabih Banat, a SSNP leading figure hostile to Asaad Hardan, MP for Marjayoun and SSNP president. For his part, Hardan's wing is allied to Frangieh as in 2018.
The SSNP-Marada alliance along with Boutros Harb had back then allowed this list to win four seats: in Zgharta, Tony Frangieh (11,407 votes) and Estephan Douaihy (5,435 votes). In Koura, Fayez Ghosn (4,224 votes) and Salim Saadeh (5 263 votes). A few months after the death of Ghosn in November, his brother Fady Ghosn joined the list supported by Marada. Ditto for Salim Saadeh.
"Despite the internal rifts within the SSNP Saadeh wanted to join us so as to maintain our traditional alliance," Tony Frangieh, MP for Zgharta, told L'Orient-Le Jour.
Key issues
The weight of the expats: The largest number of expats registered to vote is found in the North III electoral district. They are nearly 26,682, up from 11,245 in 2018.
"This time, the expatriates' vote is a game-changer, especially if they vote in masses for the same list," an expert said. He added that this could increase the electoral threshold.
"But the fact that there are multiple opposition lists could drop it, which could benefit the traditional parties," said Kamal Richa, a journalist and electoral expert from Batroun.
Commenting on the diaspora vote, he said that "more than 40 percent of the expatriates are close to the LF, which poses a threat to the FPM."
In 2018, Moawad alone had obtained 32 percent of votes abroad. "This time, Michel Moawad and his list will get two seats [including that of Moawad himself], against one for the FPM and three for the Marada, especially thanks to William Tawk [4,649 votes in 2018]," said Richa, who anticipated that Geagea would be challenged in his fiefdom.
"The LF's battle is in Batroun, where they want to score points against Gebran Bassil," he said.
The race to Baabda: the North III constituency is where the future of the Christian leadership will be decided, and even the profile of the future head of state.
The strong rivalry between the Maronite heavyweights in this electoral district has made it difficult to form any kind of alliance. Even between two former "friends," such as the FPM and Marada, the strong pressure placed on them by their common ally, Hezbollah.
"We received a proposal for an alliance with Gebran Bassil through William Tawk [brother of Myriam Skaff, head of the Popular Block in Zahle], to be part of our list. But, we refused, because it is impossible for us to support Bassil in the next presidential elections, and Hezbollah is aware of that," a senior Marada official told L'Orient-Le Jour.
"We are willing to reconcile with everyone, including the Marada," said Sayed Younes, head of the FPM electoral machine. "However, there was no mention of an electoral alliance," he said.
---
The competing lists

1. We Will Stay Here: Free Patriotic Movement + (the Rabih Banat wing of the) Syrian Social Nationalist Party
Batroun: Gebran Bassil; Walid Harb
Koura: George Atallah; Walid Azar; Ghassan Karam
Bcharre: Toni Matta
Zghorta: Pierre Raffoul
2. The North of the Confrontation: Kataeb + Michel Moawad + Majd Harb + a part of the protest movement's groups
Batroun: Majd Harb; Joelle Howeik
Koura: Emile Fayad; Adib Abdelmassih; Bridgette Khayr
Bcharre: Rachid Rahmeh
Zghorta: Tony Mardini; Michel Moawad; Jawad Boulos.
3. Shamaluna: Protest movement + National Bloc
Batroun: Rabih Shaer; Layal Bou Moussa
Koura: Fadwa Nassif; Jihad Farah; Simon Bachawati
Bcharre: Koshaya Sassine; Riad Tawk
Zghorta: Chaden Daif; Michel Chawki Douaihy; Gistelle Semaan
4. We Can Change: Citizens in a State of Charbel Nahas and the Lebanese Communist Party
Batroun: Jean Khayrallah
Koura: Anis Nehme; Zeina Nabtis; Bassem Sneij
Bcharre: Marie-Joe Matar
Zghorta: Maroun Mahfoud.
5. Unity of the North: Marada + (Asaad Hardan's wing) of the PSNP
Batroun: Joseph Najm
Koura: Fadi Ghosn; Salim Saadeh
Bcharre: Melhem (William) Tawk; Roy Issa el-Khoury
Zghorta: Carole Dahdah; Tony Frangieh,Estefan Douaihy
6. The Pulse of the Strong Republic: LF + independents
Batroun: Ghayath Yazbeck; Layal Nehme
Koura: Fadi Karam; Sami Rihana; Rami Saloum
Bcharre: Sethrida Tawk (Geagea); Joseph Ishac
Zghorta: Maguy Tobia; Fouad Boulos; Mikhael Douaihy
7. Awaken Your Voice: Protest movement
Batroun: Myrna Khoury-Hanna
Koura: Mousa Louka; Bassam Ghantous
Bcharre: George Butros
Zghorta: Antoine Yammine
---
Datasheet

Four districts: Batroun, Koura, Bcharre, Zghorta
10 seats to win: seven Maronites and three Greek-Orthodox
Number of registered voters: 258,376
Voters' sectarian distribution: 65 percent Maronites, 20 percent Greek-Orthodox, 10 percent Sunnis, 2 percent Greek-Catholics, 1 percent Shiite, 1 other
Electoral threshold in 2018: 10 percent of the votes, or 11,782 votes

This article was originally published in French in L'Orient-Le Jour.

North Lebanon III is the constituency where the upcoming electoral battle promises to be particularly fierce, especially since it is in this predominantly Christian area that the future of Christian leadership will be decided, and perhaps the succession of President Michel Aoun, whose six-year term ends in October.The competition will thus pit the main Christian parties, which are the Lebanese...