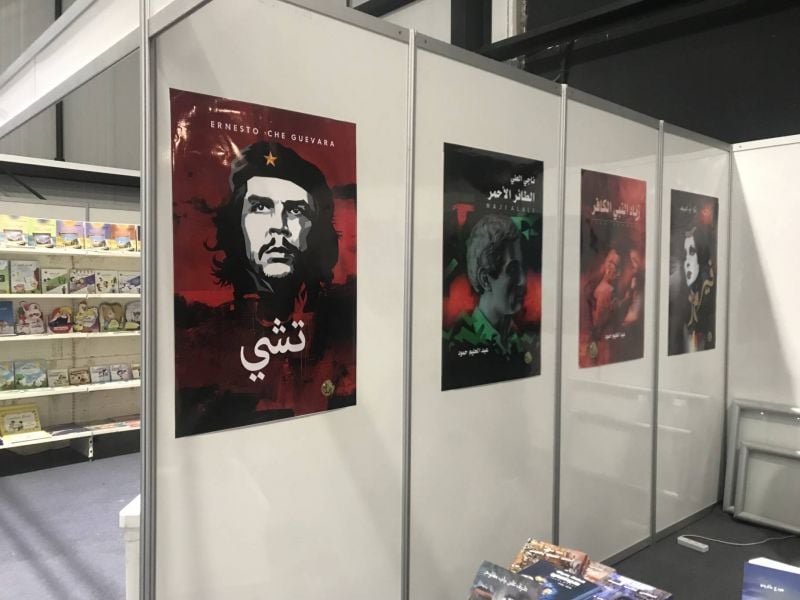 BEIRUT — After a three-year absence, the 63rd iteration of the Beirut International and Arab Book Fair has returned on a decidedly smaller scale and with a certain joylessness. While previous editions had a more diverse flair, both in quality and quantity of book titles and atmosphere, this year's is noticeably more somber — perhaps a reflection of the state of the country.

The fair, which takes place at the Seaside Arena Exhibition Hall at the Beirut Waterfront, previously and still commonly known as BIEL, was inaugurated on Thursday evening, with an address by Prime Minister Najib Mikati and chairperson of the Arab Culture Club Salwa Siniora Baassiri, and attended by former Prime Minister Fouad Siniora and MP Mohammed Hajjar representing former Prime Minister Saad Hariri.
During his speech, Mikati said that "challenges do not intimidate us, but render us more determined to confront and resolve difficulties," stressing that "it is not new for Beirut to embrace the Arab book, as it was and still is the capital of Arab culture, and it was the starting point of the revolutions, and the starting point of the intellectual revolutions in the Arab world."
However, Mikati's words rang eerily empty in a place that no longer seemed to do justice to Beirut's reputation as the capital of Arab culture. It also seemed gratuitous for the president of the severely struggling country, a prominent member of its widely reviled ruling class, to refer to revolutions, intellectual or otherwise — and for a known billionaire who heads a government that is notoriously inept, to speak about not being intimidated by challenges.
According to Fadi Tamim, co-organizer of the event and its public relations officer, the current book fair boasts far fewer stands than usual as the Seaside Arena was heavily damaged by the Beirut port explosion in August 2020, reducing its exhibition space to less than half. However, the way both the space and the fair is organized feels detached and hurried. Book fairs are supposed to be buzzing with the kind of enthusiastic energy that can only come from the joy of serendipitously stumbling upon a beautiful edition of a beloved book or seeing children shriek with delight at the thought of being allowed to pick a book.
"It's the saddest thing," says the woman managing the stand at "Le Phenicie", a children's book store that specializes in French and Arabic books. "To see children enthusiastically pick out a book only to be told by their mom or dad that they can't take it home with them after they find out the price."
The fair itself is organized in such a way that the publishers and bookstores exhibiting and selling similar material are stationed closest to each other. Some sections entail kids' books and entertainment, others sell books in foreign languages — mainly English and French — while a significantly larger portion of the exhibition center displays more religiously and politically charged reading materials.
Some booksellers and visitors commented on the prominent presence of Iran, which, aside from Ukraine, was the only country with its own stand. "It's a reflection of the country as a whole, Iran has taken over this book fair, just like it has taken control over Lebanon," one visitor told L'Orient Today.
However, Hussein Khazali, a Lebanese manning the Iran stand, laughed off this notion. "This is one of the main problems in this country, everything is made into a political issue."
Khazali says there's a very logical explanation for Iran choosing to have a stand at the fair: the majority of publishers of religious books in Lebanon are now Shiite, and Iran is one of their biggest markets.
Although, aside from texts about religion, most books displayed are about the history and politics of Iran and the Shiites, Khazali gets the most excited when he speaks about the poetry of Hafez, who he believes is "the greatest poet that ever lived." So, if not for political reasons, why is he spending this week manning the Iran stand? "To share my love of books with visitors. In the words of Imam Ali, peace be upon him, 'Books are the gardens of scholars.'"
Though a sense of solemnity pervaded the whole atmosphere, the collections of available books and other products at the fair are fascinatingly and sometimes hilariously ecclectic, ranging from cheesy Arabic romance novels from the '60s to Imad Mughniyeh-themed agendas., Several stalls are dotted with the same old English-language paperbacks you'd find someone reading at an airport lounge and an astonishing number of stalls did not shy away from showing their not-so-silent pro-Palestinian support through books, art, pictures and even Palestinian flags.
The latter reveals a connection that goes back to the festival's politically activist roots. As Zeina Maasri mentions in her book Cosmopolitan Radicalism The Visual Politics of Beiruts Global Sixties, the fair, now a reputable trans-national annual fixture in Beirut's calendar of cultural events, was initiated in a moment of crisis by the Arab National Movement, a militant group of Arab nationalist students at the American University of Beirut that developed as an important political movement in the 1950s and 1960s, absorbing into its ranks students from Lebanon, Syria and Jordan who were politically mobilized in the aftermath of the Palestinian nakba (catastrophe) in 1948.
Even the presence of so many religious texts is in line with the fair's more humble beginnings, which becomes clear in Maasri's analysis of Helmi el-Touni's poster design for the 1974 fair, which to this day remains the fair's main emblem. The poster, which features an illustration of a seated couple, man and woman, in affectionate embrace, with an open book shared on their lap, "displaces European discourses of modernity from 'Western' mooring and re-articulates its codes within Arab nationalist narratives and processes of artistic decolonization."
The aesthetic soberness of the fair is also a clear reflection of the financial struggles that plague the country and its citizens. L'Orient Today spoke to several vendors who confirmed that 1 sqm of space cost them $10 and an additional 11 percent in VAT. One of the vendors mentioned that the prices for space at the book fair have plummeted in comparison to previous years, as the economic crisis in Lebanon exponentially worsens.
"This year, [the organizers] offered local book shops and vendors lower prices; otherwise, many of us wouldn't have the means to participate in this fair. It would've been way to0 expensive for us [to take part]," he explained.
But while the price offered as an incentive might seem lower than the pre-crisis price of $100 dollar per square meter, $11 is now more expensive in Lebanese lira than $100 was due to the lira's parallel market deviation from its official peg to the US dollar over the past two years. Additionally, many books are being sold at very discounted prices, which means the overall profit is barely worth a presence at the stand.
However, some vendors look beyond profits and numbers. The revolutionary spirit Mikati referred to in his opening speech is in fact palpable among some vendors.
"The revolution is not just fighting the state at the majlis. It's also this, resisting the cultural collapse by just being there. Trying our best to stay afloat under the current conditions," says Johnny Ahwach, whose uncle owns Hamra's Bissan bookstore and publishing house, which has been present at the book fair since the store opened 30 years ago.
"We're sharing our bread with the people, piece by piece," Ahwah added, referring to the fact that Bissan is offering a 50 percent discount on all its books. "Ultimately, this is about our passion for books. Of course we want our store to survive, times are hard, in the past 10 years, 30 bookstores closed their doors just in Hamra. But mostly we just want people to keep reading."
Marie Therese Abou Jaoude, sister of Aboudi Abou Jaoude, owner of the al-Furat publishing house and bookshop, and famous for his collection of vintage film posters, has been coming to fair for 40 years and has thus had a front row seat at the loss of its charm and vivacious spirit.
"I remember when the fair was held at the Ministry of Tourism, it used to be so busy we wouldn't even have time to eat or go to the bathroom. We would sell enough during the fair to survive the rest of the year!, " Abou Jaoude says.
"It's not just the current economic crisis, although obviously that plays a large part," she adds. "But it's the whole culture that has changed. Not only are there less passionate readers, but we have less and less Lebanese authors who write in Arabic."
Al-Furat stopped publishing three years ago and has recently started selling books and posters online to appeal to a larger and, possibly, younger crowd.
However, while beloved old bookstores struggle to keep up with the changing times, young book lovers are determined to find new ways to reach audiences and promote local artists and writers.
Anthony and Leila, a young couple in their early 20s have recently opened up an online bookshop called Picky Book, which offers new books in Arabic, English and French. Their main selling point is that they offer a flat delivery fee of LL25,000 (and LL35,000 for Tripoli). Although this is just a passion project for now, in the near future they hope to buy an old Volkswagen camper to convert into a mobile library. "We envision parking the Volkswagen somewhere in nature, put out some chairs and tables, and offer coffee and snacks, so people can read a book and relax," Anthony says.
On the other side of the fair, Fatima al-Shami greets people with an infectious smile at the one of the coziest stands at the fair, Dar Al-Mawadda. The publishing house, located in Beirut's southern suburbs, specializes in Islamic books and artworks like many others at the fair. However, what makes it stand out is the focus on hyperlocal production and clientele. All books, posters and other products are written and designed by southern suburb locals. Dar Al-Mawadda has published 60 local books since 2015.
Despite the 80 percent discount the publisher is offering at the fair, to encourage people to buy themselves or others a gift, Shami says that it makes her sad to see how many still cannot afford to buy a book. "But if they just want to browse through them and talk to me about books, that's fine too. All I want is to see people smile."
The Beirut Arab and International Book Fair is open to the public daily from 10 a.m. until 8 p.m. until March 13. Entry is free of charge.
With additional reporting by Kim Makhlouf

BEIRUT — After a three-year absence, the 63rd iteration of the Beirut International and Arab Book Fair has returned on a decidedly smaller scale and with a certain joylessness. While previous editions had a more diverse flair, both in quality and quantity of book titles and atmosphere, this year's is noticeably more somber — perhaps a reflection of the state of the country.The fair, which...