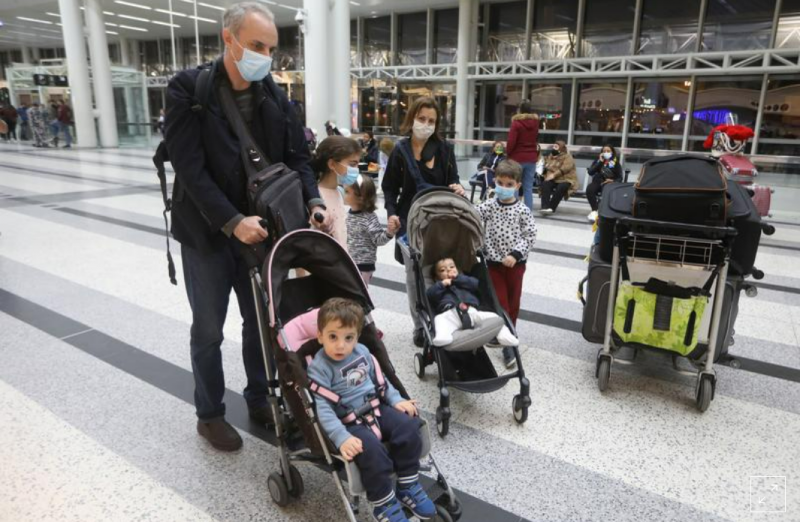 BEIRUT — "The maternity leave length was not enough, as I had to go back to work while my baby was still breastfeeding and needed his mother around him," said Lara Fayyad, the mother of a 10-month-old son.
Like most Lebanese women, her paid maternity leave ended 10 weeks after he was born, and she said, "Putting a small baby in a daycare during a pandemic is a crazy idea that I couldn't indulge."
As an only child, Fayyad does not have siblings to help with child care, nor can she rely on her mother or mother-in-law who are "too old to be bothered by such a huge responsibility," she said.
When asked whether he was able to contribute in caregiving when his wife had to return to work, Fayyad's husband, Daniel looked astonished.
"Are you kidding me? I had only one day off from work after Lara gave birth, and since I work from 8 a.m. until 6 p.m., I barely get to bond with my child. We need a new paternity leave law."
Lara took 15 days unpaid days off after her maternity leave was done and registered her then 3-month-old son in a daycare.
In an attempt to alleviate the difficulties new parents are faced with, the Arab Institute for Women (AiW) at the Lebanese American University (LAU) began working with private companies, NGOs and other stakeholders to review parental leave policies and develop a draft law, which was submitted to Parliament last May.
The draft law would require companies to give mothers 15 weeks off from work after giving birth and 10 days off for fathers. In the meantime, LAU announced that it will voluntarily apply these standards as of March 2022.
"We managed to push for amendments on the level of our own institution and we tried to communicate the law amendments to the government through the National Commission for Lebanese Women," said AiW director Myriam Sfeir.
For its part, NCLW was able to find seven MPs — Chamel Roukoz, Jean Talouzian, Jamil al-Sayyed, Georges Okaiss, Michel Moussa, Alain Aoun and Elias Bou Saab — to sponsor the law proposal. But it has not yet been discussed in committee, said Sfeir.
"However, the proposed law amendments are not ideal," Sfeir acknowledged. The aim was to create a draft that has a realistic chance of passing through the Parliament, she said, "and once it passes we can add further amendments."
Mandatory maternity leave was added to Lebanon's Labor Code in 1994 and, at the time, gave women the right to take seven paid weeks off from work after giving birth, which was later extended to 10 weeks in 2014. The International Labor Organization recommends the duration to be 14 weeks or more.
Fathers do not get any mandated days off from work. However, usually companies' internal policies allow men to take one day off following their baby's birth, according to Zeina El Helou, a researcher and development consultant who has worked on research related to the issue.
Limitations of the current law
The current Lebanese Labor Code is discriminatory, said Helou.
"Giving mothers rather than [both] parents a leave of absence, reinforces the notion that giving birth is a physical or biological condition for women rather than a social event," she said, adding that enforcing only maternity leave suggests that "having a child is a woman's problem."
In other countries, parents are entitled to a leave of absence even if they adopt a child, so parental leave is not perceived as a purely biological issue, Helou pointed out.
Furthermore, in Lebanon the Labor Code excludes certain categories of workers, including domestic and agricultural workers, civil servants, and all those working without an employment contract.
"Women in the formal sector do not constitute more than 25 percent of the labor force, thus most women are either unemployed or work in the informal sector. Given that workers in the informal sector do not sign contracts, [many] women are not entitled to a leave," said Helou.
Some women in the education sector are even required to sign a pledge promising that they will not get pregnant during a school year and, in some cases, those who give birth while school is in session have a shortened maternity leave, said Carmel Abu Mona, a private school teacher in Lebanon who had this experience.
"Teachers are thus forced to time their due date in the summer season," she said.
Is the proposed law amendment enough?
In 1997 the Lebanese state signed and ratified the 1981 Convention on the Elimination of All Forms of Discrimination against Women (CEDAW), which lays out women's social, economic, political, and civil rights, and stipulates non-discrimination and gender equality. According to CEDAW, the minimum maternity leave should be 15 weeks, so Lebnon's Labor Code should be amended to comply with it, said NCLW Executive Board Member and lawyer Maya Zaghrini. The draft law currently before Parliament would do so and would also add an article to give men parental leave.
The law proposal would also introduce seven days a year of leave for parents whose children are sick, and it adds an article that requires companies with more than 50 employees to open internal daycares.
"We even added a breastfeeding break along with a necessity to make special rooms in workplaces that include more than 15 employees," Zaghrini said.
The proposal has its critics, however; Helou argued that creating a paternity leave that is not equal in duration to the maternity leave is discriminatory. Giving women 15 weeks off while men receive a leave of 10 days reinforces gender roles and portrays mothers as primary caregivers while men's duty is only to support, she said.
"This is the best we can do. We couldn't go for a one-year parental leave, half of which is fully paid and the second six months partially paid, like what is applied in Germany, because of the economic crisis. We can amend the law later on if it gets approved," Zaghrini said.
Sfeir noted that many Lebanese parents used to rely on help from domestic workers in child care, but since the economic crisis many have been unable to afford paying for such services and have had to divide household and parenting responsibilities between them.
Lara Fayyad, the new mother, told L'Orient Today that, given this reality, men and women today should work hand-in-hand in parenting and housekeeping.
"What I'm trying to say is that men should be given equal amount of days off as women," she said.
What would the ideal law entail?
Studies show that parental leave duration should be six months or more because women whose maternity leave is less than that become more stressed and feel less competent as mothers, said Pia Tohme, an assistant professor of clinical psychology at LAU.
Taking the economic crisis into consideration, the country should put in force a three-month paternity leave to encourage the notion that giving birth is a common responsibility between both parents, said Helou. She added that this would also impact the demographics in the labor force, since companies will stop preferring men over women because their leave is shorter — or, at this point, non-existent.
An extended paternity leave policy could improve the productivity of companies because they would be employing an array of talents rather than limiting their workforce to men or single women, said Helou, and as a result could improve the overall economy of the country.
From her conversations with companies while researching the policy, she said, she learned that "giving leave does not necessarily mean that the company would need to spend more money by employing contract workers for three months before the parents get back. These companies can rather rotate employees in the parents' positions so that they can hone new skills and discover talents."
In her study "Predictors of Work Productivity and Maternal Competence after Having a Baby," Tohme found that irrespective of the maternal leave duration, what impacts the relationship of the mother and the child is how she perceives herself and whether she associates stress and guilt with going back to work and leaving a baby behind.
The more the mother feels confident about her role in caregiving, the more she will excel in her job; Tohme said; thus, giving mothers a longer maternity leave would lessen their stress and indirectly reflect positively on their professional lives.
"The more flexible a mother perceives the workplace, in terms of understanding and accepting of maternal days off, the better her relationship with the baby would be," she said.
A child should ideally spend at least three to six months with his or her mother before being put in daycare, Tohme added. Co-parenting and caregiving also reflects positively on the mother's experience, she said.
"The more understanding and helpful the woman perceives her husband, the less she would stress and feel guilty about her duties as a mother," she said.
Helou drew on the importance of fathers being also able to spend time with their children, saying that extending paternity leave could "break gender roles for the upcoming generations."

BEIRUT — "The maternity leave length was not enough, as I had to go back to work while my baby was still breastfeeding and needed his mother around him," said Lara Fayyad, the mother of a 10-month-old son. Like most Lebanese women, her paid maternity leave ended 10 weeks after he was born, and she said, "Putting a small baby in a daycare during a pandemic is a crazy idea that I couldn't...