"Can I pay the guarantee now and go home or no?" Marwan Habib, handcuffed and in an orange uniform, did not seem to understand what was happening to him.
"You're not going home today, sir," Miami-Dade Circuit Judge Marisa Tinkler Mendez replied.

Looking brazen and sheepish at the same time, like a child caught in the act, the 32-year-old Lebanese sports coach appeared before a US court on Jan. 7 on charges of burglary with assault and battery.

Habib arrived on American soil a few months earlier on a tourist visa. He currently remains held in detention due to an immigration hold and could be deported to his country of origin.

In Lebanon, the name and first pictures of this blue-eyed fop flooded social networks with the caption, "a dangerous predator," shortly after the start of the October 2019 uprising.

In the following months, several women came forward with allegations that he harassed them, only four of whom went as far as filing complaints before Lebanese courts.

But, at the time, no law protected Lebanese citizens who were victims of sexual harassment. Those had no other choice but to file a complaint for indecent assault, a crime punishable by a fine and/or a sentence of a month to one year, according to a lawyer contacted by L'Orient-Le Jour.

The October 2019 uprising had just started, but Lebanon was witnessing a surge of freedom of speech across all areas. It was at that time that a mini #METOO movement broke out, with dozens of women coming forward with allegations of harassment, and in some cases, rape, at Habib's hands.
On Nov. 22, 2019, Habib took part in a demonstration marking Lebanon's Independence Day, during which he was recognized by a woman who posted his photo on her Twitter account.

Maria L., an 18-year-old student, was the first to post about it. Habib allegedly asked her aggressively to sleep with him after they met in Beirut's Hamra area. He reportedly immediately filed a complaint against the young woman for cyberbullying and defamation, pressuring her to tweet an apology stating that the whole episode was a misunderstanding.

But Maria's first tweet opened a Pandora's Box. Photos of Habib from every angle made the rounds of social media, followed by testimonials.

Dozens of women, including minors, shared stories of assaults or attempts at sexual harassment or rape suffered at the coach's hands.

"I ran into him during the thawra [Arabic for revolution] and he tried to talk me into having lunch with him, when I told him I was only 15. I am underage. He said he liked young girls. I ran away but he kept on following me until I threatened to call the police. When I did call the police, they did absolutely nothing," said a young girl anonymously on Instagram.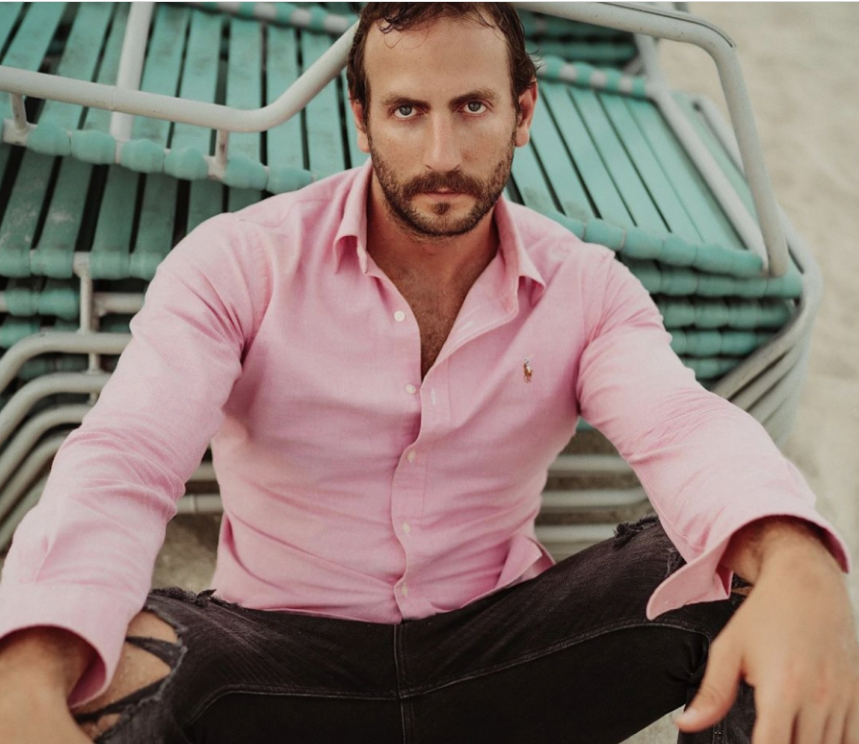 A photo of Marwan Habib posted on his pseudonymous Instagram account was taken up on social networks of several influencers to ridicule him. (Credit: Instagram)
'Mesh Mazbout'

When she came across all the allegations against Habib on social media, Melanie*, a woman in her 40s, immediately recognized the man who harassed her a few years earlier.

It was in 2016 during a weekend with friends celebrating their wedding. The day before the party, when a bus came to pick up the guests, she saw him arriving on a moped.

"He wanted to make me think that he was rich," Melanie said. He complimented her "muscular" arms and offered to give her training sessions. She said she already had a coach.

"As I was getting on the bus, he got behind me and grabbed my buttocks. I snapped at him. He said that he just wanted to make sure I had 'a good trainer,'" she added.

Habib insisted on sitting next to her and asked for her telephone number. She refused to give it to him. During the wedding party, she noticed a group of women visibly agitated. Melanie understood very quickly that Habib had also harassed them.

"He grabbed the breasts of one of my friends, the buttocks of another and tried to get another friend into a car. At the end of the party, the guests asked him to stop," she said.

Melanie said that all her friends were harassed that night in one way or another.

It was not long before the stories of young women sent social media into a flurry of commentary and reprobation. Joe Maalouf, the host of a TV program on MTV television channel picked up the media hype around the case.

On Dec. 2, 2019, Habib appeared on Maalouf's social talk show Li Akher Nafas [Arabic for "to the last breath"] opposite Karim Majbour, a lawyer.

"You are showing me the women who want to give a bad image of me, who are jealous, not those who respect and love me," Habib arrogantly responded to the young women's testimonies that were read to him on the show.

He then launched into a tirade against them, denying all accusations, citing jealousy and a plot orchestrated by his ex-wife.

In a desperate attempt to pose as the victim, he went as far as to compare himself to the Lebanese political ruling class.

"During this period [the uprising in the streets], harsh words have been hurled at the president and the prime minister. No one is spared," he said.

A young woman called the show on condition of anonymity and accused him of rape but did not file a complaint.

"Mesh Mazbout" [it is not true], Habib replied vehemently, a comment that made the rounds on social media with internet users making fun of him.

"I've never had to interview a person like him. He is a manipulator and so full of himself. I think he's sick. I got calls from about 10 or more friends saying he harassed them," Maalouf told L'Orient-Le Jour.

After posting a call for testimonies on Twitter, Majbour received messages from 100 women. Only four of them filed a complaint for indecent assault, the next day after the television, on Dec. 3, 2019, prompting women's rights activists to organize demonstrations.

On Dec. 7, 2019, dozens of people marched from Hamra's Bliss Street to Riad al-Solh Square in solidarity with victims of harassment and sexual assault.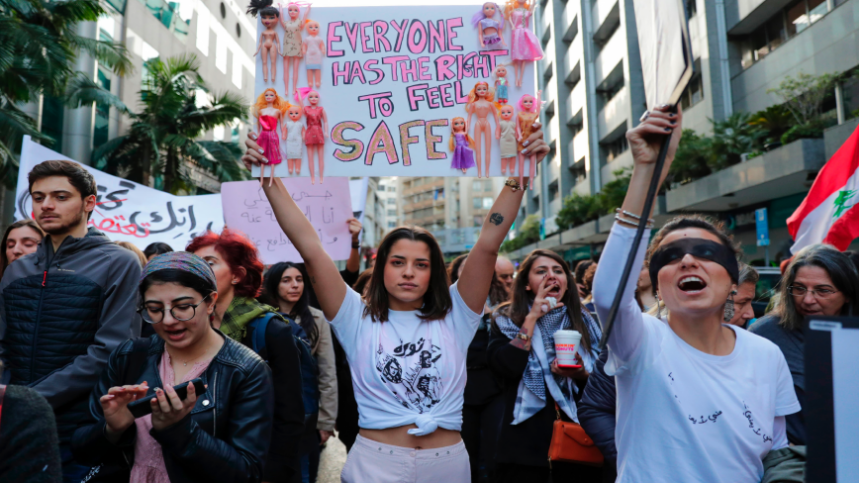 A demonstration took place on Dec. 7, 2019 against sexual harassment, rape and domestic violence. (Credit: Anwar Amro/AFP)
'We want a law that protects us from women'

At the time the women filed the complaints against Habib, Lebanese law did not criminalize sexual harassment — an important notion that was almost overlooked by some media outlets, but which was crucial to understating why Habib was not worried about being prosecuted by the Lebanese authorities.

On May 14, 2014, MP and lawyer Ghassan Moukheiber was the first to raise the issue by tabling a bill.

In January 2017, the draft law to criminalize sexual harassment was presented to Parliament and derided by the MPs present.

"There's nothing to laugh about. It is a serious law that concerns acts of violence against women and young girls […] at a time when Lebanon has no law protecting them with appropriate provisions," Moukheiber told Parliament.

"We want a law that protects us from women," one MP quipped, proud of his joke.

On Dec. 21, 2020, Lebanon finally adopted "a law criminalizing sexual harassment and rehabilitation of its victims."

This legal breakthrough is significant because sexual harassment is now considered a crime, with the law providing protection for victims.

But for human rights NGOs and legal specialists, the law has many shortcomings, especially when it comes to criminal proceedings.

"This means the case will be public, with a visit to the police station, the investigative judge and then the judges. It could be an obstacle, not an incentive to file a complaint," Karim Nammour from Legal Agenda told L'Orient-Le Jour.

This is not to mention that the victim must "prove the act of harassment and its consequences," he added, stressing that it would have been preferable if the accused had to prove he did not commit any wrongdoing.

The police report, which L'Orient-Le Jour had access to, shows that the authorities arrested Habib on Dec. 25, 2019 at Beirut airport upon his arrival from Istanbul. He was then transported to Hbeish police station.

The authorities seized his two cellphones, which include photos of women "in underwear … in evocative poses."
When asked during the interrogation if he uses tricks to attract these women, he replied, "They are foreign girls living outside Lebanon. Just like any other young man, I like to meet a lot of chicks, and it's normal, I have my own way to talk to chicks."
On the same day, Habib was released on bail, after signing a document pledging that he would no longer approach women "in an immoral way."
Instead of keeping a low profile, the alleged harasser, who, according to Majbour, hails from a modest family in Jbeil, went from one restaurant to another and then pub hopping, as he continued to approach women on social media.
Rima, 38, told L'Orient-Le Jour that he followed her on Instagram and started to like her photos compulsively. "I immediately blocked him. While he was all over the media, he was chasing after women, he was truly shameless," she said.
A tourist visa
On Jan. 20, Habib was summoned to Hbeish for a confrontation with the victims, who were supported by a horde of demonstrators who rallied outside the police station.
"He didn't show up. The authorities issued a search warrant against him," Majbour said. The case ends here, disappointing the women who accuse him to the core. Slightly over a year later, Habib went to the US, where he wanted to be forgotten, but he did not succeed.
The fact that he was able to obtain a tourist visa for the United States, despite his legal problems, adds fuel to the fire. The US Embassy did not answer L'Orient Today's questions relating to the visa's issuance.
"As long as a person is not sentenced, his visa application cannot be immediately rejected by any embassy, even though several complaints are lodged against him," a security expert said on condition of anonymity.
Salma*, 25, is a US citizen who met him for the first time in September 2021 in Miami. In South Beach where he resides, he started to communicate with the area's athletes, especially those playing volleyball.
"He seemed very narcissistic, and he was too direct with me. On the playground, he was very aggressive and rude. It's Miami Beach, where most of the girls are in bikinis, and he did not hesitate to comment on their boobs or asses. We told him that he can't make [these comments] here," the young woman told L'Orient-Le Jour.
Habib deceived his entourage, pretending to be a French sports coach and introducing himself as Jay Harrison.
He even opened a new Instagram account using this name, and a second one under Cliff Canyon, where he posted about his new life in the United States. He introduced himself as an actor and posted evocative photos of him in a tiny fluorescent swimsuit.
"He did everything to present himself as a good guy, telling us that he had a wife from New York, while he was hitting on [women] left and right. He was clearly interested in his prey's money," the US citizen said.
"He once placed a $1,000 bet on a tournament that he lost. He had no money but he got a transfer from his wife," she said. Since he knows that Salma is of Palestinian origin, he told her that he speaks broken Arabic which he learned in Dubai. The deception ended when a volleyball player claimed that his face was familiar to her.
Articles about Habib, aka Jay Harrison, were exhumed. Following the advice of a former marine with whom they play volleyball, the young women collected as many articles as possible in order to file a complaint before the police.
"The police could not take action, so we acted as if nothing had happened so that Habib does not move to another neighborhood. We kept him under our radar," Salma said.
At first, he did not suspect anything, but finally distanced himself towards late September. They occasionally crossed paths with him, often while he was riding a bike with the one he claimed to be "his wife."
On Jan. 6, the police arrested Habib, who appeared the next day before a judge "for burglary with assault and battery," which he admitted to committing against a tourist on Nov. 7, 2021.
According to the arrest report, the victim said she met him in a clothing store, where they exchanged phone numbers. She was looking forward to meeting the Lebanese guy again. But while she was sleeping in her hotel room, she woke up one evening to find Habib in front of her. The suspect "saw her on the bed, jumped on her and started kissing and touching her."
According to the police, he had managed to convince the front desk staff at Hotel Victor on Ocean Drive to give him the key to her room. The report states that the victim had not given Habib permission to join her in her room.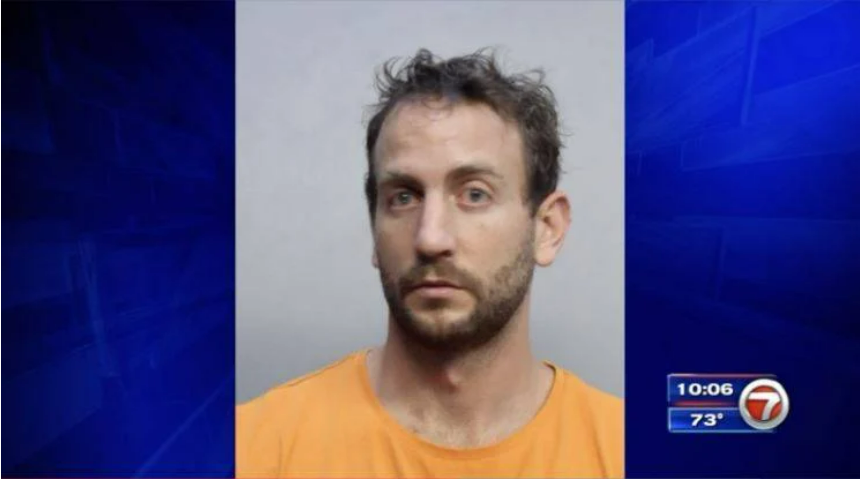 Marwan Habib following his arrest in Miami. (Credit: Miami Beach Police Department/MBPD)
'Slander campaign'
His arrest in the United States triggered an appetite for revenge among the Lebanese victims, who immediately pointed at the Lebanese judiciary's incompetence which they accused of letting their attacker get away.
Amid this outcry, the Court of Cassation was forced to issue a press statement on Jan. 11. The Public Prosecutor's Office defended itself against the accusation that it had not taken any action against Habib in the past two years, accusing some media outlets of "lashing out" at the Lebanese judiciary and "questioning" its work. It also claimed that he was detained for 48 hours during preliminary investigations in 2019.
Nevertheless, the police report, which L'Orient-Le Jour obtained, states that he was released a few hours after his interrogation on Dec. 25. The prosecution also mentioned in its press statement that he was subject to proceedings initiated by the single criminal judge and the public prosecution in the Court of Appeal of Mount Lebanon.
"I was never apprised of such proceedings. I call on the prosecution to review the case before providing such misleading information," the victims' attorney, Majbour, said.
The confusion surrounding this case is magnifying. Activists immediately denounced an obstruction of justice, by invoking the fact that Habib benefitted from the political circles' support.
Instagram bloggers accused political figures, in particular Aounists, of providing cover to Habib, which the local MTV channel reported. Moukheiber, the MP whose photo with Habib circulated, is accused of helping him escape justice. Contacted by L'Orient-Le Jour, he condemned a "slander campaign" targeting him and said that he will lodge a lawsuit.
"I have never been Marwan Habib's attorney. He came to me in 2011, seeking to be reunited with his son, who his ex-wife took abroad. I am on the victims' side, I campaigned for the law criminalizing sexual harassment. How could I be accused of protecting a harasser like him?" he said.
The name of the former Justice Minister Salim Jreissati is also circulating. "There was no pressure on the judges since the law criminalizing harassment did not exist at the time of the complaint, I reiterate. Moreover, why would Salim Jreissati defend a sexual harasser like Habib when a member of his family was his victim?" Moukheiber added.
L'Orient-Le Jour learned from various sources that Habib was married at a young age to a woman more than 10 years older than him, with whom he has a son. Both the woman and son live in the Gulf now. Jreissati categorically denied to L'Orient-Le Jour any knowledge of Habib and his ex-wife.
In the United States, his case is growing bigger since other women also filed lawsuits. "He will probably be deported," Majbour said, hoping to finally see him before the Lebanese courts.
"Let him come back, we'll be waiting for him at the airport ..." Melanie said.
An attorney representing Habib in the Florida case did not respond to a request for comment. L'Orient-Le Jour attempted to locate an attorney for Habib in Lebanon, but there was no local attorney representing him.
*Names have been changed.
This article was originally published in French in L'Orient-Le Jour. Translation by Sahar Ghoussoub and Joelle El Khoury.

"Can I pay the guarantee now and go home or no?" Marwan Habib, handcuffed and in an orange uniform, did not seem to understand what was happening to him."You're not going home today, sir," Miami-Dade Circuit Judge Marisa Tinkler Mendez replied.Looking brazen and sheepish at the same time, like a child caught in the act, the 32-year-old Lebanese sports coach appeared before a US court...