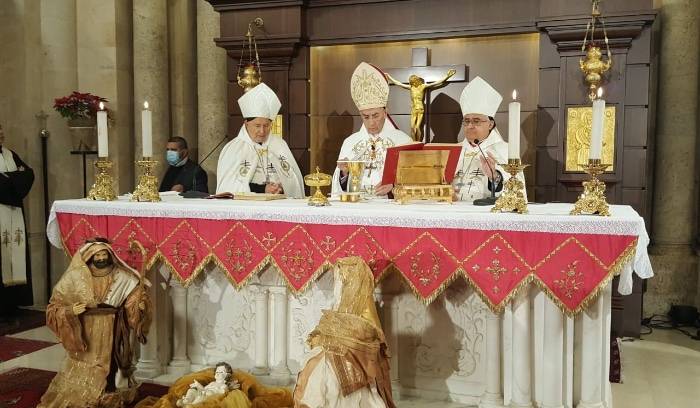 BEIRUT — The head of the Maronite church Bechara al-Rai called Saturday, during the celebration of a religious service for the new year, for a "national dialogue supervised by the United Nations in the framework of an international conference."
Rai's call comes almost a week after President Michel Aoun also called for an "urgent national dialogue." Deploring that the "internal dialogues ... have so far remained a dead letter," the patriarch pleaded that pressing issues be addressed through dialogue ahead of legislative elections set for May 15 and suggested that this dialogue take place "under UN supervision."
In a speech delivered last Monday, Aoun had called for an "urgent national dialogue," particularly around the state's defense strategy, i.e. Hezbollah's weapons and how to integrate them into the state, the pro-Iranian party being the only one to have retained its weapons after the end of the Civil War in 1990.
The head of state also called for a dialogue around a "broader administrative and financial decentralization ... and a financial and economic recovery plan, including the necessary reforms and a fair distribution of losses."
Lebanon is going through the worst socio-economic crisis in its contemporary history, marked by an unprecedented depreciation of the national currency. At the same time, a cabinet stalemate, which has prevented the goverment meeting since Oct. 12, is delaying the implementation of urgent reforms in the country.
Elections under international supervision
In his homily Saturday, the Maronite prelate welcomed the decree signed last week by Aoun, Interior Minister Bassam Mawlawi and Prime Minister Najib Mikati that calls parliamentary elections for May 15. Rai called on the ruling class to "make serious preparations and to promote a political and security environment suitable for the organization of the elections and the presidential election." The latter is scheduled for next October.
Rai once again stressed the need for the elections to be "organized under international supervision, as desired by the Lebanese people and the United Nations."
The legislative elections are seen by many Lebanese as a first step towards changing the ruling class, accused by a large segment of the population of incompetence and corruption.
UN-supervised national dialogue
Between now and the elections, the patriarch called for a resumption of government work to deal with pressing issues, such as "negotiations with international monetary institutions, border control, restoring ties with the Gulf countries, especially Saudi Arabia, and adjusting Lebanon's position from partiality to neutrality."
"Lebanon must ensure an adequate atmosphere that would allow the launch of a national dialogue supervised by the United Nations within the framework of an international conference that grants the dialogue a UN guarantee and an executive mechanism," Rai said.
Rai also noted that "some aspects of the Lebanese crisis concern regional and international causes, such as the fate of Palestinian refugees, the repatriation of Syrians, as well as a resolution of border and security problems with Israel, which inevitably requires an international dialogue."
This article was originally published in French in L'Orient-Le Jour.

BEIRUT — The head of the Maronite church Bechara al-Rai called Saturday, during the celebration of a religious service for the new year, for a "national dialogue supervised by the United Nations in the framework of an international conference." Rai's call comes almost a week after President Michel Aoun also called for an "urgent national dialogue." Deploring that the "internal...