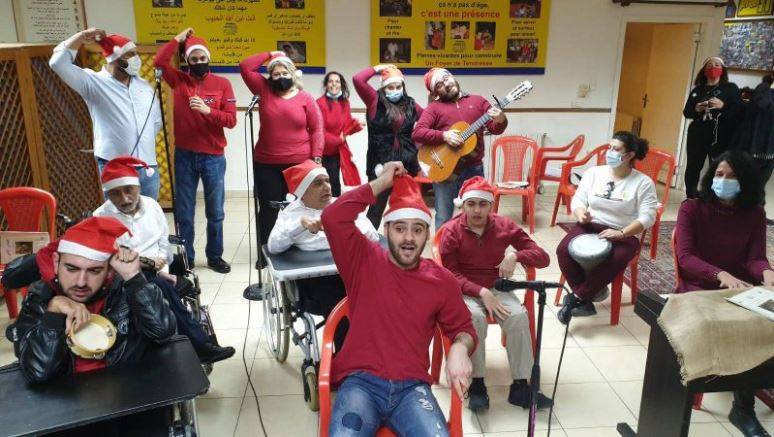 BEIRUT — At the Les Créneaux club in Beirut's Achrafieh quarter, toys are stacked on tables, alongside bottles of wine, local products, slippers, blankets, clothes and accessories.
The spirit of Christmas awaits a young boy named Jason, "I want a police car!" he shouts. "I have a fire truck," replies one of the organization's volunteers, and the boy goes around to pick out his gift.
His father, Charbel, brought his son to the event instead of placing a gift under their Christmas tree for Jason. The reason, Charbel admits: "We can no longer afford to go out, I wanted him to feel the joy of the holidays."
The 40-year-old, who resides in Jbeil, lost his job in 2019. "This is the first time I've needed help," he says. The father stares at his son, whose eyes sparkle as he clutches his new gift. His voice breaks as he tries to hold back tears: "There's nothing left to smile about. I couldn't give him a present this year" says Charbel. They leave, their arms full of gifts for home, something to brighten up their holiday.
This is all thanks to the Magic of Christmas initiative by Tartine du Matin (Morning Toast).
"The principle of our action is to give parents the joy of choosing their own gifts and those of their children, to enjoy a Christmas meal with wine and a Christmas log...with dignity," explains Lamia Darouni, one of the six founders of Tartine du Matin.
So far, the initiative has helped 400 families. "We wanted to offer these people something they can no longer afford. The greatest satisfaction is to see their eyes and smiles, it's our Christmas gift," she added.
Due to the ongoing financial crisis, this is the reality for many families this Christmas. Youmna, a cleaning lady, would not have been able to celebrate with her family this year were it not for this initiative: "My three children are going to be so happy," she says with a trembling voice.
According to a report published by the UN agency ESCWA in September 2021, 78 percent of the population has plunged below the poverty line. Moreover, inflation has ballooned with prices of food and non-alcoholic beverages rising by 357.95 percent this past year while prices of miscellaneous items, such as toys, rose by 151.68 percent.
The arrival of Christmas this year has been made less merry because of the ongoing financial crisis. Civil society organizations are working to spread the holiday magic as the country collapses.
In the northern city of Tripoli, Maha Elsayed who works with the Ward Organization that focuses mainly on empowering women and supporting them financially, said the NGO helps people irrespective of their nationality, religion, or creed. This Christmas, they are helping people by distributing packages of dry food and with clothes, blankets and heaters.
In the neighborhood of Karantina, the Beirut port's backyard, the NGO Offre Joie is planning a dinner for the neighborhood's residents. "We already did it last year. It's an opportunity for us to get together and enjoy the holiday," says Nadi Nassar, who is in charge of recruitment and volunteering for the association.
The NGO, founded in 1989, helps with national reconciliation and reconstruction after disasters, most recently following the 2020 Beirut port explosion. It will also distribute 1,200 food packages in Tripoli and Beirut this Christmas.
Hope WorldWide is also getting involved in Karantina this Christmas. Speaking to L'Orient Today, one of its program managers, Rita Jamil Ghareeb, said, "We are volunteering and supporting in a kitchen at Karantina for one week to feed 3000 people daily."
While there are many organizations working on picking up the shortfall left by an absent state, over a year after the Beirut port blast, some initiatives are being led by individuals on their own. Among them are Paul and Tracy Naggear.
After starting a food distribution drive last Christmas to help those affected by the Beirut blast, this time they are aiming to serve 12,000 members of the community; double the amount that they did last year.
Paul told L'Orient Today that the initiative originally started as a way to help residents reacclimate after the blast. The food came from people cooking at home and in-kind donations such as meat and rice that were channeled to social kitchens such as Nation Station and Love In the Kitchen.
The Base Camp NGO supports them with the logistics of distributing food.
"We did not expect so many contributions and for people to go out of their way to offer support," he said.
"We are still struggling with the Christmas season since the tragedy, but we want to at least help those in need," explains Tracy Naggear.
Their daughter, Alexandra, was one of the youngest victims of the Beirut blast.
The Christmas season is conducive to volunteering, despite the prevailing sense of gloom. Alaa, a student at the Lebanese American University, shares this sentiment: "It's a time of solidarity. I feel the Christmas spirit more when I volunteer. It's a time of giving," During the vacation, she has been giving refresher courses to third and fourth graders from public schools with the MMKN association.
The NGO offers 1,500 students chemistry, biology and mathematics books to help them prepare for exams and an internet package to take science courses online. "Education is the greatest gift, especially now, when we know that more than 750,000 students are out of school," says Ghada Feghali, the NGO's president.
Without support from volunteers it would have been harder for these associations to implement their projects: "We look forward to this period to feel the sense of sharing, solidarity and service," says Yasmina Hitti, group leader of the Association des Guides du Liban, in charge of the Saint-Antoine-de-Padoue group in Horch Tabet.
This year, this association is organizing its 24th food bank. Its volunteers are posted at the doors of supermarkets in Adma, Bikfaya, Rayfoun, Beirut and Sin al-Fil, where they receive donations of non-perishable food for distribution to nearly 600 disadvantaged families.
"We want to help more to give hope, especially during this time of economic crisis. It's a way to thank God and celebrate his birth," Yasmina said.
Among the group's beneficiaries is Latifa, 70, who cares for her 84-year-old husband, who is paralyzed on one side. She admits she is overwhelmed by this economic crisis, but explains that charitable organizations are an olive branch: "I don't know how we'll be able to continue," she says, bursting into tears. "But they act with love, as if we were part of their family."
As it does every year, the Anta Akhi (part of Sesobel) group that helps adults with disabilities, will hold a Christmas party with a midnight mass and festivities in its "home of tenderness" for disabled people.
"We have to spread joy and tenderness. This is the basis to be able to go on," says Roula Najm, president and executive director of the association. However, she adds that Anta Akhi has been severely impacted by the economic and health crises, which have hurt its fundraising efforts.
The crisis has had a profound effect on civil organizations, resulting in a drop in income coupled with an increase in requests for aid. Despite this, they are persevering. "With the economic crisis, the number of aid seekers has exploded, while donors are exhausted," says Maya Chams Ibrahimchah, founder and president of Beit el-Baraka, who are distributing a Christmas meal on December 23.
It is organizations like these that are filling the gap in a country beset by state failures, but without any long-term planning or new policies, there is not much else they can do.
"We want to build sustainable initiatives, not just consumable donations. We need to find sustainable ways of helping, but during this period people need a breather," Paul Naggear says.
"Our hope is to take back our country, this is how we can get justice for our daughter."

BEIRUT — At the Les Créneaux club in Beirut's Achrafieh quarter, toys are stacked on tables, alongside bottles of wine, local products, slippers, blankets, clothes and accessories. The spirit of Christmas awaits a young boy named Jason, "I want a police car!" he shouts. "I have a fire truck," replies one of the organization's volunteers, and the boy goes around to pick out his...