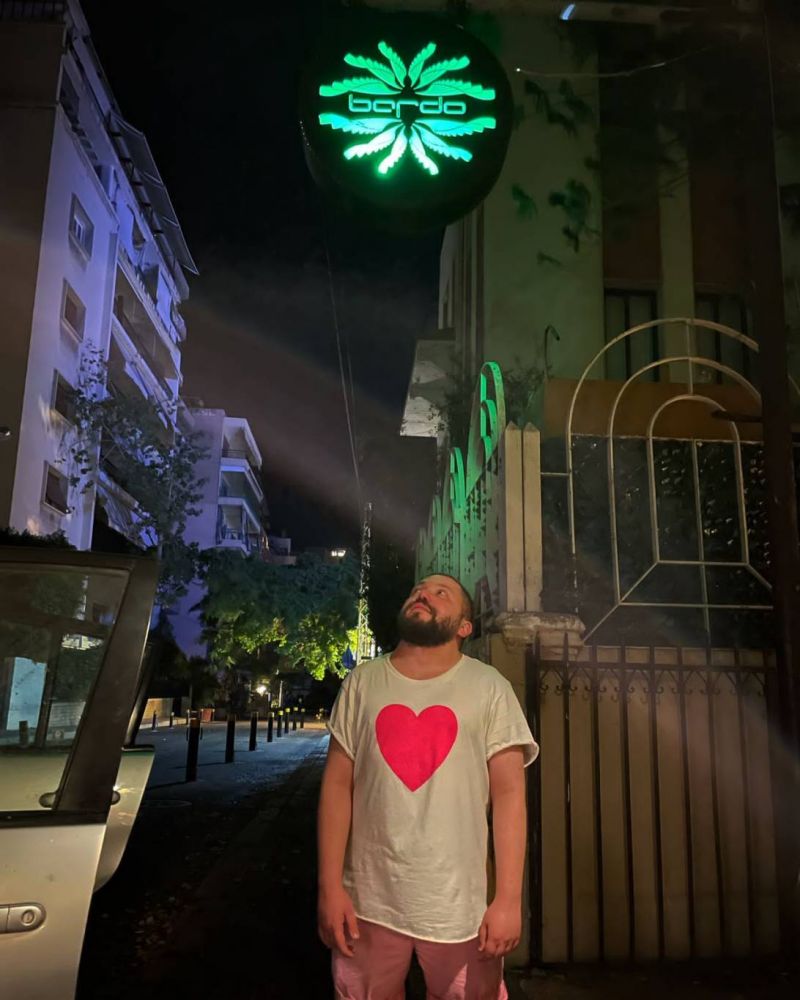 BEIRUT — "The last night of Bardo was an emotional rollercoaster," said Lary BS, a 35-year-old queer comedian and clothing stylist. "Everyone I knew was there, and we were all happily dancing and then weeping and hugging, but then dancing and crying again. I have never felt that amount of love at the same time in my life."
Until recently, Lary had the habit of visiting the recently shut-down iconic bar Bardo almost every day. For Lary and many others who belong to the country's LGBTQ community, Bardo was more than a restaurant or bar. It felt like home — one of the few places in Lebanon where they could feel safe being who they are.
But on Oct. 31, Bardo opened its doors for the final time.
Clad in a T-shirt adorned with a large pink heart, Lary joined his friends to celebrate — and mourn — one of the country's last openly queer-friendly spaces.
"It has been very hard since Bardo closed. It was a really happy place, and I would always go there without knowing anyone, and I would always find someone I know there as the [queer] community is such a small one. Moving there from one room to another was like moving from my bedroom to the kitchen," Lary continued.
Lebanon's queer community, like the rest of the population, has increasingly suffered due to the onset of the country's unprecedented economic crisis in 2019 and, later, the 2020 Beirut port explosion. Some three-quarters of the population has been plunged into poverty, while year-over-year inflation clocked almost 150 percent in October.
The impacts of the multifaceted crisis have been particularly acute for LGBTQ residents. In an Oxfam study titled "Queer Community in Crisis: Trauma, Inequality & Vulnerability," conducted after the 2020 port explosion, the researchers Nizar Aouad and Dana Abed found that one of the ways the crises are impacting LGBTQ residents is by limiting their access to safe spaces.
"Spaces often and safely frequented by queer individuals are exceptionally few in Beirut, and the Beirut explosion did not only destroy many of them, but also caused enough structural damages in the affected neighborhoods that it threatens their future ability to bounce back," the researchers wrote.
While Bardo, located several kilometers from the most heavily affected neighborhoods, sandwiched between an east Asian food restaurant and a residential area, managed to survive the explosion, in the end it did not overcome the country's economic collapse.
Mazen Khaled, the bar's primary owner, said Bardo was not making a profit even before the crisis but that he and the other owners had decided to keep it open because of its positive impact on the Beirut community. But sustaining the bar eventually became increasingly untenable, with hourslong electricity cuts forcing them to curtail food service and close early.
"The last bullet was the rent, which the owner of the building demanded in 'fresh' dollars, combined with the decision by most of the staff to emigrate from the country due to its current situation," he said.
With the bar's closure, its regular customers lost one of the things that had helped them to deal with the crisis.
"The situation in Lebanon, with everything failing in the country, is tough on all of us, but being at Bardo and the fact that we could have our fun there was our consolation amid all the craziness," Lary said.
A space for all
While Bardo eventually became arguably Beirut's most popular openly queer-friendly hangout, Khaled said the space had not originally been conceptualized as a gay bar.
One business owner interviewed as part of the Oxfam study said that while many business owners do not set out to build queer-friendly spaces, "over time, queer individuals [become] accustomed to this venue and others who were not tolerant of diversity tended not to revisit the space."
In Bardo's case, "I guess what happened is that people, including those from the queer community, who were not accepted in almost all social places, felt welcomed at Bardo, which encouraged a large number of queer people to become regulars there, and … it became a popular gay bar," Mazen said. "...Our bar was about humanity and love."
"There were dating sites before Bardo, but the bar was the one-on-one kind of meeting place, and it was different than other queer venues because it wasn't only a place where you can drink and dance but hosted many cultural nights like poetry nights, book signings and artistic events," said Tarek Zeidan from the LGBTQ rights organization Helem.
A queer Lebanese woman who spoke with L'Orient Today on condition of anonymity said that Bardo was the first bar she had gone to.
"I was there [on Bardo's closing night] with my friends, and it was really sad to realize that it would be the last time I would feel safe [in Lebanon] with a large group of people who share similar experiences and struggles, as I am leaving the country."
She added that although she felt the space was more a gay men's bar than a space for lesbians, she appreciated its positive contribution to the queer community — even more so as she prepares to leave the country.
Many straight people, she says, are leaving due to the economic situation, but for queer people like her, "we know we are never going to be accepted by our families here so coming back isn't really an option."
In addition to being a safe space for many queer Lebanese, Bardo served as a home away from home for LGBTQ foreigners in Lebanon.
A 39-year-old European diplomat who moved to Beirut from Kenya and then worked in Lebanon for three years told L'Orient Today that he had come across Bardo on Google before coming to Lebanon, in search of a gay scene. The day after he landed in Lebanon, the diplomat said, he went to work and then at night went to check out the scene.
"I wanted to check if it is okay for me to be gay in this country, and I did feel safe there, and I did feel free, like so many of my friends who would go there," he said.
But over the past two years, amid the deteriorating situation in the country, he said, "lots of things have changed."
"Following the crisis, a lot of us had to emigrate due to the deteriorating conditions in the country, which has also caused a number of places we used to go to ... to close, which is really bad for us as a community, because since for the majority of us home is not a safe place ... we need a public space where we can feel safe," he added.
'We gave up on structural reforms'
The closure of already few-and-far-between queer-friendly spaces has put added strain on advocates working for queer rights in Lebanon.
Zeidan of Helem told L'Orient Today that since the uprising in 2019, his organization has mostly given up on advocating for structural and legal reforms, instead adapting to the present context by helping to provide individuals with temporary homes and medication, as well as mental support.
"We gave up on these politicians, and even if they were not as useless as they are, how can we ask anything from politicians whom we protested against in 2019, which to us means they lost their legitimacy?" Zeidan told L'Orient Today.
Zeidan also said that he is hoping that the parliamentary elections next year would bring a new line of politicians who would advocate for queer rights.
"On this level, we do work. We pressure parties running for elections and ask them what their stance is on queer rights, and I don't want to name any but we are experiencing a positive shift in that sense as some new political actors in Lebanon have explicitly spoken for such rights," he added.
A 28-year-old queer Beirut resident who asked to remain anonymous said that though the economic crisis has taken its toll on the LGBTQ, he believes that the community's visibility during the Oct. 17 uprising, in 2019 will help pave the way toward greater acceptance.
"Their chants, graffiti and banners — that is a big deal," he said.
"Judges are increasingly waking up to the absurdity of Article 534" — the article outlawing "any sexual intercourse contrary to nature" — he said. A district court in 2018 issued a ruling that consensual same-sex relations are not unlawful under this article.
"Change is happening slowly but surely — in the courtrooms, on the streets, on the dancefloors. Change is happening, but the journey is still a long one," he added.

BEIRUT — "The last night of Bardo was an emotional rollercoaster," said Lary BS, a 35-year-old queer comedian and clothing stylist. "Everyone I knew was there, and we were all happily dancing and then weeping and hugging, but then dancing and crying again. I have never felt that amount of love at the same time in my life."Until recently, Lary had the habit of visiting the recently...