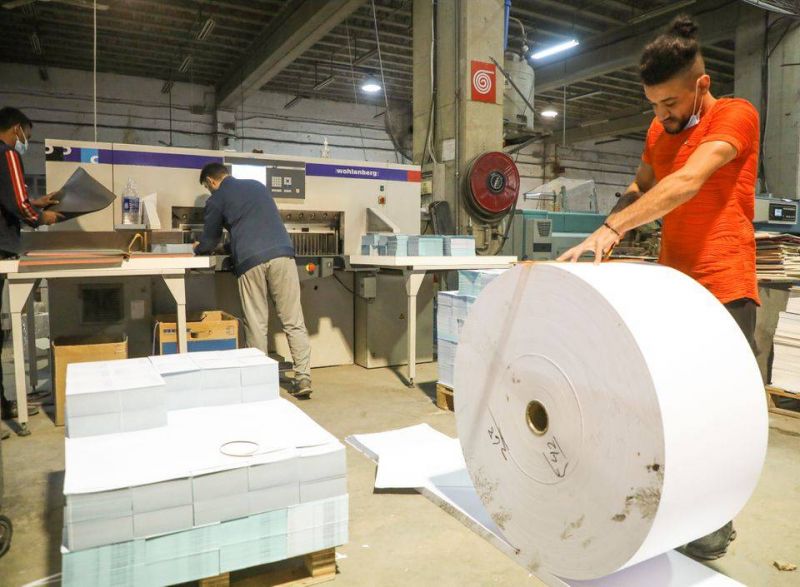 BEIRUT — Amid the diplomatic row between Lebanon and Saudi Arabia — one covered by breathless headlines on local political drama and regional diplomatic maneuvers — Riyadh's collective punishment of the Lebanese hinges on a trade ban on a country mired in economic ruin.
An analysis of Lebanon's official Customs data by L'Orient Today reveals the importance of the Saudi market for a diversified range of goods from Lebanon; not only already-banned fruits and vegetables but also chemical products, machinery and a surprisingly varied collection of other products.
While the US dollar value of Lebanese goods shipped to Saudi Arabia has almost halved from a 10-year high in 2012, last year the Gulf country remained one of Lebanon's top export markets.
Mounting Saudi anger with Lebanon throughout 2021 over Hezbollah's influence in the country — culminating in Riyadh's announcement Oct. 29 of a prohibition of all Lebanese imports — now appears to have wiped out a source of foreign exchange for Lebanon's dollar-starved economy.
Beneath the trade data on weights, currency values and the Harmonized System of commodity codes are real world ramifications for the already impoverished Lebanese.
L'Orient Today reviewed all of Lebanon's product exports to Saudi Arabia in 2020 to analyze their dependence on Saudi Arabia as a market.
Moving beyond fruits and vegetables
In 2020, Saudi Arabia was Lebanon's third-largest export market, taking just shy of $230 million worth of products, or 5.6 percent of Lebanon's worldwide exports, according to publicly available customs statistics.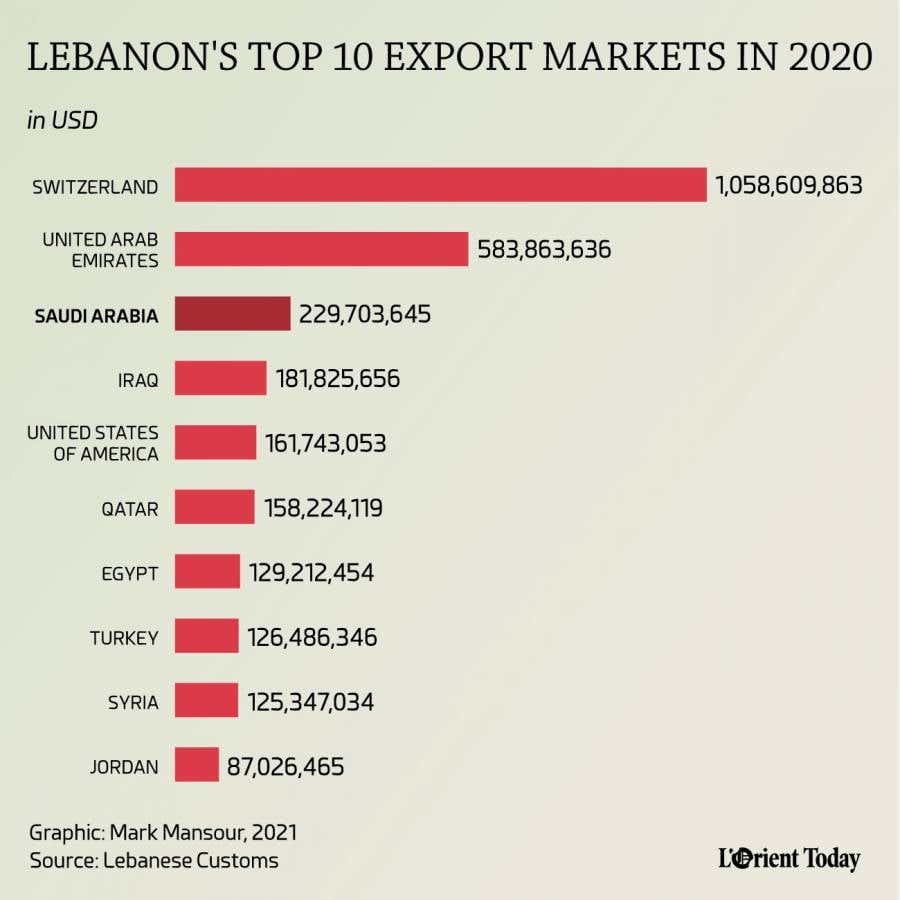 During the first three months of this year, Saudi Arabia rose to become Lebanon's second-largest market, with 7.1 percent of total exports by US dollar value shipped there. (While customs has maintained a detailed set of data stretching back to 2012, the state institution has not updated its statistics since March 2021).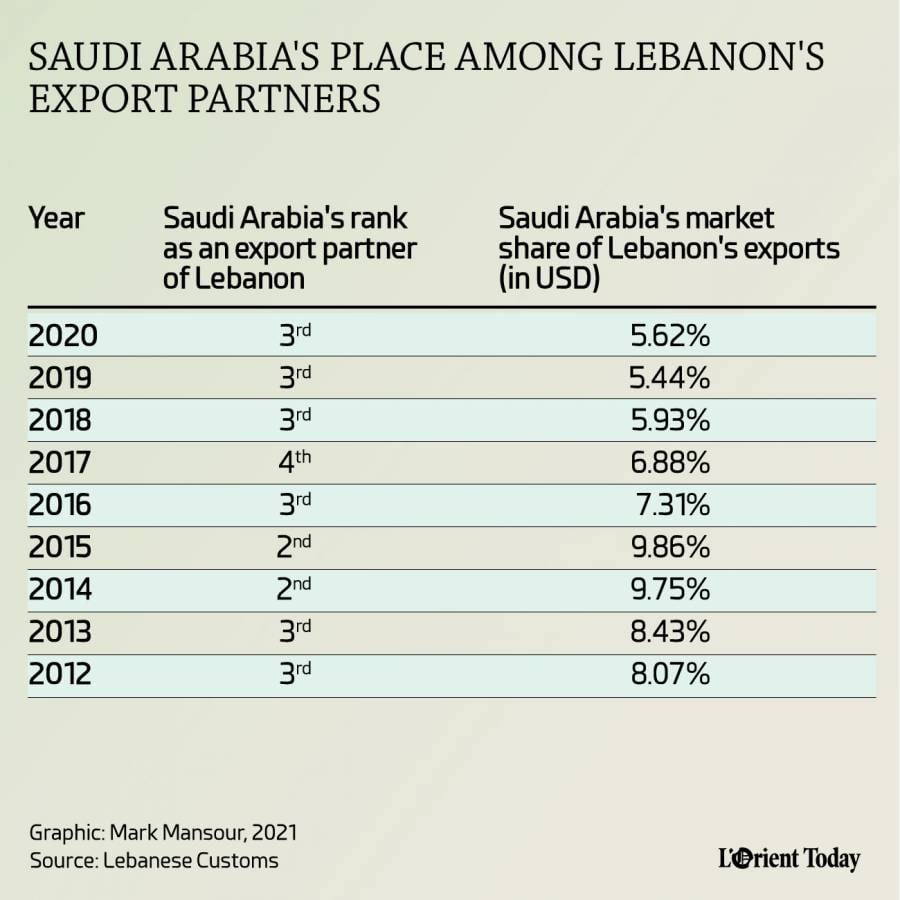 Then, on April 23, Riyadh dropped a bombshell, announcing a ban on all Lebanese agricultural produce due to an alleged increase in drug smuggling in shipments of fruits and vegetables bound from Lebanon. The Saudis, already frustrated over what they perceive as growing Hezbollah influence in Lebanon, accused Lebanese authorities of failing to take proper measures to stop narcotic outflows.
The ban raised fears among Lebanon's struggling farmers, who not only rely on Saudi Arabia itself as a market, but also as a transit point for onward trade to other markets in the Gulf. At the time, the Lebanese Farmers Association said $24 million worth of the recently banned fruits and vegetables had been exported to Saudi Arabia in the previous year through November 2020, citing Customs statistics. Another $68 million were shipped to other Gulf states during that time, according to the association.
Since the Saudi ban was put in place, some Lebanese farmers have, ironically, resorted to having their produce smuggled into Syria, which is not banned from exporting to Saudi Arabia and then selling it to Saudi Arabia via Syrian traders.
L'Orient Today's review of the full year of Customs data from 2020 reveals that Lebanon shipped $27.8 million worth of fruits and vegetables to Saudi Arabia — or, more specifically, products labeled as edible fruits and vegetables by the Harmonized System codes used worldwide to classify goods. Products derived from produce, such as fruit jams, juices, sauces and candies, fall under other categories.
The Lebanese customs data on now-banned produce was cross-referenced with statistics provided to L'Orient Today by the research department of the Chamber of Commerce, Industry and Agriculture of Beirut and Mount Lebanon.
Lebanon's fruit and vegetable consignments to Saudi Arabia in 2020 made up 12.1 percent of its total exports to the kingdom, dipping to 11 percent in the first three months of 2021.
In early June, Lebanon's envoy to Saudi Arabia sent a letter to his Foreign Ministry warning that Riyadh was preparing to expand its import ban on Lebanon from produce to all products. On Oct. 29 his fears were realized, when Saudi Arabia said it was stopping all imports in order to "protect the security of the kingdom and its people," citing what it claimed was "Hezbollah's control of all ports" in Lebanon.
Diversified exports
Lebanon exports a wide range of products to Saudi Arabia, with more than 40 percent of goods shipped in 2020 being food-related, while chemical products, machinery and precious metals also make up sizable slices of the export pie.
From March 2021 back through 2016, chocolate has been king, topping the list of Lebanese products exported to Saudi Arabia, with $108 million worth shipped to the country during this time.
In 2020, according to Lebanese Customs, the top segments of goods exported by Lebanon to Saudi Arabia included: prepared foodstuffs and beverages (25.5 percent by US dollar value), chemical-related products, produce, as well as machinery and mechanical appliances. Lebanon's other top exports to Saudi Arabia in 2020 included beauty products, printed books and brochures, grapes and electric generating sets.
The kingdom held at least 50 percent of the market share for dozens of different classifications of Lebanese exported goods.
For example, Lebanon exported $11.9 million worth of soap in 2020, with $5.9 million of this product bound for Saudi Arabia. A little over half of Lebanon's $2.3 million worth of casks, drums, cans and related products were shipped to Saudi Arabia that year, while the kingdom received 76.7 percent worth of the US dollar value of Lebanon's total fish fillet exports.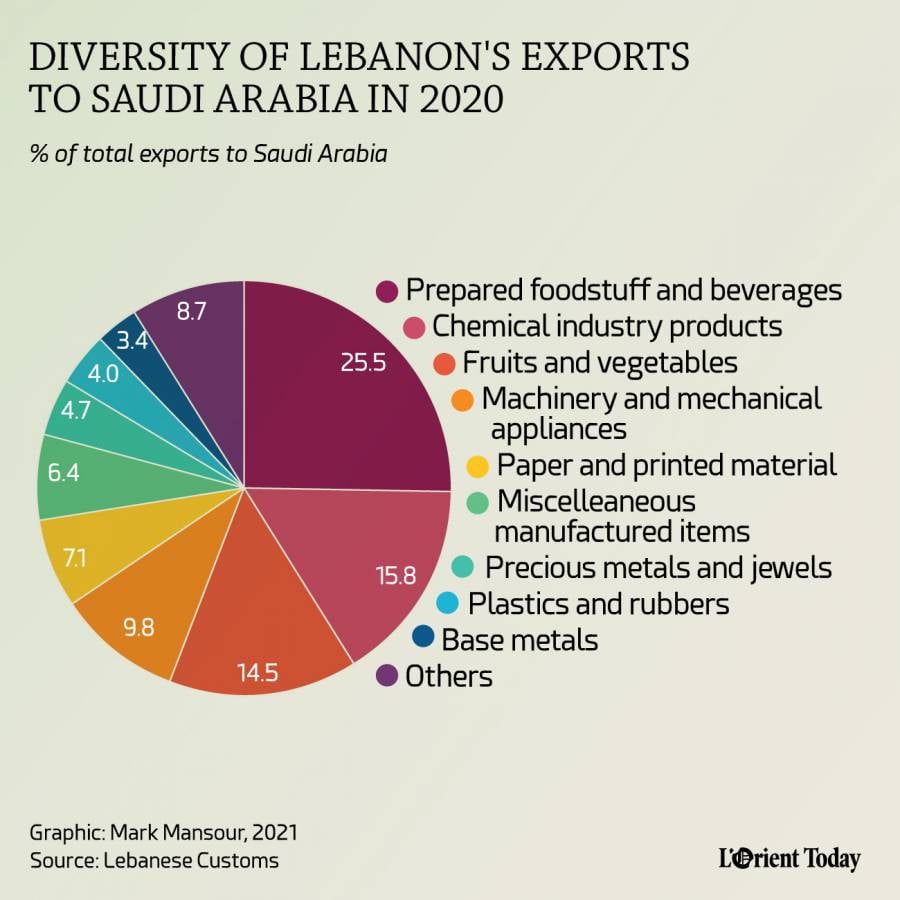 Lebanon was almost fully dependent on the Saudi market for $1.9 million of exports in 2020. The kingdom imported 90 percent or more of Lebanon's total exports of coal and tableware clad in precious metals, among others. All of Lebanon's exports of soya beans and children's coloring books went to Saudi Arabia in 2020, albeit totalling a mere $515.
Saudi Arabia also received 46.1 percent of the $47.9 million worth of Lebanon's ink exports;, 37.54 percent of Lebanon's worldwide fruit jam exports, a total of $16.8 million; and 42.8 percent of its global chocolate exports, worth $36.7 million.
All that glitters
In the past 15 months, precious metals exports — namely articles of jewelry and gold — had been on the increase, rising from 4.7 percent of the total US dollar value of goods shipped to Saudi Arabia in 2020 to 7.15 percent through March 2021.
Gold bullion reasserted its dominance over Lebanon's exports in the summer of 2019, reflected also in trade with Saudi Arabia, as the banking system in Beirut started its collapse.
From 2012 through 2018, Lebanon did not ship any gold bars to Saudi Arabia, according to customs data. Then in 2019, $1.05 million worth of gold ingot exports were registered, rising to $4.9 million the following year, and $2.9 million in the first three months of 2021 alone.
Starting in June 2019, gold bullion exported from Lebanon — in terms of not only total dollar value but also kilograms shipped abroad — started spiking. On June 25, 2019, gold hit $1,431 per ounce, its highest price since May 14, 2013, and has since risen to higher levels, according to statistics from the World Gold Council.
In 2019, Lebanon's gold bullion exports, worth $1.13 billion, made up 23.5 percent of total exports. Gold dwarfed the value of the second-largest exported product that year, motor vehicles, which stood at $388 million.
This trend continued the following year, with customs registering $1.09 billion of gold exports, or 26.7 percent of Lebanon's total. The last time Lebanon hit such outsized numbers for gold bullion sales was in 2012 and 2011. A number of economic commentators argue that these exports are actually a form of capital flight.
Through the first quarter of 2021, gold bullion had fallen to second place in Lebanon's worldwide exports, supplanted by an even more precious commodity: diamonds.
These gold bullion figures do not encompass jewelry, including items made of gold. Between 2020 and the spring of the following year, Lebanon sent just shy of $6 million of jewelry to Saudi Arabia.
Declining trade
While Saudi Arabia has remained near the top of Lebanon's trade partners over the past decade, the total dollar value of goods shipped to the kingdom has gradually declined from $453 million in 2012 to a low of $229 million in 2020.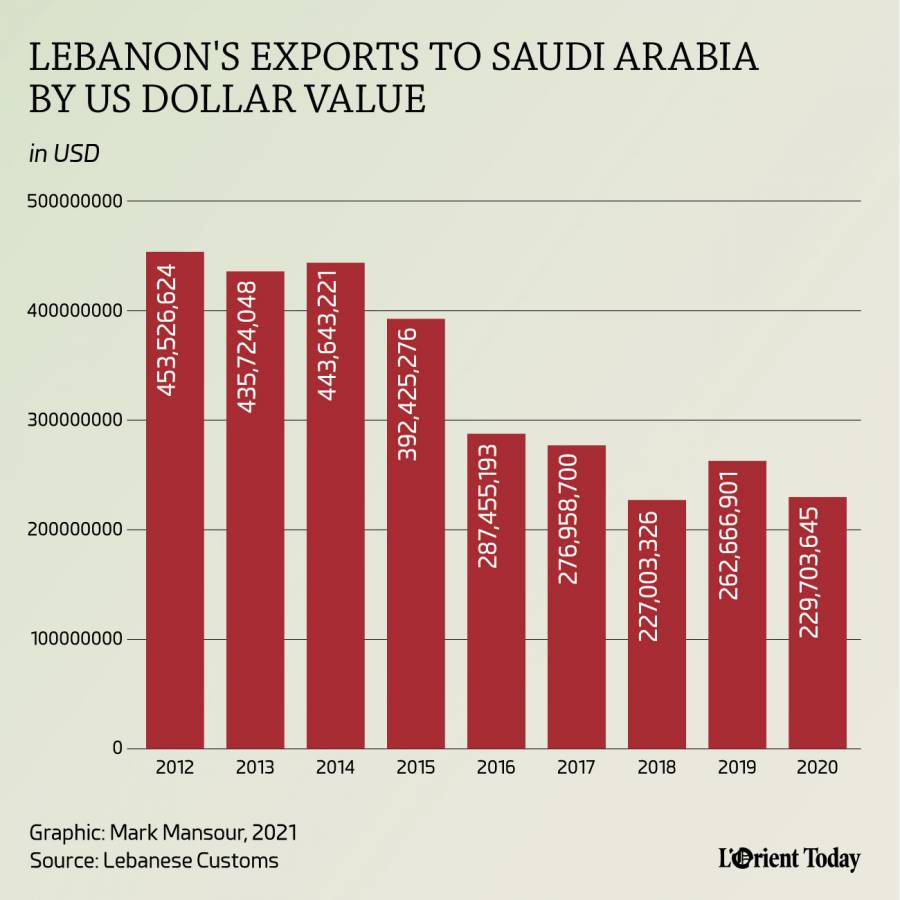 This downturn in exports to Saudi Arabia followed a broader trend of declining Lebanese exports, with numbers decreasing from $5.6 billion in 2012 down to $4.1 billion last year.
Customs data shows that one of the main culprits for the decline in the exports to Saudi Arabia was a precipitous drop in electric generating sets shipped to the kingdom, from a high of $74.2 million in 2012 down to a decade's low of $7.4 million in 2020.
Overall, the amount of machinery and electrical equipment exported to Saudi Arabia — which includes the generating sets — plunged by $100 million between 2012 and 2020, accounting for 46.3 percent of the total US dollar value decline in trade between those two years.
Between 2012 and 2020, there were also declines of $27.7 million for mineral products, $21.7 million for textiles and $16.6 million for plastic and rubber products, accounting together for another 29.6 percent in the drop of total Lebanese exports to Saudi Arabia.
Not all exports, however, dropped in the past decade.
In the niche market of artworks and collectors' items, meanwhile, exports rose from a scant $12,898 to a decade's high in 2020 of $108,455 worth of paintings, collages, engravings and sculptures.
Before the ban implemented this year, agricultural products, including produce and live animal goods, had registered strong growth, with their dollar value swelling by $6.7 million from 2012 to 2020.
In the face of the potentially catastrophic political and economic harm the Saudi blacklisting could do to Lebanon, Lebanese officials have launched a flurry of diplomatic contacts, but despite President Michel Aoun and Prime Minister Najib Mikati having announced they have agreed on a "roadmap" to resolve the crisis, they have so far been unable to do so.
BEIRUT — Amid the diplomatic row between Lebanon and Saudi Arabia — one covered by breathless headlines on local political drama and regional diplomatic maneuvers — Riyadh's collective punishment of the Lebanese hinges on a trade ban on a country mired in economic ruin. An analysis of Lebanon's official Customs data by L'Orient Today reveals the importance of the Saudi market for a...