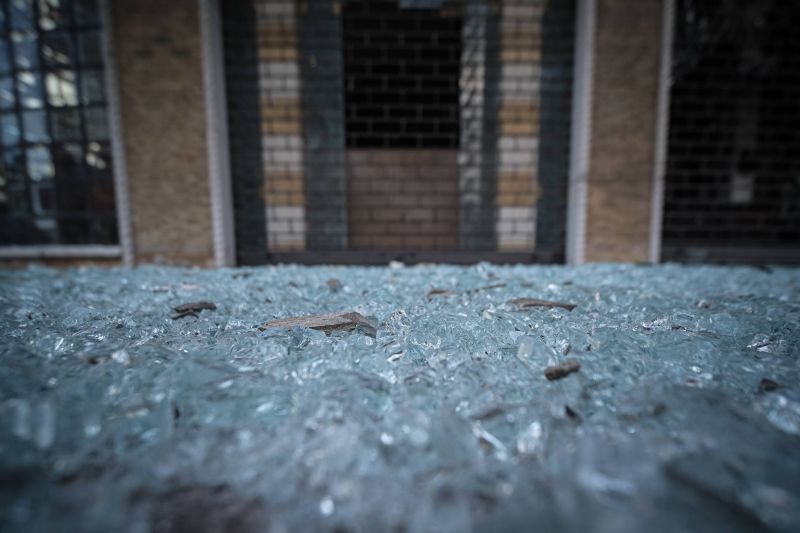 BEIRUT — The streets of Tayyouneh were quiet on Friday morning, the day after a heated street battle with sectarian overtones erupted here, resulting in at least seven deaths and more than 30 injuries. A handful of residents were out inspecting the damage and sweeping broken glass, while a number of journalists milled about and soldiers slowly patrolled.
A set of buildings just south of the Tayyouneh roundabout, on a road that divides the nominally Christian neighborhood of Ain al-Rummaneh from the nominally Shia neighborhood of Tayyouneh, were peppered with bullet holes and had lost many of their windows.
Tony Yunan, whose home was struck by heavy gunfire, stood on the side of the road Friday as a neighbor passed on a moped. "Do you see the cars and houses?" he asked the neighbor, gesturing at the destruction around him. "Forget it, you're in Lebanon," the neighbor flatly intoned.
Just east of the roundabout, on a side street off of Sami Solh, where multiple eyewitnesses say the first bullets were fired, a burned moped sat on the side of the road, cars with shattered windows were parked and spent bullets were visible on the ground.
"All the destruction and the people who died [was] because of politicians who wanted to make points to each other," Raafat Hachem, 52, who works as a dentist and whose clinic is located in the middle of the area where the clashes took place, told L'Orient Today.
Hachem said he was treating a patient when the gunfire started and that he had to finish treating him before taking cover in the corridor of his clinic. Hachem said he was forced to remain there from 10:30 a.m. until around 2 p.m., when the civil defense evacuated him and other people from his building.
"If you ask me all the people involved in the clash yesterday are dumb; is it really worth it to die while you were serving as a politician's messenger?" Hachem added.
Residents of the neighborhood gave different accounts of what took place here, and how the protest became the site of one of the deadliest battles in recent years in Beirut. Some eyewitnesses who spoke to L'Orient Today disagreed regarding key points, including who had fired the first shot. What is not disputed is that all seven of the dead so far are members of the Shiite sect.
Amal has named three of the victims as Mustafa Munir Zbeeb, Hassan Mohammad Subhi Mashik and Hassan Jamil Nehmeh, and Hezbollah named the other three as Mohammad Hassan al-Sayed, Ali Bassam Ibrahim and Maryam Mohammad Farhat. On Friday, Mohamad Tamer was pronounced dead, according to Bahman hospital.
One of the dead, Maryam Farhat, was a mother of five children. She was killed by a bullet to the head while she was at home, her brother-in-law Hussain Atallah told L'Orient Today. He says she was cooking and went out to the balcony to get her laundry, not knowing that gunfire was about to erupt.
Atallah, who lives in the same three-story building as Farhat, said that the first shot he heard was that which killed Farhat, positing that that indicated his sister-in-law would have been unaware at the time that it was dangerous to go outside.
Atallah explained that he thinks Farhat was killed by a "professional sniper" rather than a stray bullet because the shot came alone, not amidst ongoing gunfire.
"Certain groups wanted to create sectarian tensions, so they chose to kill a woman in the comfort of her home," Atallah said.
"Even if he was following orders, how did this man justify it to himself to kill a mother of five children and make them orphans?"
A 31-year-old eyewitness who lives in Tayyouneh but declined to give his name told L'Orient Today that he heard the first gun shots while he was at his place of work in Badaro. He believes the shots came from the roofs of buildings and targeted what had been peaceful protests with no sectarian dimension.
"The Justice Palace, which is a public institution, happens to be in a Christian area," he said, explaining that meant that it was "not that the protesters were trying to occupy Christian neighborhoods."
He accused some of applying a double standard in their reaction to the events. "Some people are acting as if it is the first time a protest happens; protests happen all the time, and it is a granted right, so it is not that having a protest was out of the ordinary, '' he added. Even if some of the protesters were causing disruption, the other party should not react by killing those protesters, he said. "We see how security forces deal with protests: they act responsibly and fire rubber bullets exactly to avoid killing people."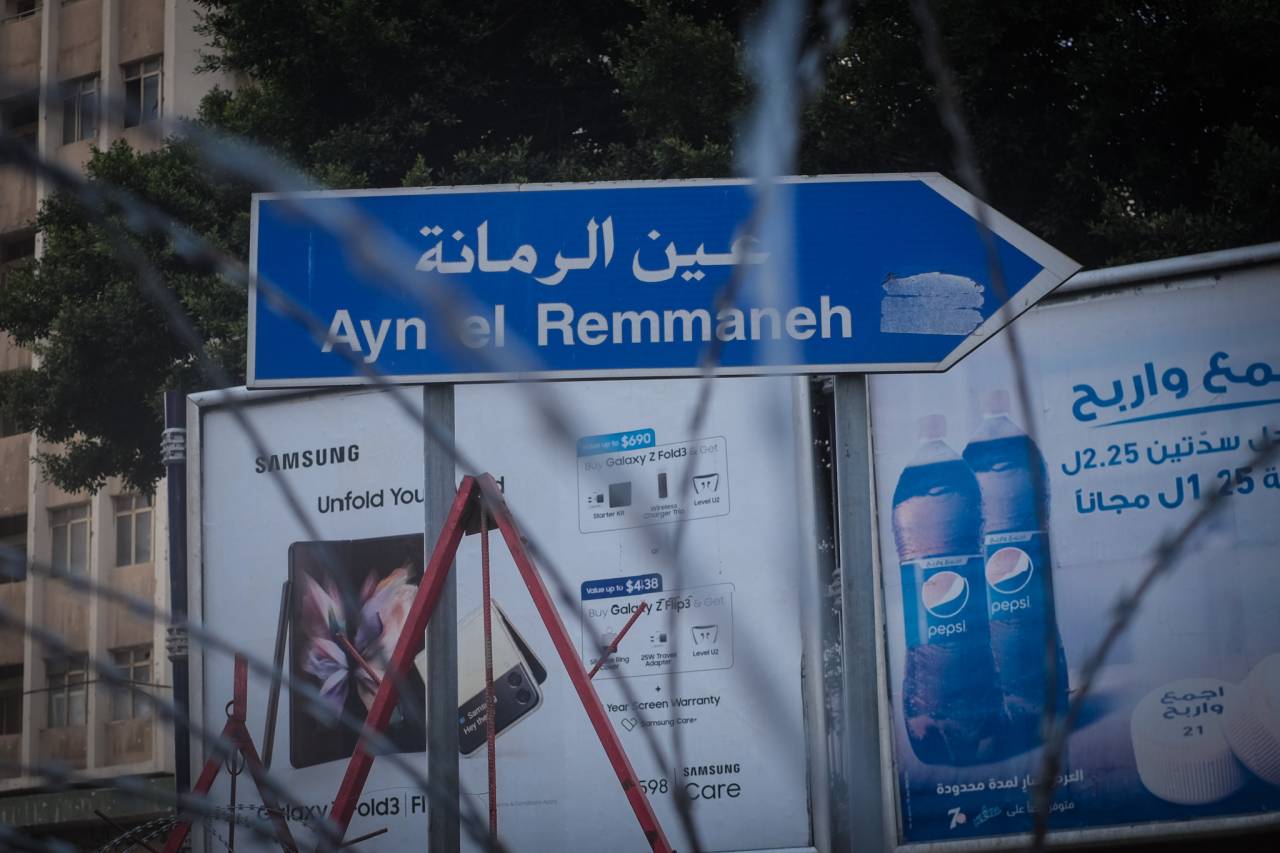 Security barriers were established in the area on Friday. (Credit: João Sousa/L'Orient Today)
Multiple other eyewitnesses confirm they personally saw snipers on the upper floors of several buildings in the area. Hezbollah and Amal have said the snipers were members of the Christian Lebanese Forces party. In a statement they said protesters "were subjected to an armed attack by groups of the Lebanese Forces party that spread out in the adjacent neighborhoods." The Lebanese Forces has called this a "false accusation."
One soldier, who declined to give his name, and who says he was at the intersection of Sami Solh and Parc streets during Thursday's clashes claims he saw five or six snipers on the north side of that road and that they were the first to fire. Ali Kobeisi, who lives in Tayyouneh some 150 meters south of the roundabout, pointed us to the buildings across the Old Saida Road, where he says roughly 10 snipers dressed in black were positioned, adding that the snipers fired on protesters first.
The buildings where he said they were stationed include large towers under construction as well as occupied residential buildings. Yunan, whose street allegedly had a sniper stationed nearby, said he did not see any snipers in his building or those of his neighbors. A resident, who asked not to be named, of a nearby tall building that was also targeted by gunfire also said he believed there were no snipers in his building.
Residents of Sabak al-Khleil street, where they say the violence first began, describe a tense scene. Protesters, they say, were proceeding down Sami Solh in the direction of Adlieh, a kilometer away, when some of them turned on to Sabak al-Khleil.
One young man who works on the street and declined to give his name described men, from among the protesters, wearing uniforms he could not identify, linking their arms together to block the protesters from going down the street, in an attempt to avoid a confrontation, he said. Another resident of the street described protesters throwing rocks and breaking cars. One woman who also declined to give her name claimed some of the protesters beat people.
George Haddad, who owns a shop located at the far end of the street, was in his shop at the time. He says he heard voices growing louder and louder.
A female resident of Sabak al-Khleil said that protesters destroyed her car before any gunfire took place.
Several people said there were just a handful of soldiers on the street, and that they tried but were unable to keep the protesters away from residents' property, whereas the army was successful in cordoning off the entrance to other side streets off Sami Solh.
And then, all sides say, gunfire rang out. Kobeisi said sniper fire began against the unarmed protesters. There were no warning shots. "It was directly at the head, not just at the person, at the head." He says people from the Hezbollah and Amal side were unarmed, and those who brought weapons only did so later, after they had come under fire.
The resident who said her car was destroyed, however, also said that there were armed men among the protesters and it was one of them who fired the first shot. She described the shots fired at the protesters as "self-defense." Another resident of the street, who declined to give her name, also said that it was men among the protesters who fired first.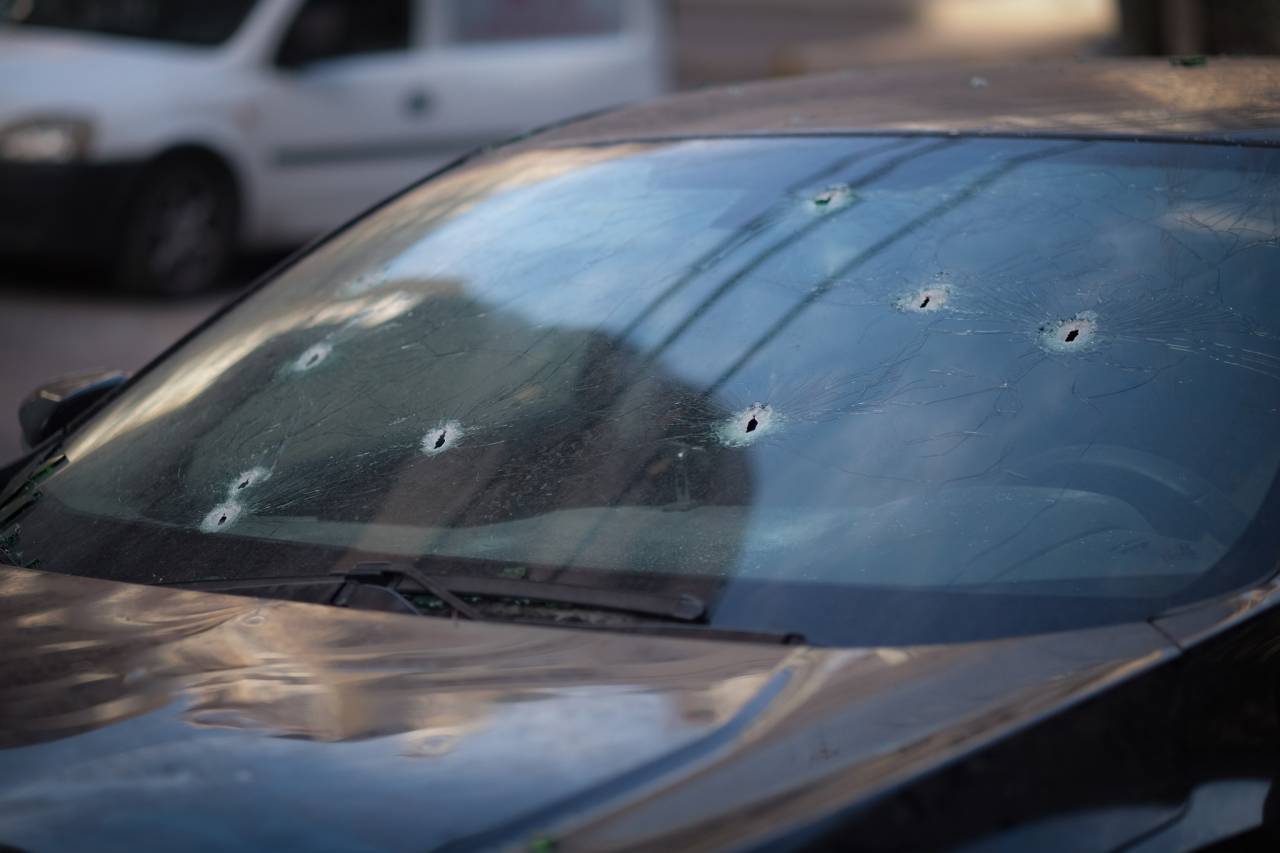 Bullet holes mark a car windshield in the Tayyouneh area. (Credit: João Sousa/L'Orient Today)
The aforementioned young man who declined to give his name claimed that some individuals among the protesters were armed with a variety of weapons, including assault rifles, but they were not visible until after the group was fired upon.
Interior Minister Bassam Mawlawi has said the incident began when a sniper opened fire and hit the first victim in the head. The Army's statement on the incident says protesters passing through Tayyouneh en route to Adlieh were "exposed to bursts of gunfire."
***
Kobeisi said he still had faith in coexistence in his neighborhood. "In the end, they're our people, they come over here, we go over there …. The issue is not the people of Ain al-Rummaneh, it's just that there are a few individuals who aren't good."
It was a sentiment echoed across the street by Haddad. "Us and Chiyah are family," he said "There is no difference between us."
Not everyone was willing to even accept a sectarian lens on the area's geography. Yusef al-Zein, who lives on the so-called Muslim side of the neighborhood and owns a shop on the so-called Christian side denied that the neighborhood was divided, saying "in the building we have Christian, Druze, Sunni, Shia and everything. There is no sectarianism here." When asked about the spectre of past conflict along the former line of confrontation he said, "Yes, this was the line of confrontation. "Today it's not and god willing it won't be."
The day after his sister-in-law's murder Atallah was contemplative. "She would get justice if we don't react the way the shooter wanted us to, we should not be driven into a civil war, the way to avenge the deceased woman is to call for the arrest of the person who killed her."
BEIRUT — The streets of Tayyouneh were quiet on Friday morning, the day after a heated street battle with sectarian overtones erupted here, resulting in at least seven deaths and more than 30 injuries. A handful of residents were out inspecting the damage and sweeping broken glass, while a number of journalists milled about and soldiers slowly patrolled.A set of buildings just south of the...