BEIRUT — On Aug. 4, just after 6 p.m., my family and I were at home. At first we felt and saw the ground shake, as if a strong earthquake had happened. I smiled at my younger brother to reassure him, but as soon as my cheeks relaxed, a booming sound echoed and the windows of buildings surrounding us shattered before our eyes.
"It's a natural disaster," I said. "Quick, recite your prayers."
My mother shook her head. "It is not," she said.
She, who had lived through several wars in Lebanon, immediately knew what that sound meant: an explosion. She thought the target must have been the nearby residence of former Prime Minister Saad Hariri.
My father meanwhile turned on the television to learn that the blast site was both quite far away physically but also much closer to home than he ever expected: the Beirut port, where hundreds of tons of ammonium nitrate had just detonated, was a place my father knew intimately, a place he went to work daily among people he considered a second family.
He directly set about calling his colleagues at the Beirut Container Terminal Consortium and those working with other operations at the port. At the same time, my mother, who was a billing system administrator of Esiters at the port, brother and I were answering phone calls from family and friends both in Lebanon and elsewhere looking for assurance that we were safe.
As the one-year anniversary of that evening approaches, my father recalls making those phone calls: "Several of my colleagues did not pick up their phones, allowing me to drown in worry. I then started sending them messages asking them to 'please just reply if you are ok.'"
Within hours of the explosion, my father learned that the whereabouts of three of his friends at the port was unknown. The following day, he heard that they had not survived. My father, who for me represents resilience and safety, had tears in his eyes as he told me about hearing of their deaths.
"My colleagues and I still can't get over the fact that our friends are not with us anymore," he said.
Yet every day my father, his colleagues and more than 600 port workers commute to the scene of the blast. They make their way past the site of Warehouse 12, which stored the ammonium nitrate that caught fire and blew up, causing one of the largest non-nuclear explosions in history.
The port's workforce shows up daily so that Lebanon's most prominent trading center and a hub port for the East Mediterranean region remains active and effective.
These individuals show up and get on with their jobs despite having witnessed firsthand the destruction and the tragedy that turned their workplace upside down and took away their co-workers' lives. They show up and keep the port running, often dismissing or ignoring their own trauma in the process.
The trauma
"What do I remember from that day?" murmured Ali Ibrahim, a trucker who transports metal and other heavy materials from the port to destinations in both Lebanon and Syria. He looked at the sky and wondered for half a minute then answered: "a mushroom cloud of yellow and pink smoke that erupted and swooped down on individuals, cars and buildings."
"It also swept away my mental and emotional wellbeing," Ibrahim added.
Ibrahim was driving his truck to the port when the explosion happened. He was on the highway passing the Karantina neighborhood when he saw the first explosion, then the truck's front window shattered in his face.
The second thing he saw was people bleeding on the streets and cars overturned: "It was something from a horror movie, I swear."
Ibrahim told me how he couldn't speak for weeks after the shock and that he often relives the memory through flashbacks. He said he was unable, for financial reasons, to seek professional help for his post-traumatic stress. "I had no choice but to resume work within two to three weeks," he explained.
Post-traumatic stress disorder is an anxiety condition that sometimes develops in people who have been exposed to a traumatic event or series of events, but not all traumatic events lead to PTSD, according to the American Psychological Association. While post-traumatic stress is a response to an unpleasant incident, PTSD develops when individuals' post-traumatic stress symptoms are intense and prolonged and disrupt their lives.
Research indicates that PTSD is not uncommon among those who work at the port.
"No study was specifically done about this population [of port workers and employees of companies operating at the port]," said Joseph El Khoury, assistant professor at the American University of Beirut Medical Center and president-elect of the Lebanese Psychiatric Society. "But what I know from a [as yet unpublished] study done with the research team from the Department of Psychiatry and Faculty of Health Sciences at the American University of Beirut is that individuals who reported being in the port area [at the time of the explosion] had the highest level of post traumatic stress disorder."
For every 10 respondents from that area, seven exhibited PTSD symptoms, he clarified.
Such symptoms include emotional numbness, hyper-sensitivity, avoidance, nightmares, flashbacks, depression, anxiety, fatigue and stress.
The most common ones among the port population, El Khoury said, are avoidance — i.e. when people change their regular routine to avoid something, such as a particular activity, time or place — emotional numbness, which is marked by having the feeling of not having feelings anymore and becoming irrelevant, and hyper-sensitivity, which is characterized by sensitivity to the slightest inconveniences.
All the port workers I spoke to for this article said they were emotionally impacted by the Aug. 4 explosion in one way or another.
The stories
Dania Lawand, who works in finance and budgeting at the Beirut Container Terminal Consortium, was at her office at the time of the explosion. She recalls hearing thundering sounds minutes before her office windows crashed onto her desk and furniture flew across the room. The door of the second-floor office slammed shut from the blast's pressure wave, locking her in while flames and smoke engulfed the building.
Terrified, she then ran to one of the office's corners and cried her heart out for help.
Remembering the day, she explained, "I was working late to complete my tasks and was the only person on the floor after my colleagues left for their homes. I was crying for help, but aimlessly because I knew there was no one [on the floor] to respond."
"I then heard some of my co-workers underneath the blown-in window and asked them for help," Lawand said. "Some were severely injured, but a couple were able to help me."
Ever since the explosion, Lawand has had flashback episodes that interrupt her sleep, and she has become hyper-sensitive to loud noises.
My mother also said she became more sensitive than usual in the days following the blast, noting that she would worry about being close to the port between 5 p.m. and 6 p.m. — the explosion occurred at 6:07 p.m.
Lawand said, "my family doctor had to give me sleeping pills to combat flashbacks at night and then proceeded with psychiatric medications to ease the tension and anxiety."
Due to the shock, Lawand says she has also developed hypertension and high blood sugar levels.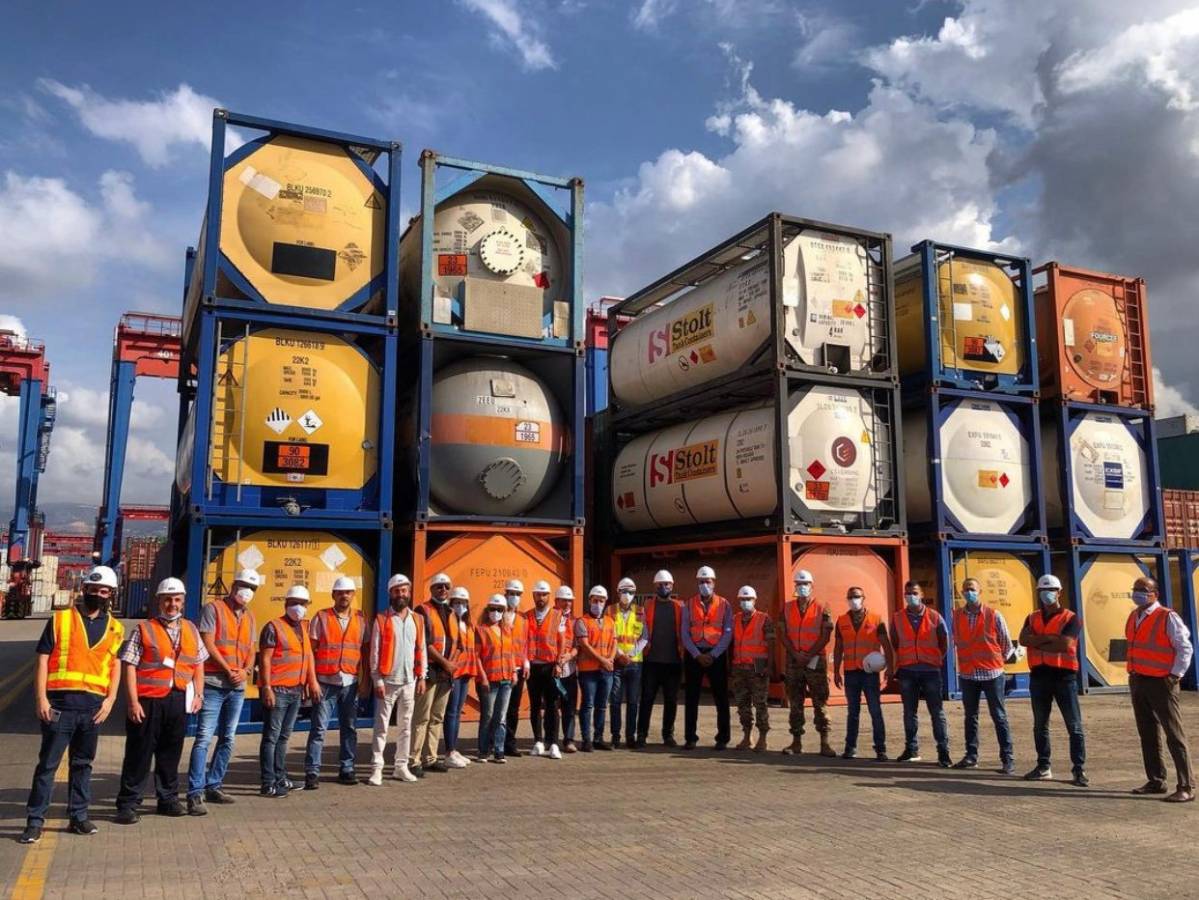 Port employees attend a training session in October 2020. (Credit: Ibrahim Osman)
Mahmoud Daibes, operation supervisor for cranes at the port, developed a different set of PTSD symptoms. After losing his colleagues, or as he describes them "his family members," in the blast, Daibes found he could no longer show affection to his kids.
Daibes had just arrived for his evening shift at the port when the fire in Warehouse 12 — home to at least hundreds of tons of explosive chemicals — first started. At the time, he was in the crane yard, quite a distance from the burning warehouse. But as the fire burned and the popping sounds grew stronger, he took his car and drove to the warehouse to check on the situation. He also wanted to reach his cousin, who was working there at the time.
Daibes recalls that it was just after he arrived, and as he stood next to his kin, that he "felt the earth shake" beneath his feet. "[It felt] as if doomsday was coming, so I called on my friends and cousin to flee the place," he said.
While his cousin rode in the car with him, another colleague declined a lift, saying he would ride with their other friend so that he would not be left alone.
"While I was driving away, the first explosion happened and black smoke surfaced. We couldn't see anything, it was as if night had come a bit too early. As a result I tried slowing my car down, afraid of hitting a crane or a person, but the brakes wouldn't work," Daibes recounted.
In those moments, Daibes believes the severity of the explosion moved the sea, causing it to pull Daibes' car into the Mediterranean.
At this point he and his cousin were asking each other to say the Shahada, convinced that they were going to die.
When second explosion hit, he continued, the vehicle was flung back onto land where it slammed into Warehouse 13, knocking both men unconscious. A couple of minutes later, they regained their senses.
For minutes after they were found injured, Daibes couldn't remember what had just happened. And while he and his cousin survived, their two friends in the other car did not.
Until recently, "I avoided kissing and hugging my children, because every time I tried doing so I would remember that my friends' children will never be able to get their father's affection ever again," he said.
Absence of government support
The state-owned Port of Beirut's administration did not offer mental health consultations to port workers, all the sources cited in this article said.
The government did not take any steps to support port workers' mental health, said El Khoury.
Some NGOs launched small-scale mental health initiatives for the general public, but most of them were not carried out systematically.
Amid the deepening economic crisis in Lebanon and resultant rising prices for many essential goods, those firsthand witnesses of the explosion who spoke to me said that they and their colleagues did not consider therapy.
According to the unpublished study carried out by AUB, around 10 percent of the entire population of those developing PTSD symptoms in the aftermath of the explosion sought professional help.
On the basis of this statistic, El Khoury said that there are definitely still some individuals who are struggling every day with mental health issues as a result of the port explosion. And with the Aug. 4 memorial coming up this year, PTSD symptoms are likely to intensify or resurge, he added.
Triggering reminders
For some, this week's one-year anniversary of the blast precipitates anxiety that re-shared footage and imagery from the day on social and traditional media platforms will trigger PTSD symptoms.
"I know individuals who have said they will not open social media on Aug. 4" due to the wide dispersion of harmful footage, El Khoury said.
El Khoury asks that people be sensitive to others' PTSD triggers when posting online around the blast anniversary.
Firsthand witness Ibrahim is among those who dread exposure to footage of the day.
"I can't be exposed to videos of the explosion," he said. "They give me flashbacks of the incident and bring me nightmares."
Going back to the port
After Aug. 4, it was not easy to watch my parents go back to their jobs.
My mother told me that she didn't quit her job following the blast because "you don't leave your workplace through thick and thin, especially when you work for the country's main trade route."
Two months after the explosion though, she was promoted to deputy general manager, which required her to move to the company's headquarters in Dora, several kilometers from the port. So now only my father goes to work at the port itself.
Lawand, like my mother, said her conscience would not allow her to leave BCTC, which is currently battling for its survival in the face of three major setbacks: the slowdown in trade as a result of COVID-19 lockdowns, the country's economic collapse and the port's destruction.
After the explosion, I asked my parents to quit their jobs. I wasn't the only one: my father made the exact same request of my mother. But neither one could be persuaded to stop working at the port.
"I did not study in Brussels and earn degrees to stay at home," my father jokingly said when asked why he chose to keep his position. "We all know that ports, in general, are dangerous zones, but anyone who lives anywhere in Lebanon is endangered too. So we should just have faith."
Coupled with faith, time allowed the images in our heads and our fears to fade away, but our memory of what happened at the port on Aug. 4 will live on forever.

BEIRUT — On Aug. 4, just after 6 p.m., my family and I were at home. At first we felt and saw the ground shake, as if a strong earthquake had happened. I smiled at my younger brother to reassure him, but as soon as my cheeks relaxed, a booming sound echoed and the windows of buildings surrounding us shattered before our eyes."It's a natural disaster," I said. "Quick, recite your...