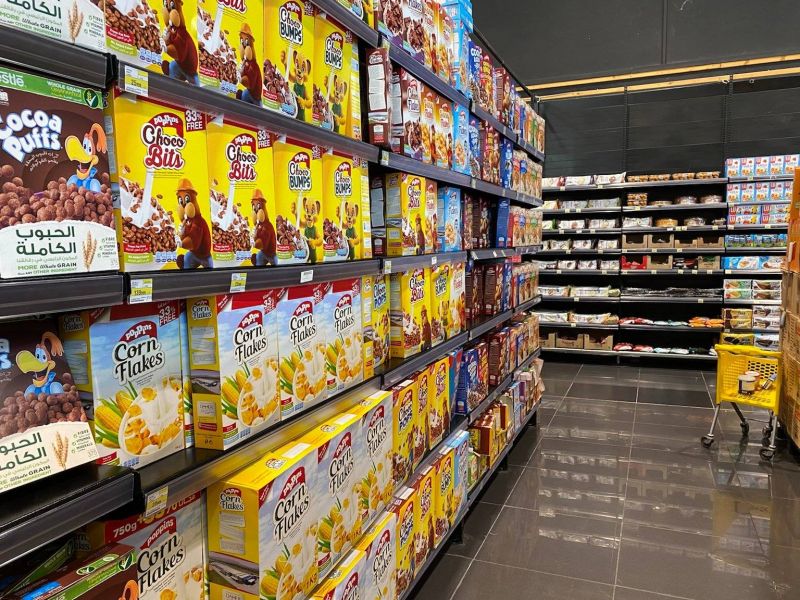 BEIRUT — With the price of imported cheese skyrocketing, the Grate&Crumble cheese factory saw an opportunity. The Lebanese family-owned business branched out, producing new offerings, such as mozzarella, that Lebanese consumers previously sourced from abroad.
The financial crisis and spiraling inflation have begun to force a shift in the Lebanese economy, with imported products increasingly being replaced by locally produced goods on supermarket shelves.
Razan Haddad, a mother of three in Beirut, told L'Orient Today, "I used to get my kids imported cereal; nowadays, I just can't afford it anymore. I am now substituting [imported] cereal, chocolates and biscuits with everything that is made locally; this is the only way I can afford getting products for my three children."
Before the crisis, Lebanon's economy relied mainly on the banking and service sectors, with little local industry and production. The dollar-to-lira peg kept imports relatively affordable for local consumers, making it difficult for local producers to enter the market and compete with well-established and trusted international brands.
Now, with the collapse of the lira and the impending end of subsidies, imports have become unaffordable for most consumers, which has finally created a market for local products.
However, even though the market is ripe for their entry, local producers are struggling to increase their capacity and keep their products affordable for consumers amid the country's deepening financial crisis.
Fouad Naccache, who owns Grate&Crumble, is well aware of this predicament. Although there is an increase in demand for his company's new and existing products, he says, "It's not enough to cover the price needed for the material used" in production. However, he explained, "If we increase our prices, people will no longer be able to afford our products."
So far, Grate&Crumble has borne the increased cost of production, but "this won't last for so long. It will be a matter of a few weeks [until] we might have to increase our prices," Naccache said.
Naccache explained that all the materials necessary to package his company's products, "even the plastic bags we use, are no longer affordable, especially [since] suppliers are asking for fresh dollars."
A clear reduction in imports
A report published by USAID in February examines the effect of the crisis on Lebanon's fast-moving consumer goods (FMCGs). It reveals that supplier product portfolios are being reduced to include only "fast-moving" imports — mostly nondurable products that sell quickly and at a relatively low cost — and as many local products as are available. For many suppliers, this has resulted in an up to 70 percent reduction in imported items.
As a result, over the past year consumers have noticed more locally produced food products on supermarket shelves. The brands may not be the ones they have known for much of their lives, but they are far less of a burden on their limited budgets.
Stocking such local products is also less of an investment risk for small grocery stores at a time when they are battling spiraling operating costs. Electricity shortages increase reliance on generators to keep lights and refrigerators running, and the cost of powering these generators is rising amid fuel shortages and a partial end to government subsidies on the commodity.
The national currency's rapid depreciation is also a major deterrent to maintaining a large quantity of imported stock. Speaking with L'Orient Today, the owner of a minimarket in Beirut's Corniche al-Mazraa area explained that he is stocking far fewer imported products as a result of the volatility of the lira, which has lost more than 90 percent of its value since the financial crisis' onset in mid-2019.
"Our inability, as importers, to transfer money for import purchases has caused breaks in import schedules. As a result, we are trying to offer locally produced products as they are less susceptible to changes in the dollar exchange rate," he explained.
Since late 2019, commercial banks in Lebanon have imposed informal capital controls on their customers, severely limiting both businesses' and individuals' access to their foreign currency deposits.
A May 2020 report published by the Beirut-based think tank Triangle highlighted that the ongoing foreign currency shortage in Lebanon has made imports much more expensive, exposing the limitations of overwhelming import dependency.
The report states that Lebanon imports 65–80 percent of its food needs, depending on demand, and describes this as "a disappointing legacy for a region, which pioneered domesticated wheat some 9,000 years ago."
Nasser Yassin, an associate professor of policy and planning at the American University of Beirut and the head of AUB's Lebanon Crisis Observatory, said it makes sense that consumers would now turn to local products.
Soaring food prices, coupled with diminished purchasing power, are affecting what people in Lebanon can consume and what they can afford. "With the latest look into our data, we can estimate that more than 70 percent of households in Lebanon are going to struggle to get food to their families in the way they used to …, so this would make them shift to cheaper products if they found any," he told L'Orient Today.
However, USAID's report highlights the snag in this logical consumer shift: "While the market is certainly ready for an increase in the local production of FMCG, many such products will rely on imported raw materials to produce. The result will still be products that will be more competitive in price than the pure imports. However, these products will still be susceptible to the changes in the USD exchange rate."
Lack of government support
Because small manufacturers that previously struggled to secure distribution of their products at local retailers now find their goods in high demand, many of them are endeavoring to upscale their operations to meet the demands of the market.
But while the central bank's subsidies scheme for some food imports officially remains in place, local producers have received little government help. The country's struggling agriculture sector is a prime example.
In 2020, agriculture received 0.36 percent of the total government budget, contributing to about 3.5 percent of GDP. Experts say the sector has the potential to contribute much more if properly supported.
"The agricultural sector is the backbone of several developing countries as it reduces hunger through ensuring food security and decreases unemployment rates," Reem Khamis, an environmental researcher at the National Center of Scientific Research in France, told L'Orient Today. "Lebanon's agriculture sector presents a potential for development and various opportunities due to its arable lands, moderate climate and freshwater resources."
A report conducted by the United Nations Economic and Social Commission for Western Asia in August 2020, titled "Is Food Security in Lebanon Under Threat?," revealed that the financial crisis had changed the dynamics of doing business in agriculture for all farmers who must cover the cost of imported materials needed for their enterprises with cash in advance.
The report explains that the cost of production in Lebanon increased by more than 50 percent for various agricultural systems from November 2019 to November 2020. The cost of basic, imported agriculture inputs rose by 400 percent.
Another big hit to Lebanon's agricultural sector in the midst of the country's economic crisis surfaced when Saudi Arabia announced in late April that it would ban the import of fruit and vegetables after Saudi authorities seized more than 5 million Captagon pills smuggled inside a shipment from Lebanon of hollowed-out pomegranates.
"This ban caused us a huge loss, which we could have avoided, especially at such a time of ongoing economic crisis," the vice president of the Association of Lebanese Industrialists, George Nasrawi, told L'Orient Today.
Nasrawi also warned of another, bigger, perhaps even existential threat for Lebanon's nascent local industries: fuel shortages and resultant electricity outages.
"The electricity cuts might come to mean that even locally produced products are no longer available to consumers," Nasrawi told L'Orient Today.
"What is currently required from local authorities is to provide all the components and conditions that would sustain the resilience of the Lebanese industry and activate its role, given its significance as a national need," he added.
BEIRUT — With the price of imported cheese skyrocketing, the Grate&Crumble cheese factory saw an opportunity. The Lebanese family-owned business branched out, producing new offerings, such as mozzarella, that Lebanese consumers previously sourced from abroad.The financial crisis and spiraling inflation have begun to force a shift in the Lebanese economy, with imported products increasingly...